Kik is one of the most popular apps that allows its users to share pictures, videos, and gifs. The main idea that sets Kik apart from other platforms is that it does not require you to share personal information to connect with strangers except for your username. The fact that Kik keeps you anonymous by sharing the least amount of information is what appeals to most people. But the question is, when I share very little information about myself, can my contacts find me on Kik?
Answer:
The answer is yes. People in your contacts can easily access you; Kik adds contacts by matching the contact number synced in the app so they can connect using your phone number. People can also connect with you via your email address, your Kik username, and your Kik code. New people can also find you through other third-party apps like Kik Friender and Kik Friend Finder.

Kik allows easy contact discovery while maintaining privacy. This article discusses how existing contacts can find you on Kik through a newly created account, including a few ways, such as username, phone number, and email address. The proper setup helps contacts connect while accessible anonymity respects privacy preferences.
---
Can My Contacts Find Me On Kik?
Your contacts will be able to find you on Kik if they also have the app installed and you've included them in your phone contacts list. By linking your Kik account to your contacts, the app can make suggestions to connect you with people you already know.
However, if you did not initially choose to add your contacts when setting up your profile, then no one will be aware of your presence on Kik unless you actively share identifying details like your username for them to search. So, for contacts to locate your new profile, be sure to sync your phone numbers during account setup.
Also Read: How To Manage Profile On Kik?
---
How Can My Contacts Find Me On Kik?
Usually, when you provide little information about yourself on a social networking site, it is easier to find people. Even though Kik doesn't ask you for much information, your contacts can still find and connect with you. Kik has made it easier for your contacts to access you even if they have very little information about your account.
There are many ways to do this, and they are: by phone number, with the help of an email address, through other social media handles, using Kik code, Taking the help of third-party apps, using your location, if they have your username, through friend suggestions and also by joining public groups.
Those, as mentioned above, are some ways in which your contacts can find you on the Kik application. People can easily connect with you through these ways. If you want to know about them in more detail, keep on reading.
Also Read: How To Remove Friends From Kik?
---
How Can Your Contacts Can Find You On Kik?
Your contacts can find you on Kik and contacts and your contacts can easily find you on Kik; the way they do it is as follows:
Method 1: By Using Your Mobile Number
People can easily find you on Kik via your phone number. Your account will appear on their find friend option if it matches the phone number saved on their phone. Kik will then send them a notification.
If you want to update or remove your phone number from the Kik app, refer to this article for complete guidance.
Method 2: By Using Your Kik Codes
There is a unique feature added to this Kik application. Kik users each have their Kik QR-like codes, and people can connect with you using these codes as well. When someone scans these codes, they can directly send messages to you. You can share these codes with your friends so they can find you.
Method 3: By Using Third-Party Websites
People can easily find you using different third-party websites as well. Different websites are designed for this purpose, like my Kik friend finder, Kik friend finder, Kik contacts, Kik Friender, and Kik username finder.
Method 4: Through Public Groups
People with similar interests find you when you enter into groups. You can enter into any group that interests you through the explore groups feature, and you will find many people having similar interests, and they can find you as well.
Method 5: Through Friend Suggestions
Kik will also suggest your name by displaying it on contacts' suggestions. This feature operates by matching the email address and phone number stored in your phone. Kik will notify your contacts about your account in friend suggestions if they have saved your phone number or email address.
Method 6: Through Your Username
People can also connect with you even if they only know your username with the "find by username" feature. Kik provides a feature where you can search for people if you have their username. Your contacts can also connect with you if they have your username.
Method 7: Through Social Media
Your contacts can also find you via social media. If you list your Kik information on other social media handles, your contacts can search and find you based on that information.
Method 8: By Using Your Using Your Email Address
Your contacts can also find you with the help of your email address with the help of a book address match feature. Turning this feature on in your Kik app will sync your smartphone email contact with Kik, and this feature will automatically add people to your chat, and you will also be added to their chat.
In case you want to change your Kik email, click here for the guide.
Method 9: By Using Your Location
People can also find you solely based on your location. The Kik app allows you to share your location; hence, your contacts can find you based on your location, and for that, you need to give location access to the app.
With all these ways to find you, the question arises if Kik is safe and private for your use. This article seems to answer it and provide solutions on how to use Kik safely.
Also Read: How To Fix Kik Web History Not Working?
---
How Can My Contacts Find Me On Kik Using Contact Number?
You can follow some steps to make your account more accessible to your contacts. If you already have a Kik account. Following these steps will make it easier for your old and new contacts to connect with you.
Step 1: Login To Your Kik Account
Open the Kik app on your phone, provide your username and password, and log in to your account.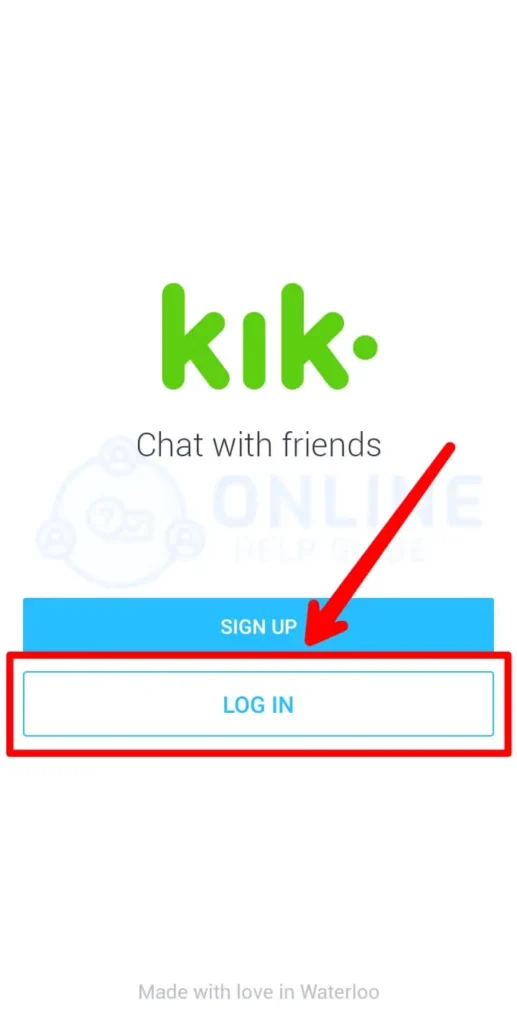 Step 2: Allow Kik To Access Your Contacts
Once you log in to your Kik account, Kik asks you for access to your contacts. Click allow so it can match and find contacts that are already on Kik.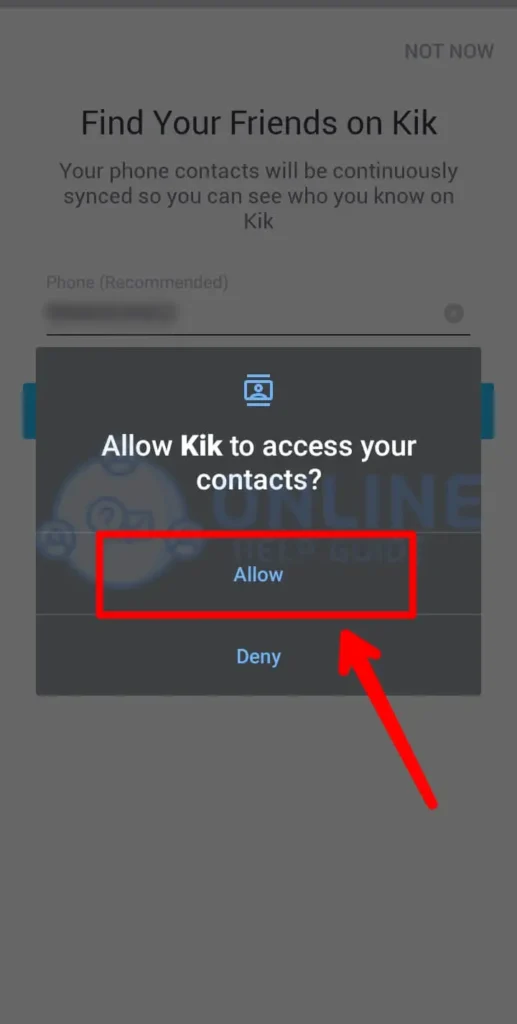 Step 3: Enable The "Use Phone Contacts" Feature
Select the privacy menu and enable the "Use Phone Contacts" feature. This feature in this app will help your contacts find your account.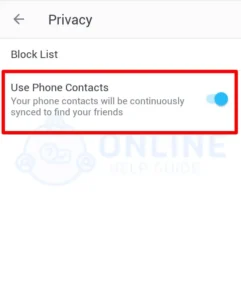 This is how your contacts can find you on Kik using your contact number.
Also Read: How To Meet New People To Chat On Kik App?
---
How Can My Contacts Find Me On Kik Using Kik Code?
Sometimes, sharing your username, email, or phone number can be a hassle, so Kik codes make it easier to connect with people without sharing anything. Following these simple steps, you can easily share your code with people in this app.
Step 1: Tap Settings On The App
Once you open the Kik messenger, go to settings.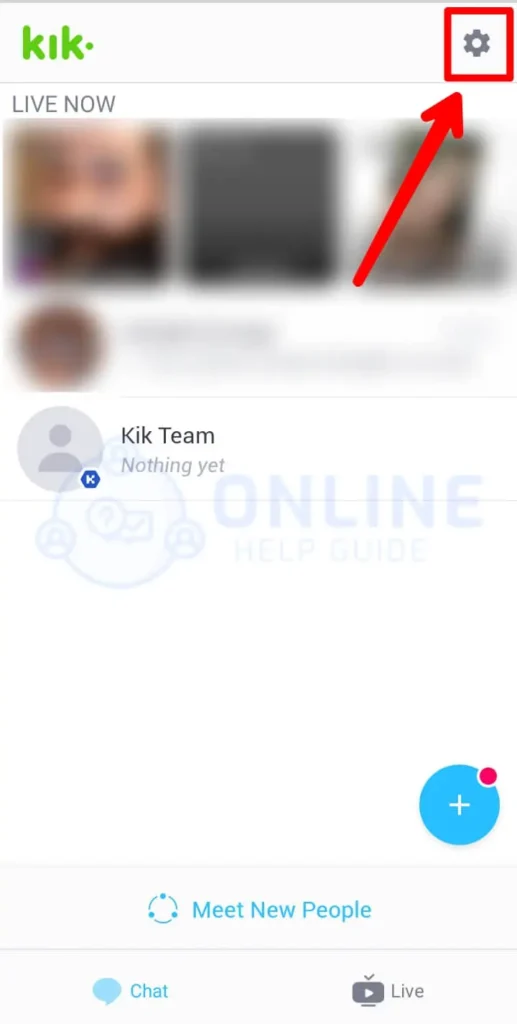 Step 2:Tap Your Kik Code.
You will find the Kik code written in the settings menu; tap that button.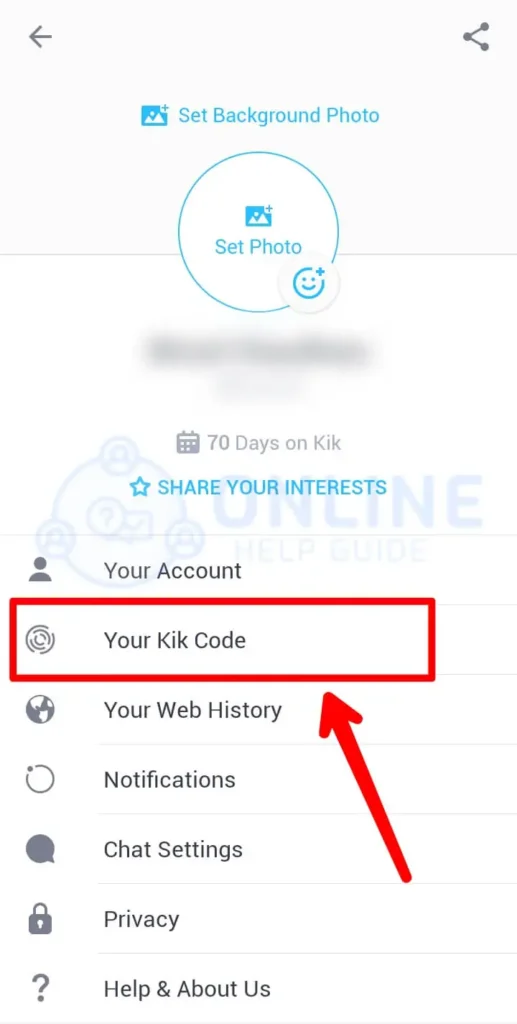 Step 3: Let Your Contacts Scan This Code
After your code pops up, you can let your contacts scan it using their devices to connect with you on Kik.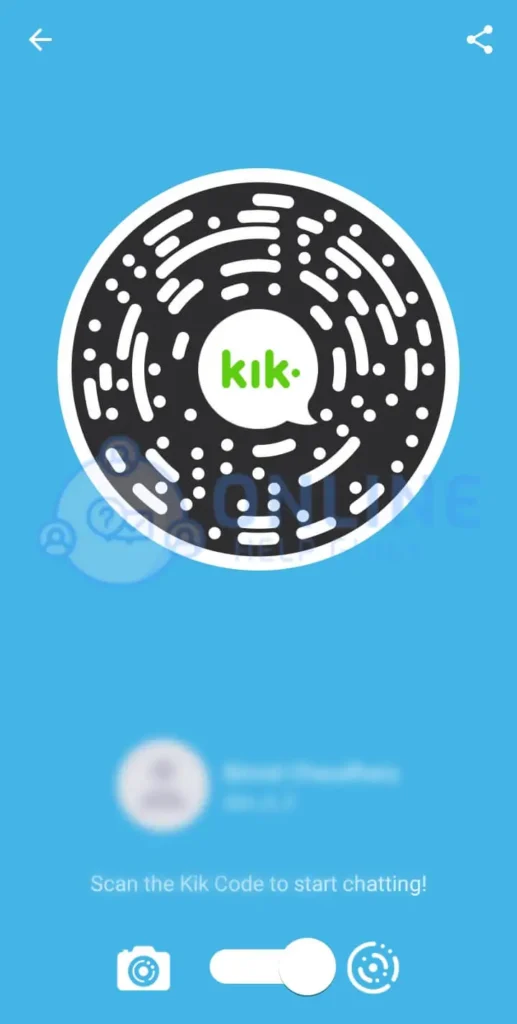 So, following the above-mentioned steps, your contacts can find you on Kik using your Kik code.
Also Read: How To Logout From Kik Messenger Safely Without Deleting Messages?
---
How Can My Contacts Find Me On Kik With My Username?
There is a certain procedure to follow for finding people on Kik, and your contacts can follow it up to find you. How your contacts can add you on Kik is mentioned below:
Step 1: Open The Kik App On Your Phone
They can click on the Kik app on their mobile phone.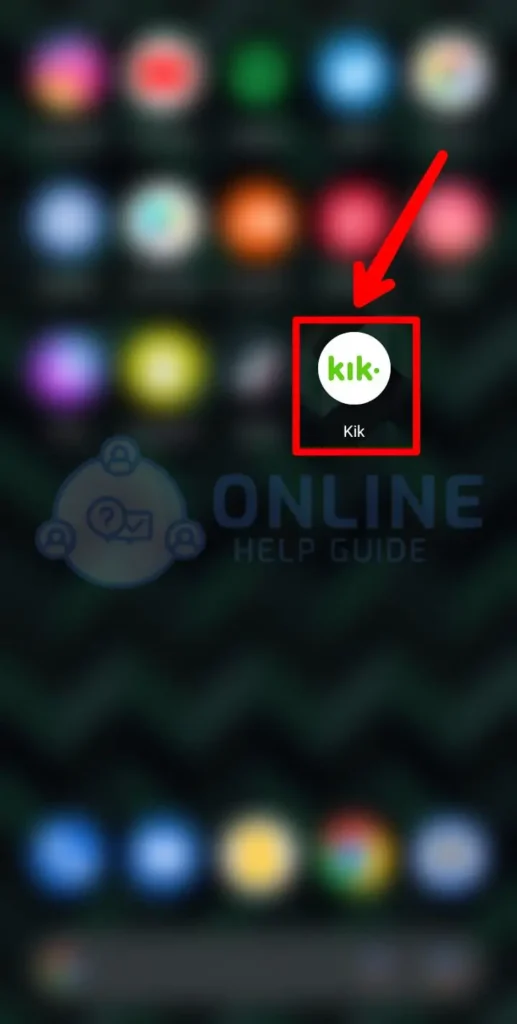 Step 2: Tap +, Which Is At The Bottom Right Of Your Screen
They can open the Kik app and find a + at the bottom right of their screen; press +.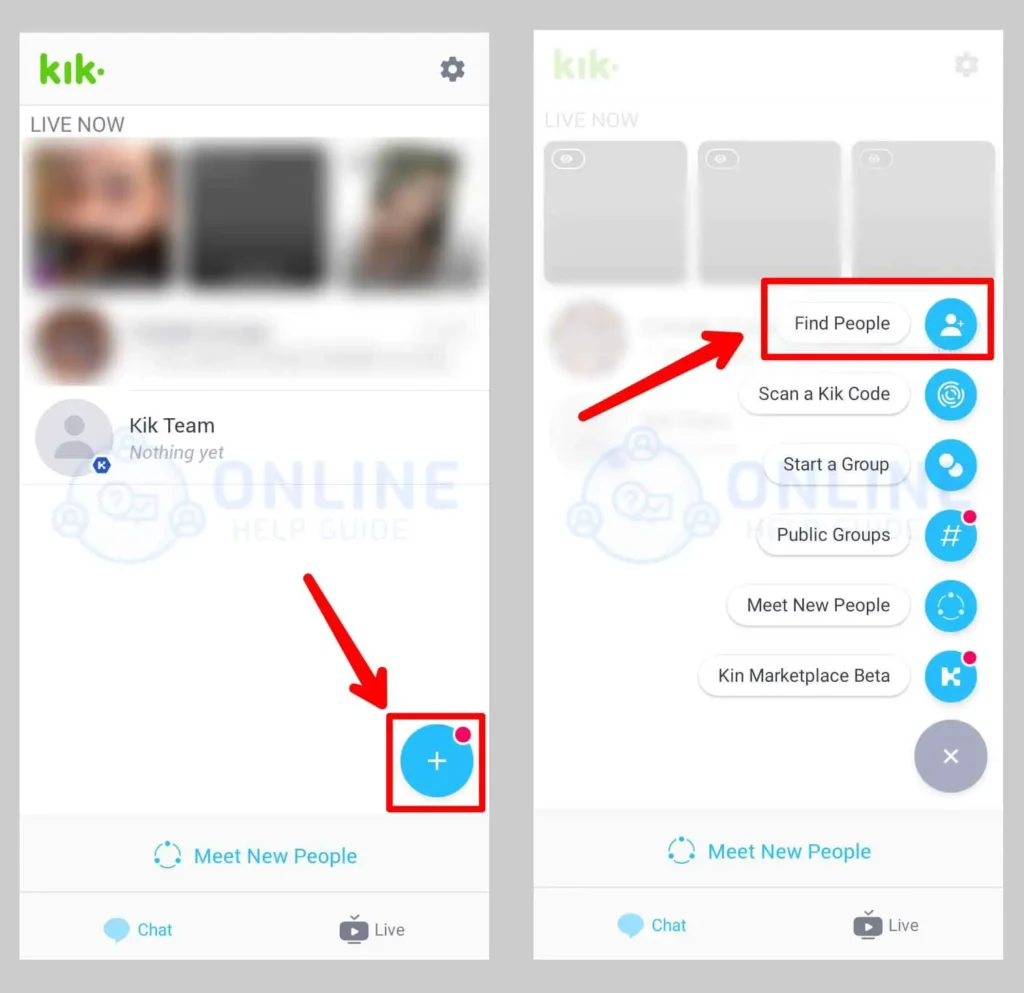 Step 3: Tap The "Find By Username" Feature
After they click the +, they will find the Find My username feature. Tap the Find My User name feature, and they can add your username here. For that, you have to share your username with them.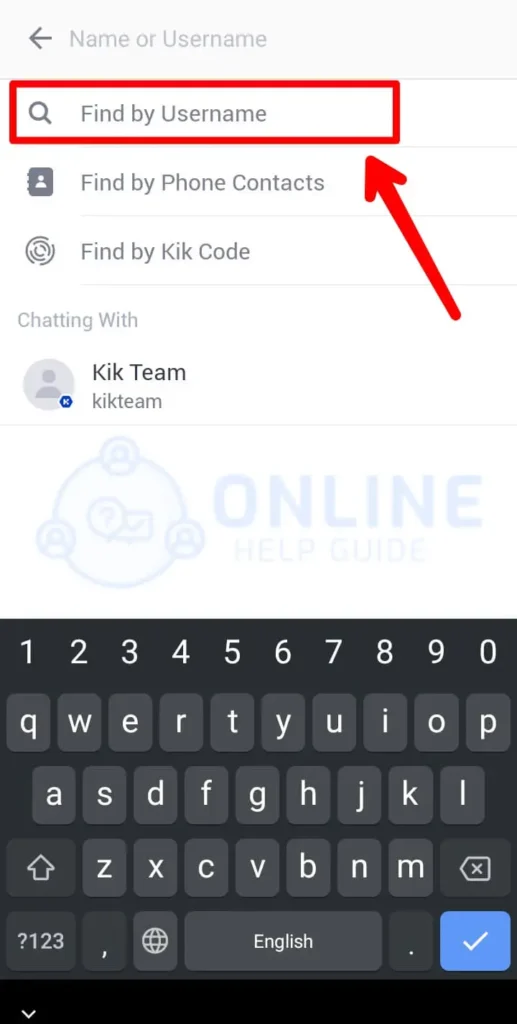 This is how your contacts can find you on Kik using your username.
Also Read: How To Remove Or Ban Someone From A Group Chat On Kik?
---
How To Set Up A New Account On Kik So That My Contacts Find Me?
If you are new to this app and don't have a Kik account, sign up for Kik. To sign up, Once you have downloaded this app on your device, you can follow this procedure:
Step 1: Open The Kik Application On Your Phone
Find the Kik application and your device and tap on it. It is a white app with Kik written on it in green color.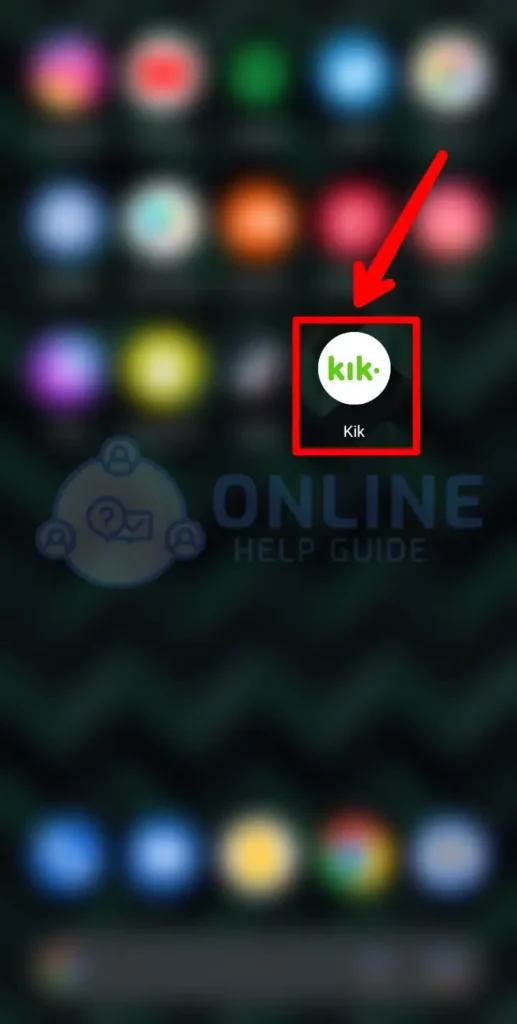 Step 2: Press The SignUp Button
After you open the application, you will find the signup button. Press that button to create an account on Kik.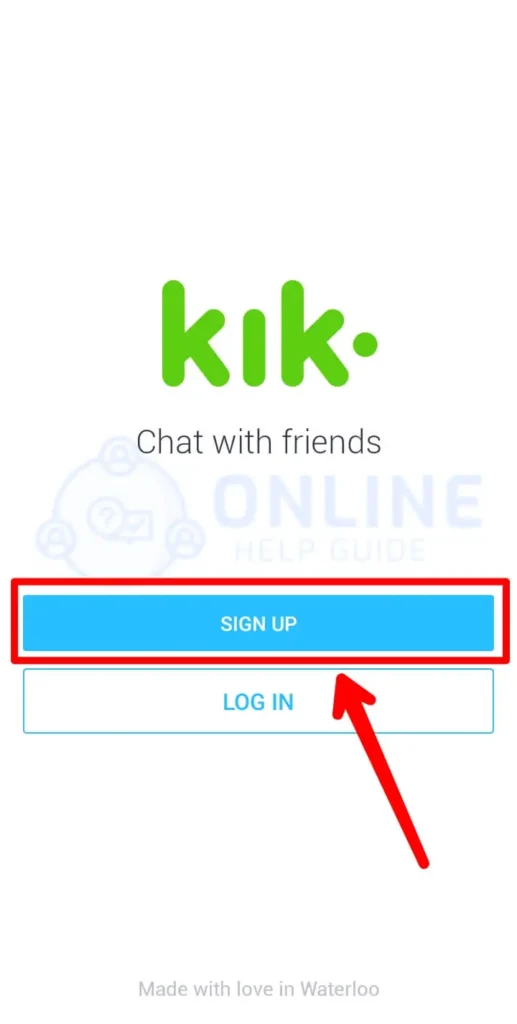 Step 3: Give Your Details
When You Tap On The Sign-Up Button, Kik will ask you to fill in some details, which include your first, Lastname, and Username(this can be different from your real name) Email, Password, Birthdate, and phone number(This is optional but is recommended by the app).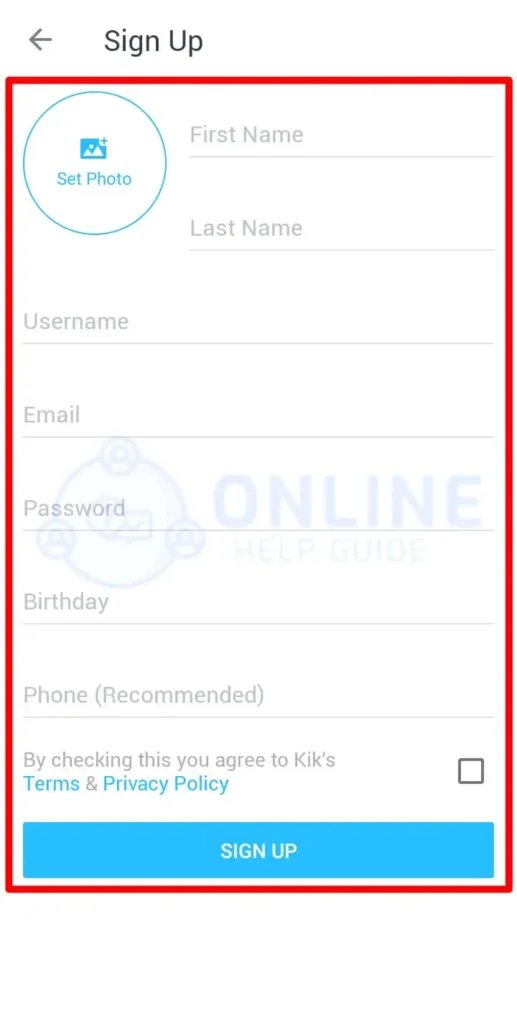 Step 4: Hit The Sign Up Button
After you fill in all the details, you can now hit the sign-up button and get started with Kik.
This is how you get started with Kik by signing up.
Also Read: How To Include A Bot On Kik Chat?
---
Does Kik Notify Your Contacts?
One common question among new Kik users is whether the app will notify your phone contacts when you join or message them. The answer depends on your privacy settings.
By default, Kik takes a passive approach to contact discovery. It won't actively send out app notifications to your contacts list without your permission. However, there are some indirect ways contacts may become aware of your presence:
Friend Suggestions Based on Contacts
When you first sign up and sync your phone contacts, Kik will scan for matches already using the app. If it finds any, it may display your name as a "friend suggestion" in their chat list. However, it does not send a separate notification.
Messaging a Contact Directly
If you message or add a contact already on Kik, they will receive the usual message or friend request popup. So, contacting someone directly does notify them of your activity.
Joining Shared Groups
Joining large public groups is also a passive way for contacts using those same groups to notice your username. But again, Kik doesn't actively broadcast your participation.
Enabling Contact Syncing
When you turn on the "Use phone contacts" setting in privacy options, Kik syncs with your phone list in the background, automatically suggesting friends. This allows discovery but through its own interface, not by text or other notifications to those contacts.
In general, Kik avoids exposing your account without permission. The only way it "notifies" contacts is through its built-in features like friend suggestions. But it does not blast notifications to every contact's device announcing your presence on the app. Your contacts would need to be active Kik users themselves to even notice you've joined.
So, in summary, Kik will not actively notify all your phone contacts of your account registration or messages. The level of contact awareness depends on their app activity and your enabled privacy options.
Also Read: Why Is Kik Password Reset Not Working? 
---
How I Manage Contact Visibility On Kik?
As someone who's used Kik for a while, privacy is important. At first, I didn't think about who could find me – big mistake! After some unwanted messages, I learned to tighten things up.
Blocking specific contacts was a no-brainer. A few creeps made it onto my regular contacts list somehow. I wasn't about to deal with that on Kik, too. One quick block solved it without the drama. But I still wanted my actual friends to connect. That's when I discovered you could turn off phone contact discovery completely. Game changer! Now, it's my choice who sees me. I still suggest friends manually so we can chat freely.
Of course, sometimes I want even stricter privacy for certain conversations. That's where having a separate "incognito" account comes in handy. Not even my closest friends know that username. Problem chats stay totally separated from my main. Switching accounts is second nature now. I've got my normal discoverable one for casual use. The other stays tucked away until I need an extra layer of anonymity. Sure saves me hassle down the line!
Managing contacts gets easier the longer you're on Kik. I've found what works without oversharing. Give it some time to play around with privacy settings. You'll figure out your own balance between visible and stealth, too.
Also Read: How to Save Kik Messages?
---
Frequently Asked Questions (FAQs)
There are many queries on the topics related to this article. Some of the frequently asked internet-related questions related to this topic are mentioned below. These questions are closely related to this article.
---
Can My Contacts Trace Me On Kik?
The answer is yes. Kik collects very limited information from users, but location falls under one of them, and if you have shared your location on Kik, your friend can easily trace you. This application also collects your IP address, which makes it easy for your contacts to trace you.
---
Can My Contacts See My Real Name On Kik?
No. You can preserve your privacy if you wish to because Kik only reveals your user name, and you can put names other than your real name and stay anonymous if you wish to.
---
Can My Contacts Tell If I am Online On Kik?
No. People cannot tell if you are online or not on Kik due to its privacy protocols. Kik doesn't give any direct information on whether a person is online or not. However, there are ways to find out someone online on Kik. Your contacts can see if the message is seen or not. Kik uses S, D, and R symbols to direct users if the message is sent, delivered, or read, respectively.
---
What Can I Do To Stop My Contacts From Finding Me On Kik?
To stop your contacts from finding you on Kik, you can choose a username that is difficult to guess and is far from your real name. Do Not share your Kik username or other details on other social media handles. If everything else fails, you can always block your existing contacts or new people.
---
Can People See If I Am Chatting With Someone Else?
The answer is No. Kik doesn't provide any information on the online status, so it is not possible for people to know if you are chatting with someone else or not.
---
How To Know If Someone Blocked You On Kik?
Kik will not directly notify you if you have been blocked by someone. One of the easiest ways to find this out is to try creating a group with them. If they have blocked you, you won't be able to create a group with that person.
If you want to know more about how to block and unblock someone on Kik, click here.
---
Conclusion
Therefore, Kik suggests you connect with the people found in your contacts by matching the synced phone number or provided email address. New contacts can also find you using various methods such as contact and email address.
You can do this easily by finding a topic that interests you and joining a group of people with similar interests on the Kik app with the explore public groups feature. Other people with similar interests can find you as well through these groups.
You can also invite your contacts and family who are not already on the app. Kik helps people in connecting with contacts, family, and also connecting with strangers as well. It tries to connect you with people even with as little information as possible.
Kik has strong privacy protocols; however, it doesn't stop your contacts from finding you.
Comment if you found this article helpful.