GIFs make sharing silly moments and reactions with friends so fun on Snapchat these days. I'm always sending the best dancing Gift or funny cartoon clips I find to my pals to give them a laugh. It really spices up our group chats and private talks, too! I love how GIFs let me inject more personality and humor into our conversations without a lot of typing. This easy tutorial will show how simple it is to send lively GIFs to Snapchat messages. Then you and your friends can also enjoy all the LOLs and vibes!
Answer:
To send GIFs on Snapchat, you can first open the app and take a new photo or video. You can then tap the rectangular sticker icon and select the GIF option to choose an animated image from the available options. Once a GIF is added to the snap, you just need to tap the send button to share your creation with friends in Snapchat chats. This makes it simple and fun for you to include amusing GIFs in your messages.

Snapchat users have multiple ways to enhance their photos and videos, such as using Bitmojis, filters, and exciting stickers. Another fun option is adding GIFs, which are animated stickers, to any picture or video they send. Here's a straightforward guide on sending GIFs on Snapchat with a few simple steps.
---
What Do GIFs Mean?
GIFs, short for Graphics Interchange Format, were created in 1987 by Steve Wilhite. They are animated images that loop continuously without an endpoint and are commonly used online for expressing emotions and ideas.
People often use GIFs on social media, chats, and videos as a more expressive alternative to standard emojis. Instead of typing words like "HaHa," you can convey stronger emotions through GIFs.
In addition to expressing emotions, GIFs are useful for conveying short conversation messages. For example, if you want to let someone know that you're eating right now, you can send an animated eating GIF instead of typing out a longer sentence, saving some time.
Also Read: What Do Red, Purple, and Blue Mean On Snapchat Messages?
---
Can You Send GIFs On Snapchat?
Yes, you can send GIFs on Snapchat. It's easy and quick to send various animated and interesting GIFs. Additionally, you can send custom or downloaded GIFs from your camera roll to your friends on Snapchat. All you have to do is head to the below-mentioned topic.
Also Read: How To Know If Someone Added You On Snapchat?
---
How To Send GIFs On Snapchat?
Snapchat has partnered with GIPHY, allowing users to use animated GIFs in their messages and stories. GIPHY, the leading website for downloading animated GIFs on your computer, also offers a convenient mobile app for accessing a wide range of amazing GIFs. Get ready to express yourself on Snapchat through engaging and exciting GIFs of your messages and stories.
To send a GIF via Snapchat chat, follow these steps:
Step 1: Open the Snapchat App
Tap the Snapchat app to open it and log in to your account.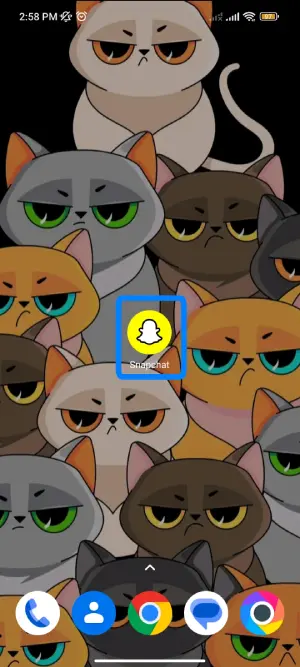 Step 2: Take a New Snap Or Video
Capture a new snap or video by long pressing the record button in the center of the screen.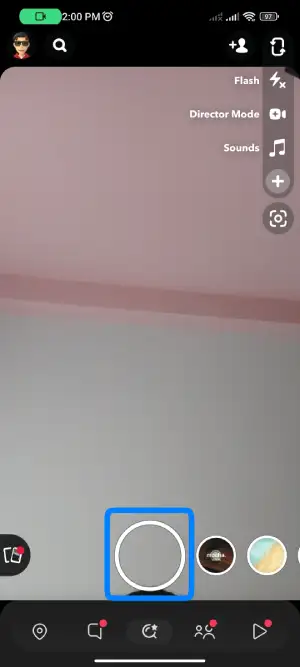 Step 3: Tap on the Rectangular Box Icon
Tap on the rectangular box icon on the screen's left side.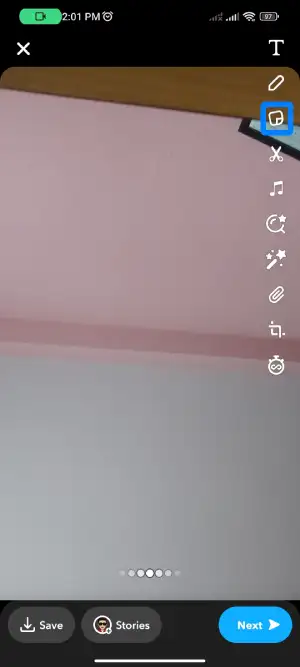 Step 4: Tap On the Search Bar
Tap on the search bar from the sticker section, which will take you to the new page.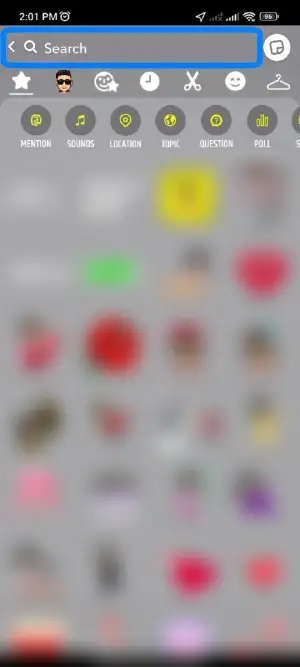 Step 5: Select Your GIF
In that section, you'll find numerous trending GIFs. Choose one from the selection or search for another GIF to suit your preferences.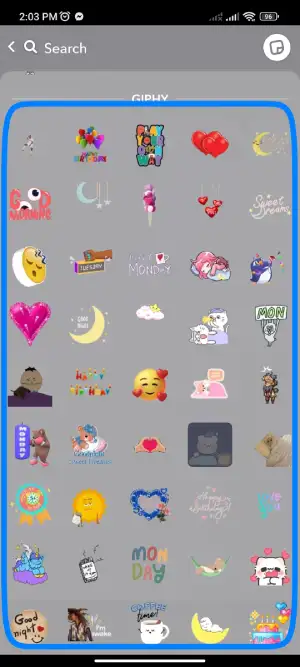 Step 6: Look For GIF
Tap the Search Bar and enter the desired keyword to find specific GIFs. For instance, if you want GIFs related to eating, type "eat" to see the relevant results.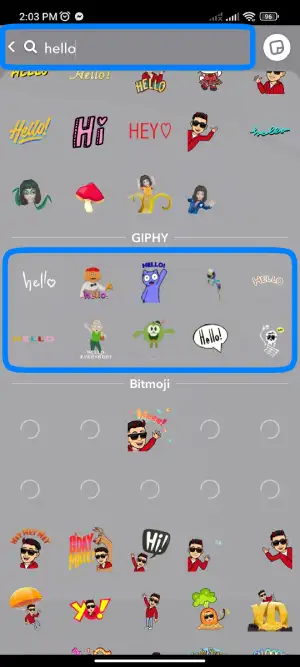 Step 7: Place And Resize GIF
Drag the selected GIF to the desired spot in your photo or video and resize it if necessary.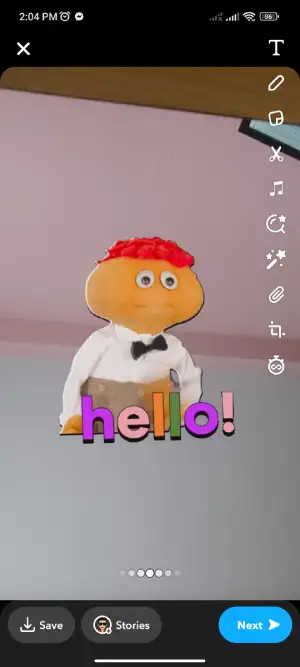 Step 8: Send a GIF
Once everything is in place, tap the Send button. You can send it to a friend or post it on your story. The choice is yours.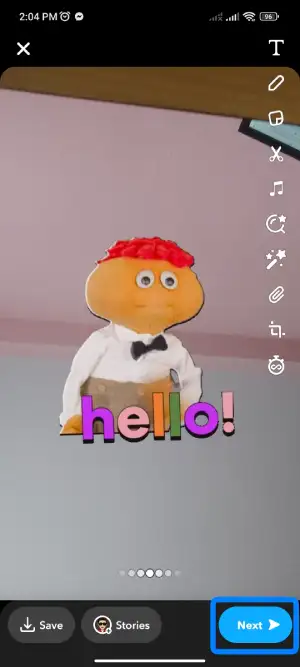 Also Read: How To Remove Someone Off Your Best Friends List On Snapchat Without Blocking Them?
---
How To Send GIFs On Snapchat From Camera Roll?
You may have a GIF saved on your phone, which you found online. If you're considering using it on social media sites, including Snapchat, you're just one step away from sending it.
Here are the easy steps to send downloaded GIFs on Snapchat from your camera roll:
Step 1: Download The GIF
Download your desired GIFs online or select the one you have already saved.
Step 2: Go To Your Mobile Gallery
Go to your mobile Gallery section.
Step 3: Select A GIF
Choose the GIFs you want to post on your Snapchat account.
Step 4: Tap On Share (Paper-Plane) Icon
Now, tap on the share icon.
Step 5: Select Snapchat App
Then, select the Snapchat app from the available options.
Step 6: Post On Your Story Or Send It To Your Friend
Your GIFs are now ready to be posted. Choose whether to send them to your friend's chat or your story.
You're all set to shine with your Snapchat photos and videos!
Also Read: What Does "Ignored From Added Me" On Snapchat Mean?
---
How To Get And Send GIFs On Snapchat On iPhone?
Another way to send exciting GIFs on your Snapchat messages is using your mobile keyboard. If you prefer not to use the built-in Snapchat GIFs for any reason, follow these steps:
Simple Steps To Enable GIPHY On iPhone Keyboard:
To install GIPHY, start by downloading the app. After that, follow the provided link to send your GIFs on the Snapchat topic and download GIPHY. Once the app is successfully downloaded, please proceed to the following steps to install it on your mobile keyboard.
Step 1: Go to the iPhone Settings
Begin by accessing your iPhone's settings.
Step 2: Tap on the 'General' Option
Scroll down until you see the 'General' option and tap on it.
Step 3: Tap on the Keyboard Option
Under General settings, select the Keyboard option. Here, you will find all previously installed keyboards.
Step 4: Click on 'Add New Keyboards'
Tap on the "Add New Keyboard" option. Then, from the list of third-party keyboards, select GIPHY.
Step 5: GIPHY Is Installed
Congratulations! GIPHY is now successfully added to your keyboard. Remember to toggle "Allow Full Access" to enable GIPHY's full functionality.
Steps To Send GIFs On Snapchat Using GIPHY Keyword:
After successfully adding GIPHY to your iPhone, it's time to utilize the GIPHY app to send GIFs on Snapchat chat. Follow the steps mentioned below:
Step 1: Open the Snapchat Application
Head on to your mobile app list and find and open the Snapchat app on your iPhone.
Step 2: Go Through the Chat Screen
Navigate to the chat screen located beside the Camera.
Step 3: Select A Conversation
Select a conversation with one of your friends from your Snapchat list.
Step 4: Press on the Globe Icon
Long press on the Globe icon once the keyboard appears.
Step 5: Choose the GIPHY Keyboard
Choose the GIPHY keyboard from the available options.
Step 6: Search And Send The GIF
Please search for your desired GIFs in GIPHY, select the one you want, and then send it by tapping the blue arrow.
Also Read: Can Police Retrieve Deleted Snapchat Messages?
---
How To Get And Send GIFs On Snapchat On Android?
To send GIFs to your friends from Android devices, first install GBoard. Then, enable GBoard on your Android device.
Steps to Enable GBoard on Android:
You need to go through the following steps to enable GBoard on your Android device:
Step 1: Download Gborad
Go to the Play Store and install the GBoard application on your device.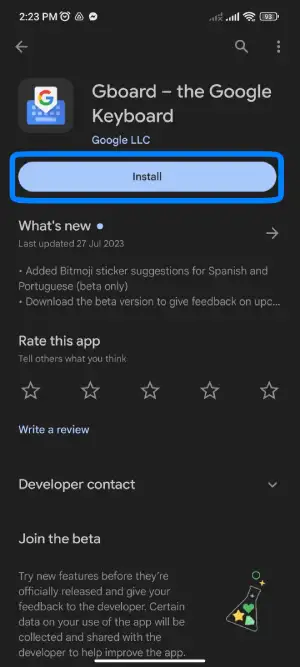 Step 2: Head to Settings
Open your device's settings after download.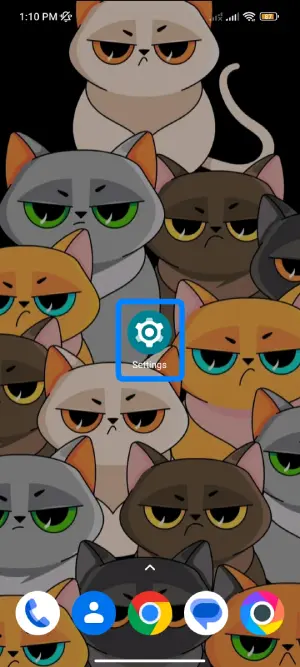 Step 3: Click on Additional Setting
Now, scroll down a little bit and click on Additional Settings.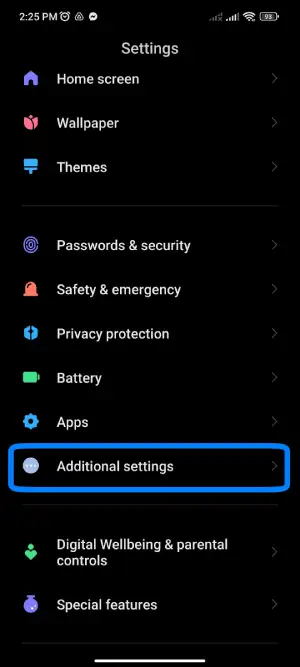 Step 4: Tap On "Language And Input"
Navigate to "Language and Input" for the available options. Select GBoard from the list of available keyboards.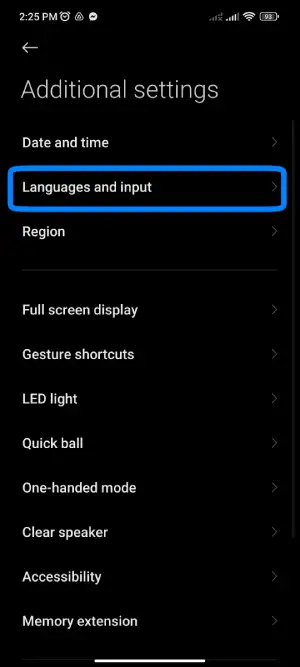 Step 5: Tap on Current Keyboard and select Gboard
On the next screen, you can find Current Keyboard; click on it and Select Gboard.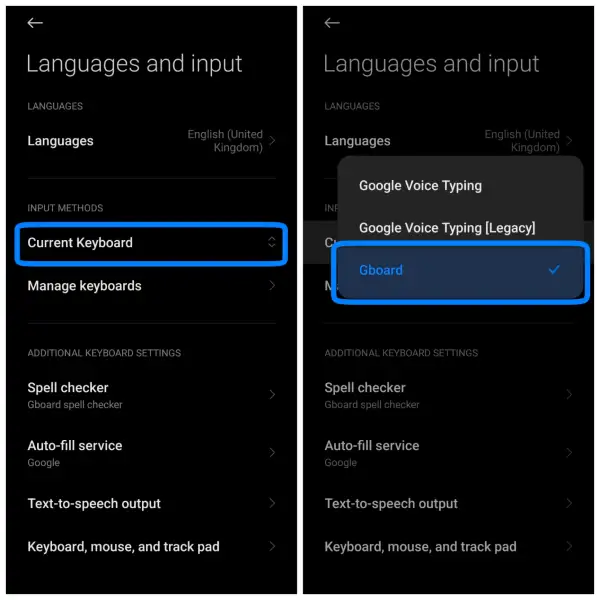 Steps To Send GIFs On Snapchat Using Gboard:
Sending GIFs on Android is incredibly easy, and you don't need third-party apps. Android users can find the GIF option directly on their keyboard. To send a GIF, search for the one you want and send it. If you need additional options, you can add the GIPHY keyboard.
Step 1: Open Snapchat
Open Snapchat and log in to your account if necessary.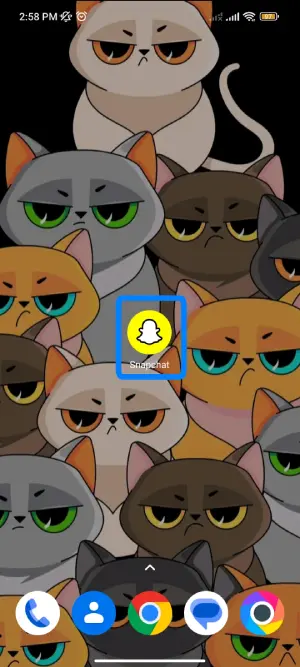 Step 2: Go Through the Chat Screen
Swipe your screen from left to right to access the chat screen. Select the chat with your friend where you want to send a GIF.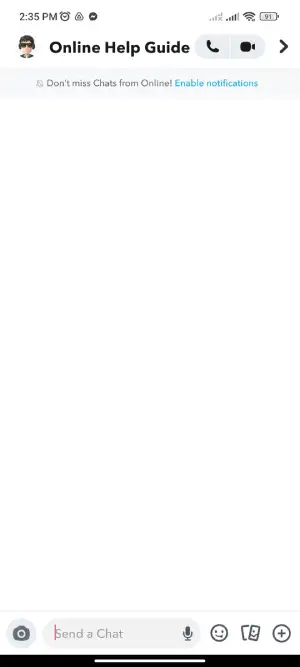 Step 3: Click on Send a Chat
Tap on Send a Chat to Open the keyboard.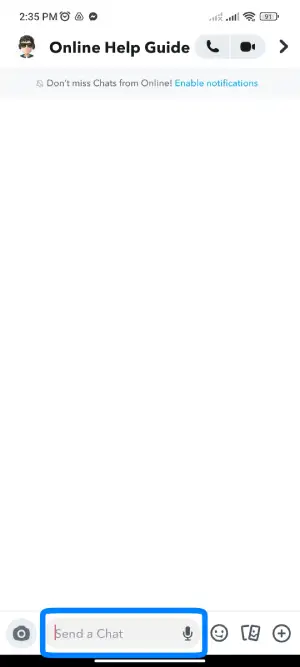 Step 4: Press on the emoji icon
Click on the emoji icon at the bottom right of your screen.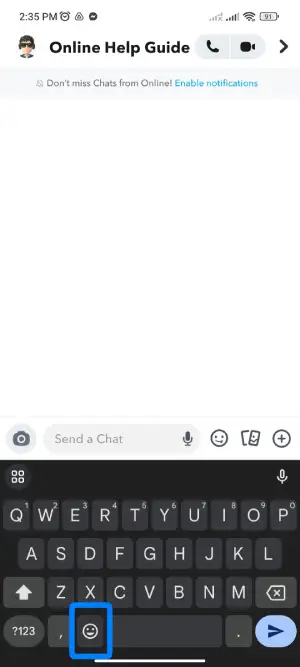 Step 5: Tap on GIF
After clicking the emoji icon, click on the GIF icon at the bottom right.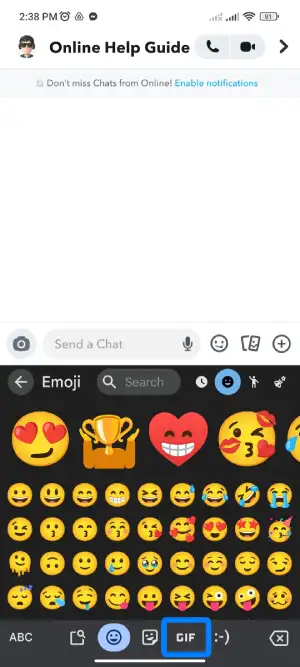 Step 6: Select And Send The GIF
Select the GIF and click the GIF to send it to your friend. You can easily share GIFs with your closest ones on Snapchat.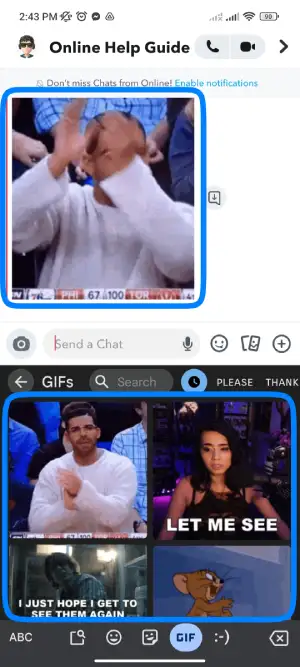 Also Read: How To Fix Snapchat Video Calls Not Working?
---
Which Apps Help Send GIFs On Snapchat?
There are several third-party apps that allow you to find and send GIFs on Snapchat easily. A few top options include:
I have personally used GIPHY in the past and found it to be a great app for finding just the right GIF. With GIPHY, you can:
Browse through a huge catalog of animated images
Search by keyword to find what you're looking for
Save favorites for quick access later
When I used GIPHY, I found it so convenient to scroll through options, find hilarious or relevant GIFs to complement my Snaps, and seamlessly share them. Overall, it made incorporating animated images a breeze and added another fun element to my Snapchat conversations.
Also Read: How To Fix Quick Add Not Working On Snapchat?
---
What Is The Difference Between GIFs And Memes?
Now that we've covered how to send animated GIFs on Snapchat, you may be wondering how they differ from internet memes, another popular digital medium. While GIFs and memes both add visual interest to online conversations, their intended purposes are distinct.
A meme is generally defined as an image, video, or piece of text that is spread widely online for humorous or engagement purposes. Key characteristics of memes include:
They usually consist of a photo with overlayed text that conveys a joke, opinion, or catchphrase.
The goal is for the meme to be widely shared to spread the message.
Memes often make cultural or political commentary.
GIFs, on the other hand, are short video clips that loop endlessly. Unlike memes, GIF's goal is not widespread distribution but rather to express an emotion or reaction without extensive text. Some key differences between GIFs and memes include:
GIFs are animated, while memes have a static image background.
GIFs show actions or feelings, and memes use text to convey an idea.
GIFs are better for chat apps like Snapchat due to their brevity, while memes are tailored for social sharing.
So, in summary, while both are popular digital media, GIFs and memes serve distinct purposes – GIFs for emotive responses and memes for spreading humorous messages or ideas. Understanding the difference will help you choose the best option for your online interactions.
Also Read: How To See Who Has Joined Your Private Story On Snapchat?
---
How To Send Musical GIFs On Snapchat?
Sending musical GIFs on Snapchat is easy with the help of an application called Tunemoji.
To send musical GIFs:
Open the Tunemoji application.
Search for the desired GIFs using different words and phrases.
Once you find the perfect musical GIF, please share it with your friends on Snapchat.
Now, you can add a musical touch to your Snapchat chats and have fun sharing these creative GIFs with your friends!
Also Read: Why Snapchat Not Loading Snaps Or Stories? | With Fixes
---
How To Add Your GIFs To Snapchat Chat?
With the Snapchat GIFs option, you can easily attach GIFs to your photos and videos to send to your friends. However, creating and sending your customized GIFs directly on Snapchat might be challenging.
But here's some exciting news! You can still create and share funny and exciting GIFs on social media platforms, including Snapchat. How? By using the GIPHY app!
The GIPHY app allows you to create and edit photos, making it easy to craft perfect GIFs. Download the GIPHY app on your mobile device, and you're ready to unleash your creativity by sharing your unique GIFs with friends on Snapchat and other social media sites. Have fun and get creative with your GIFs!
Once you have downloaded the GIPHY on your smartphone, move to the working process of the GIPHY.
Also Read: How To Fix "Too Many Friends" Error On Snapchat?
---
How To Use GIPHY To Create Perfect GIFs?
Let's start making our GIFs using photos, pre-existing animated GIFs, stickers, and more. No need to wait any longer; let's begin now.
Open the GIPHY app on your smartphone.
Tap on the 'Create' option from the upper right side of the screen.
You'll find three options: Smile icon, Use filters, and the edit option to create GIFs. Please take a Photo: Snap a photo or someone else's and turn it into a GIF. Gallery option: Select photos from your phone gallery or saved GIFs to edit and make custom GIFs.
Choose one option and begin creating your GIFs. There are various editing options available.
Once done, tap on the right face arrow from the lower right corner.
To send the GIF to your Snapchat friends, select the Share GIF option.
If you want to save the GIF on your phone, choose your created GIF, tap on the three vertical dots, and Save the GIF. It will be saved in your phone gallery.
You can now send your GIFs through Snapchat chat or your story. Additionally, GIPHY allows you to send GIFs on other social media sites, but you must install the GIPHY app on your phone.
Also Read: How to Mute Notifications on Snapchat?
---
How To Convert A Snapchat Video Into A GIF Loop?
You can convert a Snapchat video into a GIF loop by following these steps:
Step 1: Open The Snapchat Application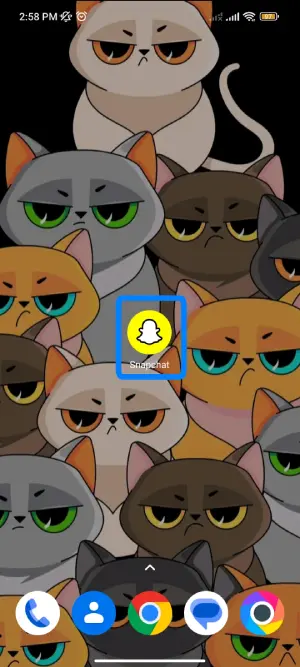 Open the Snapchat application and log in to your account.
Step 2: Tap On The Shutter Icon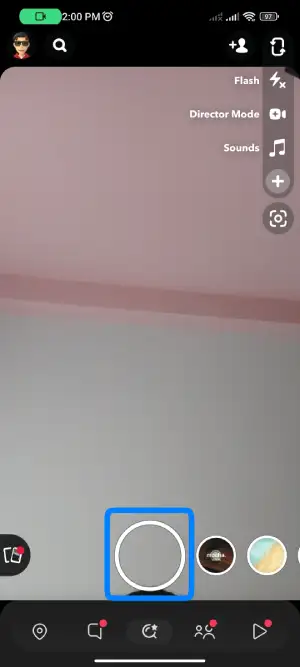 Record a video by tapping and holding the shutter icon at the bottom center.
Step 3: Tap On The Loop Icon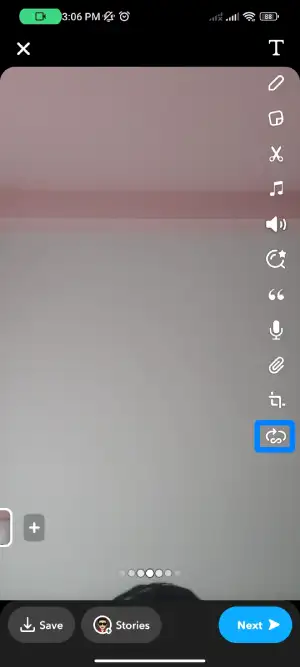 Tap the loop icon on the right-hand side until it shows "loop."
Step 4: Done
You're done! Your video is now converted into a GIF loop and ready to be shared with your friends on Snapchat.
Also Read: How To Unlock The Butterflies Lens On Snapchat? | 5 Ways
---
Why Your GIFs Won't Work On Snapchat?
Adding fun GIFs to Snapchat should be seamless. However, some issues can arise which prevent animated images from displaying properly.
1. GIFs won't load or play
This is often due to temporary server errors on Snapchat's end that are out of a user's control. Retry adding the GIF later.
2. GIF appears static rather than animated
The most common cause is using an outdated Snapchat app version. Make sure always to update the app to the latest version available.
3. GIF displays as a broken image
Again, an outdated app is usually to blame. Snapchat regularly optimizes GIF integration, so all users need the newest app version.
4. GIF instantly disappears after adding
Snapchat servers could be overloaded, causing loading issues. Wait and try inserting the GIF again later when activity levels reduce.
In summary, checking that your Snapchat app is fully updated is the simplest first step when GIF posting problems occur. New releases patch bugs to ensure smooth GIF sending. If issues persist, server demand could be temporarily high – retry later for the best experience.
Also Read: How to Mute Someone's Stories on Snapchat
---
Frequently Asked Questions (FAQs)
Here are some of the frequently asked questions regarding GIFs On Snapchat:
---
Is The GIPHY App Free To Use?
Yes, the GIPHY app is free on Android and iOS platforms. Just install the app, sign up with Google or Facebook, and you'll have access to a wide array of GIFs. From there, you can create and download various GIFs to share with your friends and loved ones, enhancing your messaging experience with fun and expressive animations.
---
Which Sites Offer Free GIFs To Download And Send On Snapchat?
You can find free GIFs to download and send on Snapchat from the following sites:
Tenor
ReactionGIFs
Gifer
imgflip
Tumblr
Reddit
GIPHY
Gfycat
Imgur
---
Why Can't You Upload GIFs On Snapchat?
GIFs cannot be uploaded directly on Snapchat due to limitations in the application. To use GIFs on Snapchat, you can try using third-party apps or websites to convert GIFs into videos or images before sharing them on the platform. Keeping your Snapchat app updated with the latest version is always a good idea for the best user experience.
---
Is GIPHY Free And Safe?
Yes, GIPHY is both free and safe to use. You can download GIFs for free through the GIPHY application without any safety concerns.
---
Conclusion
Therefore, Snapchat offers a fantastic range of exciting features for users. You can easily enhance your photos with filters, lenses, stickers, and animated GIFs, making your snaps and videos shine quickly.
Additionally, sending your GIFs becomes a breeze with the GIPHY app. You can create perfect GIFs and memes to entertain your friends effortlessly.
Moreover, the GIPHY app allows you to integrate it into your mobile keyboard, making it convenient to send GIFs without downloading them from the internet.