Sometimes, you may undergo some issues in TikTok that make you think before posting something. Other than this, your account can also be deleted from TikTok. You may wonder, "Why did TikTok delete my account?"
TikTok has become a sensational thing among teenagers as well as adults. Nowadays, people are using TikTok to share valuable information or have fun.
If you have the right content different from other creators, you can definitely become popular on TikTok. However, it always doesn't mean that your account will progress each and every day.
Answer:
TikTok usually deletes your account if you've violated their terms and condition, posted sensitive content, you're under the age of 13 on TikTok, violating advertising policies, spreading spam messages, or someone reported your account.
---
5+ Reasons Why TikTok Deletes Account
TikTok is basically a social media platform where there will be a large audience.
Everything you post on TikTok will be viewed by people worldwide.
So, if the video/content doesn't match the TikTok criteria, you can permanently lose your account.
Apart from this, there are also various reasons "Why TikTok Deleted your Account."
Now, I've listed some of the best possible issues and how to solve them properly so that it will not harm your other account in the future.
Take a closer look.
1. Restriction of Age
The first and main policy of TikTok is the age restriction. You can't use the TikTok account if you are under the age of 13.
Saying that there are still lots of accounts (millions) on TikTok that belong to those under 13 years old.
According to the official report, TikTok has deleted nearly 7.5 million accounts linked to a child under 13 in the first three months of 2021.
It is all to protect their users' privacy and make their platform transparent.
Moreover, there are many files or cases against child abuse on TikTok from the past few years.
Children (under 15) are becoming victims because of opening the TikTok account without consulting or taking permission from their parents.
So due to this act, FTC (Federal Trade Commission) punished or fined TikTok $5.7M for violating child privacy and protection.
After that, they also forced TikTok to implement the "Children's Online Privacy Protection Act" and "COPPA" on the platform.
This means if you are under the age requirements on TikTok, then you have to take permission from your parents to create a new TikTok account.
So, if TikTok deleted your account without any reason, then you might be under the age of 13.
Fix: Do Not Create a TikTok Account If You Are Below 13
If you are under 13 years of age, it is wise to wait until you are above 13 to create a TikTok account.
This will prevent your account from getting deleted by TikTok.
2. Posted Sensitive Content
One of the first reasons why TikTok delete your account without warning you is because of the sensitive content.
If you've posted such content/videos that are abusive, misleading, pornography, murder, threatening, crime, or more, it will permanently affect your account.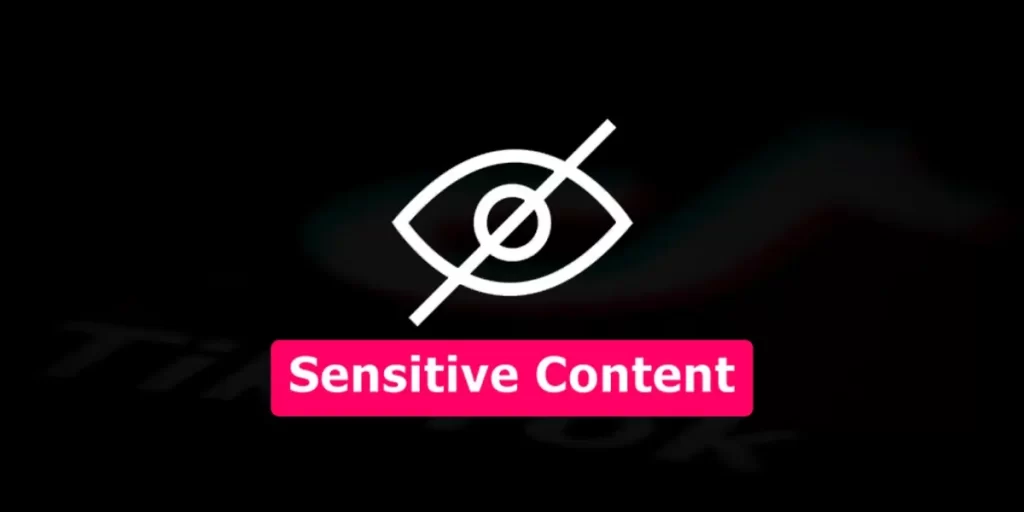 You can't post such content on TikTok that disturbs their larger audience or viewers.
If a person or a user views your sensitive content, then it can affect them both mentally and emotionally.
Fix: Avoid Posting Sensitive Content
TikTok is trying to make its platform neat and clean from sensitive content to protect its viewer's privacy.
So, if your account got deleted for that reason, stop posting any sensitive content on your TikTok account.
Don't repeat the same things for your next TikTok account (if you are creating a new one).
3. Violation of TikTok's Terms of Service
The next reason behind TikTok deleting millions of users' accounts is because of violating their policy and terms of service.
TikTok is very strict about its policy which every user must follow.
The most common restriction of their policy is the copyright content and music.
If you constantly make a video copying others (like exactly the same) or you are using the music from an outside source, then your account will be shadowbanned or muted.
And if you again make such things again and again, then TikTok will delete your account permanently.
Aside from this, other TikTok terms of service include hate speech, sexually explicit content, self-harm, terrorist act, dangerous organization promotion, violent threats regarding government or individual organizations, promoting adult sexual solicitation, and more.
In the recent new update of the TikTok policy in 2021, now it will also collect biometric data such as faceprints and voiceprints.
This will help remove even more explicit content or data from the users.
Fix: Avoid Violating TikTok's Terms of Services
You can fix these issues by avoiding violation of TikTok's Terms And Services.
If you avoid it, you do not have to worry about TikTok deleting your account.
4. Bug In TikTok Algorithm
There is also a high chance that the bug in the TikTok system can delete your account automatically.
TikTok is fined $5.7M compliance for violating the terms of the FTC, which is not protecting the user's accounts under the age of 13.
So, to change their policy, there can a bug in the algorithm which is responsible for deleting users' accounts under 13 years old.
Other than this, it can also delete your account even though your age information on TikTok is over 13.
Therefore, TikTok has announced to call their customer support if your account is suddenly deleted for no reason or if you are not violating age restrictions.
Fix: Contact TikTok Support
You can simply contact TikTok and state your problem regarding the deletion of your account.
If you haven't violated any new terms of TikTok, then you may be able to recover or get your account back.
However, if your account is against TikTok's privacy and policy or violates their restriction or rules, then it's all on your luck.
5. Violating Advertising Policies
If you have lots of followers on your TikTok account, then you can be an influencer.
You can advertise any products or shout out something on your account to do business.
It all depends on how engaging your advertisement skills has and the quality of the product.
However, if you have violated any advertising policies of TikTok from time to time, even after the warning, then TikTok can suddenly delete your account.
There is a limitation on the warning, so if you keep ignoring those warnings from TikTok regarding your advertisement scheme, then you can lose your account.
But remember, TikTok doesn't always delete your account for violating advertising policy. It will simply reject your advertisement from posting.
But, if you are unlucky, you can also lose your TikTok account.
Fix: Avoid Violating TikTok's Advertising Policies
First of all, make sure to not violate any advertising policies of TikTok.
Even if you do, take TikTok's account warnings seriously and correct your mistakes which will prevent your account from getting deleted by TikTok.
6. Reported Account
There is also a high chance that TikTok will delete your account from reporting.
If you've posted such content that created hate from viewers, and if a large number of viewers keep reporting your account, then you will have to forget your account.
Most of the time, when someone reports your account, then TikTok will first start to examine your account fully.
If it finds something related to the report, it will act against your account.
It will either deactivate your account for some time or suspend you from accessing your account for a few days.
Thus, if you start posting the same thing again and again even after the warning or mass users keep reporting your account, then there is a chance that TikTok will delete your account.
There will be a ratio on the reported file; if it crosses the limit, then TikTok will take action against your account.
Fix: Avoid Posts That Might Create Hate From Viewers
To prevent your TikTok account from getting deleted, avoid any content that might create hate from multiple users resulting in them reporting your account.
---
How To Recover Deleted TikTok Account Without Phone Number and Email?
You can easily recover your deleted TikTok account if your account is only in the deactivation phase.
It means that if you have violated the terms or policy of TikTok and it has only deactivated your account (not directly deleted, if permanently), then you still have time to recover it back.
However, if TikTok deleted your account permanently of a sudden instead of deactivation it, then you can't do anything else to retrieve your account except create a new one.
Besides, you also need your TikTok login credentials (email/phone number and password) to recover your account.
In case you can't remember your email and phone number, then you can use your TikTok account username and password to retrieve your account back.
Now, let's see how you can recover your deleted TikTok account without a phone number and email.
Note: You can also use Facebook, Google, Twitter, and Instagram to log in to your TikTok account if you've previously used any of them to access your account.
Step 1: Open the TikTok app.
2: Tap on the Profile icon from the bottom right corner of the screen.
3: Now, select the Signup option from the middle part of the screen.
4: After that, tap on the login option from the bottom right corner.
5: Select the Use Phone/email/username option from the top section.
6: Now, select Email/Username from the upper right corner.
7: Enter your TikTok username and password in the required field.
8: After that, tap on the login button.
9: If your account is deactivation, then you will see the message "Your TikTok account is currently deactivated."
So, here you have to cancel the deactivation process.
Step 10: Finally, tap on the Cancel deactivation button to retrieve your account back.
---
Frequently Asked Questions (FAQs)
Here are some frequently asked questions related to the topic.
---
When you delete your TikTok account, all of your data (including videos, contacts, and messages) are lost forever.
Your account might not be restored, and you might not be able to access any of your data.
Furthermore, you are not eligible for a refund on any virtual goods or coins you purchased using your TikTok account.
However, you have 30 days to reactivate your account if it was temporarily removed.
---
How To Deactivate TikTok Temporarily?
To deactivate TikTok temporarily,
Open TikTok > Tap on Your Profile > Go to Settings and Privacy > Click the Manage account option > Select the Deactivate or delete account > Choose to Deactivate account > Click Deactivate icon on that page and verify your account.
---
Conclusion
Creating a TikTok account and using it is not a difficult task. But if you want to make followers and get popular then you have to think about your content and account carefully.
You have to take your account in a systematic order or ratio so that it won't harm your account in the future.
So, if you TikTok deleted your account, do remember to follow the above-mentioned methods and don't repeat them in the future.
Besides, if TikTok has deactivated your account instead of permanent deletion, then you can recover it back within the first 30 days of deactivation.
---
Also Read