Deleting your TikTok account for several reasons, like bullying, online harassment, or addiction, is quite common. But then, people start becoming fed up with the platform and want to move on. Usually, they make these decisions in a rush, and after a few days, they immediately want to join back. Are you one of those people? Are you looking for steps to recover the TikTok account that you have recently deleted? Then you have come to the right place.
Answer:
To recover your deleted TikTok account, what you need to do is:
1. Open TikTok.
2. Log in to your TikTok account.
3. Choose to sign up.
4. Enter your login credentials.
5. Choose "Cancel Deactivation."
6. Get your account back.
Today we will be looking at different kinds of account deletion and know which can be recovered and which cannot. I will also give you tips to prevent your account from getting a permanent ban. Be sure to check it till the end.
Difference Between Temporary Deletion And Permanent Deletion
Sometimes you might want to delete your TikTok account because of various reasons arising in your head. It never gets permanently deleted whenever you decide to delete your TikTok account. The creators of the app consider that you might one day want to join back and start creating videos.
So, whenever you delete your TikTok account, it is under the deactivation phase initially for 30 days. This can be referred to as a temporary deletion or deactivation period.
If, within 30 days of deleting your account, you change your mind and want to get back, then TikTok allows you to do so freely. It won't ask you any questions, and getting back is just as easy as signing in.
But if you don't try to recover your account within 30 days, then TikTok will permanently delete it. In addition, TikTok will permanently remove all of your videos from the platform.
You will no longer be able to log in to TikTok with the same account. All of the virtual items like coins, gifts, and diamonds that you have purchased using that account will be lost, and you won't get any refund.
This is called permanent deletion, and TikTok nor I will be able to help you recover your account after it is deleted permanently.
Related Article: Simple Guide on How to Delete TikTok Account Permanently
So, you want to delete your TikTok account? Maybe you're sick of the near-constant stream of influencer drama, you're worried about data privacy, or you just need a break from the constant onslaught of content. Whatever your reasons, deleting your TikTok account is relatively simple. However, it's worth noting that there are a few things that happen when you delete your account.
For starters, all of your videos and other content will be removed from the platform. This includes anything you've posted, as well as any videos you've saved to your device. If you delete your account, there's no going back- so make sure you really want to do it before taking the plunge.
Additionally, your account information will be erased. This means that any following or follower counts, as well as any trophies or achievements you've unlocked, will be gone for good. If you ever decide to come back to TikTok (and let's face it, most people who delete their accounts eventually come back), you'll start from scratch.
So, if you're sure you want to delete your TikTok account, go ahead and log in to the app. From there, head to the 'Me' section and scroll down to find the 'Delete Account' option. Of course, once you delete your account, it's gone for good- so think carefully before hitting that delete button!
Can You Recover Your Deleted TikTok Account After 30 Days?
If you ever decide to delete your TikTok account, TikTok allows you to do so. But just in case you later change your mind, TikTok keeps your account for the first 30 days after you delete your account in the deactivation phase.
After those 30 days pass, you cannot recover your deleted TikTok account as it gets permanently deleted. So you can get your deleted TikTok account back only within those 30 days.
Can TikTok Permanently Delete My Account?
Tiktok is a huge platform with millions of active users. Creators try their best to show you exciting and relevant content only. Anything you dislike or hurt your feelings won't be brought up to you. If anything as such happens, you can also get someone's account banned on TikTok.
So as a creator, you must be aware of what you are posting, and your videos should follow basic community guidelines. If your content doesn't abide by the rules of TikTok, then some of your videos will get deleted. If this activity continues, then TikTok might ban or delete your account permanently. In such a case, you must learn possible methods to get around a TikTok ban.
Last year in March, TikTok deleted many accounts permanently whose account holders were kids younger than 13 years old. TikTok is strict regarding its users' age and won't even let you create an account if you are not eligible.
The minimum age requirement for TikTok is 13 years old. So, if your account is underage, then there is a chance that your account can get permanently deleted.
In such a case, you can not get your deleted TikTok account back as you violated the Terms and Conditions of TikTok.
Related Article: Why Did Tiktok Delete My Account
Can I Recover My Permanently Deleted Account?
If TikTok has permanently banned your account or you have deleted it permanently, then sorry, there is no way to recover your deleted TikTok account. You will lose all your videos and virtual items, and you won't even get a refund. However, you can submit an appeal on TikTok for a banned account.
Alternatively, you can report the problem to TikTok. If the officials at TikTok are kind enough, then they might consider uplifting the permanent ban on your TikTok account. But I am not sure if this works 100% of the time or not.
Also Read: How To Change / Add a Phone Number on TikTok
Steps To Recover Your Deleted Account
If you have personally deleted your account and are back within 30 days when the account is just disabled, then follow these steps to get your account back. All of your videos will be perfectly fine, along with all your virtual items. Note that you should remember the account credentials.
Step 1: Open Tiktok On Your Device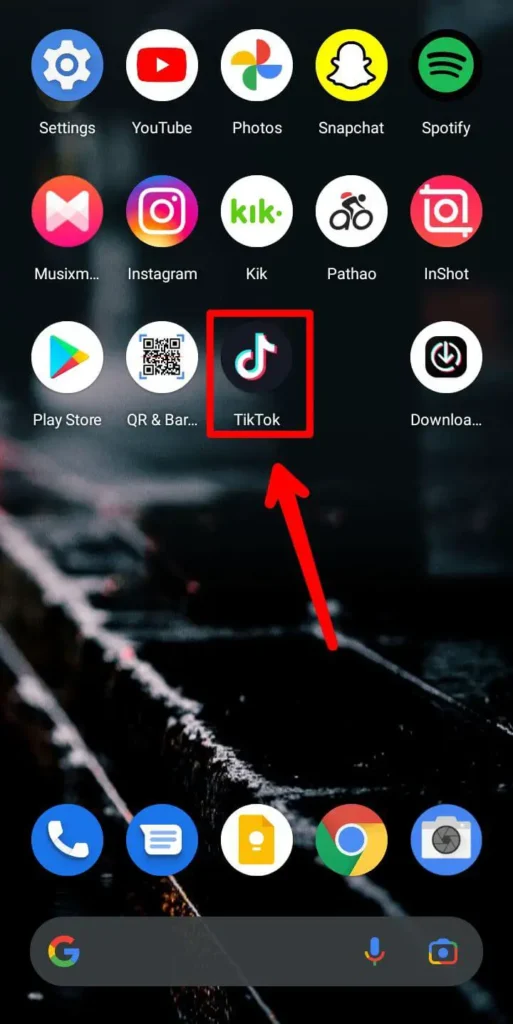 Firstly, open the TikTok app. It won't matter whether you have recently installed the app or it is the old one.
Step 2: Log In To Your TikTok Account

Now try to log in to the app. If you have just installed the app, then it's straightforward. But if it is an old installation, then click on the profile icon at the bottom right hand of your screen, which reads "profile."
Step 3: Choose Sign Up

Now, click "sign up" or "add account" if you have already logged in with another account.
Step 4: Add Login Credentials
Then TikTok will ask you to log in with your account credentials. Even if you have forgotten your password, you can easily recover it by using your email id or phone number.
Step 5: Cancel Account Deactivation

The app will display a message if your account is still in deactivation mode. For example, "Your account is currently under deactivation. If you want to cancel deactivation and recover the account, please tap "Cancel Deactivation" from the bottom right corner of the screen.
Step 7: Recover Your Account
Finally, you will recover your temporarily deleted account along with all your videos and virtual items, if any.
Related Article: Forgot your TikTok Password? Reset TikTok Account Password Today
Also Read: How To Remove Phone Number And Email From TikTok?
How To Recover TikTok Account With Only Username?
You can use your username to log back in during the reactivation process. However, it is necessary for you to provide your password to log in to your account.
If the password is also forgotten, then you can try and change the password from the "Forgot Password" option on the signup page.
How To Avoid TikTok From Permanently Deleting Your Account?
Preventing your TikTok account from getting permanently deleted is a thing that every creator on all platforms works for. In TikTok, there is a high chance that your videos will affect or impact a large number of people because there are more active users.
There can be several reasons why TikTok deletes accounts. So, while creating any kind of video, you must ensure that your clips don't violate the rules and regulations of TikTok.
If many people report your videos posting inappropriate content, pretending to be someone else, inappropriate profile info, or other reasons, then TikTok will permanently delete your account.
Some basic ways of avoiding a permanent account ban or deletion on TikTok are:
Avoid animal cruelty
No content of self-harm
Avoid nudity and include correct info
No hate speech
No terrorism
No representation of dangerous activities and organizations
No Animal Cruelty
Don't include or promote animal cruelty through your videos.
No Self Harm
The video shouldn't include suicide, self-harm, and dangerous acts. This might lead to people copying the actions and result in serious harm.
Correct Info And No Nudity
Your content must avoid pornography and nudity. You should always provide correct info to TikTok (especially DOB).
Hate Speech Is Not Allowed
The video should not have any hate speech intended towards any community, people, religion, race, profession, etc. Such videos are popular on all social media platforms nowadays. But if mass reporting on that video is seen, then the video or the account may get permanently deleted.
Terrorism Is Not Allowed
Videos should not include terrorists and terrorist organizations using violence or violent threats to intimidate any population, government, or international organization.
Representation Of Dangerous Activities And Organizations Prohibited
Your video also shouldn't use names, symbols, logos, flags, slogans, uniforms, gestures, portraits, or other objects representing any dangerous individuals or organizations.
If you abide by all these rules, then you might prevent your account from getting permanently deleted by TikTok.
How To Delete TikTok Account?
To delete your TikTok account, follow these steps:
Step 1: Open TikTok
First, open the TikTok app and log in to your account.
Step 2: Tap On Profile Icon
Then, tap on the profile icon at the bottom right corner of your screen to go to your profile.
Step 3: Tap On Three Dots
Then tap on three dots at the top right corner of the screen.
Step 4: Go To Settings And Privacy
Now tap on Settings and privacy.
Step 5: Tap On Manage Account
After that, tap on Manage account under the Account section.
Step 6: Tap On Delete Account
Then tap on the Delete account to proceed with the deletion process.
Here you will get to see different options, among which you need to choose one.
Step 7: Tap On Continue
Finally, after choosing one of the options, tap on continue.
Then you will have to check the mark on the condition "By continuing, you reviewed your data request and wished to continue deleting your account."
Thus this is how you delete your TikTok account.
Frequently Asked Questions (FAQs)
Some frequently asked questions on how to recover deleted accounts are given below.
Are Your Comments Still There If You Remove Your TikTok Account?
They do not. They will be sent to an empty page if they click the link to your profile page in the remarks mentioned above.
Can TikTok Users Watch My Video If I Have Deleted My TikTok App?
If you have only deleted your TikTok app rather than deleting the account, users can easily find and view your TikTok. So the answer is yes; they can view your TikTok videos if you have only uninstalled your TikTok app.
Does Deleting TikTok Delete Your Drafts?
Yes, TikTok will erase all your data, including your drafted videos, automatically. So, you must be aware before deleting your app that TikTok drafts are only stored locally on your phone; rather, you should post them in private or public if you want them in your saved camera roll.
Does Removing A TikTok DM Make It Disappear?
We won't skirt the issue in this discussion. A message on TikTok cannot be "undone," if you will. Both you and the receiver's phones will have the message destroyed if you delete it from your phone's memory, but the recipient will still be able to retrieve it in their inbox.
Will My Private Videos Be Deleted If I Uninstall TikTok?
No, all your private videos are stored in a TikTok database even after you delete or uninstall the app; they state them as in the privacy terms since they are personal as well; no one can view them.
Can We View TikTok Videos Of Deleted Account?
No, TikTok videos won't appear if you have deleted your account because deleting your TikTok will erase all of your databases. As in, If you've deleted your TikTok account, they probably won't be able to see any of the videos you posted.
Conclusion
TikTok is a friendly app that won't take harsh steps against you if you abide by the rules. If your account is temporarily deleted, you can easily recover it. But if you are back after the deactivation phase, everything will disappear, and no one can help you.
So, please abide by the rules while posting on TikTok or any other social media platforms. Especially on TikTok, there is a high chance that more people will see your video, so you must be careful. You must consider all people's thoughts, feelings, and ideologies before uploading a video.
I think I have included everything related to a recovered deleted TikTok account. I hope you can recover your account and prevent TikTok from deleting it in the future.
Any feedback or recommendations will be heartily welcomed in the comment sections below. To know many more about TikTok Tips and Tricks, visit our official website Online Help Guide.
Thank You!
Also Read