Can't access your suspended TikTok account? No problem. I've got you covered with a guide to help you unsuspend it. TikTok, the fun platform for short videos, lets you display your creativity and talent. With trendy filters, you can make your videos appealing and share them with friends, boosting your popularity. Yet, if you break TikTok's rules or post inappropriate content, your account might be suspended. Here, I'll show you how to unsuspend your TikTok account.
Answer:
To unsuspend your TikTok account, go to your profile, access the Privacy and Settings menu, and report the issue to TikTok support under "Report a Problem." Provide as much information as possible to increase your chances of having your account unsuspended.

You will also find out why TikTok might stop your account, the different kinds of stopping, and how to fix these problems.
---
Reasons Your TikTok Account Got Suspended
There are mainly two reasons why your TikTok account could get stopped, and they are:
Users Fault
Most of the time, it's the users' own actions that can make TikTok stop their accounts, either for a little while or forever.
When you made your account, you said okay to TikTok's rules and guidelines. These rules say that TikTok can stop your account, either for a bit or forever, if you do things against these rules.
Here are some things that can break TikTok's rules:
Showing signs or symbols that have to do with dangerous people or groups, like terrorists.
Talking about doing bad things, like hurting someone, taking stuff from them, or using weapons.
Showing or talking about using drugs.
Sharing violent or graphic videos, either with people or animals, like hurting them.
Doing things like hurting yourself or talking about hurting yourself.
Saying mean or hurtful things about politicians, religious groups, or any community.
Being mean or bullying others.
Sharing videos with grown-up stuff, like nakedness or sexual things.
Showing bad stuff like child abuse.
If you're under 13 and you made a TikTok account, it might get stopped forever because you're not supposed to use TikTok if you're that young.
So, some things you might have done could make TikTok stop your account for a little while or for good.
TikTok's Fault
Sometimes, TikTok might make a mistake and stop your account without asking you about your videos.
Maybe when you made your video, you didn't realize it had things that go against TikTok's rules.
Or, TikTok could think one of your videos is bad even if you didn't mean it that way.
Now, let's talk about the stopping that happened to your account and how to get it back.
Guidelines Violation
TikTok has rules, like a game has rules. If you break these rules in your videos, it's like not following the game's rules. For example, if you show or talk about dangerous or bad things, like hurting someone or using weapons, that's against the rules. TikTok wants everyone to have fun, but they also want everyone to be safe and kind.
Bad Influence
Sometimes, the things you do in your videos might not be a good example for others, especially if they copy what you do. If you do something risky or harmful, TikTok might stop your account to ensure others don't get hurt or do the same things.
Fake Engagement
Imagine if you were playing a game, and someone cheated to win. That's like using fake engagement on TikTok. Fake engagement means making it look like many people like your videos when they don't. TikTok wants honest and real interactions, not tricks.
Copyright Infringement
Copyright is a set of rules that say who can use songs, videos, or other things. Using someone else's stuff without asking or without permission is like taking their toys without asking. TikTok stops accounts for this because they want people to use things they can.
Spam And Misleading Content
Imagine if you went to a party, and someone kept saying the same thing repeatedly, or they tricked you into doing something you didn't want to do. That's like spam and misleading content on TikTok. It's when people post the same thing too much or lie to get attention. TikTok wants real and truthful stuff.
Age Restrictions
TikTok is like a club, and you need to be a certain age to get in. You have to be at least 13 years old to use TikTok. If you're younger, TikTok might stop your account to keep you safe because some things on TikTok might not be suitable for kids.
Also Read: How To Reset TikTok Account Password.
---
How Do I Know If My Account Is Suspended?
If your TikTok account is suspended, it means TikTok has stopped you from using your account for a little while because you broke their rules.
Here's how you can know if your TikTok account is suspended:
You Can't Log In: TikTok has temporarily blocked your access when your TikTok account is suspended. So, when you open the TikTok app and try to log in with your username and password, you'll get a message that says, "Your account has been suspended." This means you won't be able to use your TikTok account for a certain period.
No Videos Or Likes: While your account is suspended, videos you've posted on TikTok won't be visible to other users. It's like they're hidden from everyone. Also, your likes and comments on other people's videos won't be there for others to see. It's as if your activity on TikTok is put on hold.
Messages from TikTok: Sometimes, TikTok will send you a message within the app to inform you that your account has been suspended. This message will usually explain why your account was suspended. It's important to read these messages carefully to understand what you did wrong and how you can avoid it in the future.
Check Your Email: In addition to messages within the TikTok app, TikTok might also email you the email address you used to sign up for your TikTok account. This email will provide details about why your account got suspended. It's a good idea to check your email, including your spam folder, to ensure you get all the important information from TikTok.
Also Read: Is TikTok Getting Banned In The US?
---
Type Of Suspension And Its Solutions
There are three types of suspension your account may have suffered. You can choose the situation mentioned below, explained in detail, and apply solutions to unsuspend your TikTok account. Your account can have three different kinds of trouble.
Let's talk about what you can do if your TikTok account gets into trouble and how to fix it so it's not suspended anymore.
1. Suspension From TikTok Live Streaming
Getting stopped from live streaming is something that happens a lot on TikTok. But don't worry; your other account stuff still works fine.
This usually happens because you didn't mean to break TikTok's rules while you were alive. So, when you go live, be really careful about what you do and say. If it's something a 13-year-old shouldn't see in front of their parents, it can get reported and get you in trouble. Also, playing songs or videos you don't have permission to use, like music you didn't make, can get you in trouble, too.
The good news is, this kind of trouble is usually not forever. For small mistakes, your live streaming can come back after just one day. But if it's a big mistake, it might take a whole week.
So, to keep having fun on TikTok, make sure to follow their rules. That way, you'll avoid getting stopped from live streaming and make TikTok better for everyone.
Solution: Unsuspend Your TikTok Account From Live Streaming
The steps to get an uplift of suspension from live streaming are as follows:
Step 1: Open Your TikTok App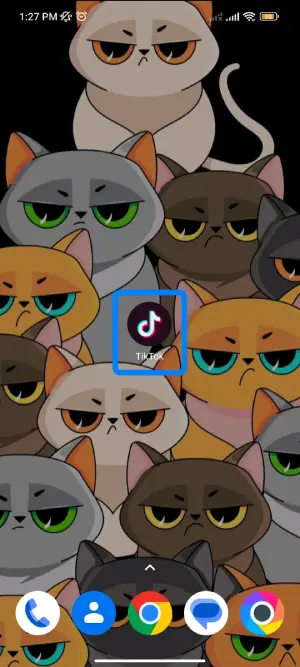 Firstly, you need to search your TikTok app on your mobile phone and tap on it.
If you haven't logged in to your account, log in to your TikTok account using your username and password.
Step 2: Go to Your Profile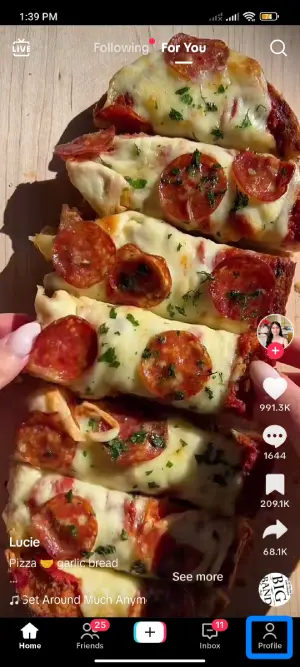 After successfully logging into your account, go to the bottom right corner of your screen and tap my icon so that you can go to your profile page.
Step 3: Tap on Three Verticle Lines (Hamburger Sign)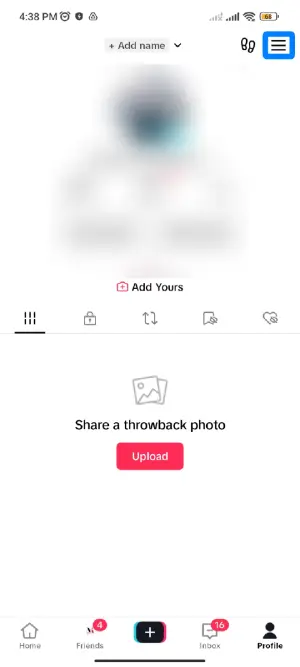 After you have entered your profile page in the top right corner, you will find three vertical dots.
These vertical dots will lead you to the privacy and settings page. Now, tap on the dots.
Step 4: Go to Your Privacy and Settings Menu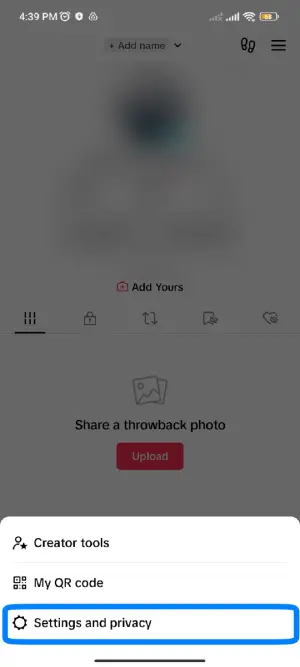 Now, from the pop-up, click on Privacy and Setting Menu
Step 5: Go to Report a Problem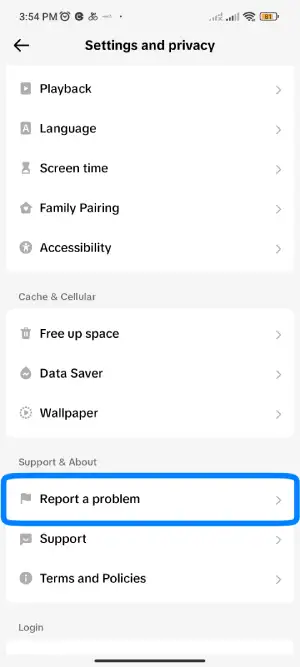 After you have entered your privacy and settings page, go to the "About" tab, then go to Report a problem.
In the report on a problem page, you will see most of the common questions that TikTok users ask. You can select from the given option according to your problem.
You can also give your feedback and can get your problem to the concerned authority.
If you don't get the desired result by following the above steps, you can also contact them by sending mail to the following email accounts
Emails:
However, you must be polite in your mail messages while sending them.
You can also tweet them
Twitter:
Also Read: How To Get Someone's Account Banned In Tiktok
2. The Whole TikTok Account Is Currently Suspended
If you see a message saying "The Account is Currently Suspended" on TikTok, it means your account is in trouble. You can't post any new videos, and when you log in, you won't see your username, how many people you follow, or how many like your stuff.
But there's a silver lining: You can still go live on your account and tell your followers to follow you there.
The thing is, when your account gets this kind of trouble, you have to be patient. It could take 1 week to a whole month to get it back to normal, and you don't have to do anything special. It should come back on its own.
This trouble usually happens when you break TikTok's rules, like posting stuff that's not okay by their community guidelines. But don't worry; if it's not a bad violation, your account won't be gone forever. It's just a timeout.
Solution: Unsuspend Your Whole TikTok Account
If you think you didn't do anything wrong and your TikTok account got suspended, you can still follow the steps mentioned earlier to try and get it unsuspended. The same steps apply to unsuspend your TikTok account from live streaming. Refer to the "Solution: Unsuspend Your TikTok Account From Live Streaming" topic for the step-by-step guide.
Also Read: How To Change/Add a Phone Number on TikTok
3. TikTok Disables Your Account, And You Can't Even Login
This is the toughest suspension on TikTok because you can't even log in to your account when it happens.
This happens mainly because TikTok thinks you might be too young (under thirteen) to have an account, or maybe you did something bad on the app.
Solution: TikTok Disables Your Account, And You Can't Even Login
If this happens to you, you cannot do much by yourself. But you can reach out to TikTok for help.
When you try to log in, a box will show up with two choices: log out or cancel deactivation. Choose "cancel deactivation," and then you can either email them or talk to them on Twitter.
If you don't see this message, you can still use the steps I mentioned earlier to contact TikTok's customer support. They might be able to help you out.
Also Read: Fix When Tiktok Mutes Your Video
---
What Information Should I Include In My Suspension Appeal?
When you're asking TikTok to unsuspend your account, be sure to tell them why you think they made a mistake. Use your TikTok username and email so they can find your account.
Also, say that you understand their rules and that you won't break them again. If you did something wrong, say you're sorry. If you've been a good TikTok user, let them know. Be nice in your message and ask them to check your case and maybe take away the suspension if it was a mix-up.
Also Read: How To Make Slideshow Photo Videos With Music On TikTok?
---
How Long Does The Unsuspension Process Take?
The time it takes to unsuspend your account on TikTok can vary. For minor issues, it might take just a day or so for your account to be unsuspended. But if the problem is more serious, it could take longer, even up to a month.
During this time, it's essential to be patient and wait for TikTok to review and resolve the issue. Keep in mind that they receive many appeals, so it might take some time for them to get to yours.
Also Read: How To View Private TikTok Accounts?
---
I Was Suspended For Copyright Violation. How Can I Avoid This In The Future?
If you got suspended for a copyright violation on TikTok, here's how you can prevent it from happening again:
Use Copyright-Free Music: Stick to using music that is specifically labeled as "royalty-free" or "copyright-free." These tracks are safe to use without worrying about copyright issues.
Create Your Own Music: If you're musically inclined, consider creating your own music or soundtracks. This way, you have full control over the content and won't run into copyright problems.
Get Permission: If you want to use a specific song, try to get permission from the copyright owner. Sometimes, artists or record labels are okay with their music being used on social media platforms.
Use TikTok's Library: TikTok provides a library of music and sounds that you can use without worrying about copyright violations. Explore this library for a wide range of options.
Also Read: How To Create A Video On TikTok Using Text To Speech Feature?
---
Will Deleting And Reinstalling The App Unsuspend My Account?
No, deleting and reinstalling the TikTok app will not unsuspend your account. If your account is suspended, it's typically for a specific reason, like a violation of TikTok's community guidelines or copyright rules. Simply reinstalling the app won't resolve the suspension.
To address a suspension, you should follow the appropriate steps provided by TikTok's support or appeals process, as mentioned earlier in our conversation. This may involve contacting TikTok's support team, providing necessary information, and waiting for them to review and potentially lift the suspension based on the circumstances. Deleting and reinstalling the app won't affect the status of your suspended account.
---
Frequently Asked Questions (FAQs)
Some frequently asked questions related to the topic are taken from the internet. Please go through the questions and their answers.
---
How Long Can A TikTok Account Be Suspended?
A Temporary TikTok Suspension can last 24 hours to 1 week, depending on the violations. However, a permanent ban lasts forever and cannot be reversed in most cases. You can submit an appeal on TikTok for review of your ban if you believe the suspension is not justified.
---
What Does Temporarily Suspended Mean On TikTok?
Temporarily suspended means TikTok has disabled you from using certain features on the platform, such as posting content, commenting, sharing, messaging, etc., for a limited period. This temporary suspension can last from 24 hours to a week, depending on your account's violations.
---
How To Suspend Someone's TikTok Account?
There is no specific way to suspend someone's TikTok account. You can find some ways you can do this in this article, 'How to get someone's account banned on TikTok?'
---
Can TikTok Suspend Your Account?
Yes, TikTok can totally and partially suspend your account temporarily and permanently if you violate the Community Guidelines or any other Terms of Use.
---
Conclusion
After reading this article, I hope you can solve all your problems regarding suspending your account. I want to say thank you for reading up to the end of this article.
If you have any queries regarding How to Unsuspend Your TikTok Account, please write your questions in the comment section below.
For more helpful guidance on TikTok, you can go through TikTok Tips from our official website, Online Help Guide.
Thank You.