Since its 2016 launch, TikTok has captured global attention. It goes beyond a video-sharing social platform, transforming into a storytelling hub. It empowers individuals to stretch their creative and expressive limits. Numerous innovative tools are available to display your artistic talents. This blog guides you to create a video on TikTok using the Text to Speech feature.
Answer:
To create a video using TikTok's Text-to-Speech feature, follow these simple steps: Open the TikTok app > tap "Create" > and record your video > select "Text" > type in the text you wish to narrate > tap it on the video > choose "Text-To-Speech."

Crafting a TikTok video using the text-to-speech feature is more complex than it might seem. Begin by entering the text you wish to have narrated, then activate the reader's voice.
---
What Is TikTok?
TikTok, created by ByteDance, a Chinese multinational company, enables users to craft brief videos enriched with music, filters, and various tools. Since its launch, TikTok has gained immense popularity, amassing 689 million active users globally as of January 2021.
While some might associate "TikTok" with Kesha's hit single, teenagers widely recognize it as an influential subculture. Originating as Musical.ly, a lip-syncing app, TikTok has evolved into a dominant social media platform. Its rapid growth often leaves non-users feeling they need to take advantage of a unique experience.
The platform's most common offerings are dance, music, comedy skills, and more, though they continue beyond there. Users showcase art, vlogs, food, fashion, and other genres.
Furthermore, TikTok offers various features to facilitate this creativity, including video editing, social sharing, duets, and Text-to-speech.
For many, TikTok fills the void left by Vine, another popular video-sharing platform. Yet, TikTok is more than just a replacement. It's a space where users can embrace their authenticity, constantly pushing their creativity to new heights.
Also Read: How To Delete Someone's Video On Tiktok?
---
What Is Text-to-Speech?
Text to Speech is a technology that converts written text into spoken words. It enables users to both read and listen to the text at the same time. This can involve computer-generated voices or recorded human voices.
TikTok's Text to Speech feature stands out as a notable highlight. The feature, introduced on December 15, 2020, utilizes machine learning and artificial intelligence to narrate TikTok videos. Enabling this option lets users hear a voice similar to Siri or other automated voices while reading the text within their videos.
If you encounter issues with this feature on your device, troubleshooting why TikTok's voice effects aren't working on your iOS or Android device can be helpful.
Also Read: How To Delete TikTok Account Permanently?
---
Why Create a Video On TikTok Using the Text-to-Speech Feature?
The primary advantage of utilizing the Text to Speech feature is to enhance content accessibility for individuals with visual and reading difficulties. This widens the audience reach for Text-to-speech users.
However, the feature offers more than just practicality. For instance, users of TikTok use this feature to craft amusing videos that bring out laughter. Users can even initiate new viral trends.
Add vibrancy to your videos and enhance their appeal using text-to-speech functionality. Utilize this feature if you prefer not to vocalize anything in the video, to provide context, or for any suitable purpose. The occasional mispronunciations by artificial intelligence add an element of hilarity to the content.
TikTok's text-to-speech feature is a delightful tool for users, with many viral videos arising from its application. This feature produces enjoyable videos while making them accessible to a wider audience range, showcasing both creative and practical utility.
With an understanding of the Text to Speech feature, let's explore how you can effectively employ this feature to craft captivating TikTok videos.
Also Read: How to Enable or Disable Comments on TikTok?
---
How To Create A Video On TikTok Using Text-to-Speech Feature?
Making TikTok videos with text-to-speech is easy. You will require your phone, tablet, the TikTok app, and a camera. Now, follow these steps to enhance your TikTok videos on both Android and iOS devices:
Step 1. Open The TikTok App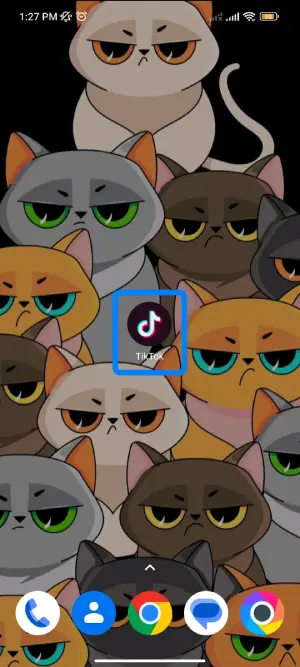 To start creating text-to-speech videos on TikTok, first open the app.
Tap the TikTok icon on your phone to launch the app. You'll see videos from other users playing on your screen.
Step 2. Tap The "Create" Button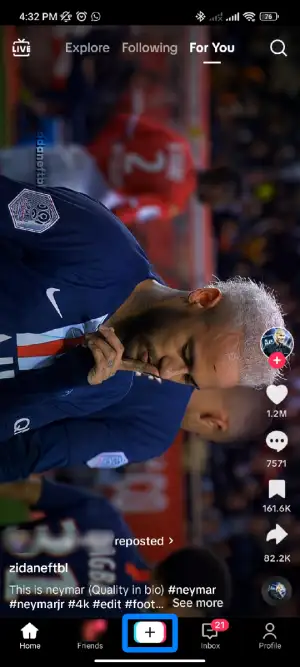 After the app opens, you'll notice a '+' sign at the bottom. Tap this button to open your camera and begin recording your video.
Step 3. Record Your Video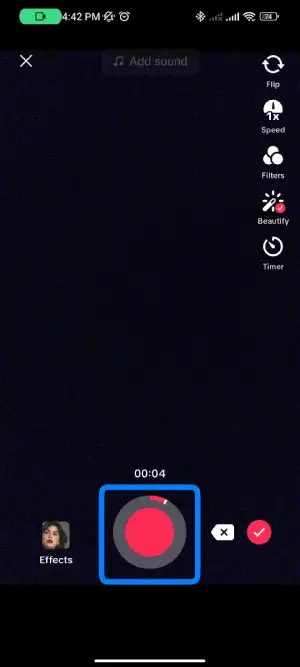 Once the camera is open, record your desired video. Press the red button at the screen's bottom to start recording, and then tap the square button when done.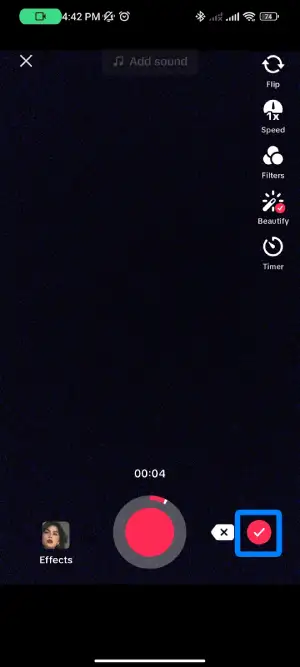 If you're satisfied with the video, tap the red checkmark on the bottom right.
Step 4. Tap "Text"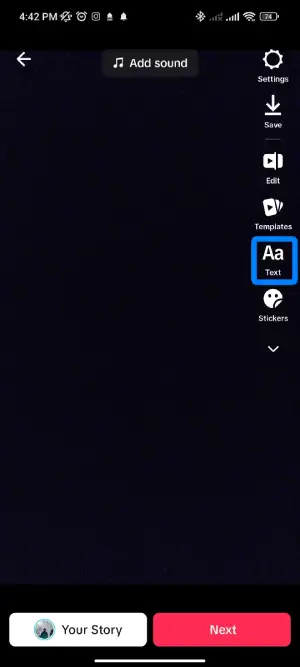 Upon tapping the checkmark, your video will play back. At the bottom, you'll see options like sound, effects, text, and stickers. Choose the "Text" option.
Step 5. Type In The Text That You Want To Narrate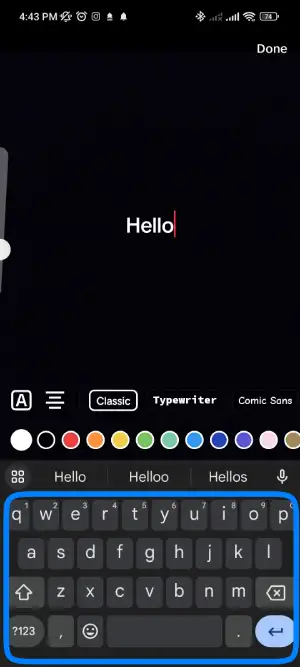 Tap the "Text" button to open the keyboard. Please write the text you want to narrate; it'll appear on the video. Be creative with your words.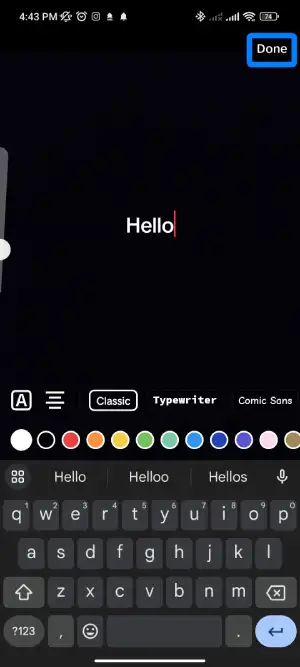 Once done, tap "Done" at the top right.
Step 6. Tap The Text On The Video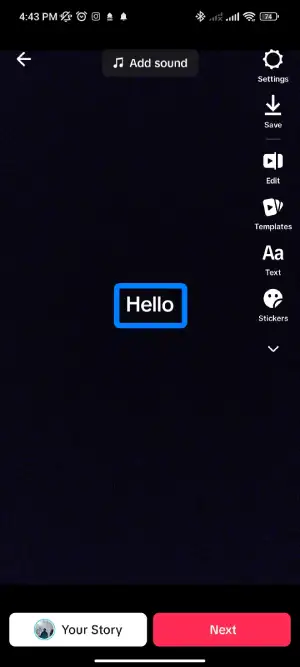 After typing the text, tap the text itself. A mini-menu will appear, offering edits, duration settings, and text-to-speech.
Step 7. Select "Text-To-Speech"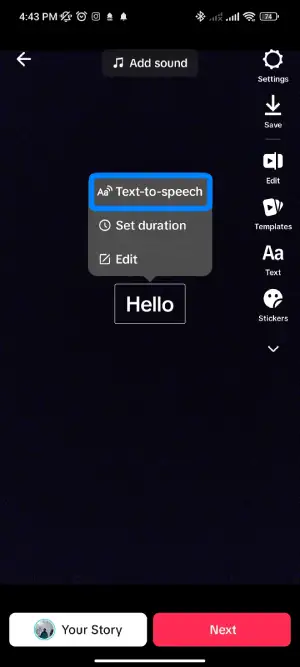 On the mini-menu, select "Text-to-speech." This activates the Text-to-Speech feature on TikTok. Artificial intelligence will now read your written text.
Step 8. Create A Video On TikTok Using Text To Speech Feature
You've successfully enabled the text-to-speech feature. Create your TikTok video with text-to-speech narration.
Experiment with the text until you're satisfied with the narration. You can edit, cancel, or adjust the text duration by tapping on it. You can even use text-to-speech multiple times within the same video. To do this, add new text and enable Text-to-Speech for each one.
Once content, tap "Next," add your desired hashtags, and post your video.
Note: Some users might find robotic text-to-speech voice annoying.
Also Read: How To Enable Microphone Access On TikTok?
---
How To Change Text-To-Speech Voice On TikTok 2023?
In 2023, TikTok continues to captivate users with its innovative features. Among these is the ability to customize the auditory experience through text-to-speech. You can change the text-to-speech voice on TikTok by following these steps:
Open the TikTok app.
Access your profile by tapping on "Me" at the bottom right.
Choose the "Settings" option, often represented by three dots in the top-right corner.
Scroll down and pick "Accessibility."
Locate "Text-To-Speech Voice" and tap on it.
You'll see a list of available voices. Pick the desired one.
Confirm your selection by tapping "Save" or a similar option.
Your TikTok Text-To-Speech voice has now been successfully changed.
Also Read: How To To Earn Money From TikTok?
---
Can I Adjust The Speed And Tone Of The Text-To-Speech Voice?
Yes, you can adjust the speed and tone of the Text-To-Speech voice on TikTok. You'll find options to control the playback speed when setting up the Text-To-Speech voice. You can make the voice speak faster or slower, depending on your preference.
You can also modify the tone of the voice to make it sound more natural, expressive, or aligned with the content you're sharing. These adjustments allow you to customize the Text-To-Speech experience to match your videos' unique style and tone.
Also Read: How To Get More Likes And Followers On TikTok?
---
Why Can't I Change Text to Speech Voice On Tiktok?
It's common to have questions when things don't work as expected. A few different reasons might explain why the text-to-speech feature on TikTok isn't working. Let's look at some of these reasons and try to make sense of them:
Regional Restrictions
Certain features may be limited to specific regions due to various factors, including language support, legal considerations, or testing phases. This could result in users from some regions needing help accessing the text-to-speech voice change feature.
Technical Issues
Technical glitches, bugs, or server-related problems could temporarily affect the availability of certain features, including the ability to change the text-to-speech voice. TikTok's technical team typically addresses these issues through updates and patches.
User Account Restrictions
Occasionally, TikTok might restrict certain features based on the user's account status or behavior. This could be due to issues like account security concerns, violations of community guidelines, or a limited account type.
Device Compatibility
Some features might only be available on certain devices or operating systems. Ensure that your device and app version are up-to-date with the latest features.
Also Read: How To Download TikTok Videos? [All Devices And Methods]
---
Can I Change Text-to-Speech Voice On Tiktok To Female?
Yes, you can! TikTok has different voices that read out text in videos. There are six of them, and they all sound different. Some are like girls, and some are like boys.
You can pick the one you like when you want to change the voice. There's a button you tap, and it will make the new voice talk the words you write.
Here's how you can do it:
Open TikTok and start making your video.
When you write the words you want the voice to read, there's a spot where you can choose the voice.
There are many voices to pick from, which can sound like boys or girls.
After you choose the voice you like, a button says "apply." Tap that button.
The new voice you picked will read your words in the video.
That's it! You've changed the voice to a female one on TikTok. It's a cool way to make your videos sound different and fun.
However, TikTok's text-to-speech feature does not allow users to change the language directly. The available voices were predefined, and users could select from those voices, but altering the language itself was not an option within the feature. Have fun using it!
Also Read: How To Get Verified On TikTok?
---
TikTok Text To Speech Annoying
When TikTok added a voice that reads text aloud, they got into trouble because they used someone else's voice without permission. So, they changed the voice to sound more like a robot. But only some people like this new voice. Still, some good things come with it.
Some people think the new voice sounds exciting and full of energy. But it feels different from the old voice that was funny and boring. Some also say the new voice sounds like a young white woman, a Barbie, or a snobby girl. Many people don't like this new voice, but TikTok keeps you from changing it.
If you're unhappy with the voice, you must use another app or computer program to fix it.
Also Read: How To Delete Someone Else's Tiktok Account?
---
Alternatives to TikTok Voice
Numerous websites and software are available to transform text into speech. Most of these tools are free, with the choice to upgrade to premium features. However, you won't need to utilize the premium offerings. Below is a compilation of websites and software capable of converting your text into speech:
1. Text To Speech
Text To Speech offers extensive features as a no-cost text-to-speech converter. Notably, it imposes no restrictions on the number of characters. The application produces audio in over 40 languages, offering one to four unique voices per language.
Additionally, you can manage playback volume, speed, and pitch. While you can acquire the audio download, the application confines you to a maximum of 100 characters.
2. NaturalReader
NaturalReader offers an in-browser text-to-speech service. It provides seven languages with free voices, one for each language. Users can access 20 minutes of premium voice daily, while free voices remain unlimited. Additionally, you can download the files generated by the service.
3. TTSMP3.Com
TTSMP3.com is an in-browser website that transforms your text into speech at no cost. The site offers various speakers and languages for your selection. It provides a straightforward, user-friendly platform and lets you download the created audio. No sign-up is required.
4. VoiceGenerator.Io
VoiceGenerator.io enables voice audio creation from text without requiring any login. The platform offers Microsoft and Google voices and additional languages to select from. You can download and use the generated voice for your TikTok videos.
Now you know how to craft TikTok videos using text-to-speech and modify the voice if desired. Unleash your creativity, harness these capabilities, and pave the way toward becoming a prominent TikTok personality.
Also Read: Do TikTok Testers Get Paid? [How To Become One]
---
Frequently Asked Questions (FAQs)
Here are some of the frequently asked questions related to this topic, and they are as follows:
---
Can I Use the Text-To-Speech Feature In Duets Or Reactions?
Text-to-speech functionality can be employed within Duets and Reactions. This feature enables users to convert text into spoken words, enhancing their communication experience.
---
Does Using Text-To-Speech Feature Affect Video Engagement?
Yes, utilizing the Text-To-Speech feature does impact video engagement on TikTok. This feature enhances accessibility and engagement by converting text into spoken words, making content more inclusive and captivating for viewers, resulting in improved interaction and connection with the audience.
---
Can I Add Background Music or Other Sounds Along With the Text-To-Speech Voiceover?
You can put background music or other sounds with the Text-To-Speech voiceover. It makes your TikTok more interesting and fun, giving people a better time watching your videos.
---
Can I Use the Text-To-Speech Feature For Captions And Subtitles?
The text-to-speech feature can be utilized to create captions and subtitles, enhancing accessibility and engagement for users who require auditory assistance in comprehending the content.
---
How Do I Ensure The Text-To-Speech Voice Matches The Mood Of My Video?
To ensure the text-to-speech voice aligns with your video's mood, select a voice that mirrors the desired tone—choosing a lively voice for upbeat content or a calm one for serious themes.
---
Conclusion
TikTok's text-to-speech feature serves not only as a practical tool for enhancing accessibility for users with hearing and visual impairments but also as a creative outlet that empowers users to express themselves more vividly and makes videos more engaging.
You can easily produce TikTok videos using the text-to-speech feature, whether you're aiming to inform or entertain. There are endless possibilities for users to explore.
Lastly, use this feature to craft a range of videos and experiment with various typefaces, font sizes, colors, and designs to convey your self-expression fully.