When Kik launched in 2010, it quickly became one of my favorite apps. I enjoyed using it to connect with friends and share photos and messages regularly. Within its first two weeks, Kik reached one million users, showing just how popular the new experience was becoming. Developed by Kik Interactive, Kik allowed people to easily create an account on Kik and become a part of the trending experience. The app's simplicity and engaging features provided an entertaining way for users to connect on their smartphones.
Answer:
To make a Kik account, first launch the Kik app and tap Sign Up. Enter your birthdate, choose a unique username, and set a secure password. Optionally, add your phone number before submitting. Your information will be validated, completing registration and allowing you to use Kik's messaging features and find friends.

Creating an account in Kik is effortless, but first, ensure you have already downloaded the app from an authorized store. You need the Kik App on your smartphone to create an account. If you do not know how to download the Kik app on your device, then you can go to the link Download Kik App. And if you have already installed the app, let's begin with the step-by-step procedure.
---
How Are Kik Accounts Created?
Kik accounts can be easily made directly through the Kik messaging app. The process involves downloading the Kik application on your mobile device. From there, you can sign up and follow a few quick steps to input your details and set up your new account profile.
Download the Kik app and select the signup option
Enter your date of birth and choose a unique username
Set a password to secure your account
Option to add your phone number to help find friends
Sign-up is complete; now you can start messaging on Kik
In just a few steps, you can be using Kik – download, enter signup details, set a password, and you're ready to connect. Be sure to enable 2FA for added security of your new Kik account.
Also Read: How To Send Fake Live Camera Pictures On Kik?
---
How To Create A New Account On Kik?
You can easily create an account on the Kik app within minutes. It is as easy as making accounts on other social media applications. Follow the step-by-step procedure below to create one!
Step 1: Launch Kik Application
Open the Kik application on your smartphone.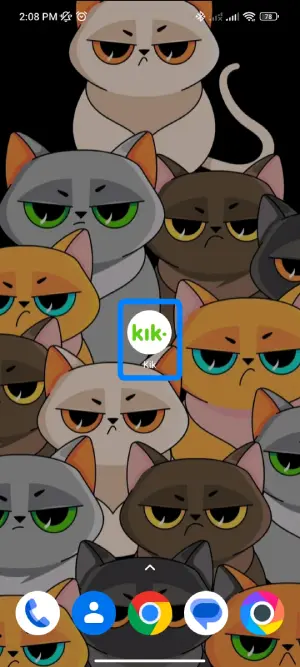 Step 2: Tap On Sign Up Button
You will see the SIGNUP and LOGIN buttons. Click on the Signup.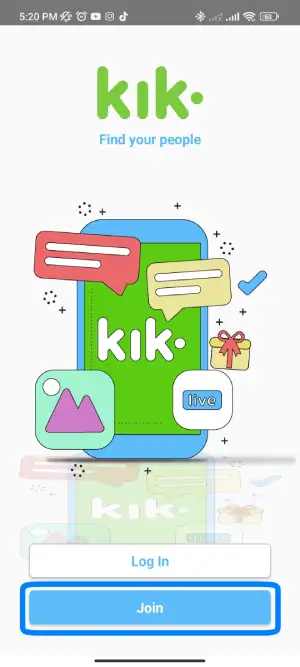 Step 3: Set Your Birthday
This will open the Sign-Up form. At first, you have to put your birthdate.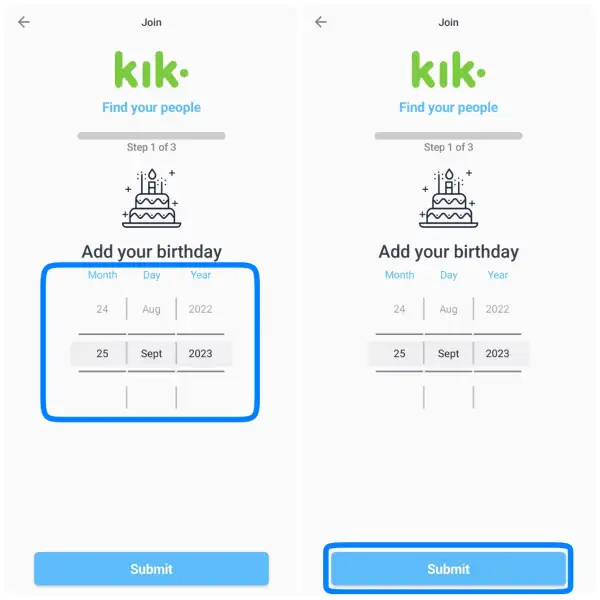 Step 4: Create Your Username
If you see a red cross, "X," it means the username has already been taken. So try to add some numbers or variations in a username. If you see a green checkmark, this means your username is available.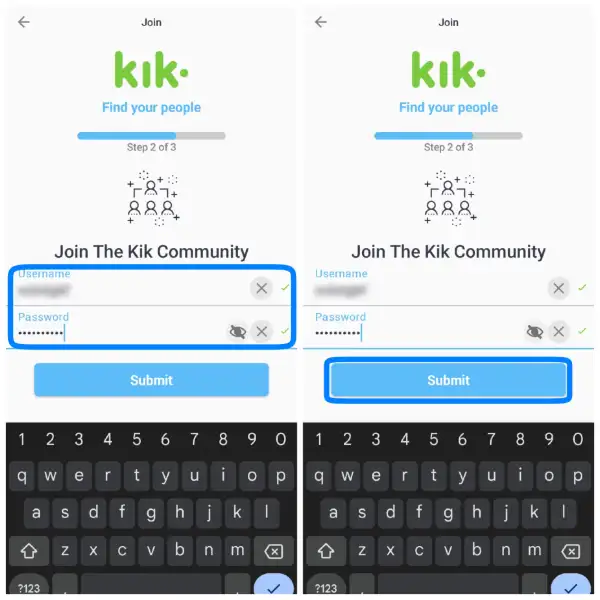 Step 5: Create A Strong Password
To make a strong password, use a lengthy password, lowercase, special characters in the password, and numbers, which make your password secure and strong. If you have completed the steps Tap Submit.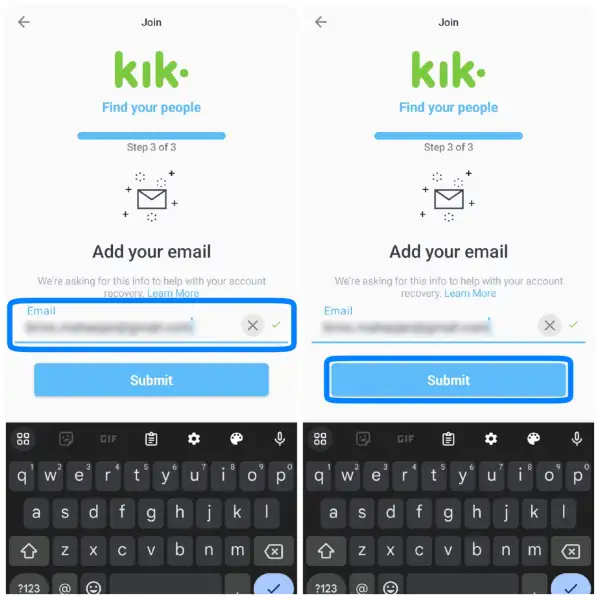 Step 5: Enter Your Phone Number
Now, Kik will ask you for your phone number; add your phone number. Entering your phone Number helps you to find your friends in Kik.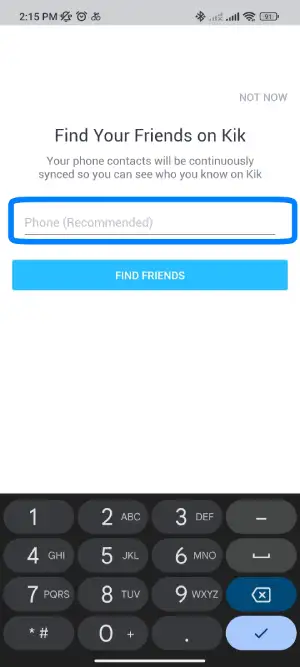 Step 6: Enjoy Kik
If you have completed all the steps above, you have successfully created your Kik account. Now, enjoy your Kik experience.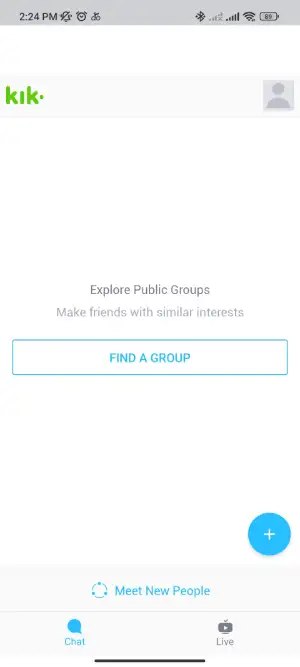 Kik used to ask for email and phone number verification in the past, now it usually doesn't while creating a new account. So, I suggest you do the 2FA-Authentication to secure your Kik account.
Also Read: How To Find Someone On Kik If You Don't Know Their Username?
---
How To Login To Your Kik Account?
Accessing your Kik account is simple, with the proper login credentials. This guide will walk through the quick steps to sign in using the mobile app or web browser on the desktop. Follow along to get connected to your conversations again in no time.
Step 1: Open Kik App
Open Kik Messenger on your smartphone.
Step 2: Click On Login Option
If you have already Signed Up and have an account in Kik, then click on the Login option.
Step 3: Enter Your Username
Now, you will see the Login form under Login. Now, enter your email address or username, Kik, in the text field of Email or Kik Username.
Step 4: Enter Your Password
After that, enter your Kik account password in the Password text field.
Step 5: Tap On Login
Finally, click on the login. You will now get access to your Kik Account.
You have successfully logged in to your account; now, you can enjoy the experience of Kik Messenger. After using Kik Messenger, do not forget to log out to the Kik app to keep your messages private. If you are new and don't know how to log out/Sign Out, follow the step-by-step procedure below to sign out for Kik App.
Also Read: Why Is Kik Slow? | Issues And Fixes
---
How To Use Kik On PC?
Kik application is only available on smartphones. Kik doesn't have a PC version. However, you can use Kik on your PC.
To use Kik on your PC, you have to download Android Emulator Software before you download Kik on your PC.
If you do not know how to download Android Emulator Software or an application from Android Emulator Software, we have an article on "How to Use a Social App in PC/Windows." You can click the link to access the article and find a guide on downloading and installing the Kik app from Android Emulator Software.
Once you have downloaded Android emulator software on your device, go to the article How to Get Kik for PC Windows to get a step-by-step procedure for downloading Kik on PC.
Also Read: How To Remove Live Stream On Kik?
---
How Do I Reset My Password On Kik Messenger?
If in case you forget your password on Kik Messenger, you can follow the following steps to reset it on Kik Messenger:
Step 1: Open Kik Application
Open the Kik Messenger application on your phone.
Step 2: Click On The Login Button
Since you have already signed up to the app, click on the blue 'Login' option at the bottom of the screen.
Step 3: Enter Your Username Or Email
Now, the Login form will pop up on the screen. Enter your email address or Kik Username in the "Email or Kik Username" btext field.
Step 4: Tap On Forget? Option
Since you've forgotten your password, click the blue 'Forget?' button on the right of the Password text field.
Step 5: Enter Your Username Or Email And Tap On Go Button
This opens a website from your phone's browser for resetting your password. Enter your Username or Email in the text field and press the green Go button.
Step 6: Check Your Email
After entering your Email or Username, Kik sends an email to your email address to reset your password.
Step 7: Select Change Your Password Option
Go to your email and click the blue 'Change Your Password' button.
Step 8: Type New Password And Tap On Go Button
Type your New Password and Re-enter your Password. Finally, click on the green Go button to confirm it.
Also Read: Kik Messenger New Features: What's New On The Kik App
---
How To Log Out Of Kik Messenger?
Your chat head will be cleared once you log out from your Kik account. You will not get any message notification until you have to log back in if you want to read or send a message. After you log in again, you will see your chat history in the main chat list.
Step 1: Open Kik Application
Go to the Kik app on your smartphone.
Step 2: Go To Your Profile
Now, go to your profile (your profile picture) from the home screen in the top right corner.
Step 3: Tap On Your Account
After that, choose Your Account under Settings.
Step 4: Select The Log Out Option
Finally, click on the Red LogOut button from Your Account to sign out from Kik.
Also Read: How To Make A Meme On Kik?
---
I Can't Register For An Account: Fix Kik Sign Up And Login Error
While creating an account on Kik, you might need some help with signing up, which will stop you from creating an account on Kik. So, let's see what error may occur while creating an account in Kik.
Email Error: Your Email Is Already In Use
You see this error if you have already created an account with the email or someone you know uses your email address to create an account on Kik.
You can remove your email from the account if you see an error. Now, you must reset your password and delete the email address from that account. After that, you can create a new account with the email.
Username Error: The Username You Want Is Taken
You can use your name or some other name as your username while creating an account on Kik. But if you see a red cross "X" beside the username text field, the username has already been taken, and you cannot use that same name.
To solve this error, try registering using a different and unique name, or you can also use a number and symbol in your username.
Connection Error: You're Experiencing Connection Issues
You are creating your account, and in the meantime, if your network connection is weak or you are not connected to the internet, you will see a connection error. So, you will need help to complete your registration.
To solve this error, ensure you are connected to good internet and have reliable WiFi or Cellular Network.
If that does not work, restart your device, force close the app and reopen it, switch to WiFi or cellular network, or toggle your connection OFF/ON.
Birthday Error: You're Not Old Enough
Kik has restrictions on users who are below the age of 13. So, I request you not to use the Kik application if your age is not as old as per Kik policy.
Otherwise, to fix this problem, you can cheat Kik, change your age, and fit the age to Kik policy.
Version Error: You're Using An Older Version Of Kik
Try to use an up-to-date version of Kik. If you try to sign up in an older version of the application, you might face errors; you may want to try using a friend's device to register.
So, update your application from your device's app store.
Captcha Error: Wrong Captcha
If you enter the wrong Captcha, you must try Captcha until you match Captcha in every submission.
So make sure you enter the correct Captcha before you submit your registration. Even when you match the correct Captcha but it still does not work, learn How to fix the Kik captcha.? Everything you should know about Kik captcha is mentioned in the article above.
Banned From Kik
If you go against Kik's policy, you will be banned from Kik. You might not be able to register for any new accounts.
To fix this error, check out Kik Community Standards for more information.
For more information, visit the Help Center of Kik.
Also Read: How To Change Password On Kik? | Reset Password
---
Frequently Asked Questions
Here are some frequently asked questions on how to create a Kik account:
---
How do I add friends on Kik?
The easiest way is by entering your phone number during signup. This allows Kik to search your contacts and suggest matches. You can also manually add friends by tapping "+" and entering their username. Make sure to share your username with friends, too.
---
How secure is Kik messaging?
Kik encrypts messages in transit and uses encrypted backups by default. You can enable two-factor authentication for extra security. The app does not require personal details; only a username is visible. Kik has privacy controls to manage who can find/message you and view your online status.
---
Can I use Kik without giving my phone number?
Yes, providing a phone number during signup is optional in Kik. Without a number linked, you won't see contact matches but can still create an account, message others who know your username, and use all core chatting features.
---
Is there a Kik web app?
While Kik does not have an official web or desktop version, you can access your account and messages through third-party apps like Kik for PC, which allows the use of Kik via an Android emulator on Windows/Mac.
---
What is the age requirement for Kik?
The minimum age to register for a Kik account and agree to its terms of use is 13 years old.
---
In Conclusion
This article provided step-by-step instructions to create and manage an account on the popular Kik messaging app. It explained the registration process and how personal details are validated on Kik's servers before creating a unique profile. Guidance was offered for signing up, logging in, resetting passwords, and using Kik on PC. Common issues during registration, like duplicate information, were also addressed.
Following the provided steps makes the signup process straightforward. As one of the earliest messaging apps, Kik continues to be a popular choice for communication due to its simplicity and wide user base.
Even in the growing social media landscape, people prefer Kik because it allows for anonymous chatting without sharing contact information. This facilitates more casual conversations without pressure to link profiles on other platforms. Kik's anonymity remains its key draw, allowing users to connect discretely.