Have you experienced recording a TikTok video and realizing there's no sound? TikTok supports background music but not your voice. If you're wondering why you can't use your voice while making a TikTok video, it's likely due to a disabled microphone. Today, I'll demonstrate how to enable microphone access on TikTok.
Answer:
To enable microphone access on TikTok, simply open Settings, go to Apps, select Manage Apps, choose TikTok, then Permissions, tap on Microphone, and finally, allow access by tapping on Allow.

Grant TikTok microphone permission on your device, and you're ready to proceed. It's as straightforward as it sounds. Alright, let's begin!
---
Does TikTok Use Your Microphone?
Yes, TikTok uses your device's microphone to capture audio when you're recording videos. When you create a TikTok video, the app accesses your microphone to record the audio accompanying your video content. This enables you to add voiceovers, music, sound effects, or any other audio elements you want to include in your TikTok videos.
It's important to grant TikTok permission to use your microphone so your videos have visual and audio components.
Also Read: How to Enable or Disable Comments on TikTok?
---
How To Enable Microphone Access On TikTok In Android?
You can follow these straightforward steps using an Android device and wish to enable the microphone on TikTok.
Note: The steps mentioned below might vary depending on your specific device.
Step 1: Open Settings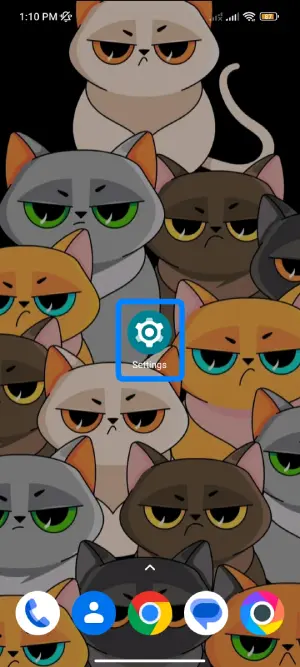 Start by opening your device settings. Swipe down the notification bar from the top of your screen and tap the Settings Gear icon. This is where you'll find your device settings.
Step 2: Tap on Apps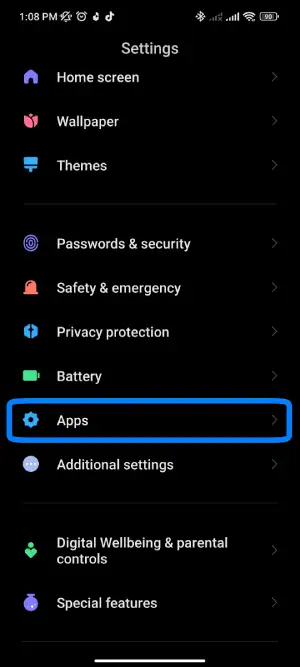 Scroll down and locate the Apps option. On some devices, it might be labeled as an Application. Tap on it to proceed.
Step 3: Tap on Manage Apps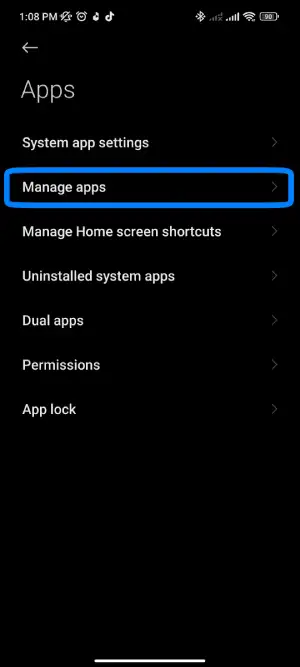 Next, tap on Manage Apps. This will display a list of all your device's apps. Note that this step might not be necessary on all devices.
Step 4: Tap On The TikTok App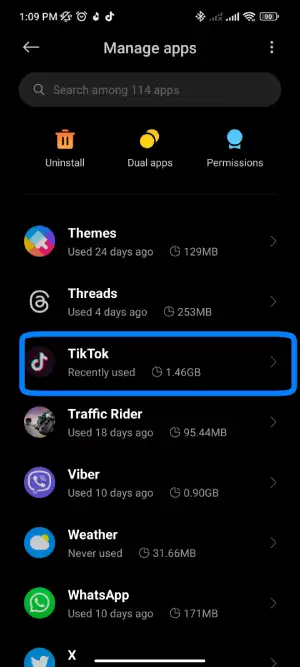 Scroll down and find the TikTok app. Tap on it to access its settings. This is where you can enable microphone access.
You can also manage mobile data usage, storage, memory, and notifications, including likes, comments, live sessions, mentions, new followers, followed account videos, direct messages, and video suggestions.
Step 5: Select App Permission
Tap on the app permissions option. From there, you can grant TikTok permissions such as cameras, contacts, storage, and microphone access.
Step 6: Select The Microphone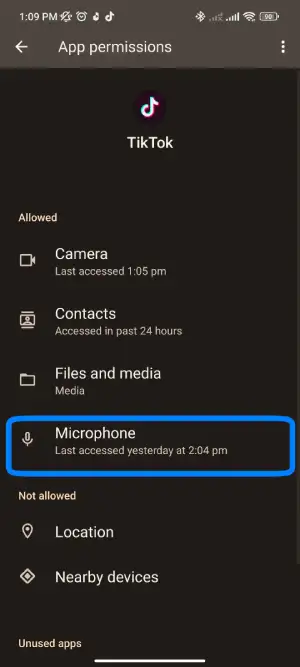 Now, tap the Microphone option to grant TikTok access to your microphone. On some devices, this might be labeled as "Record audio."
Step 7: Tap On Allow Only While using the app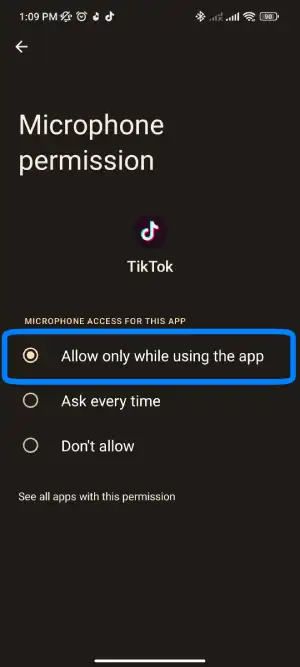 Finally, select the Allow only While using the app option.
Microphone access is typically set to denied by default. With this done, you can open the TikTok app and start recording your voice or audio.
Also Read: How To Get Verified On TikTok? Get Your Blue Checkmark Today
---
How To Enable Microphone Access On TikTok In IOS?
Here's how to grant TikTok microphone access on your iPhone, iPad, or iPod, bringing you one step closer to TikTok fame!
Step 1: Open Settings
Start by opening the settings on your iPhone.
Just tap the gear-shaped Settings icon on your mobile app list.
Step 2: Select TikTok
Next, scroll down until you find the TikTok app.
The app can be located at the bottom of the list.
Step 3: Allow Microphone Access
Then, grant permission for microphone access.
Observe the button changing color from white to green.
These steps effectively enable TikTok to use your iPhone's microphone for video recording.
Also Read: How To Download TikTok Videos? [All Devices And Methods]
---
How Do I Know If My Microphone Is Enabled For TikTok?
When using TikTok to create engaging videos, the quality of your audio can significantly impact the overall appeal of your content. Ensuring your microphone is enabled and functioning properly is essential to producing clear and engaging audio for your TikTok videos. To see if your microphone is enabled for TikTok, you can begin by following these steps:
Open the TikTok app on your device.
Tap on the "Profile" icon in the bottom right corner of the screen.
On your profile, tap the three dots (ellipsis) in the top right corner to access the settings.
Scroll down and select "Privacy and Safety."
Under the "Safety" section, tap "Who can post comments on my videos?"
Here, you can set your comment preferences by choosing between "Everyone," "Friends," or "Off."
If you see the option to select who can comment on your videos, your microphone is enabled. However, if you don't see this option, it might indicate that the app cannot access your microphone. To enable it, you can go to your device's settings, find the TikTok app, and grant it microphone access.
Also Read: How to Unsuspend Your TikTok Account?
---
What Happens When You Allow Microphone Access On TikTok?
The microphone is crucial when making TikTok videos. You must access the microphone to use your voice or sounds instead of music. This way, you can sing and record a video simultaneously, which is perfect for karaoke.
If the microphone doesn't capture your sound clearly, your video will lack audio.
Do you want your viewers to watch your singing video with no sound? Instead of receiving numerous likes, you'll only get comments saying "No Audio…."
No one wants their TikTok likes and followers to decrease. Always allow microphone access on TikTok when creating singing videos. If you're unsure how to, keep reading!
Also Read: How To Filter Spam And Offensive Comments In Tiktok
---
Why Does TikTok Need Microphone Access For Location-Based Filters?
TikTok needs microphone access to make location-based filters more interesting and personal.
When you permit TikTok to use your microphone, it can hear the sounds happening around you. This helps the app understand where you are.
Then, when you use filters based on your location, the app can adjust them using the real-world sounds it hears through your microphone. For instance, if you're at the park, the filters might add bird-chirping sounds to your video to make it seem like you're there.
Having access to your microphone also helps TikTok create a cool experience. With these filters, the app can mix the sounds from where you are into your video. This makes it feel like you're part of that place in your video. It's like adding an extra touch of fun and realness to your videos.
So when TikTok can listen to your microphone, it can give you a more fun and interactive time by changing filters with the sounds around you and making your videos feel like you're in that location.
Also Read: How To Delete Someone Else's Tiktok Account?
---
How To Fix A Microphone Not Working On TikTok?
Dealing with a microphone issue while using TikTok's sound can be frustrating. Fixing a microphone that is not working can involve several steps to identify and address the underlying issue. Here's a guide to help you troubleshoot and potentially resolve the problem:
Grant TikTok permission to access your microphone.
If the issue persists, restart the TikTok app.
Refresh the TikTok recording section if the problem continues.
Clear the TikTok cache if needed.
Consider using earphones or headphones as an alternative solution.
Evaluate your device's microphone performance and voice speaker.
If the problem remains unresolved, check for any updates and start updating the TikTok app.
As a final option, consider uninstalling and reinstalling the TikTok app.
Also Read: How To Limit Comments On TikTok?
---
Why Can't You Hear Your Voice On TikTok?
Sometimes, when making videos, people can't hear their voices. This might happen for different reasons, like how the app is set up or if something is not working right. If you're curious about why you can't hear your voice on TikTok, there are a few possible reasons:
Your device's volume might be turned off, or the recording function malfunctions.
Like any app, TikTok can experience glitches or bugs that might affect its functionality.
Poor internet connectivity can sometimes lead to audio issues on TikTok.
This might affect audio playback if your device is in silent or "Do Not Disturb" mode.
If you're using an older device, it might not be fully compatible with the latest version of TikTok, leading to audio problems.
If you haven't granted microphone permission to TikTok, the app won't be able to capture your voice.
If your device's microphone isn't functioning properly, you can attempt to resolve this by employing a wireless microphone for sound recording on TikTok. You can use a small microphone, earphones, or headphones to capture the sound. Alternatively, you can use the original sound recording from your device's recorder.
Furthermore, you can access brief videos or popular content created by others and utilize the recorded sound. You can also browse through the most recent videos associated with hashtags and include TikTok sounds in your videos, even if your microphone isn't operational.
Feel confident there are many ways to show your creativity on TikTok, even if you can't hear your voice.
Also Read: How To Duet On TikTok With Sound?
---
Can I Disable Microphone Access After Enabling It?
Yes, you can disable microphone access after enabling it. If you no longer want TikTok to access your microphone, you can change this setting in your device's settings.
Go to your phone's settings, find the TikTok app, and adjust the microphone permissions to turn off access. This way, the app won't be able to use your microphone to listen to the sounds around you anymore.
Also Read: How To Reverse A Video On Tiktok?
---
Frequently Asked Questions (FAQs)
Here are some of the frequently asked questions related to this topic, and they are as follows:
---
How To Allow Camera Access On Tiktok 2023?
For Android, go to your device's "Settings," find "Apps" or "Applications," select "TikTok," tap "Permissions," and then turn on the "Camera" toggle.
On iOS devices, access your "Settings," locate "TikTok," tap "Camera," and choose "Allow."
---
Why Is Microphone Access Necessary For Duets On TikTok?
Microphone access is needed for TikTok duets because it allows users to record their audio while singing or reacting to another user's video. This way, when you create duets, the audio from both videos blends smoothly, making the collaboration feel natural and interactive.
---
How To Edit The Text In TikTok?
This article covers different methods for editing text in TikTok. We've gathered all these methods and described how to edit text on TikTok videos.
---
How To Fast Forward TikTok Edit?
On TikTok's editing screen, you can fast-forward your edits. For more detailed step-by-step instructions, refer to the article 'How To Make Fast Motion Videos On TikTok?'
---
How To Edit Sound In TikTok?
Editing sounds in TikTok is straightforward. After choosing the audio, you can edit it directly on the editing screen. For more detailed guidance, you can check out the article 'How to mix sound on TikTok?'
---
TikTok voice effects might not function on Android if you have numerous caches, an outdated operating system, an older TikTok version, or insufficient microphone and speaker permissions.
---
Conclusion
Enabling microphone access on TikTok for Android and iOS devices is crucial to enjoying the platform's creative experience. Remember, granting the app permission to use the microphone empowers you to share your thoughts, music, and ideas with the world, adding a dynamic layer to your TikTok content.
Now, produce an authentic video with your sound and become a sensation on TikTok. This method lets you grant TikTok access to your microphone. Possibly, you could draw numerous viewers and amass a substantial count of likes and followers.
If you have questions or suggestions, don't hesitate to comment. Feel free to share this with friends who might also be experiencing microphone access issues on TikTok.