Apex Legends is a free-to-play battle royale-hero shooter game published by Electronic Arts and developed by Respawn Entertainment. Many players are engaging in it daily and are having fun. But sometimes the game goes down due to many reasons and players are often frustrated about it. So what are the things that you could do to solve the problem? Keep reading the article below to know the reasons and solutions.
There might be various reasons for the game to go down. Firstly, the game server might be down. Secondly, your device might not be meeting the game requirements. Lastly, other reasons might be your internet connection, heavy traffic in-game, account getting hacked, etc.
Many Apex Legends users are reporting lagging or stuttering of the game on their devices. This is very frustrating. I am also a player of Apex Legends and when the game went down, I was very angry. But don't be concerned. This article will guide you through what might be the possible reasons for Apex Legends to go down and their possible reasons.
Common Issues For Apex Legends Down
There are many complaints done by the Apex Legends players. Most of them are very common and some are very rare. Below I have discussed the complaints that the users are reporting.
Apex Legend's Sudden Sever Down
This is one of the most common complaints that the users are saying. While in the game having a ferocious fight with other teams the server tends to crash. And soon after it, the users are getting logged out of the game. This is very frustrating for the users mostly when the players are enjoying the game to their fullest.
Why Is Apex Legends Taking Too Long To Load?
As players are willing to play the game, it is taking a lot of time to load. Even getting inside a game has been taking a lot of time than it used to. Users of the game are complaining that it is taking a lot of time for the game to load even though they have stable internet and a good device to play in.
Why Is Apex Legends Lagging?
Even with good internet and high-end devices players are facing lagging problems inside the game. They have been complaining about it often. This might be due to server issues or either the user is not using the game system properly.
Why Can't I Add My Friends In Apex Legends?
Sometimes when players tend to search and add their friends to play they are unable to find them. It might be because the user has not enabled the cross-play feature. The EA public ID of their friend might be wrong and that is the reason that you can't connect with their friends.
Why Is Apex Legends Voice Chat / Mic Not Working?
Many people have complained about voice chat not functioning on their devices when playing Apex Legends. Players have confirmed that the mic is working in other games but not in Apex Legends.
EA has noticed the problem and is allegedly working on a solution, meanwhile, you may enable the speech-to-text tool in the game settings to obtain texts of what your squad mates are saying.
Why Can't I Log In To Apex Legend?
Users are unable to login into their account even if they have provided the correct information and have good internet. If you are also facing such a problem, simply restart the game. If that doesn't help then restart your device.
Why Am I Not Getting A Team To Match In Apex Legends?
Users are also complaining that they are not matching with people. And many of the players are stuck in the lobby while the game shows "matchmaking". If this happens the possible reason might be that there are less number of players playing on the server that you are in.
Other players might not be matching with you because some players might have reported you and you might have gotten banned. Your rank might also be affecting you from getting teammates in the game.
What Are The Possible Reasons For Apex Legends To Go Down?
I have listed some of the possible reasons why the Apex Legends is down. Have a good reading below to know the reasons.
Apex Legends Server Might Be Down
The Apex Legend server might be down for some maintenance or there might be some issues in the server. This might be the reason for Apex not working. You can upgrade or downgrade your graphics driver.
This is the most typical reason for your game to crash. Check for updates to your driver, or if you recently upgraded it and the game is crashing, try downgrading the driver. Reinstall Apex Legends as well as the Origin or EA app.
Huge Traffic Inside The Game
As the Apex Legend has over 100 million players worldwide the game. At peak hours there happen to be a lot of players in the game which can result in a server crash. So, the server sometime might not be able to hold a huge number of people at a time.
Your Internet Might Be Down
Your internet connection might not be working as well. Remember to always check your internet connection before getting inside the game. There might be various internet interference that makes your internet slow. Make sure that many people are not connected to the same internet.
Your Device Might Not Support The Latest Version
If you have just updated the game to its latest version and after you open the game, it doesn't open at all or it gets crashed every time. It is because your device isn't supporting the latest version of the game or your device drivers aren't updated at all.
Please check the game requirements before getting an update. Also, do check your device drive and system information before downloading any game.
Lack Of Space In Your Device
Your game might be having a hard time opening or operating because your device storage might be full. The device gets a huge amount of load for anything to operate if your storge is full. It affects your loading time and you will not be able to update the game to its latest version.
Your Account Might Be Hacked
If you are having a hard time logging into the game then there might be a possibility that your account was hacked by a hacker. The hacker might have changed your login credentials and you might have no idea about it.
Use strong passwords and VPN to avoid hackers from getting into your profile. By using VPN the hacker won't be able to get access to your personal information.
9+ Solutions With Apex Down/Not Working
So, if the Apex legend is still not working then I have written some of the possible measures for you to perform to get into Apex Legend and continue your gaming.
Solution 1 – Check Official Channels
Your first priority should be to check the game's official social media channels. They normally post about the game maintenance, updates, and issues. Better keep checking those media.
So, before you give up, check the Apex Legends Twitter account and EA Help team as they might have given updates about the game already.
Solution 2 – Check DownDetector Website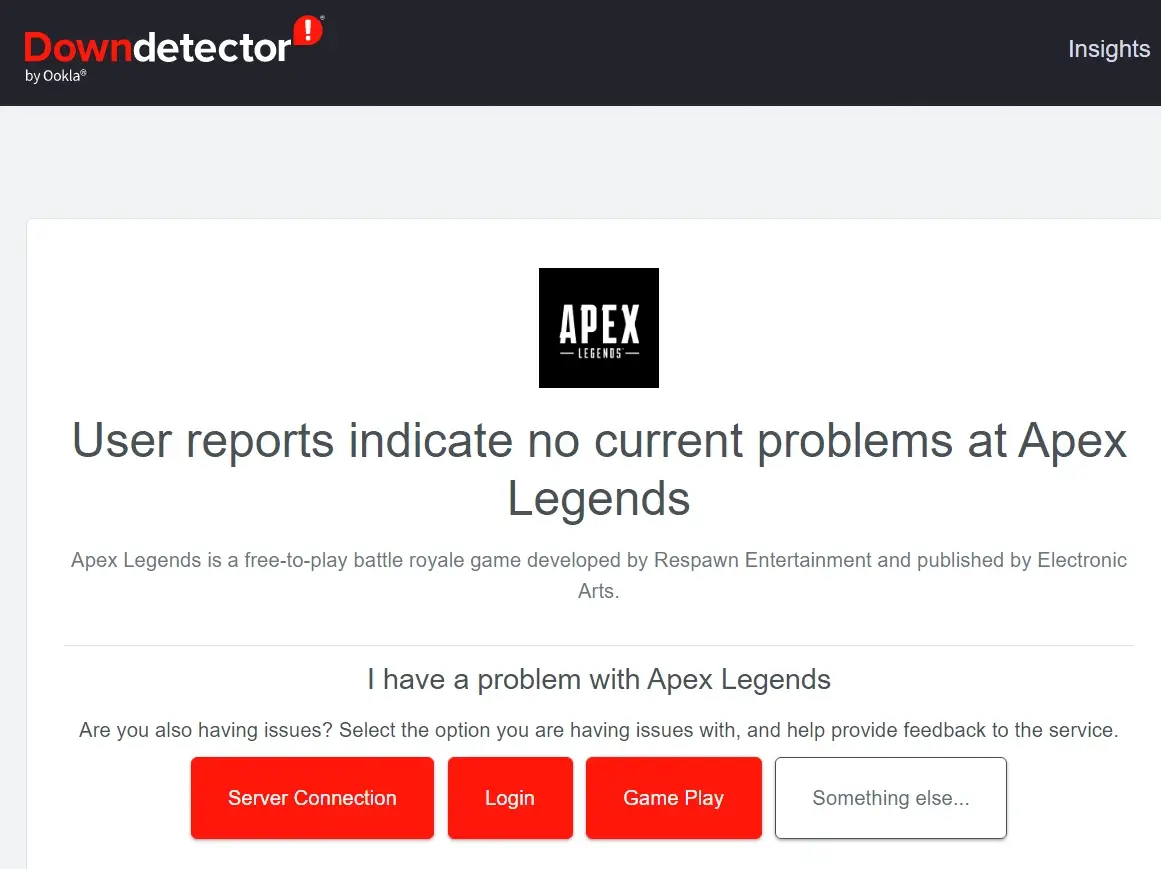 If the above-mentioned official accounts aren't quick enough to know the issues and haven't posted anything yet then it's also worth checking the status of the game with the help of Down Detector.
Downdetector provides credible statistics based on user complaints and allows users to connect with others experiencing the same issue to exchange information. Keep Downdetector bookmarked to remain up to date on outages as they occur. It is always adding new services to Downdetector to keep you informed of outages.
Solution 3 – Meet The Minimum System Requirements
If your device doesn't meet the minimum system requirements for Apex Legends, the game won't be able to operate at all. Even if you can run the game on your device the game won't run properly or it gets crashed when you are in the middle of your game.
I have mentioned the system requirements for Apex Legend PC in the table below. Have a look and later check your device system matches or not.
Minimum Requirements
| | |
| --- | --- |
| OS | 64-bit Windows 7 |
| CPU | Intel Core i3-6300 3.8GHz / AMD FX-4350 4.2 GHz Quad-Core Processor |
| RAM | 6 GB |
| GPU | NVIDIA GeFORCE GT 640 / Radeon HD 7730 |
| Hard Drive | Minimum 22 GB of free space |
| GPU RAM | 1 GB |
Maximum Requirements
| | |
| --- | --- |
| OS | 64-bit Windows 7 |
| CPU | Intel i5 3570K or equivalent |
| RAM | 8 GB |
| GPU | NVIDIA GeFORCE GTX 970 / AMD Radeon R9 290 |
| Hard Drive | Minimum 22 GB of free space |
| GPU RAM | 8 GB |
You will be able to play the game to the fullest if you meet the above requirements. Meeting minimum requirements can make your gaming experience laggy but you can adjust your game setting as well.
Solution 4 – Check Your Internet Connection
Your internet connection can also be one of the major reasons why your game is not working. You must have a strong internet connection for any online game to operate smoothly. So, your internet should be very fast and should have no interference.
If your current network is slow, you can change and restart your router. You can even change to other networks if you have any. You can even use your cellular data and share hotspots to get access to the internet.
Solution 5 – Restart The Game And Your Console/Computer
Some problems, such as the game not working properly or the infinite loading screen error, can be resolved with a simple restart. If you're having difficulties logging in, restart your game first.
And If it doesn't work, restart your computer. If the infinite loading screen remains after restarting the game and your computer, the issue may be more serious.
Solution 6 – Update Your Device Drivers
Missing or outdated device drivers on your computer can cause game lag, particularly your graphics card driver for FPS drops and network card driver for Internet lag. So keep checking if your device drives are updated or not.
There are two ways that you can update your device drivers. You can either update them automatically or you can do it manually as well. To update them manually, go to the device manufacturer's website, look for the most recent version of your driver, then manually download and install it on your computer.
If you are willing to update all the drivers at once or update them when a new update comes up then you can use Driver Easy. It will automatically identify your system and find the right drivers for it. It is a totally free application.
Solution 7 – Run The Game As An Administrator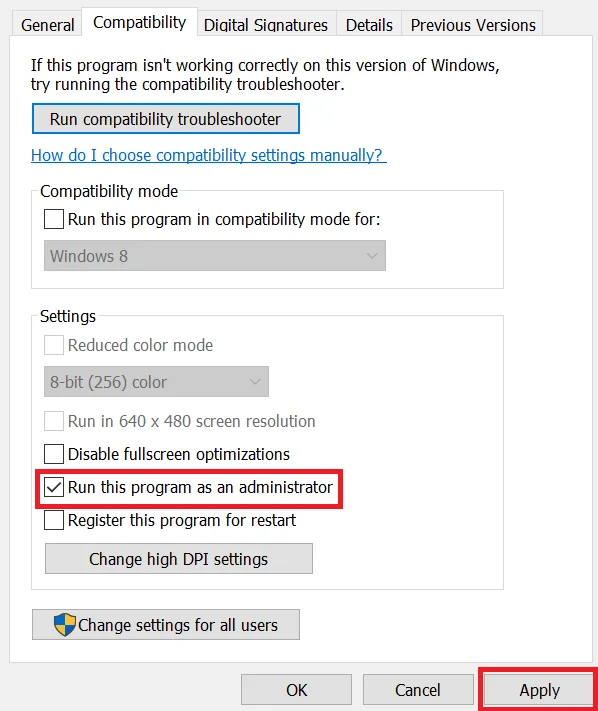 If the game is not opening with the regular clicks then try opening the game as administrator. Right-click on the game icon and a whole lot of options will appear on your screen. There you will see the "Run As Administrator" option. Click on that and the system will ask you to confirm your decision. Click on "Yes" and the game should be running.
You can also right-click on the game and go to its properties. After that go to Compatibility. Downward the compatibility section you can see options where you can put a checkmark. Select the option "Run this program as Administrator"
After that click on Apply and the game will now be running as an administrator permanently until you undo the settings.
Solution 8 – Check For The Most Recent Apex Legends Update
As the game is being played worldwide with over 100 million players, the game is updated by the developers from time to time to bring up something new. So, keep checking for the game updates as well. If your game is not up to date it might not run or you may not be able to play with your friends.
Solution 9 – Allow Apex Legends Through Your Firewall
The Windows Firewall is a security feature that restricts access to your network by apps. Apex Legends will not be able to connect to its servers if it is not allowed through your firewall.
To fix the problem, follow the below step-step guide and let Apex Legends through your firewall.
Step 1: Click On Windows Icon
At your taskbar, click on the windows icon to get into the start menu.
Step 2: Search For Windows Setting
Click on the "⚙️" icon which will be just above the power icon in the start menu.
Step 3: Go To Update & Security Tab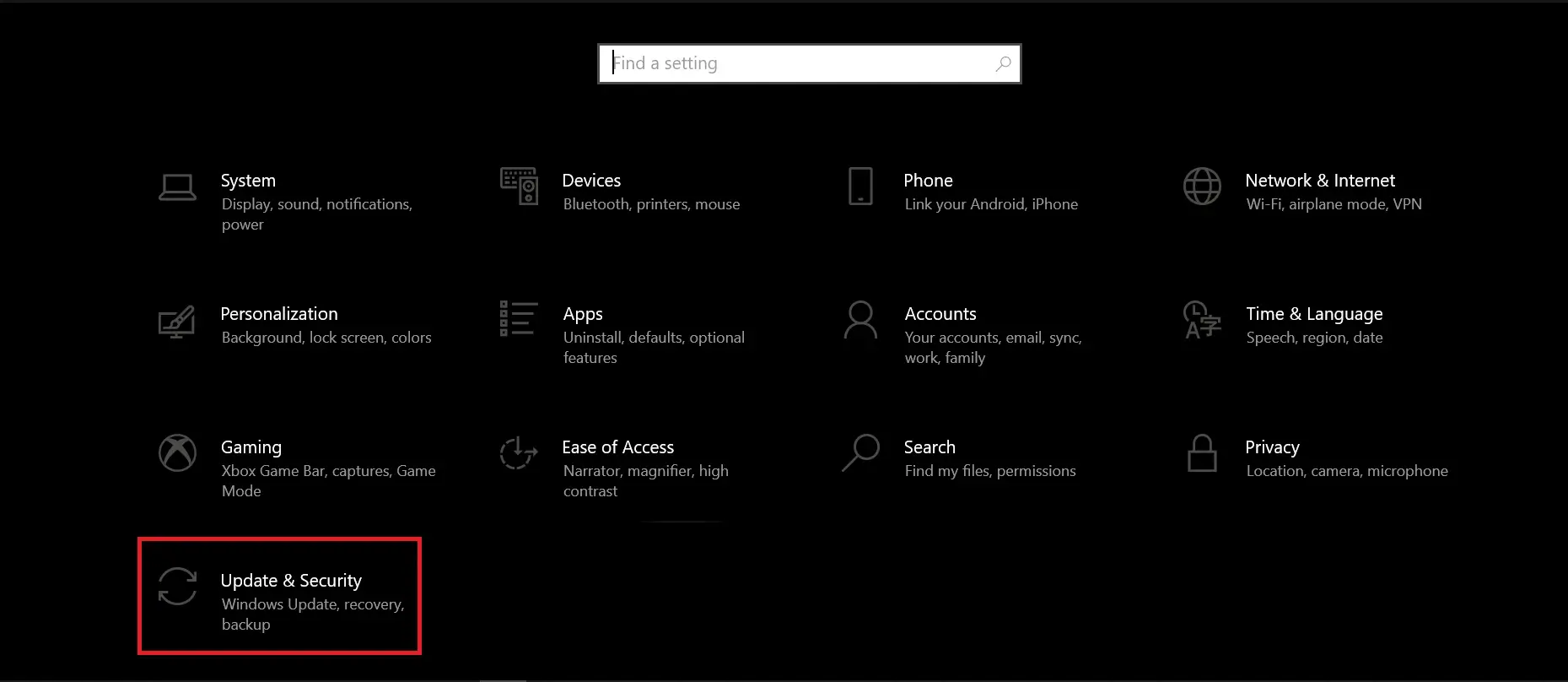 At the window setting, you will see Update & Security option at the last. Click on it.
Step 4: Go To Windows Security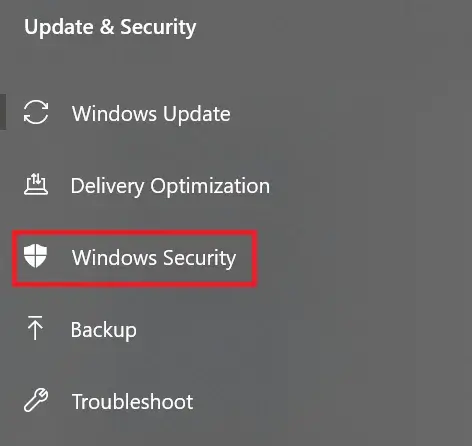 On the left side of your screen, you can see Windows Security. Get into it.
Step 5: Choose Firewall & Network Protection
Click on Firewall & Network Protection available on the right side of your screen inside Windows Security.
Step 6: Select Allow An App Through Firewall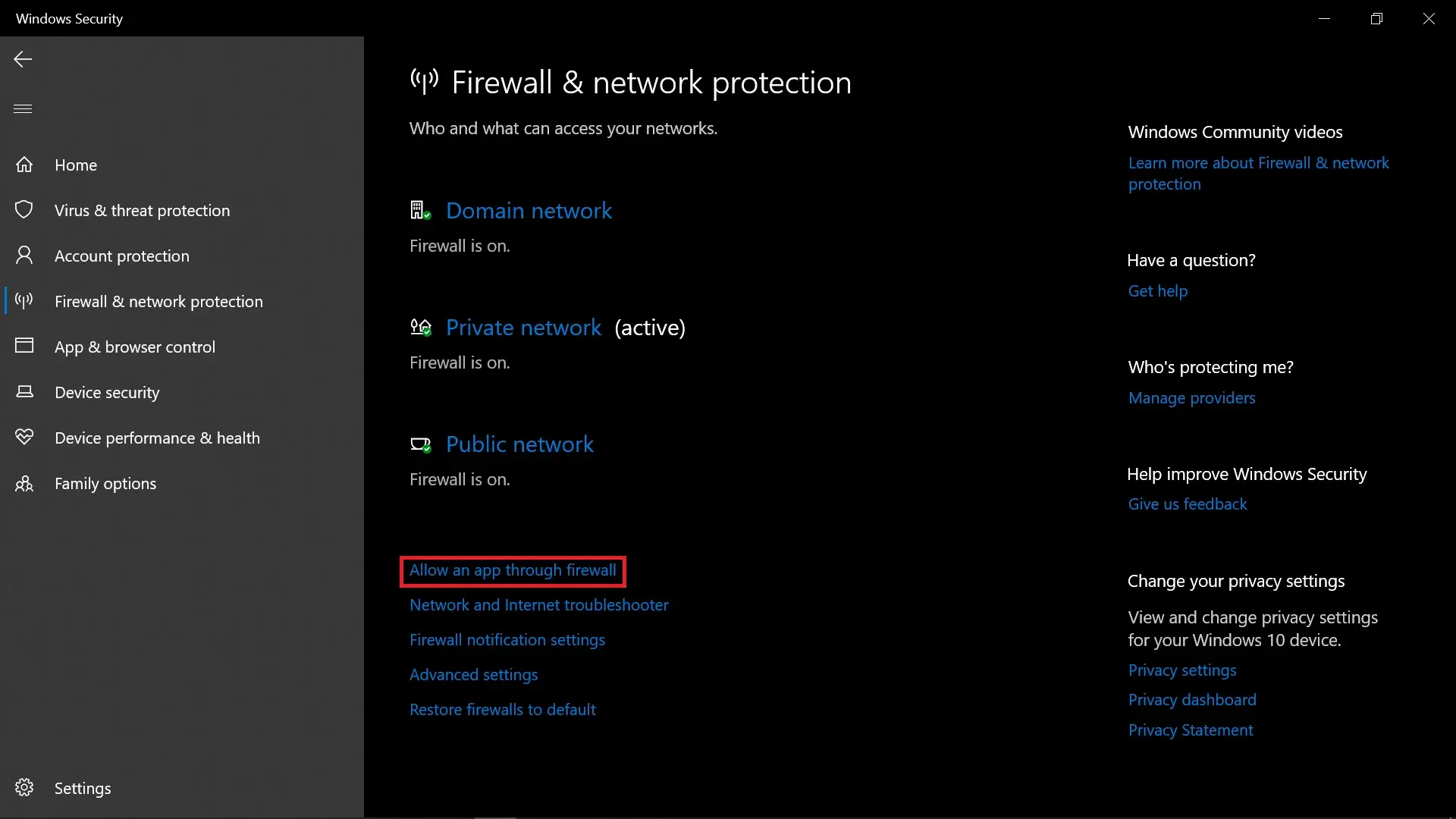 You will see "allow an app through firewall" in blue font. Click on it.
Step 7: Give Access To Apex Legends
Search for Apex Legends and ensure that the game is permitted to access your Public and Private Networks.
Solution 10 – Disable The Game DVR
The game might be using DVR in the background while you are playing the game. It might make your game laggy and it can also crash the game while you are playing. So if you have a low-end device I would recommend you disable the game DVR.
Disable DVR On Xbox.
Disable DVR On Windows.
To Disable DVR On Xbox
Step 1: Open The Xbox App
First, open the Xbox app on your computer.
Step 2: Log Into Your Microsoft Account
Then log in to your Microsoft account.
Step 3: Go To Settings
Tap on the "⚙️" icon to go to settings.
Step 4: Go To Game DVR
Go to the Game DVR tab and choose to "turn off".
Step 5: Turn Off Your Device
Turn off your device and then launch Apex Legends.
To Disable DVR On Windows
Step 1: Go To Windows Setting
Go to your windows setting.
Step 2: Go To The Gaming
Go to Gaming.
Step 3: Left-click on capture
Left-click on Capture
Step 4: Turn Off Record
Turn off Record in the background while I'm playing a game under the Background Recording section.
By doing so, your game will run smoother and it will not crash frequently.
Solution 11 – Repair Apex Legends Game Files
Due to flaws and issues in the game, Apex Legends' installation file may have become damaged. Fortunately, Steam and Origin come with a built-in program that examines game installation files and immediately fixes any damaged or missing components.
Repair Apex Legends Game Files On Origin Launcher.
Repair Apex Legends Game Files On Steam Player.
Repair Apex Legends Game Files On Origin Launcher
Below I have written how you can repair Apex Legends' game file on the origin launcher
Step 1: Go To Dashboard
On My Game Library, go to your dashboard.
Step 2: Right-click On Apex Legends
Then Right-click on Apex Legends.
Step 3: Press On Repair
Press on the "Repair" option available there.
Repair Apex Legends Game Files On Steam Player
For steam players, I've mentioned the process below to repair game
Step 1: Open Steam Player
Open Steam and go to your library and navigate Apex Legends.
Step 2: Go To Properties
Right-click on the game and go to its properties.
Step 3: Verify Integrity Of Game Files
Then, open the local files tab and select Verify Integrity of Game Files.
After performing the above solutions, restart the Launcher or Steam and check if the game will launch or not.
Solution 12 – Change The Server Region In Apex Legends
Apex Legends may connect you to a server that is further distant than the one in the next nation over, depending on your location. As a result, connection latency increases. Thankfully, there's a secret option for selecting your preferred server within the Apex Legends title menu.
On Windows
On Playstation And Xbox
Change The Server Region In Apex Legends On Windows
Step 1: Launch The Game
Launch the game first.
Step 2: Go To Accessibility Setting
Click on its Accessibility Setting.
Step 3: Choose Data Center
Then close the window and left-click on a new main menu, Choose Data Center.
Step 4: Choose The Server
Now, choose your desired server and start playing the game.
Change The Server Region In Apex Legends On Windows On PlayStation and Xbox
Step 1: Launch Apex Legends
Firstly, launch Apex Legends.
Step 2: Go To Accessibility Settings
Click on Accessibility Settings.
Step 3: Press R3
Then close the window and press R3.
Step 4: Choose The Server
Now choose your desired server and start playing.
The server that you're playing in highly affects the smoothness of your game. Even if the server is down in your area, you can change servers for a bit and enjoy playing the game.
Solution 13 – Run A CHKDSK Scan
This isn't specific to Apex, but it can help with a variety of crashing and freezing issues in games. CHKDSK is a Windows utility that checks your hard drives for errors and repairs them.
To perform the scan, follow the guide below.
Step 1: Press Windows+X
Press the Windows key and X key altogether.
Step 2: Select Windows Powershell
Select Windows PowerShell (Admin).
Step 3: Click Yes
Allow the program to run by clicking Yes.
Step 4: Type chkdsk C: /r
Type "chkdsk C: /r" without quotes and press enter.
Step 5: Type Y
Type "Y" if you want to dismount the disk. Make sure your system is not downloading any program. And then press enter.
Step 6: Finish Scanning
Allow time for the scan to complete. It might take many hours. Because you can't stop the scan or use the disk during this period, it's better to leave it running overnight.
If the scan receives any error it should report you. The scan will provide you a list of the files that it found that need to be repaired including games.
Solution 14 – Reinstall Apex Legends
The final thing you can do if Apex Legends still won't launch is to reinstall the game. The game's installation files may have been significantly damaged, and the repair utility will no longer be able to correct them.
To uninstall the game, follow the below guide.
Step 1: Launch Control Panel
Launch the control panel on your computer. You can search it from the search bar available on your toolbar.
Step 2: Select Uninstall A Program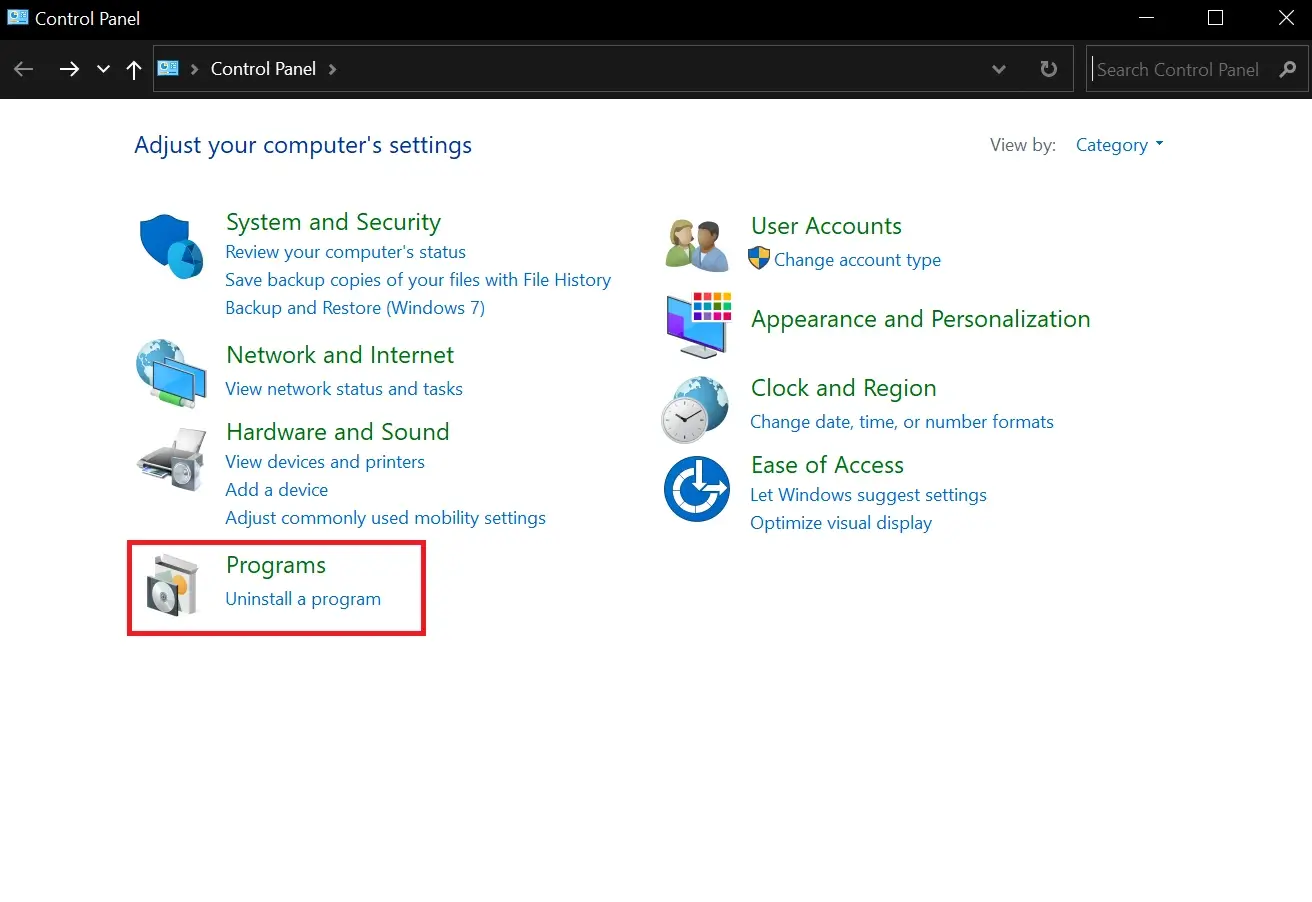 Select Uninstall a Program and search for Apex Legends
Step 3: Uninstall Apex Legend

Lastly, choose to uninstall Apex Legend.
By following the above steps you will be able to uninstall the game. Reinstall the game again and check if the game will work or not.
Also, if you like to know why other popular apps or websites are down, read the articles below.
"Why Is Kik Not Working? [10 Fix For The Issuses]"
"Snapchat Not Working [Updated 2022]"
Also if you are an anime fan and you are having problems with some popular websites then check out the following articles.
Frequently Asked Questions (FAQs)
Below are some of the frequently asked questions related to Apex Legends. Have a look as you also might have had these queries before.
Is Apex On A Decline?
Apex Legends has dropped significantly since its explosive premiere in February. Superdata's digital sales researchers observed double-digit losses in digital revenue for Respawn's battle royale during the previous two months. Apex Legends made $24 million in April, according to Superdata.
Is Apex More Popular Than Fortnite?
Apex Legend's viewership grew in 2021, yet it is still below Fortnite in 2022. Apex Legends has quickly grown to become one of the most popular games on Twitch and elsewhere. However, Apex Legends continues to fall behind Fortnite in terms of viewership.
How Do I Get Heirloom Shards?
To earn them, you must first open several Apex Packs. Apex Packs may be gained by leveling up, rating up the battle pass, and purchasing them using the premium money of the game (Apex Coins).
Is Apex Free For PC?
Apex Legends is free to play on PlayStation®4, PlayStation®5, Xbox One, Xbox Series X|S, Nintendo Switch, and PC through Origin and Steam.
Can A 9 Year Old Play Apex Legends?
To play Apex Legends, you must have an active Electronic Arts account, which EA restricts to individuals 13 and older. Due to the online conversation and frenetic violence, Common Sense Media recommends Apex Legends for teenagers 14 and older.
Conclusion
As Apex Legends is being played by millions of players worldwide, the developers are working very hard to let the players have a great experience with the game. Due to this, you might face the game going down and the servers as well because the game is being updated and many features inside the game are yet to be introduced.
So rather than feeling angry and frustrated about the game going down, do your research first and try running the game. Trust me, the process is fun and you can get to learn many new things.