What does it mean when it says "new contact" on Snapchat? Does it mean the people from your contacts? Who are the "new contact" user, and why do their profiles show on our quick add list?
You can get all the answers to these questions here. Don't worry, and we're here to clear all the questions raised in your head regarding this topic, so just stick with us.
Answer:
The new contact on your Snapchat means either a person from your contact list who just made a new account on Snapchat or a number you recently added to your contact who uses Snapchat. Sometimes, a stranger who just made the account and is nearby your location also appears on your "new contact."
Snapchat is one of the most used and popular social media applications. Snapchat is also a way of communicating with your friends and staying in touch with them.
There are many ways to add people to your Snapchat, and a new contact is one of them.
If you want to know more about the "new contact" meaning on Snapchat, then you're heading in the right direction.
For information about the "new contact" on Snapchat, read this article in detail.
---
When You Join Snapchat Does Your Contact Get Added?
Snapchat doesn't notify your contact when you join in.
When you first create a Snapchat account, no one from your contacts is notified.
Snapchat only adds your contact when you've synced your device contacts to the Snapchat app.
You can select Add your contacts as per your wish. Snapchat doesn't automatically add your contacts without your consent or permission.
If you wish to see all your contacts on Snapchat, then you must sync your device with Snapchat.
Snapchat also does not automatically add contacts from your phone when you create a new account.
Also Read:  How To Signup on Snapchat Without Phone Number?
---
What Does New Contact Mean On Snapchat?
In simple words, "new contact" is when you recently added someone to your contact, and they happened to already have a Snapchat account.
In another word, if there's an "X" contact on your phone and they recently joined Snapchat.
It also means you have a new friend suggestion on your Snapchat.
Adding friends from your contact is also one of the ways to connect with people.
It is a function that Snapchat suggests some people add.
The "Quick Add" feature on Snapchat is designed to help users find their friends.
Quick Add suggests the list of people whom you might like to add as friends on your Snapchat.
Also Read:  How To Do A Sendit On Snapchat?
---
Are The "New Contacts" From My Recent Phone Contacts?
Snapchat uses phone numbers and locations from your current device.
While creating the account, you have the option to sync your phone contacts to your phone or not.
The feature is also recommending you to some new friends.
Not all, but the majority of the people you see as "New Contact" on Snapchat are actually from your contact list.
They might be a new Snapchat user or someone you've added recently.
It is also when you're friends have recently deleted their old account and created their Snapchat with a new profile.
Also Read:  How To Add Best Friend On Snapchat [Easy Guide]
---
Can Someone Whose Contact I Don't Have Also Appear On "New Contact"?
Yes, people whose contact you don't have can also appear on your "new contact."
The people on your new contact necessarily don't have to be on your contact list.
They can be the kind of people you know but aren't on much-talking terms with.
For example, the person can be your best friend's co-worker or second cousin.
Also Read:  How To Know If Someone Added You On Snapchat?
---
Where Do "Quick Add" Suggestions Come From If I Don't Have Them In My New Contact Lists?
Now and then, Snapchat will also suggest a "Quick Add" under your friend's circle. Snapchat takes people you're friends with and suggests several people that your friends have added. Also depends on your friends and their friends.
From the internals of the Snapchat contacts database, you're seeing random people on your "Quick Add."
The Quick Add is a special section in the Add Friends menu that suggests profiles you may know or like.
Your location may also be the factor you're seeing all these people on your "Quick Add."
Also Read:  What Is Snapchat Plus?
---
Does Snapchat Also Notify Your Contacts, People, If You Make a New Account?
Snapchat won't notify your contacts immediately when you create a new account.
But if you have let Snapchat sync with your contacts, it may send notifications to your contacts.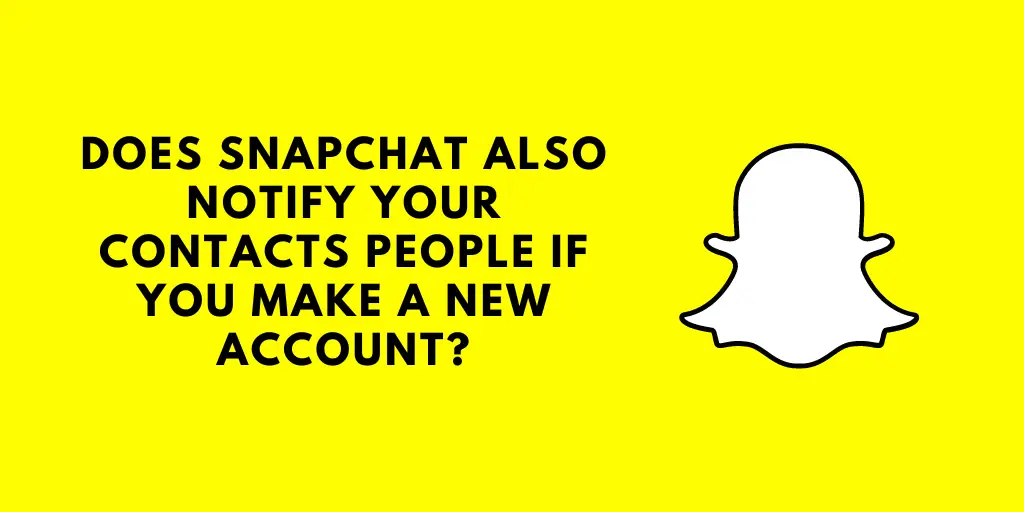 And only those who have Snapchat, your contact details, and synced tier contacts will be notified on Snapchat.
If you don't want anyone to find you, then don't connect your contact information and also create a secret username.
Also Read:  Snapchat Not Working? 8 Fixes For The Issues
---
How Can You Add or Invite People From Your New Contacts To Snapchat?
The people in your contact who have connected their phone numbers to Snapchat will appear at the top along with their name, profile, or Bitmoji icon and username.
You already have your friend's phone numbers, so it will be easy to connect with them on Snapchat as well.
You can add someone as your friend on Snapchat if their profile includes their number or email, and you have the exact information saved on your phone.
Here are some step-by-step processes to add your contacts to Snapchat:
Step 1: Open The Snapchat App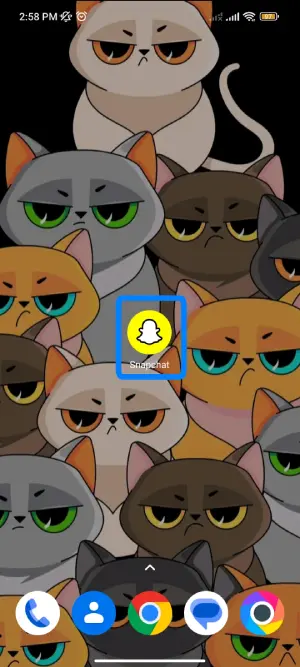 Firstly, open the Snapchat app from your phone or tablet.
Step 2: Tap on Your Profile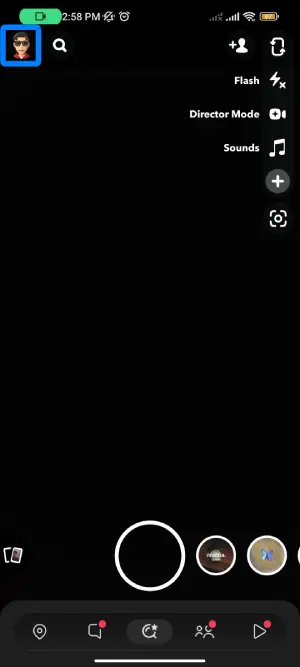 Click on your profile at the top left.
Step 3: Tap On Add Friends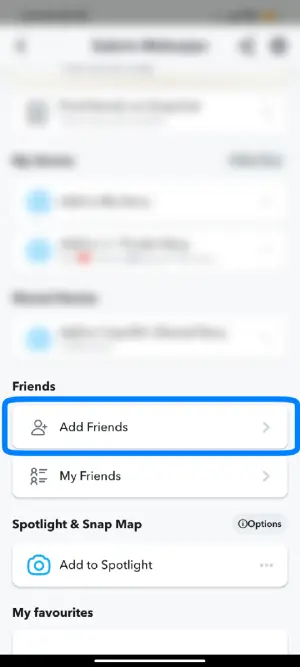 Just tap on Add Friends.
Step 4: Click on "Invite your friends!"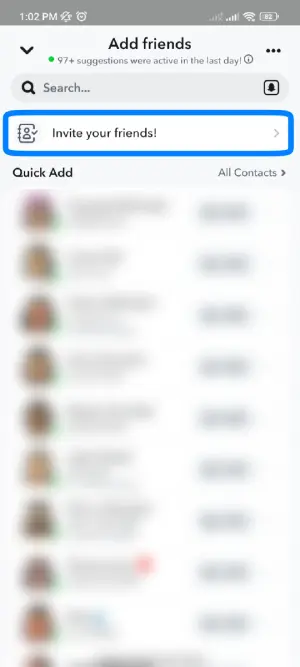 Now, click "Invite your friend" as shown in the picture above.
Step 5: Tap on Continue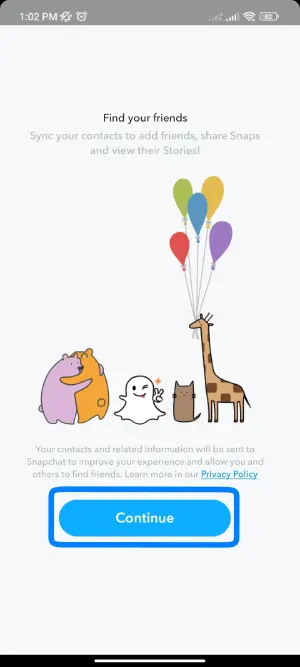 You must now click on Continue.
Step 6: Allow Snapchat to access your contacts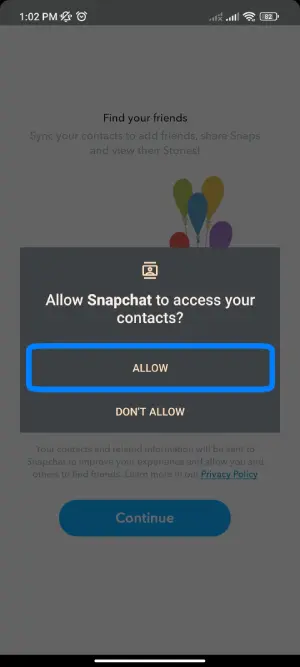 Permit Snapchat to access your phone contacts. Click on Allow.
Step 5: Invite Them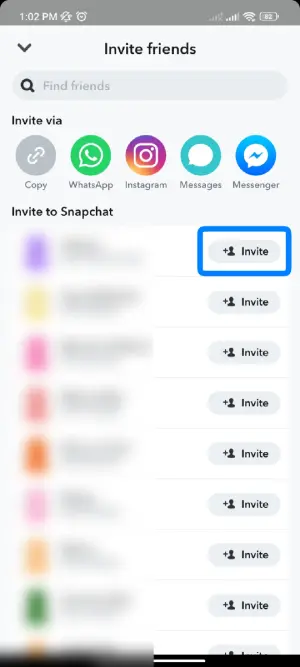 Search through your contact list, browse manually, or search by their name and tap invite.
---
What Does It Mean By Added You From The Search?
If you've received a notification from Snapchat that says "added you from the search," they have added you by typing your username on the search bar or adding you from the Snapchat friend's suggestions.
This means they type your name or Snapchat user name on the search bar to find your profile to add you.
This also usually means the person added you by manually looking for your name in the search bar.
If someone adds you from a Snapchat suggestion, you'll also get the "added you from search" notification.
Sometimes Snapchat suggests your name to add others based on mutual friends, location, contacts, etc.
Also Read:  What Does "Added By Phone" Mean On Snapchat?
---
Frequently Asked Questions (FAQs)
Here are some frequently asked questions about Snapchat and the answers to those questions.
---
Where Does The Quick Add Suggestions Come From If The Suggested Contact Is Not In My Contact?
The quick add suggestions on your screen may be determined by 3 things, your contact list, the people with whom you are in a group chat, and lastly, your mutual friends or friends circle.
Snapchat may show people you're friends with other friends and circle friends.
It may suggest people that your Snapchat friends have added.
If you have a friend and you guys have added each other on Snapchat and your friend has another friend, then chances are you might see them on your quick add list.
The people you are friends with on Snapchat, their friends might also appear on your quick add suggestions.
---
Will I Be Notified if I Am On Someone's "Quick Add" On Snapchat?
The answer is no; you won't be notified when you are on someone else's "quick add" on Snapchat as it is also against the terms and conditions of Snapchat.
If you appeared on someone else's Snapchat, they might also appear on your "quick add" on Snapchat.
But you'll be notified when they decide to add you after seeing your profile on their "Quick Add" on Snapchat. And also you'll find "Added you by Quick Add" under some pending users.
---
How Do I Turn Off New Contact Or Quick Add On Snapchat?
If you don't want to get too many friend requests or suggestions on Snapchat, then you might want to consider turning off the Quick Add.
Here's how you can avoid Quick Add Open the app on your device > Once it opens, tap on your profile picture, which is on the top of the left>Tap on the setting gear.
Scroll down the settings menu until you reach the "Who can…" section.>Tap on "See me in Quick Add">Untick the option.
However, this won't prevent you from Snapchat still showing you other people's suggestions, but thankfully you won't appear on other people's lists.
---
How To Fix Random People's New Contact On Snapchat?
Many Snapchat users use bots to gain massive followers on the app.
To avoid random people adding you on Snapchat, turn off the quick add mode from Snapchat.
If you have no clue how to turn off the Quick Add, we've already described it in the above questions.
---
Conclusion
As we all know, Snapchat is one of the most popular, innovative, and engaging apps.
It had gardened a wide range of popularity within a short period.
There is a wide range of varieties on Snapchat for the users to engage with.
Almost everyone you know might be using Snapchat, and you also see them recommending it if you haven't used it already.
Sometimes having too many unknown people can be disturbing and feels like an invasion of privacy. So, it's better not to add any unwanted friends or people.
We have provided you with the information you were looking for and some extra details on " New Contacts" on Snapchat. Hope you have read it thoroughly. I also believe you got what you were looking for.
Here is some extra help on how can you add someone to your best friends list on Snapchat.