Snapchat Remix is an awesome tool that lets you make cool new Snaps by mixing your Snaps and your friends' Snaps. It works like TikTok's duet feature, giving you five different styles. But even though it's cool, many people don't pay much attention to it, and many Snapchat users might not even know it's there.
Answer:
You can use Snapchat Remix to create fresh Snaps using your friend's Snaps and remixing your own. To get started with the remix feature, follow these simple steps:
1. Open Snapchat.
2. Go To Your Friend's Snap.
3. Click "Remix Snap."
4. Choose The Filter that fits your remix.
5. Send your Remix to your friend or share it with your followers.
Even though Snapchat Remix isn't a brand-new feature, it remains an excellent way to connect and have fun with your friends on Snapchat. It also allows you to unleash your creativity and demonstrate your talents by crafting one-of-a-kind Snaps. Let's delve further into what exactly Snapchat Remix is and how it functions.
---
What Is "Remix Snap" On Snapchat?
As I have mentioned earlier, "Remix Snap" is a feature that enables you to respond to your friend's Snap or their stories.
When you're creating a remix, you have the option to select from five different layouts. These layouts determine where your video will be positioned concerning the original clip, whether it appears beside, above, or in a corner.
This feature is similar to TikTok's Duet function, which allows users to collaborate or react to content. Duets are like a two-in-one special because they display both the original video and your video side by side.
Also Read: What Is Snapchat Plus?
---
How To Remix Snaps On Snapchat?
Now that you understand Snapchat Remix, it's time to remix your snaps. Get ready to have a blast and send funny snaps that playfully tease your friends.
Step 1: Open Your Snapchat App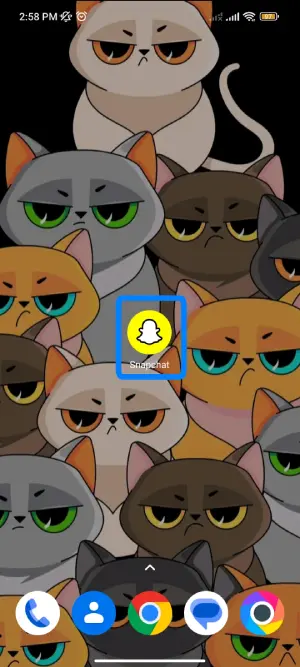 Begin by locating the Snapchat app on your phone's home screen or app list. Tap on the Snapchat icon to launch the app.
If you haven't logged in, you will be prompted to enter your login credentials (username and password). Once you have entered your details, tap the "Login" button to access your Snapchat account.
Step 2: Open Your Friend's Snap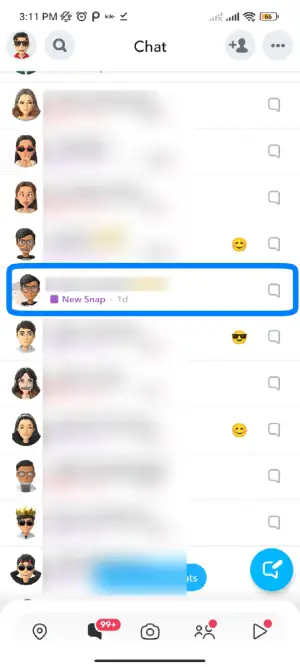 Once you're logged in, you'll be directed to the Snapchat camera screen. Then, you need to open a snap sent by your friend.
Look for the purple-colored square icon with a white number, indicating the number of unopened snaps. Tap on the purple icon to access your unopened snaps.
Step 3: Click "Remix Snap"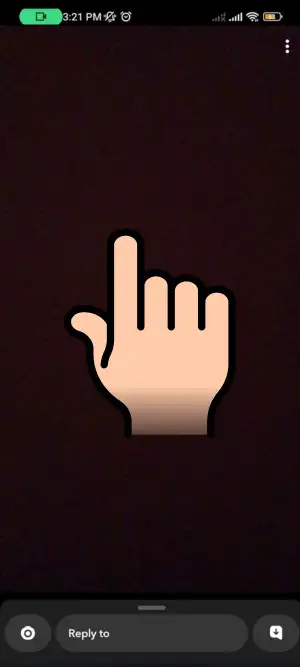 Now, press and hold your finger on the snap.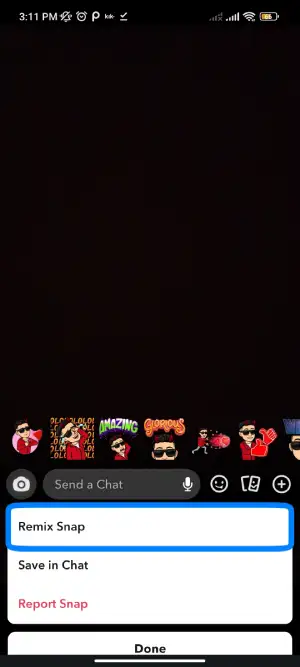 You will see a pop-up screen appear from below. This screen provides various options and features for interacting with the snap.
Look for the "Remix Snap" option, which should be located under the "Send a Chat" section. Tap on "Remix Snap" to proceed.
Step 4: Choose The Filter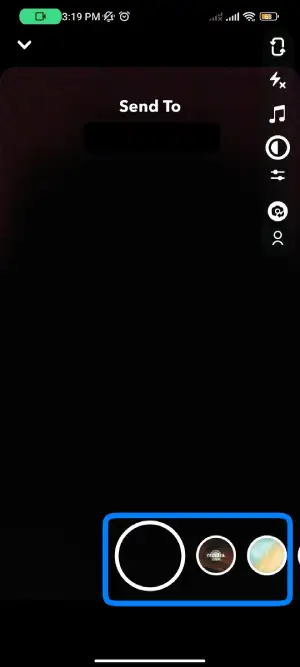 Once you tap on "Remix Snap," a new screen will appear with five different filters to choose from. These filters are similar to the duet options available on TikTok.
Take a moment to explore each filter by swiping left or right. Each filter offers a unique way to remix the snap and add your creative twist. Select the filter you prefer by tapping on it.
Step 5: Send your Remix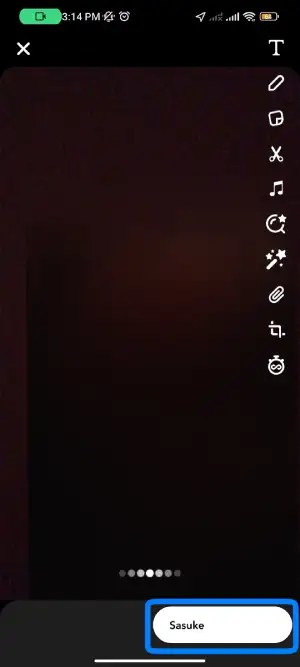 Now, it's time to record and send your remix. Record your additions while the original snap plays in split-screen. Add gestures or reactions, then preview.
Tap the arrow icon, select recipients from your friend list, search for them, and tap send. Your remix will be sent as a separate snap from the original snap. Enjoy sharing with friends!
Also Read: Does Snapchat Automatically Delete Chats?
---
How To Remix Your Memories?
Remixing your memories on Snapchat allows you to add a creative touch to your photos and videos. Similar to the feature in TikTok where you can duet your own videos, Snapchat now allows you to remix your snaps. Here is how you can remix your memories:
Step 1: Open the Snapchat App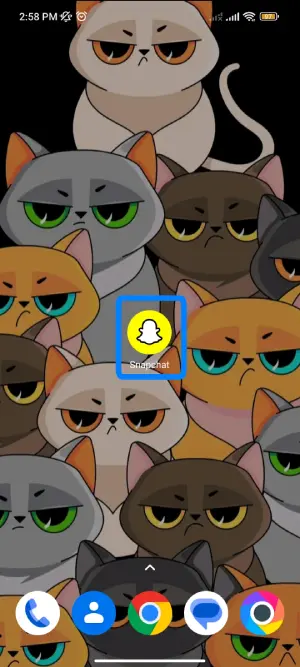 First, head on to your app list and launch the Snapchat app on your screen. Log in to your Snapchat account if you're logged out.
Step 2: Open Memories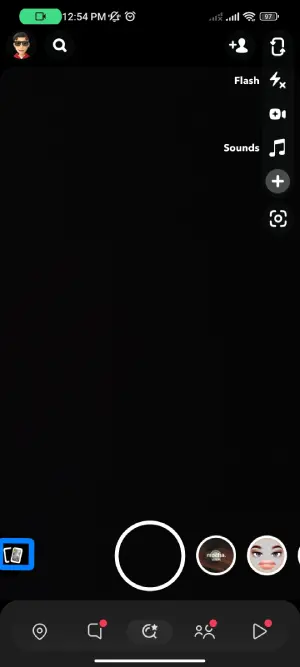 Look for the pictures icon at the bottom-left corner of your screen and tap on it. This will take you to the Memories section.
Step 3: Select The Snap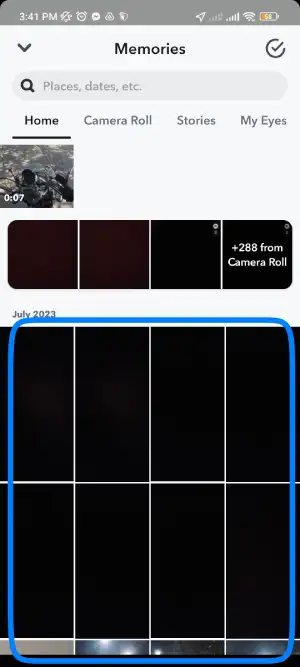 You'll find two options in the Memories section: "Snaps" and "Camera Roll." Choose the video or picture you want to remix from either of these options.
Step 4: Click Remix Snap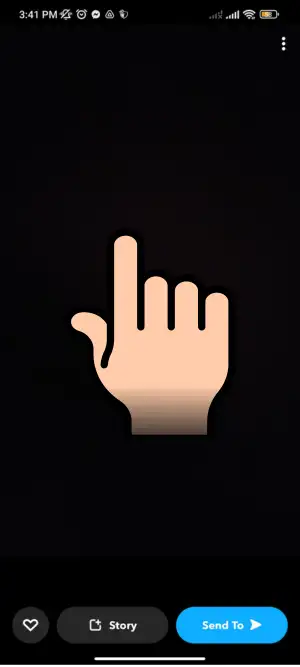 Now, here comes the fun part! Press and hold your selected video or picture.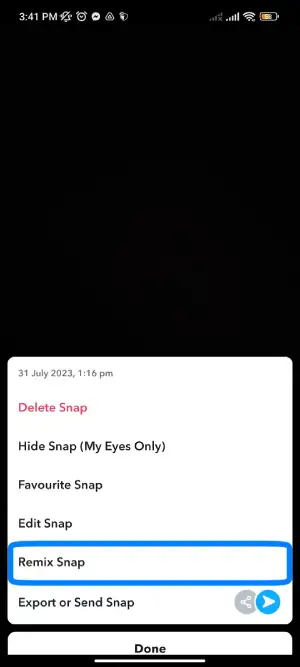 After a moment, a popup will appear on your screen. Tap on "Remix Snap" to get started. This will allow you to record new content or take pictures using the cool filters available.
Step 5: Send Your Snap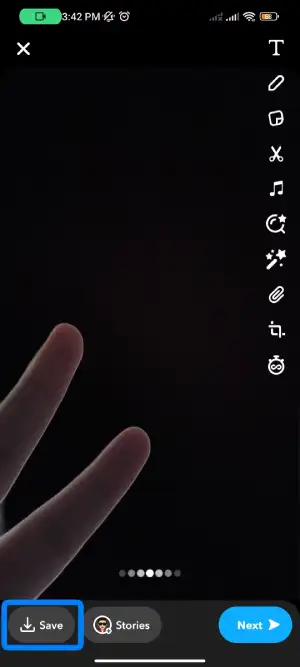 Once you've finished remixing your snap, you have a few options. If you want to save it to your device, tap the download icon at the bottom left of your screen.
Alternatively, you can send the snap to your friends or post it on your story by tapping the "Send To" icon at the bottom right of your screen.
Also Read: Why is Snapchat Custom Story Not Working?
---
Can Someone Tell If You Remix A Snap From Memories?
No, generally, others cannot tell if you remix a snap from Memories on Snapchat. When you remix a snap, you make a new version by adding stickers, text, or drawings. The remix feature lets you combine different snaps into one with your personal touch. The resulting remix appears as a new, separate from the original snaps.
Unless you tell others you remixed a snap, it's difficult for them to know if you did. Snapchat cares about your privacy and lets you be creative. The remix feature is meant to inspire creativity, so unless you say so, people won't know if you used it or think it's just a regular snap.
Also Read: Best Snapchat Private Story Names
---
Where Can You Share Your Remix?
When sharing your remix, there are a few things to remember on Snapchat.
Firstly, it's important to understand that you cannot save or share a remix of your friend's snap. This means that if your friends have sent you a snap or you have remixed their public stories, you cannot save or forward them to your own public story.
However, you can save your remix without notifying your friends. You can take a screenshot of your remix while it is playing on your phone screen. Doing so lets you capture and save your creation without alerting your friends.
On the other hand, if you have created a remix using your old snaps, you can share it on your public story. This allows you to showcase your remix masterpiece to all your Snapchat friends. It's a great way to share your creativity and entertain your audience.
Also Read: Why is Snapchat Not Working?
---
Different Layouts Of Snapchat Remix
Snapchat Remix offers five distinct layouts for remixing, and you may find them familiar if you've used duets on TikTok, as they share similar layouts.
While Snapchat has an additional layout compared to TikTok, it's important to note that Snapchat does not officially name these layouts. To facilitate a better understanding, I have assigned names to each layout. Let's explore these layouts in detail and understand what they offer.
Floating Eyes And A Mouth
This particular layout, which doesn't have an official name, can be called "Floating Eyes and a Mouth."
As the name suggests, this layout features floating eyes and a mouth, specifically your own. You can adjust their position by dragging them around and alter their size by pinching or zooming in.
It is my favorite, as it lets you place yourself on top of your friend's face and have some lighthearted fun. You can even overlay your eyes and mouth onto a picture and speak as if you were that person in the picture.
Furthermore, you can place your eyes and mouth on your friend's food and tease them. It's a great way to add humor and create amusing interactions with friends.
Top And Bottom
In the "Top and Bottom" layout, your position will be at the bottom of the screen, while the snap you have selected will be displayed on top. It's important to note that this layout may not be as visually engaging or exciting compared to other options.
However, it still provides a unique perspective and allows you to showcase the selected snap while maintaining your presence at the bottom.
Left And Right
The "Left and Right" layout is a familiar one you may have seen frequently on TikTok, as it is commonly used for duets.
In this layout, you will be positioned on the left side of your screen, while your selected snap will be displayed on the right. It's important to note that this layout is fixed and cannot be adjusted or customized.
React
In the "React" layout, your snap will be displayed in a small box at the top left of your screen. As the name signifies, this layout is ideal for reacting to content.
You can move the box around, rotate it, and adjust its size according to your preference. This layout can also be used to create collages of your pictures, a feature not available directly on Snapchat.
While you can create collages using filters, the level of control offered by the "React" layout surpasses that option. It provides greater flexibility and customization in combining multiple snaps into a united collage.
Green Screen
The "Green Screen" layout functions similarly to the Green Screen filter on TikTok. This layout will superimpose your body on top of your selected snap.
While you cannot adjust your size, you can move your camera further away or bring it closer to the subject to modify the size of the composition. This allows you to control the scale of your body concerning the snap.
Also Read: How To Use Lens Web Builder To Make Snapchat Lens?
---
How To Apply Filters On My Snapchat Remix?
Applying filters to your Snapchat remix is easy! You can use the cool and pretty filters available in the app to make your remix even more awesome.
When you remix your snap, a filter automatically adds to your face. If you want to try a different filter, you can choose one, but it will be random. Remember, you can only change the filter while remixing your snap.
After you've finished recording your remix, swipe left multiple times. Different filters will be automatically applied as you swipe until you find the one you like.
You can include stickers or music to add extra fun to your remix. Once you're satisfied with your creation, easily share it with your followers or send it to specific friends. Filters, stickers, and music can make your Snapchat remix look more exciting and enjoyable for others to see.
Also Read: Top 20 Snapchat Emojis Ideas And Themes For Best Friends
---
Differences Between Snapchat Remix And TikTok Duet
Throughout this article, I have discussed the similarities between Snapchat Remix and TikTok Duet. However, you might be wondering which one is the better option. Snapchat and TikTok are distinct apps with unique features that satisfy different user preferences. Let's explore the differences between the two.
Share Your Remix
On TikTok, when you make duets, you can share them with everyone. You can choose to duet with anyone who has enabled duets. However, on Snapchat, you cannot share your Remixes if your friend sent you the snap or if they posted it on their stories. You can only share your Remix publicly on Snapchat when you remix your snap.
Layouts
Snapchat has an extra filter called "The Eyes and Mouth" layout. This layout lets you display only your eyes and mouth, and you can move them around. However, this specific layout is not available in TikTok's filters. You can find it in the Green Screen filter section on Snapchat.
Although similar, the main difference is that Snapchat allows you to use this filter on top of videos, which is impossible on TikTok.
Additionally, when you tilt your head on Snapchat, the filter does not tilt with you but causes your eyes to disappear. On the other hand, on TikTok, the filter follows the tilting motions.
Uploading Your Snapchat Remix And TikTok Duets
Sharing your Remixes publicly on Snapchat can be challenging due to the platform's strong focus on user privacy. For example, if your friend sends you a snap and you want to share it publicly, it's usually impossible unless your friend permits you to take a screenshot or screen record.
On the other hand, TikTok allows you to download your Duets and even create Duets with random people or celebrities, which can be shared on various platforms.
When sharing TikTok Duets, small watermarks appear on the videos. These watermarks serve an important function by indicating the creator of the video.
Also Read: How To Unlock Snapchat Lens [Get New And Hidden Lens]
---
Frequently Asked Questions (FAQs)
Here are some of the frequently asked questions related to Snapchat remixes, and they are as follows:
---
Will They Know If I Screenshot Their Story?
They will know when you take a screenshot of their story, as Snapchat will notify them as soon as you take a screenshot. If you don't want your chats to disappear, you can save them by simply hold-clicking on the chat and pressing "Save in Chat." But if you want to take a screenshot of their Snap or chat without letting them know, you can use a screen recorder.
---
What Are The Best Snapchat Filter For Guys?
As Snapchat filters are mostly for girls and as a guy, you might think you have limited options. If you don't like flowers, cute hearts, or anything cute in general, you can always choose a simple filter with no added emojis or characters. The best Snapchat filter for guys would be a simple one that doesn't add digital makeup or over-the-top characters.
---
How To Add TikTok Link On Snapchat?
To add a TikTok link on Snapchat, open TikTok, select the video you want to share, tap the three vertical dots, and choose to share it directly to Snapchat or copy the link. In Snapchat, paste the link into the text input box to add the TikTok link to your conversation or story.
---
Conclusion
Snapchat Remix is a fun way to interact with your friends on the app. Now you can use remixes to react creatively and playfully tease your friends' stories. They will be curious about how you make such cool remixes, adding more fun to your Snapchat conversations.
Enjoy the excitement of keeping them guessing and cherish the unique connection that Snapchat Remix brings to your friendships. Have a great time remixing and surprising your friends on Snapchat!