Snapchat does Snap Inc. develop a well-known social media app. It lets you chat and share snaps with friends while having fun with filters and lenses. However, you may notice that ads pop up during conversations, when adding filters, or while watching stories. Unfortunately, removing these ads is not an option, but you can reduce them by turning off targeted ads. So, in this article, we will explore the method to block ads from Snapchat. Let's dive in!
Answer:
To remove targeted ads on Snapchat, open the app and log in. Access the Snapchat Camera by clicking on your customized Bitmoji or the Ghost icon. Then, tap the Gear Icon (Settings) and scroll down to find "Ads" Tap it. Now click "Ad Preferences" under "Ad Settings" and carefully review the options. Untick and disable all checkboxes. Restart your device for the changes to take effect.

When you open Snapchat again after closing it, you can expect to enjoy an ad-free experience, as the app doesn't display ads on the main camera screen or in chats with friends. However, it's worth noting that some ads may occasionally appear while browsing through stories or using certain features within the app. The ads are part of Snapchat's revenue model and help support the app's continued development.
---
What Are Snapchat Ads Targeted?
Snapchat ads are targeted based on your behavior, activities, and interests. The app utilizes built-in features to track movements and display ads that align with your preferences. If you choose to turn off targeted ads, it will minimize the number of personalized ads you receive.
However, it's important to understand that even with targeted ads disabled, you may still encounter some ads while using Snapchat. Removing targeted ads aims to provide a more tailored ad experience but does not eliminate ads from the platform.
It's worth mentioning that ads play a significant role in supporting Snapchat and enabling the app to provide its services for free. Snapchat continues to offer a variety of content and features to its users by maintaining an ad-supported platform and striking a balance between user preferences.
Note: While targeted ads can be customized to suit your interests, Snapchat also displays other ads that may not specifically target you.
Also Read: Methods To Increase Your Snapchat Score | Boost Points
---
How to remove targeted ads on Snapchat?
Removing targeted ads doesn't mean blocking Ads from your account. Snapchat will analyze your behavior and interest and display ads according to your action.
Disabling targeted advertisements is a straightforward step; you can do it quickly.
Step 1: Open Snapchat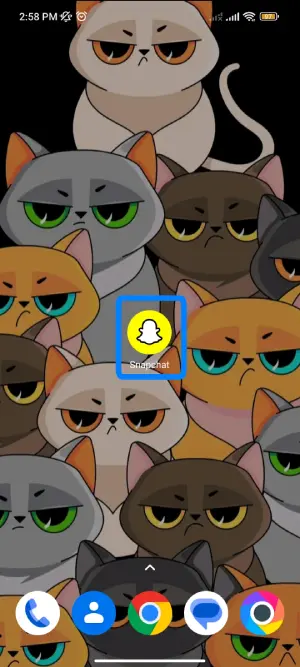 Open the Snapchat app on your device.
Step 2: Log in To Your Account
If asked, log in to your Snapchat account.
Step 3: Navigate Snapchat Camera
You will see the Snapchat Camera.
Step 4: Go To Your Profile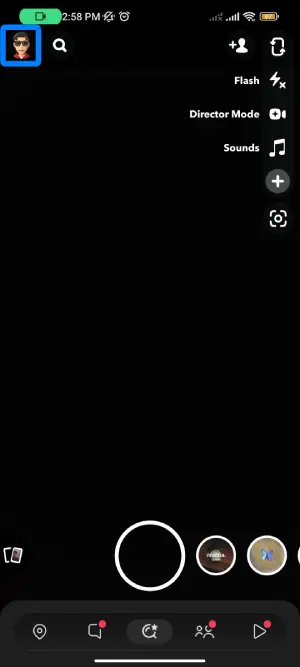 If you have customized your Bitmoji, click on the Bitmoji; otherwise, click on the Ghost icon.
Step 5: Go To Settings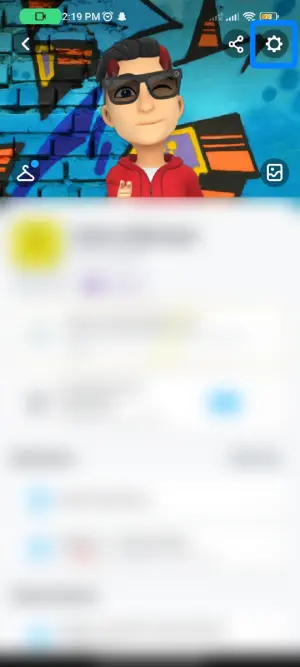 After that, tap on the Gear Icon (Settings).
Step 6: Tap on Ads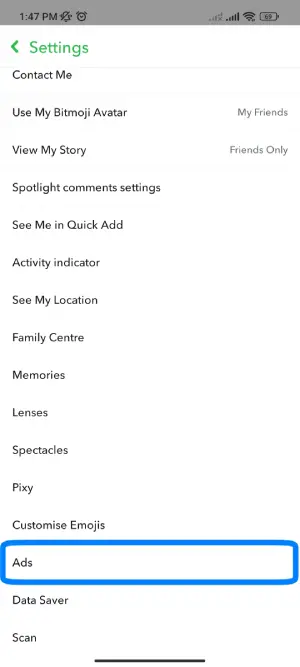 Now, scroll down and tap Ads under 'Privacy Control.'
Step 7: Select Ad Preferences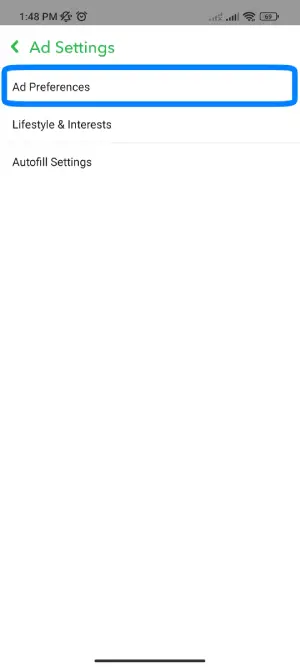 After that, tap Ad Preferences under 'Ad Settings.'
Step 8: Read the Guidelines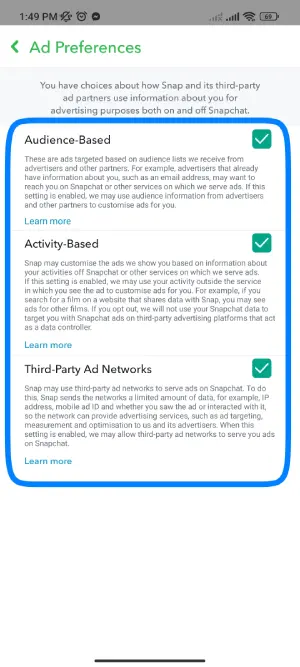 Under Ad Preferences, you will see three options ( audience-based, Activity-Based, and Third-Party Ad Networks). Make Sure you read all the options carefully.
Step 9: Disable Them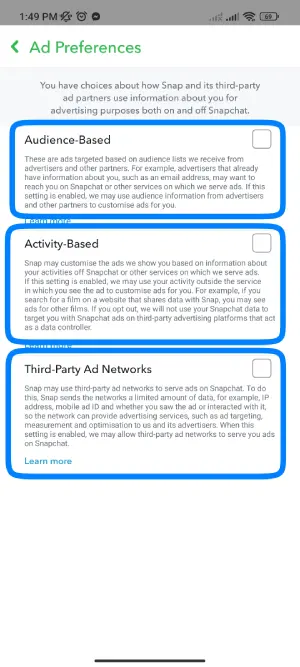 Now, what you have to do is, Untick all checkboxes and Disable them.
Step 10: Restart Your Device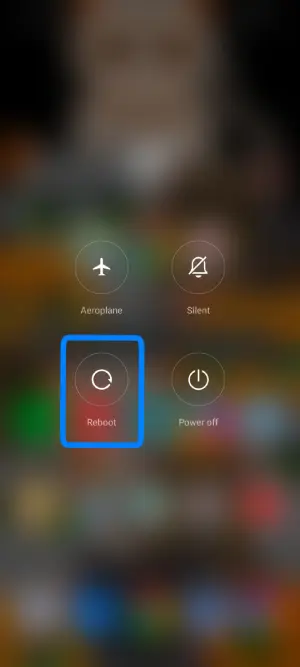 After you disable all options, restart your device to make the change.
Step 11: Enjoy Ads-Free Snapchat
Now, open Snapchat back and enjoy the Ads free app. But still, you may see some ads.
That's how you turn off targeted Ads, but do you want to stop all the ads displayed in your account, then follow the steps mentioned below.
Also Read: How To Know If Someone Has Deleted You On Snapchat?
---
How To Block Ads From Snapchat? [Block Domain]
Domain blocking can help reduce unwanted ads within the Snapchat app and provide a more streamlined experience. To block ads from Snapchat, consider blocking specific domains associated with ad delivery. However, please note that numerous domains are involved in serving ads, so it's essential to block multiple domains to have a more effective ad-blocking experience.
Here are some of the main domains associated with Snapchat ads:
analytics.snapchat.com
app-analytics.snapchat.com
usc.adserver.snapads.com
snapads.com
Make sure to add all these domains to your block list. Additionally, you may discover more domains from which ads originate and can block those for a more comprehensive ad-blocking approach.
If you're unsure how to block domains, refer to my previous article on blocking the Snapchat app on your router. In this article, you'll find two methods to add domains to the blacklist and choose the most suitable technique for your needs.
Also Read: How To Make Shortcuts On Snapchat?
---
What Is The List Of Ads Displayed On Snapchat?
On Snapchat, you will come across various ads related to different categories. While the specific ads you see may vary based on your interests and activities, here are some top 10 Snapchat advertisements:
The Walt Disney Company
Netflix
Lyft
Exxon Mobil
Pepsico
McDonald's Corporation
Sony
State Farm
Snapchat filters and lenses
Magi quiz
In addition to these top 10 ads, Snapchat also displays ads across a range of other categories, including lifestyle, filters and lenses, music, food, games, and more. The ads you encounter are influenced by your usage patterns, preferences, and interactions within the app. Snapchat aims to provide diverse ads that cater to different user interests and provide engaging experiences.
Also Read: How To Reboot Snapchat?
---
Why Do I Get Dating Ads On Snapchat?
You may see dating ads on Snapchat due to your interest preferences. Suppose you have engaged with dating-related content, such as searching for dating topics, clicking on dating ads, or using dating filters and lenses. In that case, Snapchat may display dating ads to align with your interests.
However, if you prefer not to see dating ads, you can adjust your ad preferences in the settings. Turn off ad preferences or disable specific ad categories related to dating. This gives you greater control over the ads you see on the platform. This allows you to control the ads you see and tailor them to your preferences.
Also Read: Can Police Retrieve Deleted Snapchat Messages?
---
Can I Adjust My Device's Settings To Block Ads On Snapchat?
Yes, you can adjust your device's settings to block ads on Snapchat to a certain extent. While it may not eliminate ads from the app, you can use features like ad-blockers or content-filtering options available on some devices to minimize the appearance of ads.
Please note that blocking ads entirely may not be possible without modifying the Snapchat app itself or using third-party applications that may require device modifications like rooting or jailbreaking. These modifications can have implications for device security and functionality.
To achieve a more ad-free experience on Snapchat, consider exploring ad preferences and customization options within the app. This way, you can have more control over the ads you see without requiring extensive device modifications.
Also Read: How to Transfer Snapchat Memories to New Account?
---
Can I Block Ads on Snapchat Stories or Discover Content?
Snapchat does not provide a direct option to block ads specifically on Snapchat Stories or Discover content. The ads displayed in these sections are an integral part of the Snapchat platform and contribute to its revenue model.
While you cannot block ads from Stories or Discover content within the app, you can customize your ad preferences to reduce the number of targeted and personalized ads you see. Adjusting your settings can lead to a decrease in the frequency of ads appearing in Stories and Discover content on Snapchat.
Also Read: How To View Group Stories On Snapchat?
---
Frequently Asked Questions (FAQs)
Here are some frequently asked questions regarding Snapchat Ads to help you solve your problems:
---
Can I Customize The Types Of Ads I See on Snapchat?
Yes, you can customize the types of ads you see on Snapchat by adjusting your ad preferences in the app's settings. Open the app, go to your profile settings, find the "Ads" section in the Settings menu, tap "Ad Preferences," adjust your settings, and save the changes.
---
Can I Block Ads On Snapchat Without Rooting or Jailbreaking My Device?
Yes, you can block ads on Snapchat without rooting or jailbreaking your device using third-party ad-blocking apps or browser extensions that work specifically within the app. Install an ad-blocking app or browser extension, enable it, and enjoy an ad-free Snapchat experience without compromising the security or functionality of your device.
---
How To Skip Snapchat Ads?
In the Snapchat app, as well as in other apps, you cannot skip displayed ads. However, you can watch them until you see the cross (X) button and tap it to skip the full ad. If you prefer to skip ads on Snapchat, you can turn off targeted ads and remove all ad domains from the app.
---
How To Contact Snapchat?
To contact Snapchat for help and support, visit the Contact Numbers page on the Snapchat website. You can find contact information for Snapchat officials based on your country. This will allow you to reach out to the appropriate channels and seek assistance directly from Snapchat regarding any issues or inquiries.
---
Conclusion
Blocking ads on Snapchat can reduce unwanted interruptions. Also, blocking specific domains associated with ad delivery, staying informed about any changes, and taking control of your ad preferences enables you to enjoy a personalized Snapchat experience. With all of the tools mentioned above and knowledge, you can maximize the full potential of Snapchat while minimizing the impact of intrusive ads.
We understand that dealing with unwanted ads can be frustrating, but by following the steps mentioned earlier, you can minimize their impact and enjoy a more streamlined Snapchat experience.
Please comment in the designated box below for any questions, suggestions, or feedback regarding this article. We value your input and are always here to help. For more Snapchat guides and tips, you can visit our website by clicking on the link "Snapchat Tips."