Commenting on other people's posts is a form of interacting online by giving your opinion. Do you enjoy encountering offensive comments unrelated to your topic or replete with abusive emojis on your post? Nobody likes it. But there is a solution for it you can Delete Threads Comments instantly. It is not deleting, but you can hide comments for everyone. It is similar to deleting a comment. Do you want to know how?
Answer:
To delete comments on the Threads app: Open Threads> Find the abusive comment> Click on three horizontal dots on the top right> Click on Hide For Everyone. You can prevent abusive comments by maintaining your follower list. Only accept the following request of the people you know.

Easy right? But keep reading this article to know more about deleting comments on Threads.
---
How To Delete Threads Comments?
In Threads, you can easily remove your comments on a post, but you cannot remove someone else's comment from another person's post. If you come across a comment that you find offensive, you can report it, but you can't delete it. Remember, you only have the authority to delete your comments, not others'.
Make sure to choose your comments wisely in Threads. But don't worry; you can always review the comment once you have hidden it for everyone. Think carefully before removing a comment you don't want to see on your post.
Now that we know about the important information regarding deleting comments in Threads let's dive into the steps on how to delete comments in the app. Here's a straightforward guide on deleting Threads comments:
Also Read: How To Fix Threads Not Loading Pictures?
---
How To Delete Comments on Threads on Mobile?
Follow the steps to Delete comments on Threads on Mobile:
Step 1: Open Threads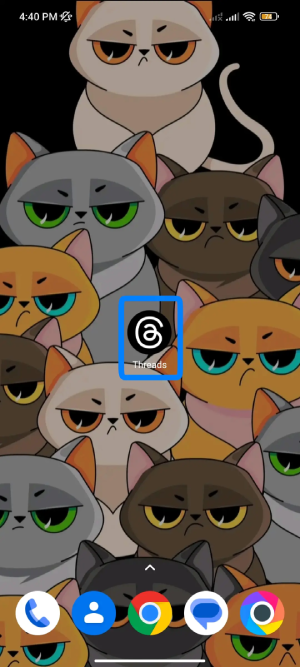 Launch Threads on your mobile.
Step 2: Locate the Comment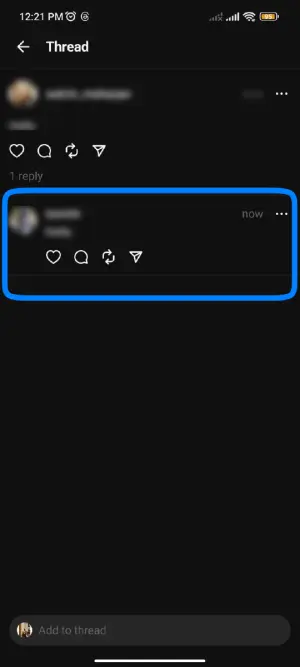 Now locate the offensive comment.
Step 3: Click on Three Horizontal dots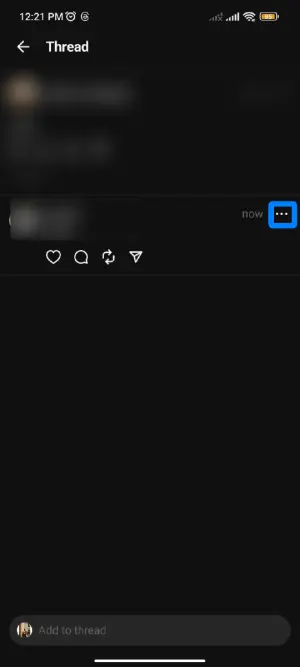 Tap the three horizontal dots at the top right of the specific comment.
Step 4: Tap on Hide for everyone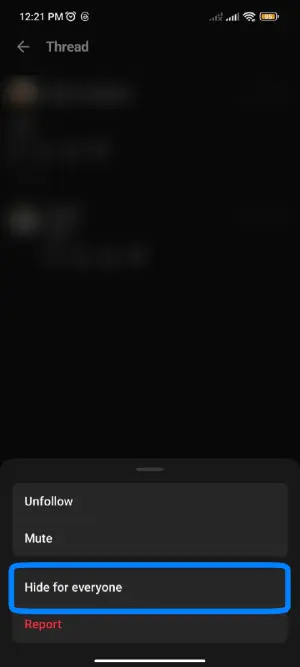 Now, click on Hide for everyone to remove the comment
You can review the comments if you accidentally hide the wrong comment on your post.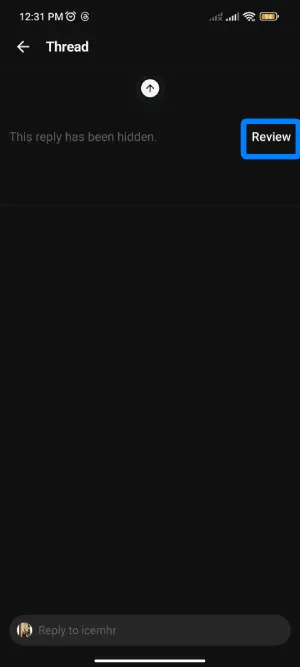 Also Read: How to Create a Blank Threads Post?
---
How to Delete Comments on Threads on PC?
Currently, Threads is unavailable on Pc. But it may be available anytime soon shortly.
If you search for Threads web version now, they will show you the QR code, leading you to the app store or Play store. There you can download Threads for mobile.
Also Read: How to Share Threads App Post?
---
How to Report Comments on Threads?
In Threads, reporting a comment is like raising your hand when you see something wrong. You can inform the moderators when you come across mean or inappropriate comments. They will check the comment to make sure it follows the rules.
Reporting helps keep Threads safe and friendly for everyone. It's like being a superhero for good behavior online! So, feel free to report any comments that seem wrong. Together, we can make Threads a positive place for everyone to enjoy!
I have provided you with a step-by-step guide on how you can report comments on Threads. Follow the steps carefully.
Step 1: Open Threads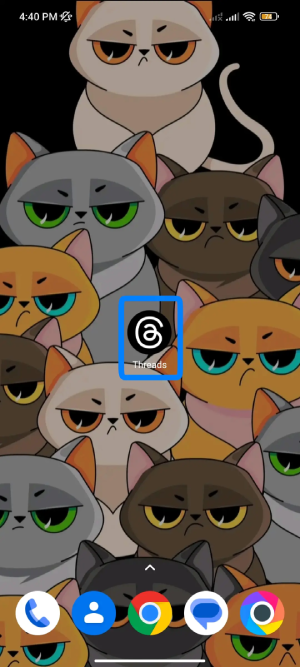 Click on the Threads app on your device.
Step 2: Find the comment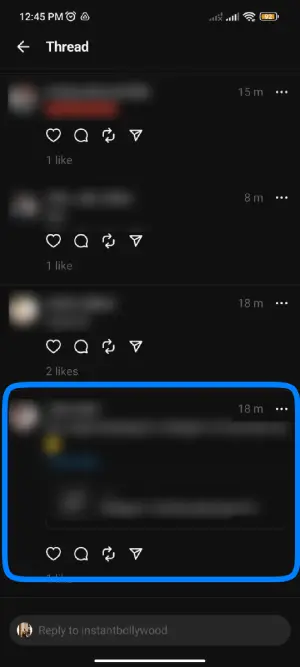 Now, find the inappropriate comment.
Step 3: Tap on Three Horizontal dots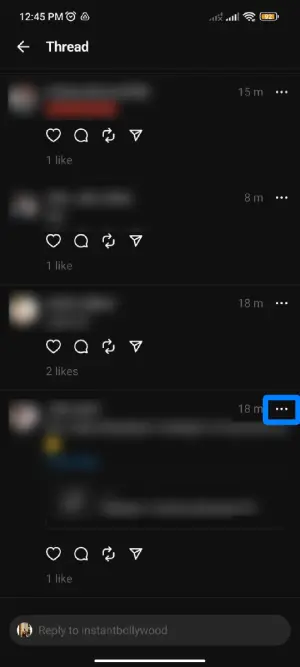 Now click on Three horizontal dots.
Step 5: Click on Report.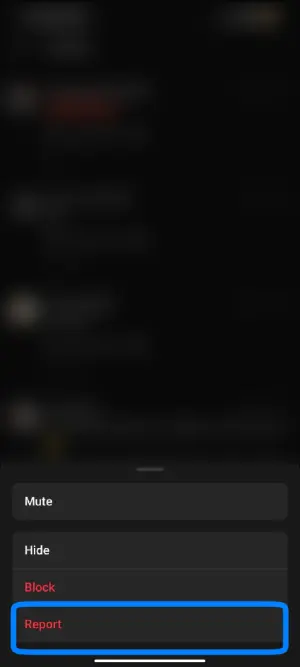 Tap on the report.
Step 6: Give reasons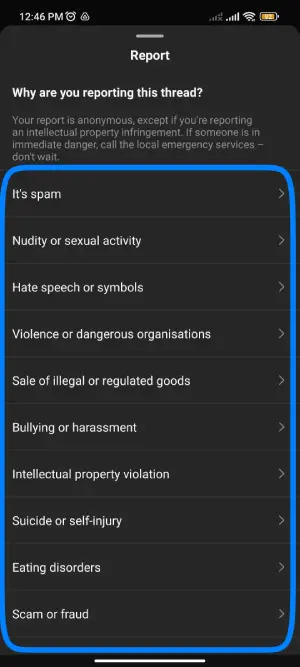 Now give reasons why you are reporting this comment or thread.
Step 7: Click on Next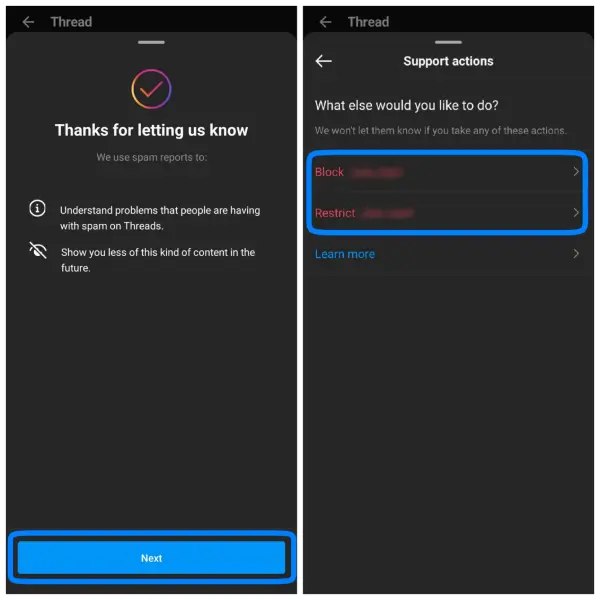 Tap on next; then the app will ask you to Block and Restrict. You can restrict or block the users.
[Note: Give a valid reason why you are reporting the comments]
Also Read: How To Create An Anonymous Threads Account?
---
How to Hide Comments on Threads?
On Threads, hiding a comment allows you to manage your post's interactions discreetly. This feature comes to the rescue when you encounter a comment you don't want others to see. By hiding the comment, it effectively disappears from public view, maintaining the privacy and integrity of your Thread.
Follow the step-by-step guide to Hide Comments on the Threads:
Step 1: Launch Threads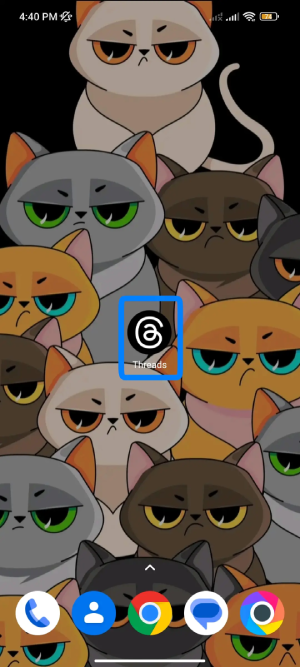 Tap on the Threads app on your device.
Step 2: Search the comment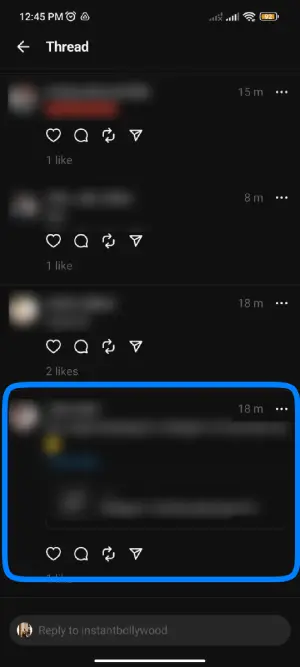 Then locate the inappropriate comment that you want to hide
Step 3: Click on Three Horizontal dots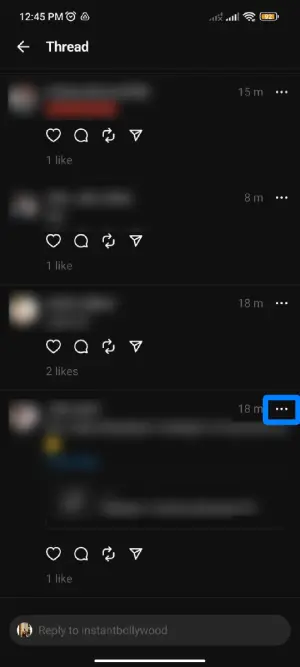 Tap three horizontal dots on the top right of the comment you want to hide.
Step 4: Tap on Hide.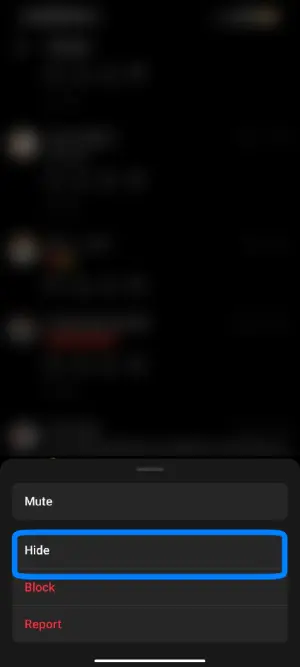 Lastly, click on hide.
[Note: After hiding the comment, you can undo it]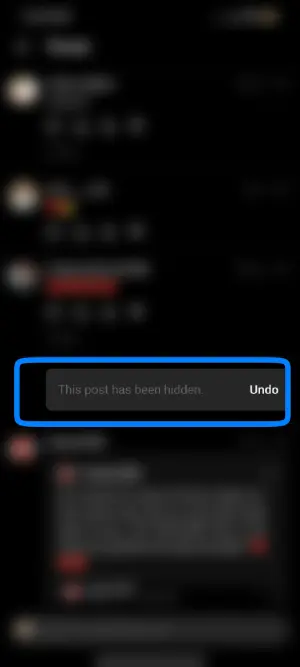 Also Read: All About Threads Limits
---
How can you prevent inappropriate Comments?
Preventing inappropriate comments is essential for a positive online community. To do this, platforms like Threads can set clear rules for behavior. Encourage users to report offensive comments quickly so that moderators can take action.
Educating users about respectful communication is crucial too. By working together and taking these steps, we can create a safe and friendly online space where inappropriate comments are kept to a minimum, ensuring everyone has an enjoyable experience.
You should always filter your follower to be safe from irrelevant comments. Making your account private also can solve this big problem. You can read on How To Make Threads Account Private?
Also Read: How To Schedule And Automate Threads Posts?
---
Frequently Asked Questions
Here are some Frequently Asked Questions about the Threads.
---
How do I bulk Delete Comments on Threads?
Currently, the Threads don't have the function to delete the comments simultaneously.
---
Is there a Web version of Threads?
No, there has been no web version of Threads till now. The Threads website shows you the QR code, which will take you to the play store or app store according to your device and request you to download the Threads app.
---
Can My Instagram Followers comment on my Threads post?
Yes, they can easily comment on your Threads post, If you confirm the following request of your Instagram followers.
---
Conclusion
The article provides a comprehensive guide on managing comments in the Threads app, including deleting, reporting, and hiding comments. It emphasizes maintaining a positive online environment by preventing inappropriate comments. The instructions are clear and easy to follow, addressing mobile and PC users.
However, it highlights that users can only delete their own comments, not others', and Threads is currently unavailable on PC. Overall, the article promotes responsible and respectful communication while using the app. With its concise and practical instructions, users can effectively handle unwanted comments, fostering a safer and more enjoyable experience on Threads.
Hope you understand and can delete Threads comments easily.