SoundCloud has been a fertile ground for many artists and musicians. It enables artists to upload their music and earn revenue from their streams. SoundCloud offers a program called SoundCloud Premier, where artists can sign up and monetize their streams. So, how much does SoundCloud pay for 1 million streams?
Answer:
The amount SoundCloud pays per stream ranges from $0.0025 to $0.004, depending on streamer location and other factors. As an estimate, they pay $2500 to $4000 for 1 million streams, though it can vary by listener location and ad revenue. Most sites report SoundCloud only pays around $1300 per million streams on average.

SoundCloud provides a platform for anyone to create music and sounds and upload them to the platform. Once the music gains popularity, artists can enroll in the SoundCloud Premier program and monetize their streams.
---
How Much Does SoundCloud Pay For 1 Million Streams?
The amount SoundCloud pays artists per stream can vary significantly depending on the location of the listeners generating the streams. As a baseline, SoundCloud has reported paying 0.0025-0.004 US cents per stream in the past. This would equate to $2,500-$4,000 in royalties for 1 million streams.
However, research from sites like The Trichordist, Streaming Royalty Calculator, and Music Gate Away indicates the true average payout per million streams is closer to $1300, with geographical data showing lower rates paid for streams from developing countries.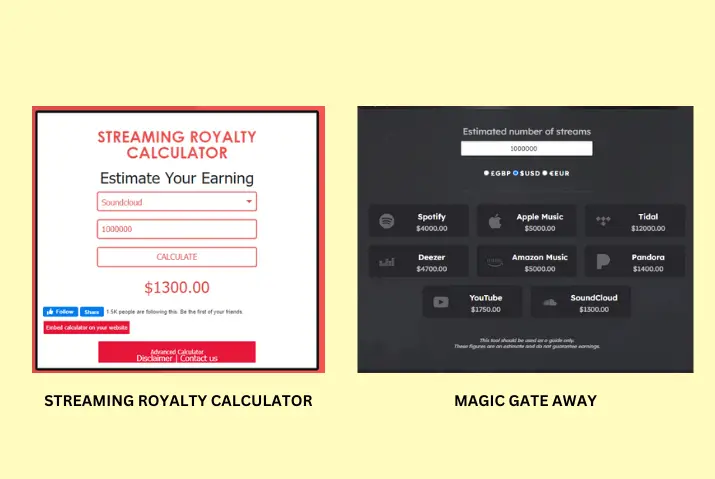 There are a few key reasons for the discrepancy. SoundCloud takes a cut of 55% of all ad revenue. Additionally, newer YouTube or Spotify deals may pay better per stream, around $0.006-$0.0084. Location data reveals listeners in areas like Southeast Asia and South America are worth significantly less in terms of ad rates and deals. Independent analyses conclude most artists only see around 60% or less of the baseline rates after accounting for these factors. More data transparency is needed to understand how rates are calculated fully.
Also Read: How To Set A SoundCloud Song As Your Phone Alarm?
---
Is SoundCloud Really Too Bad For Artists? [With Proofs]
Soundcloud is considered one of the least-paying sound-streaming services in the world. Many artists and SoundCloud earners have claimed that it pays less than many streaming services like Spotify, Apple Music, YouTube, and many more. So how much does SoundCloud actually pay for 1 Million streams to their artists?
Here is my little research from the SoundCloud creator's earnings:
Research 1: Yon World (From YouTube Video)
You made around $97.40 over 158,000 streams after the 55% cut from SoundCloud. If we calculate that, SoundCloud paid Yon around 1 dollar per 1628 streams, which is way less than Spotify, which claims they pay $600+ for the same number of Streams.
He also pinned the comment that said, "SoundCloud takes a 55% cut of your streaming payout"

Compared with his YouTube streaming, He earned $104.63 for 59,474 views.
Note: SoundCloud has only monetized streaming in a few countries. You will only earn money from streams that originate from those select countries. If someone outside of the monetized countries plays your sound, you will not get paid for that stream. The seven monetized countries on SoundCloud are:
The USA
UK
Germany
France
Italy
Canada
Australia
Streaming revenue on SoundCloud is exclusively paid out for plays from within these seven countries. All other streams worldwide do not factor into your earnings.
Research 2: Marco Never Sleep (YouTube)
In one of Marco's videos, he showed that he only got paid $0.22 for 14,584 plays on SoundCloud. You could hear the frustration in his voice in the video. He has since left the SoundCloud platform, looking for better options.
Marco also mentioned that Apple Music paid him more money for significantly fewer streams. His experience highlighted how some artists feel SoundCloud's payment rates are too low compared to other platforms.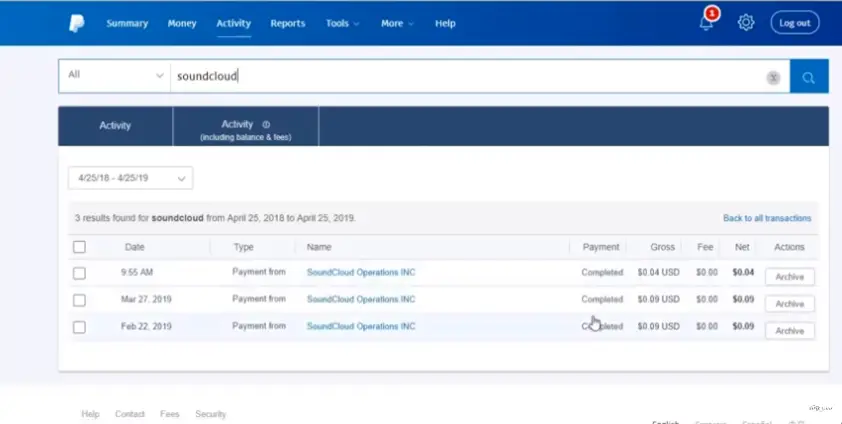 Research 3: Joshua Paulmer Says SoundCloud Is A Scam
Joshua said that he got 2.5 million plays on SoundCloud, where 792,000 streams were from monetizable countries. He also calculated how much money he should have earned from the platform.
Considering SoundCloud pays $0.0032-$0.01 per stream, Joshua estimated that for his 792,000 streams from monetizable countries, he should have earned between $1,980 – $3,168. Eventually, SoundCloud did not pay Joshua for the streams. Frustrated, he wrote about his experience on Quora to find out what might have gone wrong.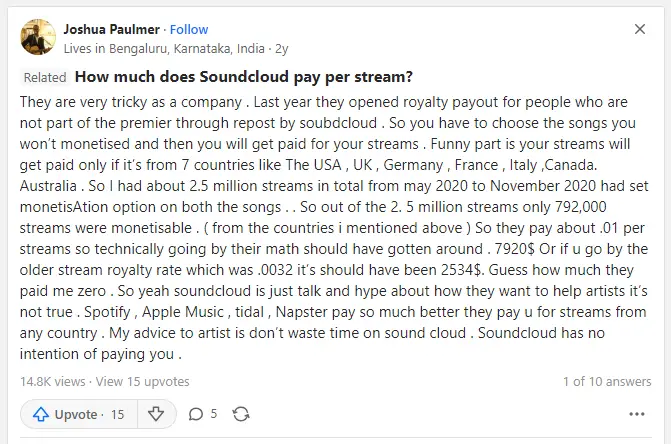 Note: The Story can be fictional because it does not have any proof to support this statement. He is also from a Non-monetised country (India), so it can also vary the payment.
Also Read: How To Share Soundcloud Music To Snapchat Stories?
---
How Does SoundCloud Work?
SoundCloud is an audio streaming and music-sharing platform founded in Sweden in 2007. It was built as a platform similar to YouTube, but for audio, where creators can post their audio and music for users and listeners.
It has been a driving force and a gateway for several prominent musicians and artists. SoundCloud is unique in its user interface. Users can upload, play, and create playlists using the app.
One of the app's unique features is the ability for users to leave comments at specific moments in the streamed audio. For example, you can tag the exact moment you like and leave a comment. The interactive features of the app are among the reasons it is popular.
The app is available for both Android and iOS and can be downloaded from their respective app stores.
While SoundCloud is free for anyone to download and use, the app has several premium features that need to be paid for.
SoundCloud uses the "Freemium Model," where the app's basic features are free, and additional features need to be paid for to use.
For creators, SoundCloud has SoundCloud Pro Unlimited, a feature that allows creators to upload unlimited audio. The free basic plan allows for only 3 hours of audio content uploads.
SoundCloud Pro Unlimited costs $12/month when billed annually. It also provides creators with great insight into their content and its performance.
Creators can enroll in the SoundCloud Premier Program and monetize their streams. In 2014, SoundCloud launched the Premier Program to enable creators to earn money by monetizing their content.
Also Read: Why Is SoundCloud Not Working?
---
How To Make Money On SoundCloud?
SoundCloud has become a popular platform for artists and creators to grow their audience and pursue music careers. Many well-known artists now got their start by sharing their music and building a fanbase directly on SoundCloud.
While growing popularity on the site, creators have access to useful analytics that provide insight into how listeners are engaging with their content and what could be improved. There are also different monetization options available on SoundCloud:
The SoundCloud Premier Program allows creators to earn money from their music once enrolled. However, to be eligible, you must meet qualifications like having your content be 100% original, holding a SoundCloud Pro or Pro Unlimited subscription, and receiving a minimum of 500 plays in the last month from participating countries.
SoundCloud pays artists per stream through the Premier Program – ranging from $0.0025 to $0.004 per stream. This equates to earnings of $25 to $40 for every 1 million streams.
Other ways to earn include securing sponsorships, using third-party advertising tools integrated with SoundCloud, or selling music directly through services like Sellfy.
The rise of podcasts on the platform provides opportunities for creators to find sponsors and advertisers tailored to their niche audience.
Larger listener bases that can be converted to customers for advertisers make monetization much more attainable on SoundCloud.
The site can also be leveraged to promote other business ventures and generate income that way.
Also Read: How To Verify Your SoundCloud Account?
---
Monetizing Your Account With The SoundCloud Premier Program
If you are an aspiring musician and emerging artist, SoundCloud is a very good platform to start from. It allows you to get your music to the vast user base of SoundCloud around the world.
You need to be a SoundCloud pro or SoundCloud pro unlimited subscriber to be able to enroll in the SoundCloud Premier Program.
In the last month, 500+ streams have been required from users based in the countries where SoundCloud subscriptions and advertisements are available. You also should be above 18 years old to qualify for this Program.
After you fulfill all the requirements, you can go on and enroll in the SoundCloud Premier Program.
Also Read: How Do I See And Send Messages On SoundCloud?
---
How to Enable Monetization on Your SoundCloud Track?
Enabling monetization on your SoundCloud track means that you will be receiving the payout for the stream for the track. This can only be done if you have already applied for the SoundCloud Premier Program and are approved for it.
So, how to enable monetization on your SoundCloud Track?
Follow the steps below to enable monetization on your SoundCloud Track.
Step 1: Open SoundCloud App
Open the SoundCloud app on your device and log into your account if you haven't already.
Step 2: Go To the Track Page
Next, go to the track page from the bottom of the screen.
Step 3: Select The Track You Want To Monetize
Here, select the track you want to monetize. Also, check the metadata to see if the information is correct.
Step 4: Choose The Monetization Option
Choose the monetization option.
Step 5: Enable Monetization
Click the monetization button to enable monetization.
The above steps will help you to monetize your track on SoundCloud. Although, make sure that you are eligible for monetization and have fulfilled all the requirements for it.
Also Read: How To Share SoundCloud Music To Instagram Story?
---
How Much Can You Earn On SoundCloud? How Much Does SoundCloud Pay For 1 Million Streams?
SoundCloud pays 0.0025 to 0.004 per stream. This payment also depends on the location of the users streaming your content and the advertisement revenue of SoundCloud.
If you have 1 million streams on the platform and are eligible for monetization, SoundCloud pays $2500 to $4000 for 1 million streams.
There are also other ways you can monetize your SoundCloud content. It also depends on the type of content you create on SoundCloud. If you have a podcast on the platform, users can be more engaged with the content.
Thus, you can earn more from the SoundCloud Premier Program. You can also find sponsors for your podcast, which can further boost your revenue.
By and large, the more income streams you can find using the same content on SoundCloud, the more you can earn on SoundCloud.
Also Read: How To Download A Podcast From SoundCloud?
---
Final Advice to Boost Your Streaming on SoundCloud
SoundCloud is a very big platform that gives emerging artists a chance to make their content available to a worldwide audience. This is also very helpful in sharpening your craft through the feedback of the audience.
If you are a starting music creator or podcaster, the platform is a useful tool to grow your audience.
If you want to boost your streaming on SoundCloud and, in return, boost your revenue from the content, you can use various tactics. Social media sharing, playlist creation, or asking your existing audiences for feedback is a better way to boost your streaming.
Also Read: How To Download Podcast From SoundCloud?
---
Frequently Asked Questions (FAQs)
Some frequently asked questions about 'How much does SoundCloud pay for 1 million streams' are taken from the internet.
Please go through the questions and their answers to understand more about SoundCloud and its monetization program.
---
How To Download SoundCloud?
You can download SoundCloud from the respective app store of your device.
If you have an iOS device, you can download the SoundCloud app from the App Store; if you have an Android device, you can download the app from the Play Store.
You can also use the web version of SoundCloud by simply going to www.SoundCloud.com.
---
How Much Is SoundCloud Revenue Per Play?
If you are eligible for monetization in SoundCloud, the revenue per play on the platform is 0.0025 to 0.004.
This can vary depending on the audience's location and SoundCloud's advertising revenue.
---
Is SoundCloud Dead?
SoundCloud's user base has shrunk, but its value to new musicians and entry-level artists remains relevant.
Several new artists start their music careers through this platform. Therefore, it cannot be said that SoundCloud is dead.
---
Conclusion
This article provided a comprehensive overview of how the SoundCloud platform works for artists and how they can monetize their music. It discussed the major factors influencing how much SoundCloud pays per stream, with the baseline range being $0.0025 to $0.004 per stream. For 1 million streams, this would equate to estimated earnings of $2,500 to $4,000.
However, further research highlighted that the average payout tends to be lower at around $1,300 per million streams. This is due to SoundCloud taking a large cut of up to 55% of ad revenue, as well as streams from less lucrative regions paying substantially less. Location data showed that listeners in developing markets generate far less money per stream.
To be eligible for monetization and the Premier program, artists must meet thresholds for uploads, country of origin, and monthly listen counts. While SoundCloud provides an important platform for emerging artists, the analysis suggests it is one of the lower-paying services. Multiple case studies of artist earnings revealed significant frustrations with the lack of rate transparency. Overall, this research provides useful insights into both the opportunities and challenges of monetizing music on SoundCloud.