Microsoft always makes an update to its operating system by bringing a new version of Windows. In its update, Microsoft uses better-improved features, which also come with better security. On May 27, 2020, they make another new update, but this time they bring the Windows 10 version 2004. As we all know, they either add another extra feature or make some changes with the previous version. Considering that, the update brings several extra features to Windows OS, including the new version of digital assistance "Cortana." So if you don't like the Cortana for any reason or don't have any plan to use it, then you can also disable the Cortana in Windows 10 version 2004. So here learn how to do it in this article.
Previously the Cortana can be found as a build-in application in Windows 10, but after an update, Microsoft removes it and places it in the Microsoft store. If the Windows users want to use the Cortana as their personal assistant, then they have to install the application from the store. But in the new update (Windows 10 version 2004), now users once again able to use the Cortana but without installing it from the store.
So, Cortana now comes as a default application after the new update. However, it is no longer controlled by voice command. So this time, Microsoft focused on the text-based command and better workflow assistant instead of voice assistant. Likewise, you also can't control the music playback – as Microsoft previously already state that those features will not be reintroduced in another update.
That's all for the Windows Cortana information, now if you find the Cortana is not quite useful for you. Or it doesn't provide the correct information for a specific searched topic. Or it doesn't really good as the digital assistant in Windows 10 version 2004 or whatever the other reasons – you state; then disabling Cortana is the best option for Windows users. That's why this article is the perfect guide for Windows 10 users to get rid of Cortana from their computers.
But for those who don't know about Windows 10 Cortana, then get a little information about it before moving to our main topic.
What is Cortana in Windows 10?
Cortana is the personal virtual assistant that you can find in Windows 10. Just think Cortana as a Siri or Google Assistant but for Windows. Cortana works on both text command as well as a voice command that comes with good integration. But in the latest update, Windows users can't use the voice command. Besides, it uses the Bing search engine in order to execute its task, which was set by Windows users. In other words, it interacts with you by providing the specific answer to your queries, which you have asked to Cortana.
Besides, if you connect Cortana with your Microsoft account, then you can keep track of your email, upcoming events if you have, set reminders, check the weather forecast, and more. Likewise, you can even collect new notification from other devices and sync important data between the devices.
All you have to do is type the command or say "Hey Cortana" then it will activate and listen to your command afterward.
Also read: How to Find Current Wifi Password in Windows 10 Laptop
How to Disable Cortana in Windows 10 Version 2004
Now, if you are clear regarding Cortana digital assistant, then it's time to move towards the methods where we can disable Cortana in Windows 10 version 2004.
So, let's get started from the first method down below.
Tip: You can also disable the Microsoft Windows Store to prevent Windows from automatically updating the Cortana on your computer.
Disable From Task Manager
Now, if you have updated your Windows 10 to version 2004, then you already might see the Cortana icon below the Windows Taskbar, right? Even though you haven't installed the Cortana application from the store, now it will be automatically placed in the taskbar. So to disable the Cortana, follow the few simple steps down below.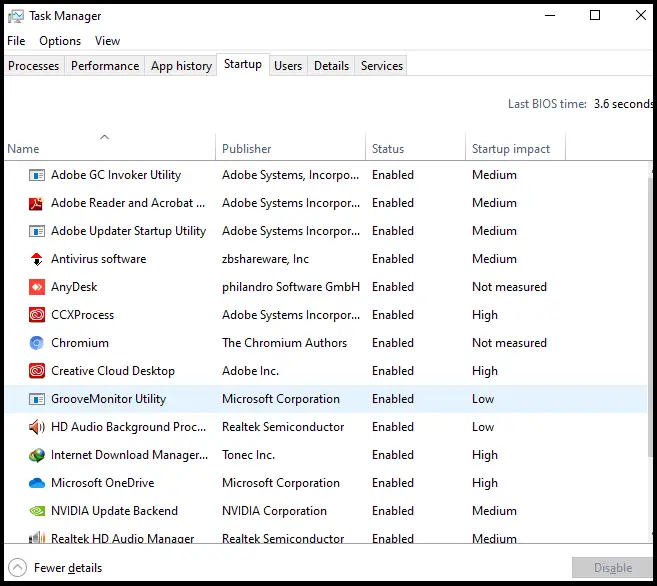 Press the ctrl + shift + esc in your Windows keyboard to open the Task Manager.
Now, click on the Startup tab from the task manager.
After that, search for the Cortana. As there, you can see many open applications, so scroll down until you find Cortana.
Once you find it, then right-click on Cortana and select the Disable option.
After that, close the task manager.
That's all to disable the Cortana from the task manager. However, if this method doesn't work in your Windows 10 PC, then move to the next method.
Disable From Edit Group Policy
Another method that Windows users can implement to disable the Cortana is from the Edit Group Policy. This tool helps to configure many essential settings on Windows computers or networks. Not only the tool allows users to disable the Cortana but also configure the password requirements, startup any programs, and more.
So now, let's get into the steps down below.
Move to the Windows Search Bar and type Edit Group Policy and hit enter.
Now, navigate the following path Computer Configuration>Administrative Templates>Windows Components>Search.
After that, double-click on Allow Cortana that opens another new page section.

There choose the option Disabled as the default setup is on Not Configured.
Now, click on the Apply button and once again click on the OK button.

Now, exit from the Edit Group Policy.
So this way, you can easily disable the Cortana in Windows 10 version 2004. Besides, you can also follow other methods down below to get rid of Cortana on your PC.
Disable From Cortana Application
Another alternative option that you can choose is toggled off the Cortana from the auto start. For that, you have to follow few steps down below.
Press Windows key + I that directly open the settings page of Windows 10.
Now, open the Cortana application from the settings screen.
After that, search for Cortana and click on the results to show its more options.
Now, select the Advanced Options that shows the other main settings of Cortana.
There, toggle offs the Cortana inside the Runs at log-in section.
Disable From Registry Editor
The next method you can use to disable Cortana in Windows 10 version 2004 is from the Registry Editor.
Registry Editor is the graphical tool in the Windows OS that allows authorized users to make certain changes in the registry, such as creating, deleting a file, or changing the corrupted registry keys and more.
And today, we are going to create a new key to disable the Cortana in Windows 10.
So, let's move to the following procedure down below.
From the Windows search bar type Registry Editor and press enter.
Now navigate the following path HKEY_LOCAL_MACHINE>Software>Policies>Microsoft>Windows.
Now, right-click on the Windows and choose the New>Key. After that, give a name to that key Windows Search and press enter.

Now, choose the Windows Search, which you have just created. In the right side section, right-click on the empty area and select New>DWORD (32-bit) Value.

There, type AllowCortana and afterward press enter.
Now, double-click on AllowCortana, and under the Value Data, type the value 0.

Once done, exit from the Registry Editor and restart your computer.
Now, after the successful restart, you will not Cortana in your Windows 10 version 2004. Pretty simple steps, right?
How to Remove Cortana From the Taskbar in Windows 10?
If you don't want to see the Cortana in your Windows Search bar or in the taskbar, then here learn how to remove it with the help of simple steps down below.
So let's get started with the procedure.
Go to the Windows search bar located on the left bottom side.
Now, simply right- click on the search bar and select the Cortana option.
After that, choose the Show search box option instead of Show Cortana icon.
Now, you can see that Windows remove the Cortana icon from the taskbar and add the original search bar.
That's it, after following only 3 steps, you can easily remove Cortana from the taskbar in Windows 10.
Also read: How to Upgrade Windows 10 Home to Windows 10 Pro
Is Cortana Safe?
Ever since the Windows 10 was released, you can find your own home computer digital assistant "Cortana." It makes our day to day life easier by assisting us through our searched queries.
When we talk about the security of Cortana, then it's the first thing which we must consider. That's because lots of hackers and cybercriminals are trying to breach or find the gap which allows them to easily break into your computer.
As the Cortana is run through voice command, so it might possible to the hacker to break into your Windows 10 even it's locked. The problem starts because Cortana is always listening. Yes, the fact that Cortana is very useful that assists you in performing various tasks but because it's always listening so it will be easier for the anonymous to break into your computer with a voice command.
It's not completely true that a hacker can break your Windows 10 PC with Cortana, but there's a possibility.
Apart from that, at certain content, Cortana uses or collects all your information that relates to Cortana, according to Cortana's FAQ. In other words, if you search any queries in Cortana, then it saves your searched information or data.
Let's get clear with an example: When you use Google to search for anything or visit the website, then it collects the information and could sell it to the advertisers. Many people already know this fact and even don't care because it is common. So basically, Cortana also does collect your information from your search history.
So in terms of safety, we can't completely say that Cortana is a safe virtual assistant in Windows 10.
Is Cortana is a Virus?
Cortona is used as a virtual assistant in the Windows operating system. So basically, it has nothing to do with crypto mining. Crypto mining is the process that uses the system hardware or resources to solve the mathematical problem or control the digital coin records. A mining process is costly and requires high-end hardware. The more strong and powerful hardware, the more it will generate revenue.
So basically, cyber-criminal infects the computers those who have strong hardware to start mining. In the case of Cortana, they use the Cortana.exe (somehow considered as a virus) to penetrate your system and use the resources like CPU. They hide cortana.exe in the Windows task manager – so if you find our Windows 10 is slowing down, then go to the task manager. If you see the files name Cortana.exe, then definitely your computer is infected.
Conclusion
Now there you go, you have learned to disable Cortana in Windows 10 version 2004 with the help of the above-listed methods. Those methods are easy and straight forward where you can get rid of Cortana in Windows in no time. So make sure to follow all the correct steps.
Besides, Cortana can sometimes be pretty useful, and other times can be frustrating. So if it keeps you irritating, then you know what to do, right? You don't have to scratch your head, all you have to follow the above easy and simple method to disable Cortana in your Windows PC.
So did you find any trouble while following the above steps? Then don't hesitate to ask in the comment section down below. We will surely solve your problem as soon as possible.
Thanks for reading our article.
Reference Links
https://www.tristartechsolutions.co.uk/the-benefits-of-cortana/
https://pureinfotech.com/windows-10-2004-20h1-release-date/#:~:text=Windows%2010%20version%202004%2C%20May%202020%20Update%2C%20release%20date%20is,as%20some%20small%20new%20features.