TikTok, like other social media platforms, has provided different types of content to different user bases. Aside from the regular personal account, TikTok also offers Business accounts and Creator's accounts. If you want to understand the TikTok Business account vs the Creator account, follow this article.
The key difference between a TikTok business account and vs Creator account is that Business accounts get all of the tools such as analytics, scheduling, creators studio, third party analytics integration, etc but a creators account does not have access to all of the tools. This is primarily because a creator's account does not need all of those tools.
If you are also a business owner/stakeholder or a creator, this article will explain to you all about the differences and how you can use each of the accounts in their specialized way. Please follow this article for detailed information.
Types Of TikTok Account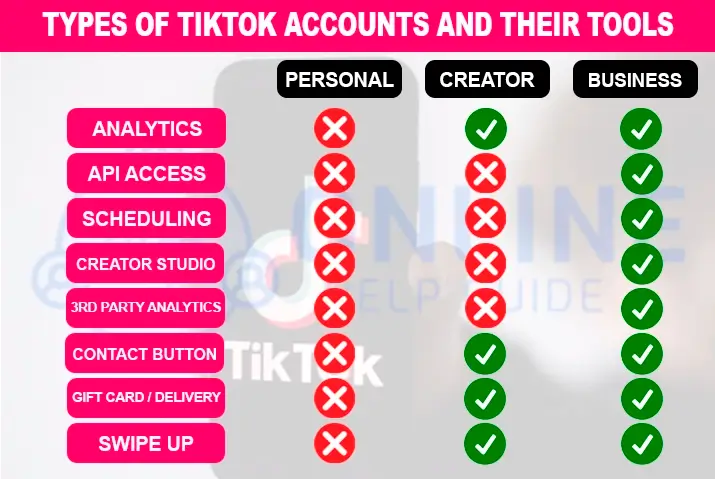 Like other social media, TikTok also has a variety of users that have their motives to be on the platform. Some accounts are created by businesses and organizations to cater to their customers and clients.
Other accounts are created by professional content creators to create content for their audiences on the platform.
Most of the accounts are created by individuals to communicate and get entertainment.
The different types of accounts are categorized and explained below.
Personal Account
These accounts are the common accounts on all social media platforms. Same with TikTok, these accounts are known as Personal accounts. All accounts when first created are Personal accounts by default.
These accounts are mainly created by users who just want to join the platform for communication and entertainment. When you first create an account in TikTok, you will create a personal account by default. And you can change the account if you want to convert it to other types of accounts.
Personal accounts have limited functionalities that are strictly for normal users with no special interests. These accounts can be created by anyone with email or phone numbers.
Pro Account
Pro accounts are professional accounts on TikTok. These accounts are to be converted from personal accounts. Any personal accounts can be converted to a pro account.
These accounts are given special tools to help them understand their audience and provide their content to the audience.
There are mainly two types of Pro accounts:
Business Account
Business accounts are accounts that are provided by TikTok for businesses and organizations. There are several tools such as:
Analytics tool for better understanding the performance of content and audiences.
API access for any integration with other tools.
Scheduling contents for future publishing.
Creator studio for better content creation and engagement.
Integration with third-party analytics tools.
Contact button on the profile.
Gift and Card delivery to customers.
Swipe up feature on contents.
Creator Account
Creator accounts are another type of account which are mainly focused on helping creators create content for their audiences. These accounts are also given several of the tools given to business accounts.
Analytics tool for better understanding the performance of content and audiences.
Contact button on the profile.
Gift and Card delivery to customers.
Swipe up feature on contents.
TikTok Business Account Vs Creator Account
There are many differences and similarities between the TikTok business account vs creator account. As I stated, the personal account is the default account which is the normal account that users can use.
And if you are a creator on the platform, it is always a better idea to use the creator account. Businesses can also access various tools that help them expand their audiences and monitor their content.
So, let's first discuss the business accounts.
What Is A TikTok Business Account?
TikTok business accounts are specifically designed and developed for brands and companies. The account offers different features that help to optimize the contents and posts.
As I stated before, when you first create an account in TikTok, you will create a personal account by default. You then have to change your TikTok account to a Pro account and choose the business account. It will then give you access to various tools such as TikTok analytics and creator studio.
Once you change your account to a Business account, you will have the ability to:
Access to the option to partner with TikTok influencers.
Real-time performance tracking.
Analytics to spot trends in your content.
Option to drive traffic to external websites.
All these abilities will help the business to grow on the platform and expand its influence. This account can be used by small to large-scale businesses to reach their audiences.
So how to use the TikTok for Business account?
How To Use TikTok For Your Business?
Once you have converted to a business account, you may want to learn how to use the business account.
Even if you are just starting on TikTok, we have identified some basic steps you can take to start using the business account.
Learn To Use TikTok
First, you have to learn the basics of TikTok. The user interface is easy to navigate on the app and most of the functions can be found from the home screen itself. First, you need to learn how to record TikTok videos, add elements and edit them.
TikTok sounds are another feature you need to understand. You can use the existing sounds and also add your own. The TikTok app does have most of the functions you need to record and edit a video. But in case you want to add some advanced editing to your videos, you may need to find other third-party apps to do it.
Find Your Appeal To Audiences
Next, you need to find what makes your potential audiences appeal to your product/services. This can include your best products or services and relate them to the trend of the time.
For example, if your business builds furniture for the home, find the latest trendy furniture designs and create content on that. This will increase the interest of your audience and you will gain more customers from there.
Appeal to the audience may include anything about your business that can interest your audience. It can be the process of creating your product, the product itself, or the relation of your product with current trends.
This process is mentioned in the article "How to increase views in a new TikTok account".
Start Telling Stories
Storytelling is a must-have art if you want to attract more eyes to your product. A good story will create a relationship between the product and the audience. It is a branding technique used in marketing.
You also should start telling stories about your product and services. A well-documented story can help you increase the following and views of your videos.
Create Engagement
Engagement refers to the constant interaction with your content. If your audiences on TikTok will interact with your content in form of views, likes, shares, and comments, TikTok will promote your content even more. That will in turn increase your reach and your engagement again.
To create more engagement, you need to create a video that people can watch and interact with. This can be done by finding your appeal to your audiences and presenting it in the form of a story.
What Is A TikTok Creator Account?
A TikTok creator account is specifically designed for creators. This account has tools for creators to get more insight into their content and their audiences using Analytics. Other tools such as a contact button on the profile, gift card delivery and swipe up feature on the videos can be used.
A TikTok creator account will have the following features:
Access to the option to partner with TikTok influencers.
Real-time performance tracking.
Analytics to spot trends in your content.
Once you have a TikTok creator account, you can now create better content and increase your audience size. The analytics tool will help you greatly in this voyage of Content creation.
How To Use Your TikTok Creator Account?
You can use your TikTok creator account to maximize your ability to connect to your audience.
If you are new to TikTok or just want to know how to use your TikTok creator account, it may not be that hard. The following strategies are to be considered when using a creator account.
Build Your Image
Image building in content creation means you need to identify your account or yourself as unique in the crowd. That can be achieved through unique content creation such as of KhabyLame or having a unique identifier such as Bella Poarch.
Once you have made an image in the audience's mind, they will notify you whenever they see your content. Also, it will increase your followers and video views.
Put Out Contents That Audiences Like
Once you have a small number of audiences, you will start to notice the pattern of the content they like. You can use this data to your advantage and put out more and more content they like. It will help you increase your reach and followers.
Understanding your audience is important in content creation. You can also use the analytics tool to analyze the data of your performance and improve upon that.
Create Engagement On The Contents
Engagement in the content you put out is a great sign of growth. If you have high engagement, TikTok will itself push your content to more people's ForYou page.
You can also constantly interact with your audience and engage them in conversation with you on your content.
Improve Upon The Feedback
The more engagement and reach you get, the more you will get feedback on your content. You need to take that feedback and improve upon that.
It is crucial to improve to grow on TikTok. A TikTok analytics tool is also a helpful tool for you to grow on the platform. Learn to use the TikTok analytics tool.
Frequently Asked Questions (FAQs)
Some frequently asked questions related to the topic are:
Does TikTok Business Account Cost Money?
No, the TikTok business account does not cost any money. However, if you want to run paid ads for your business, it will then cost you money.
Any business can use a TikTok business account for free and grow their audience organically.
How To Tell If A TikTok Is A Business Account?
To tell if a TikTok is a business account, you can simply visit their profile page. If you see the contact button on the page, it means it is a pro account. Also, you can tell by the contents if it is a creator account or a business account. There will be vast differences between a creator's account and a business's account.
What Happens When You Switch To A Business Account On TikTok?
If you switch to a business account on TikTok, you will get access to different advanced tools and also you will lose access to the vast number of music. You can now only use the non-copyrighted sounds or use your sounds.
Does A Business Account On TikTok Get More Views?
No, there is no difference in views between a personal, creators, and business account. TikTok treats them all equally when it comes to views and ForYou page placement. However, business accounts have access to creating and running paid ads on the platform.
Conclusion
Therefore, there are key differences between the TikTok business account vs Creator account. A business account gets most of the tools to maximize its business reach and growth on the platform. Whereas, creators' account also gets some tools to increase and monitor their accounts.
By default, when you create a TikTok account it will be a personal account. But you can change the account to the creator's account or a business account from the settings.
Feel free to comment below if you have any more information to add to this article.