Nothing will put your computer on the wrong track than a bad Windows error. Although the Windows OS quite stable over the years and stealing the show in the market – but still users face the issues regarding the corrupted files, lagging, slow running program, and in the worst condition, it refuses to load the OS properly. This is the worst nightmare for Windows users not to be able to run their PC successfully.
Some little annoying bugs also prevented the Windows OS from being at the right speed and track and didn't leave the choice for the users to reinstall the Windows. And if you are one of those frustrated users who are looking the best way to reinstall the Windows, then you came into the right article. In this article, we share the easy way to reinstall Windows 10 without losing any files.
Yes, you read, correct. Without losing any data or files, we can reinstall Windows 10 on the computer. That's because reinstalling Windows 10 is not such a difficult task, but when you have tons of personal files, then you need to think twice. What's a reason for reinstalling if you lose all your important personal data? You again have to build up and retrieve, which takes quite a long time to complete. So think before you act – that means it is necessary to take proper steps for the reinstall.
So that's why learn these right steps to reinstall Windows 10 without losing any files.
Okay, for now, let's get started.
Thing To Do Before Reinstalling Your Windows 10 
If you are ready to reinstall your Windows 10 and get a new one on your computer, then there's one important thing you should remember. Some of you already know – yes, I'm talking about the backup. So here's how backup actually saves you from the horrible things from happening.
Backup Your Important Files
You might be wondering that I'm going to reinstall the Windows 10 without losing any data? But should I again backup my files? Well that a good question – so here's your good answer.
Some of the recovery files or an ISO file within the DVD drive can help to successfully reinstall without losing any data. But what if it actually didn't keep your personal files? This kind of behavior usually doesn't happen, but it's a system, sometimes it cannot be able to properly save your data after the reinstallation. So it's better to backup all your important data or documents before you move towards the reinstall process.
You can either use the online backup tools such as Google Drive, Onedrive. Or you can use a then external hard drive or CD – the choice is yours.
Now you if you complete your backup process, then let's move to reinstall Windows 10.
How to Reinstall Your Windows 10 Without Losing Files 
Here we will learn 3 different methods to reinstall Windows 10 without losing any data from your computer. Each method works slightly differently according to your PC and your recovery tools. So without any further delay, let' get started with the one method down below.
Reinstall Windows 10 Using the ISO File 
If your Windows 10 is a bootable, then you can use the ISO file or a CD-drive to reinstall the new Windows in your computer. You might be wondering where I can get an ISO file for reinstall? Well, you can download the media creation tool using the Microsoft official site. This tool helps to reinstall Windows 10 on your computer.
So let's see how you reinstall the Windows 10 without losing any data with the help of following steps down below.
First thing first, download the latest Windows 10 installation file by using the above link – which is a media creation tool.
Once the download complete, right-click on the ISO file and choose the Mount option to open the file.
Now, double-click on the Setup.exe file, which starts the process of the reinstall.
A couple of minutes, you will see a screen with a message to get important updates. The updates are required to smoothly run the installation process, update drivers, and even fix the errors. Besides, you can also skip this process and later on update it from the Windows settings – make your choice.
After that, you can either tik on the below privacy statement "I want to help make the installation of Windows better" or leave it like that and click on the Next button.
Now accept the license terms and again wait for a couple of minutes.
After some time, you will land on the steps where you have to either install the Windows or change what to keep. Besides, we don't want to lose our data during the reinstall, right? So click on the change what to keep option.
Now, choose the second option Keep personal files only and click on the Next button. What this does is keep your file safe and start the installation process.
Finally, click on the Install button to start the process.
Now it takes a while to complete because it depends on your computer performance to finish the installation.
Reinstall Windows 10 Using Refresh Start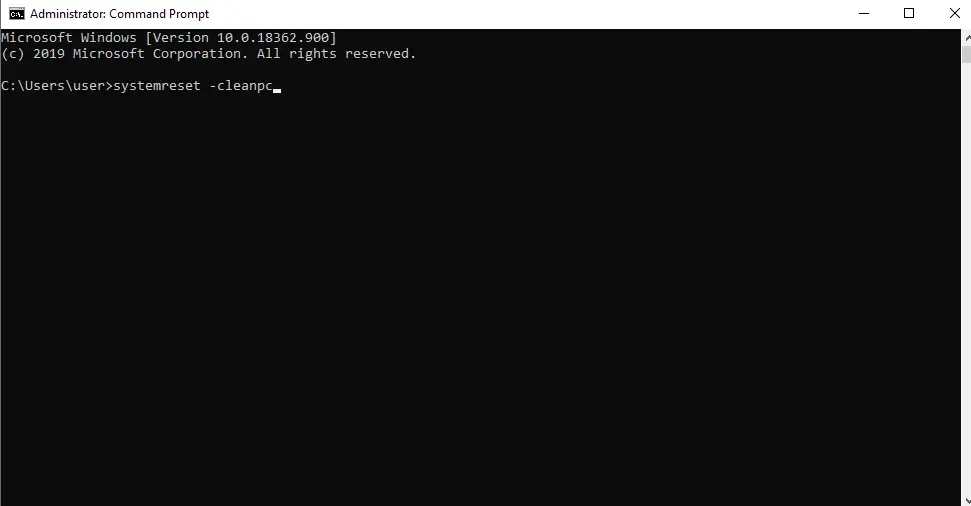 This is another method to reinstall the latest version of Windows 10 without losing any file from your computer.  Refresh start is like a reset which will delete all the installed apps or program except the apps and program which are come with manufacture Windows. It also keeps some windows settings and your personal file after the completion of the reinstall.
Now, let's see how we use the refresh start method for the reinstall of Windows 10 without losing any files.
First, go to the Windows search bar located on the bottom left side in the taskbar.
Then, type cmd and open it from Run as Administrator.
Now, type the command systemreset -cleanpc in the command prompt screen and then hit enter.
Now click on the Next button and follow a few correct instructions for the fresh start.
After that, all you have to do is wait for a couple of minutes and let it complete the fresh start. Once reinstall is complete, your PC will run way smoother than before. Most importantly, all your personal files and data are kept as it is in your drive.
Also Read: How to Disable Cortana in Windows 10 Version 2004
Reinstall Windows 10 Using the Manufacture Recovery Partition
When you first buy a computer, then your vendor might give you an extra recovery disc. That disc is used whenever you need to reinstall your PC because of some system errors. You don't have to download the recovery tool for a reinstall if you have the recovery disc. Unfortunately, some vendors don't give the recovery disc during the purchase of a new PC, and if you are one of them, do contact the system manufacturer.
But, if you have one, then follow the simple steps down below to reinstall the new Windows 10 in your PC without losing any files.
Insert your recovery disc inside your computer.
After that, you may see a message Press F10 for Repair. Now it will ask what kind of installation to perform. So use the fresh version and follow further instruction.
After a while, you have a new Windows 10 installed on your computer.
Note: If you use the Windows 8.1/8/7, then choose the Custom option when the wizard asks the type of installation to perform.
Thing To Do After Reinstall Your Windows 10
So, you have successfully installed the fresh Windows 10 on your PC without losing any files. Now, after the reinstall, you have to update your drivers and windows if anything misses during the reinstall period. Use the Windows update option from the settings, and your work is done. It will automatically search the missing drivers or program and install it into your computer.
Do You Really Need to Reinstall Windows?
Reinstall Windows can help to remove dreadful viruses, makes PC faster, solve the lagging issues, and more. But remember it not a good or perfect way. I didn't mean that reinstall will harm your pc but you have to consider other things. You always have to back up your personal data, files, and installed software before the reinstall. This process is time-consuming and if you forget to backup then you will lose everything.
Nobody wants to lose their precious data and files. Or do you?
What I meant to say is instead of reinstall, you can use the reset method. This process is safe and does the job just like a reinstall. Windows reset also backup your files and installed software so that you don't have to manually work on backup.
More>> How to Reset Windows 10 to Default Factory Settings
FAQ About the Reinstall Windows 10
Many questions arise in our minds when we are in trouble and searching for answers. Similarly, when we are reinstalling our Windows for the first time, then a bundle of queries stuck in our mind. So, here we listed some of the frequently asked questions regarding the reinstallation process of Windows.
How Often Should You Reinstall Windows?
There is no need to reinstall your Windows if you are taking care of your Windows in a proper way. But if you are using Windows carelessly, then your computer won't handle bad situations such as bugs. And that's where the reinstallation is needed.
Will I lose Data Upgrading to Windows 10?
Well, if you are upgrading your computer from the XP/VISTA to Windows 10, then yes, you will lose data, files, and programs. So first, it's better to backup your all personal data in a safe place before upgrading.
Besides, if you are upgrading from the older version of Windows 10 to the new, then your data and files will be safe.
Will Reinstalling Windows Remove Malware?
Yes, reinstalling windows can remove all the malware, viruses, and bloatware from your computer. Not only that, but it also fixes the system error, blue screen, and more. So if you are facing these issues on your computer, then once reinstall your computer or Windows.
Conclusion
When you follow the above steps, then you can easily reinstall Windows 10 without losing any files. Plus, you also cleaned your computer where many unwanted program or viruses makes a house. Similarly, you also get rid of any system error, lagging computer, or other issues that keep frustrating you each and every day.
Now you have fresh Windows 10 on your computer, so it's on your hand to keep it safe from now on. Keep it safe means – download the good security tools such as antivirus and increase your PC's health.
At first, do not come in the situation where you require a reinstall of your computer. And somehow your PC brings you in a reinstall condition then; you know what to do right after going through the above article.
So, if you face any issues during the reinstall time, don't hesitate to leave a comment down below. We will replay to you as soon as we review your comment. Also, do share this article with your friends if they face the same problem as yours.
Thanks for reading our article.