Hi there, are you here to learn how to set up a yahoo account? Well, you have landed at the correct place. Here, I will explain you step by step procedure to set up a Yahoo! Mail account. The steps are very easy, and in no time you will have a Yahoo account for yourself.
But first, let's start by knowing about Yahoo a little more.
Overview
Yahoo mail service was launched in 1997 under the parent company Yahoo!. Yahoo! had obtained an online communications company name Four11 at that time. Four11's webmail service Rocket mail was later on changed into Yahoo! Mail. Eventually, in 2017, Yahoo mail was owned by Verizon Media. Verizon Media is its parent company since then. This emailing platform was on the hike of popularity back in 1997 as only a few email service providers such as Hotmail, AOL were providing email service at that time.
Yahoo! has evolved in many ways since its beginning. Yahoo was founded in January 1994 by Jerry Yang and David Filo, who were Electrical engineering students at Stanford University. They created a website named "Jerry and David's Guide to the World Wide Web" which was later on named "Yahoo!" in the April of the same year. From 1997 to this day, Yahoo! has added many services such as Yahoo! Mail, Yahoo! Answers, Yahoo! Finance, Yahoo! Maps, Yahoo! Search, Bix, Tumblr, and Flickr. Yahoo! Mail runs on the web, Windows 10 and mobile devices.
Sure Yahoo Mail does not stand in the same place as it used to, but still, there are plenty of facilities that Yahoo Mail provides which is hard to be left unnoticed. First and foremost, it gives you 1TB of free online storage. This storage is more than enough for millions of message. Additionally, it lets you choose between 4 email plans as per your preference. It also supports non-yahoo email accounts such as Gmail, Outlook, and AOL. It also supports 37 different languages and configures auto-replies.
Creating the Yahoo Mail Account
Yahoo mail service is available on both desktop and mobile platforms. So, you can easily create a Yahoo mail account on one of these platforms.
Below, I have mentioned step by step procedures to set up your yahoo mail account.
Set up a Yahoo Account On Computer
You can easily create and set up a yahoo account on the computer. By computer, I mean both desktop computers and laptop devices. For this, you will need to have a computer with an internet connection and a web browser like Google Chrome, Mozilla Firefox, Safari, and Edge. Internet Explorer is no longer a supported browser for Yahoo products.
Step 1: Go to https://login.yahoo.com or go to https://www.yahoo.com/ and click on the "Sign In" button.
Step 2: Now, click on the "Create Account" button. This will redirect you to a sign-up page.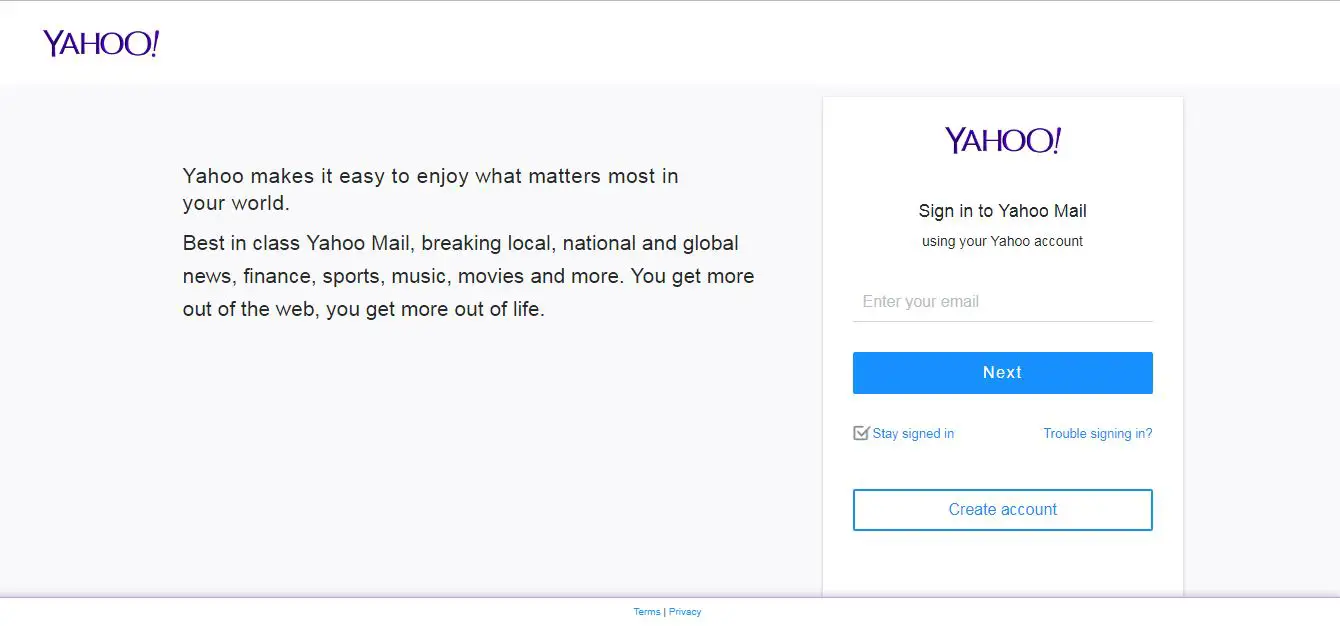 Step 3: You will now see a Sign-Up page. Here, you will need to provide your necessary information. You need to provide your first name, last name, the username for the email address you want, password, phone number, birth month, day and year, and gender.  Among them, gender is optional. Also, you need to choose your country code through the drop-down box. The country code is given along with your country's name. You can search for your country's name by typing the initials and looking through the options.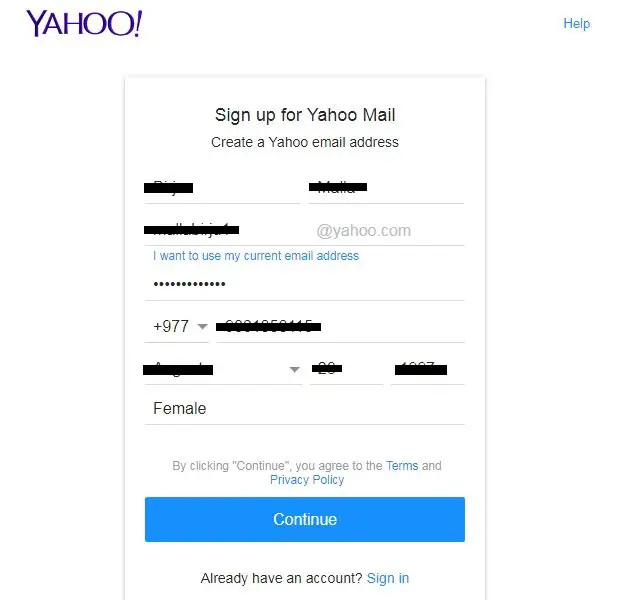 After filling up the information, click on the "Continue" button. By clicking on this button, you will agree with all the terms and privacy policy.
Step 4: Click on "Text me a verification code" button. A verification code will be sent to your number after you click here.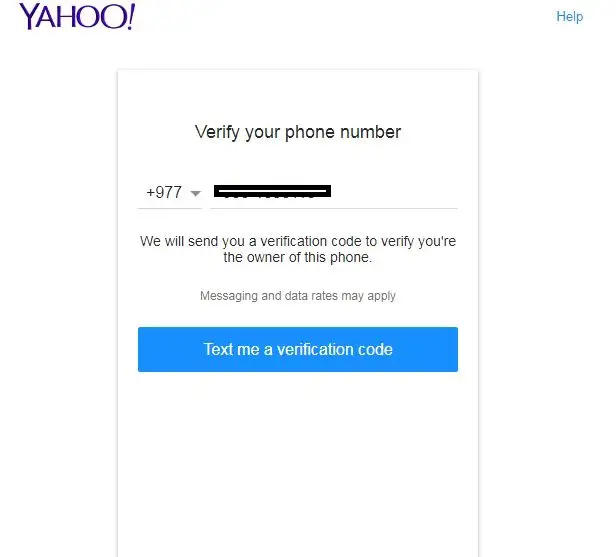 Step 5: Enter the code sent to your phone number. The code is of 5 digits. And then click on the "Verify" button.
Step 6: You will receive a page saying congratulations. Click on the "Continue" button.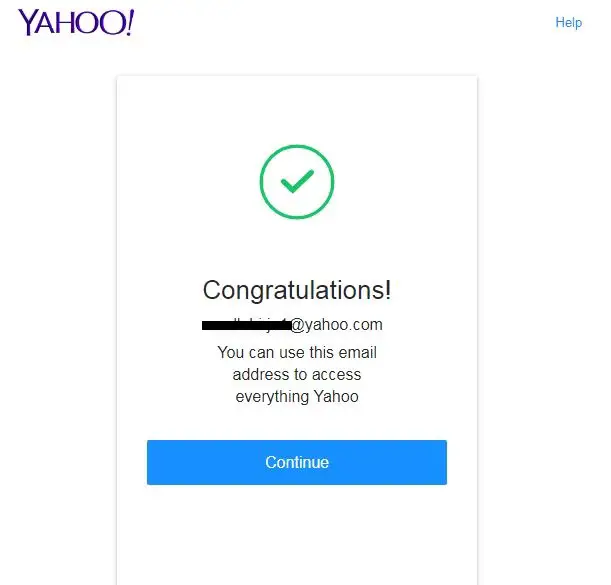 Step 7: You are now signed in into your Yahoo account.

Set up a Yahoo Account On Mobile
To use Yahoo mail on your phone, you need to download the Yahoo Mail app. You can download the Yahoo app on your Android and iOS phone. You can download via the Play Store on Android and App Store on iOS devices.
Step 1:
Open the Yahoo! Mail app downloaded on your phone. The app icon is dark-purple in color and which reads "YAHOO!"
Step 2:
Click on "Sign up" to create a new account.  Yahoo also allows you to create a new account with your Gmail, Outlook, and AOL email ids.
Step 3:
Now, fill up the information required. Unlike through computer platform, in mobile, you will see suggestions for your email address. You can choose from these options or create your username for the email address.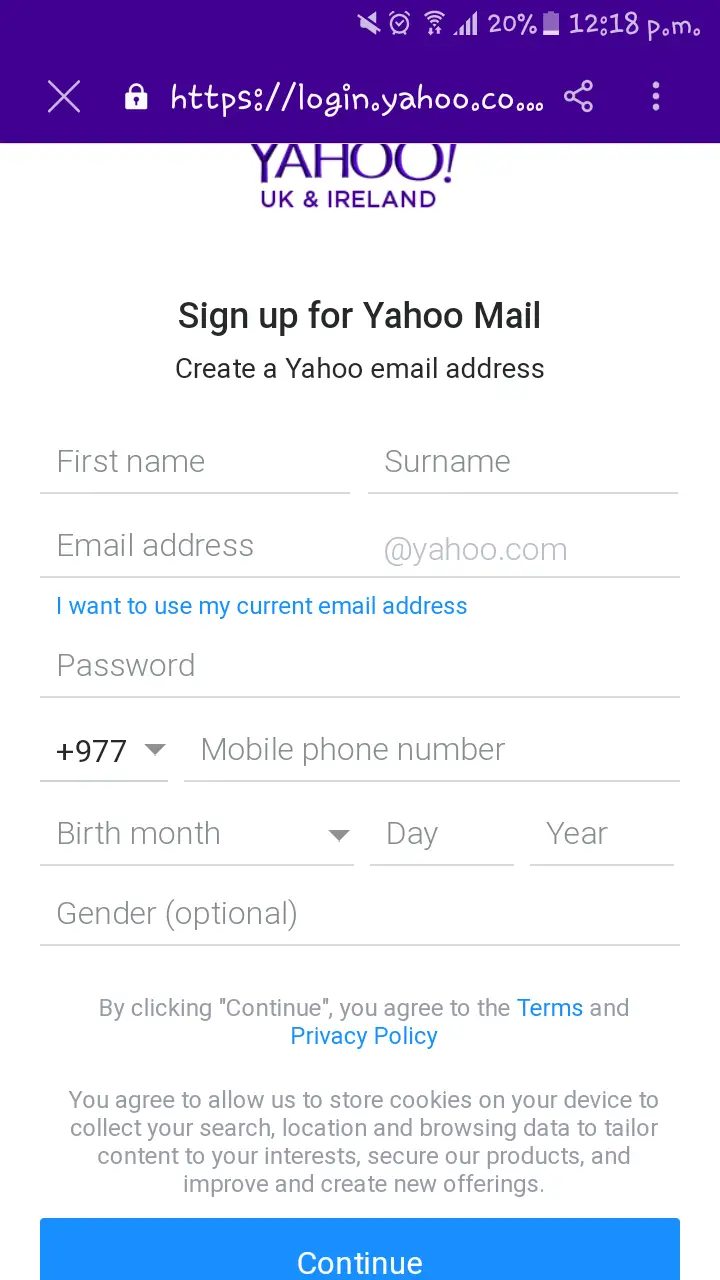 Then click on the "Continue" button.
Step 4:
In this step, you need to verify your phone number. Click on "Text me a verification code." A code will be sent to your phone to confirm that you are the owner of the phone.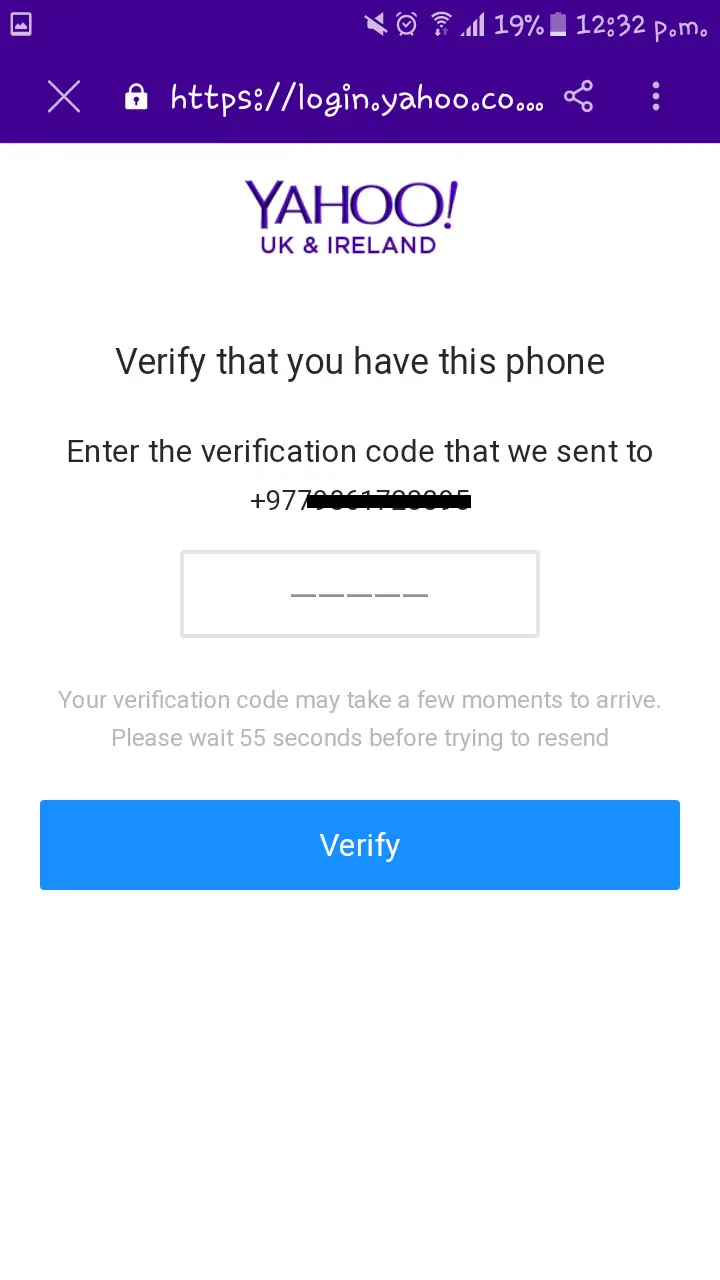 Step 5:
A five-digit verification code is sent to your phone. Enter the verification code and click on the "Verify" button.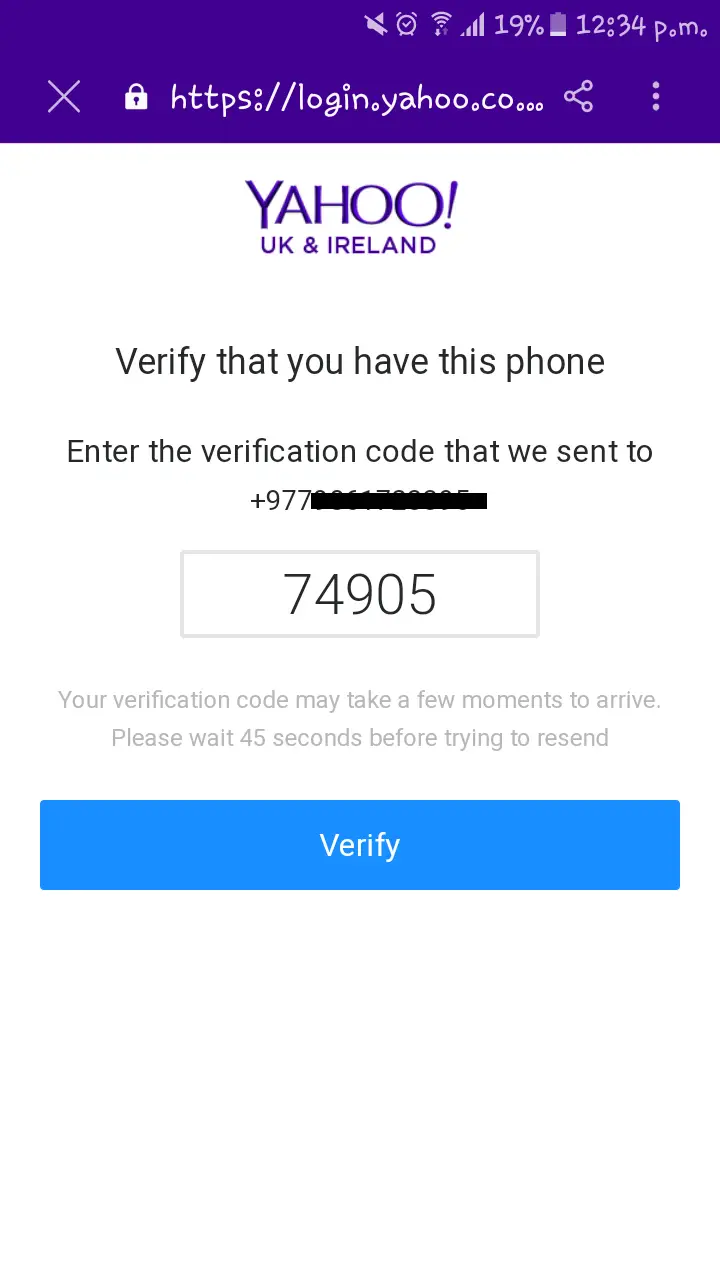 Step 6:
Click on the "Continue" button.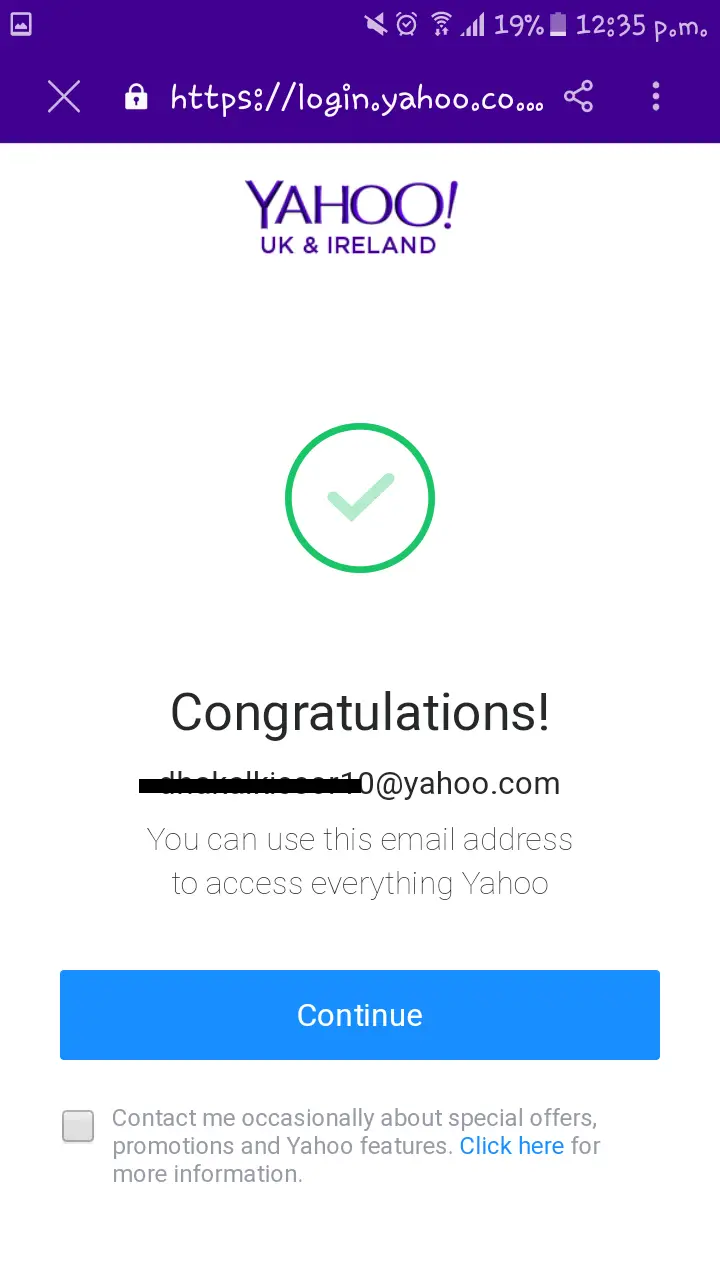 Step 7:
You will see a page containing the privacy policy. Click on the "OK" button after reading the privacy terms.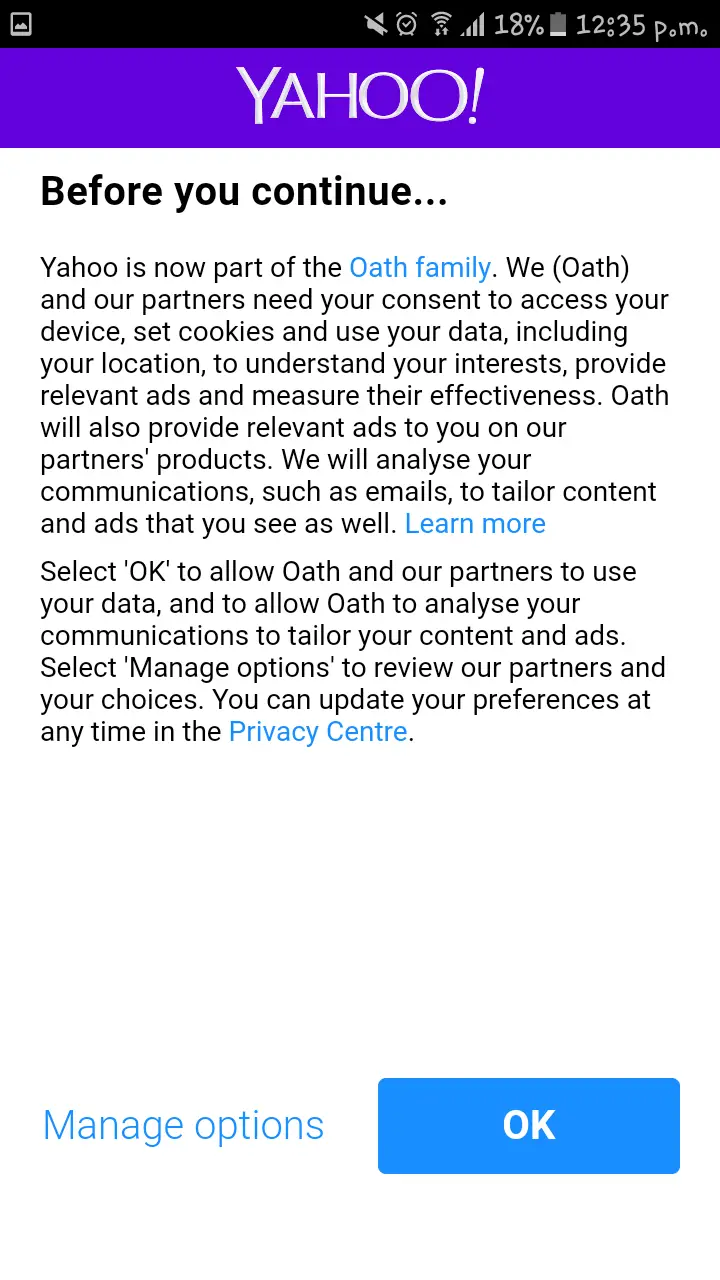 Step 8:
You are now signed in to your yahoo account.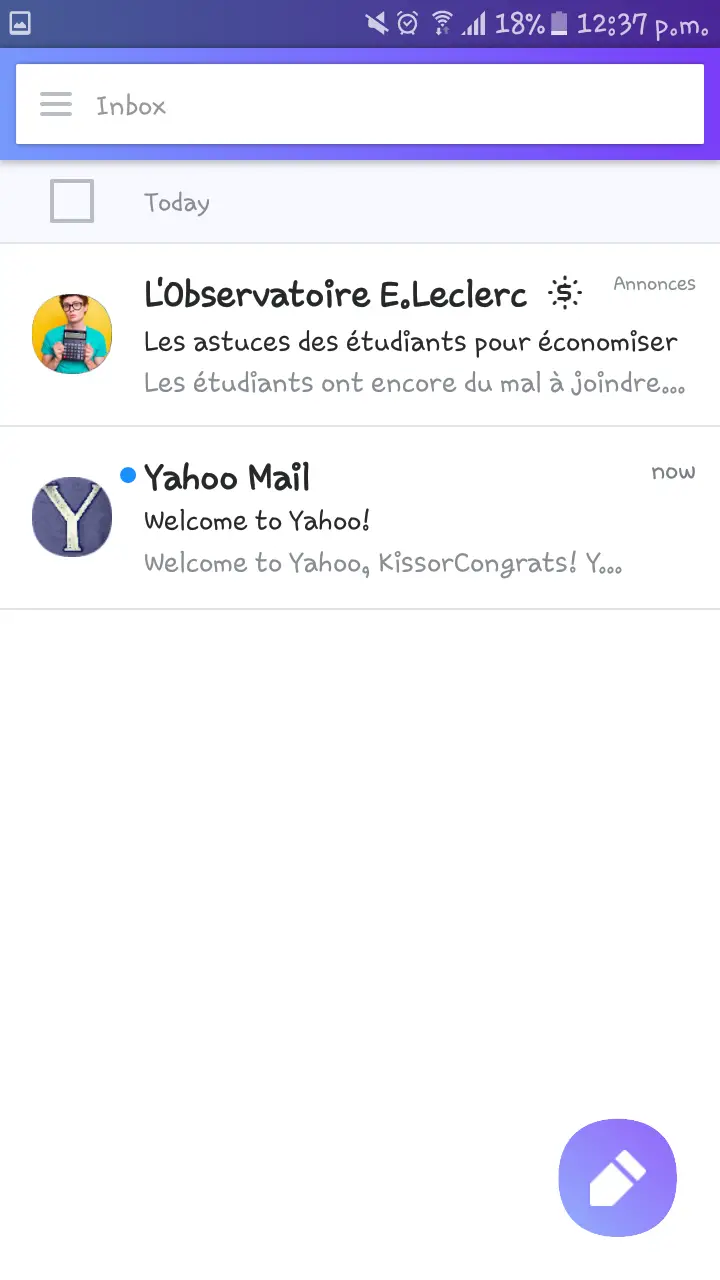 Also, Yahoo gives you a desktop picture for free as soon as you create your yahoo account. SO, you can take time to choose your Yahoo! Mail account picture or keep the same cool image of your initials!
Related topic: "Setup Yahoo Account Key"