TikTok, as we know, is a short video-sharing platform that has gained popularity among people of every age in recent years. Now and then, we see TikTok content creators making videos from their homes to the streets. Turning one's hobby into a full-time job has been the dream of many, so learning how to earn money from the videos you make can turn your hobby into a full-time job. So how can you get your money from TikTok?
Answer:
To get your money from TikTok, there's only one way: via your PayPal account. So first, you need to have a PayPal account, and then you can withdraw the money to your bank account through your PayPal account.

If you were on TikTok as a hobby and want to make it a full-time job because earning from your videos, sounds exciting, keep reading. But remember! You need to give it more time and effort. To earn more money, you need to be creative, and your content needs to be engaging. Also! You need to go on live often, and you need to have a lot of followers who will send you paid gifts. And, also know how to cash out gifts on tiktok?
---
Can You Make Money On TikTok?
The simple answer is Yes!
But can you make money solely by creating content on TikTok? No! Making money on TikTok requires more than that. It requires your creativity, or your content should serve a certain community. You are good to go if you are confident enough to do it.
Like various other social media platforms, many TikTok influencers have gained financial success through TikTok. You can earn serious money on TikTok by choosing plenty of different options.
While you can make money on TikTok in various ways, we have identified some main sources for you.
Also Read: How To Follow Back In TikTok?
---
How Can You Get Your Money From TikTok?
Now that you've earned coins and diamonds through TikTok Live, you can view your balance and withdraw it to your bank account.
Making withdrawals from TikTok is easy, but first, you must register for a PayPal account since TikTok can only direct cash to PayPal accounts.
Also, go through the TikTok withdrawal rules and terms before moving forward. Here is what you'll need to do to withdraw your Tiktok money:
Step 1: Open The TikTok App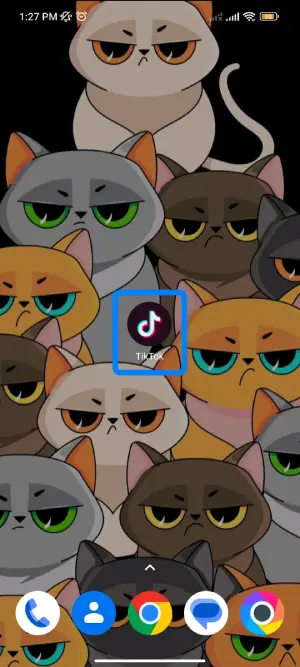 First, you must open the TikTok app and log in to your account.
Step 2: Visit Your Profile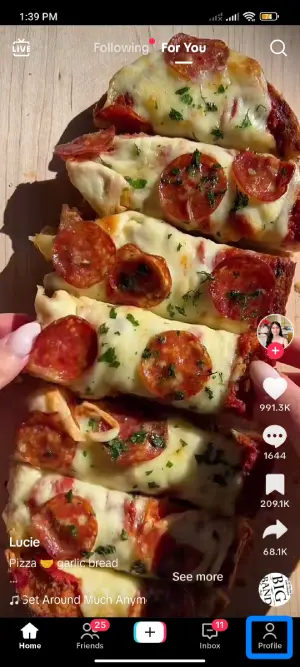 Now, select your profile on the bottom right-hand corner of the app.
Step 3: Click On Three Dots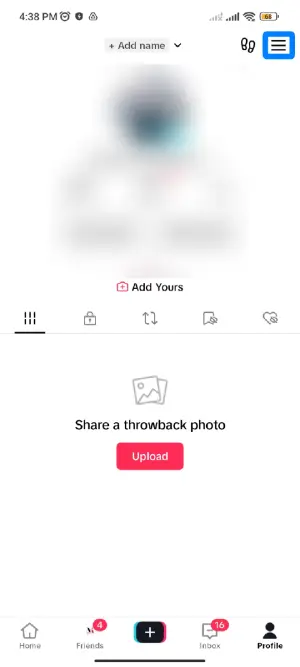 Click on the three dots on the top right-hand corner of your screen.
Step 4: Select "Settings and Privacy"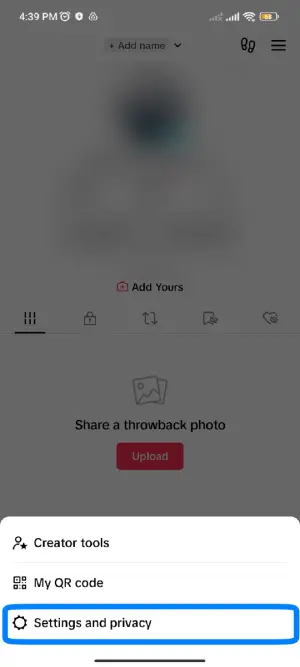 Then, select "settings and privacy."
Step 5: Select "Balance"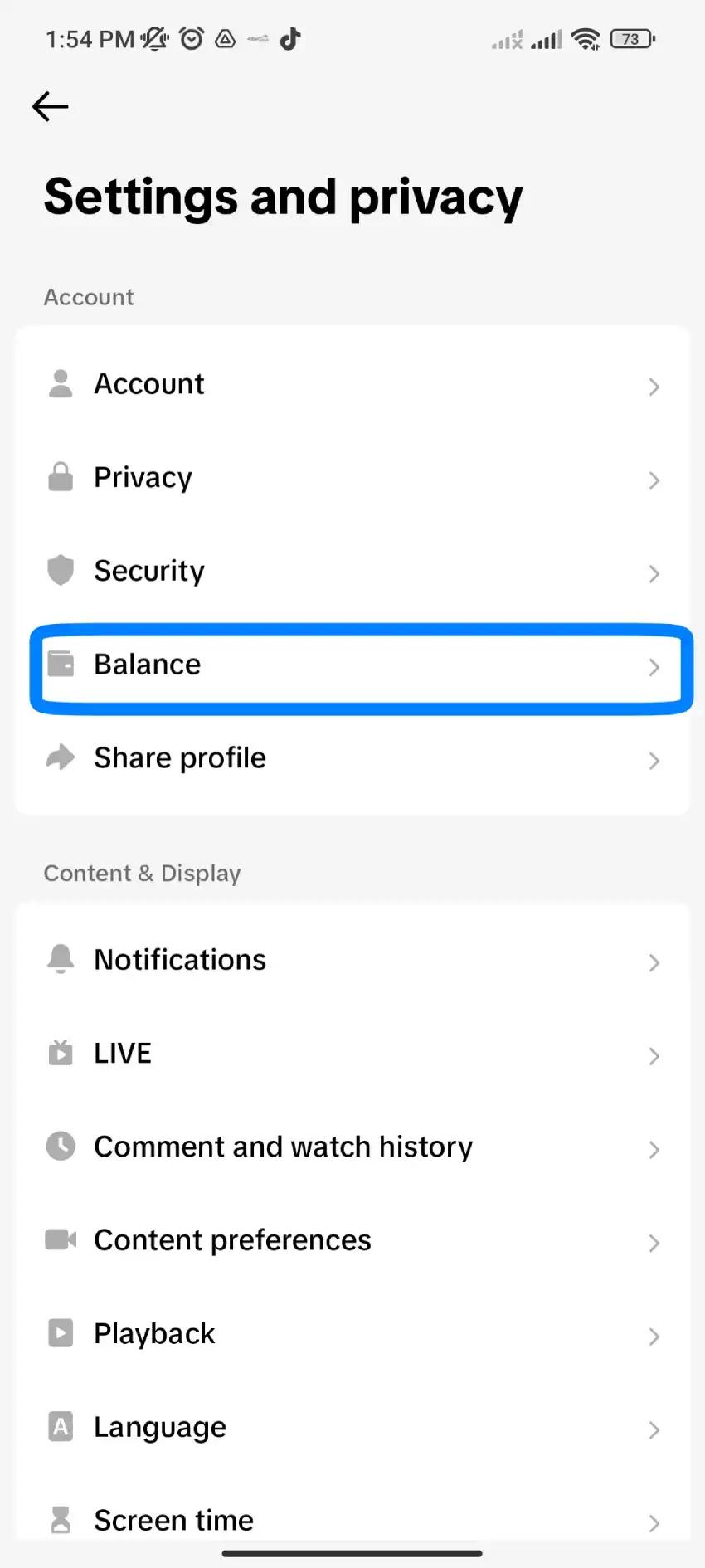 Select "Balance" to view your coin balance.
Step 6: Select "LIVE Gifts"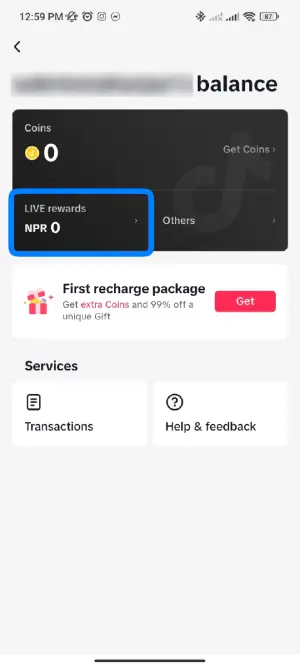 Scroll down and select "LIVE Gifts" to view your diamond balance.
Step 7: Click The "Withdraw" Button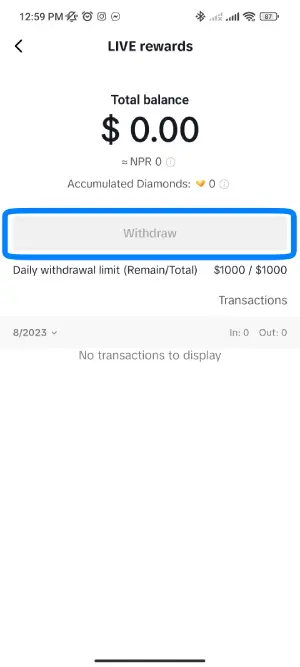 Click the "Withdraw" button at the bottom, where you'll be asked to log in to your PayPal account after agreeing to the terms and conditions.
Step 8: Type The Amount You Want To Withdraw
Then, type the amount you would like to withdraw.
Step 9: Confirm The Withdrawal
Finally, you can withdraw the money from your TikTok account to your PayPal account by confirming the withdrawal.
So, if you want to get your money from TikTok, follow the steps above. You can easily withdraw or transfer your money from TikTok to your PayPal account.
Also Read: TikTok Follow Requests Not Showing?
---
Alternative Ways To Get Your Money From TikTok
There might be situations where you do not wish to change the money you earned from TikTok to actual cash or transfer it to a bank account.
In such a case, you can exchange your money for telephone services. For example, you can convert it to coupons for discounts or promotions or even recharge your phone using the money.
Alternatively, you can buy gifts with that money on the TikTok application and return the gifts to followers or anyone you want, whenever you wish.
Also Read: How To Repost Instagram Reels Videos On TikTok?
---
How To Link PayPal To TikTok?
It is essential to link Paypal to Tiktok for purchasing gifts or withdrawing your income. So, how do you link Paypal to your Tiktok account? Here's a very simple step-by-step guide of connecting and withdrawing money from Paypal for you:
Open the TikTok app and go to your profile page. Tap on the "Balance" icon.
On the Balance page, tap on "Withdraw."
On the Withdrawal page, select the amount you want to withdraw.
Tap on "Add Withdrawal Method" and select "PayPal."
Paste your PayPal link into the "PayPal ID" field when prompted. To get your PayPal link:
Open the PayPal app and tap on your profile icon.
Scroll down and copy your PayPal link under your name.
Enter the email associated with your PayPal account when prompted.
Double-check that the PayPal email and link are correct.
Tap "Withdraw" to complete the process. The amount should now withdraw from your TikTok account to your connected PayPal account.
So, this is how you connect your Paypal account to your Tiktok account.
Also Read: How To Fix When You Can't Send Messages Because Of User's Privacy Setting In TikTok?
---
TikTok Withdrawal Limit, Problems And Issues
Making a withdrawal from TikTok is easy, but there are some TikTok withdrawal problems you might have to face as TikTok has its terms and rules.
Below are some of the common TikTok withdrawal problems and issues we have answered in detail.
How Much Money Can You Withdraw From A TikTok In A Single Transaction?
The smallest amount you can transfer is $50. The most you can take out in one day is $1,000. So if you have $2,000 in your TikTok account, it would take two days to move it all to PayPal by transferring $1,000 daily. You can quickly get your TikTok earnings into your PayPal account by spacing out your transfers.
Why Can't I Get My Money From TikTok For Less Than $100?
TikTok does not accept your withdrawal request if you have less than $100 in your TikTok account. So, you will have to wait until the money amounts to more than $100 before withdrawing.
Why Can't I Get Money From TikTok More Than $1,000?
The withdrawal limit is only up to $1,000 per day from your TikTok to your PayPal account. You'll have to wait another day to withdraw the rest of the amount, which is a little bothersome, but those are the terms.
Also Read: How To Change Phone Number On TikTok?
---
Why Can't I Get My TikTok Money To PayPal?
You might struggle to send money from your TikTok account to your PayPal account for various reasons. You need to know that TikTok only sends money to verified PayPal accounts, so first, check whether your account is verified.
You may also face problems if the details on your TikTok account do not match the details provided on your PayPal account. If you're still struggling to send money, you may contact TikTok support, and here's how you can do it.
Step 1: Open The TikTok App
First, you need to open the TikTok app.
Step 2: Click On The Three Dots
Click on the three dots on the top right-hand corner of your screen.
Step 3: Report A Problem
Scroll down and select "Report a Problem."
Step 4: Tap The "Notes" Icon
Tap the "Notes" icon on the top right-hand corner of the screen.
Step 5: Select "Tell Us Your Feedback"
Select "Tell Us Your Feedback" at the bottom. You'll then be taken to a page where you can type your problem.
Step 6: Report
To report the problem to TikTok, select "Report" when finished.
Thus, you can follow these step-by-step processes to easily report any problems you may encounter during sending your money from the TikTok account to your PayPal account.
Also Read: How To Disable Invites To Co-Host On TikTok LIVE?
---
How Long Does It Take To Withdraw Money From Tiktok?
If you need money, do not depend on the money you have on TikTok, as it takes up to 15 days to review your withdrawal application and maybe even longer for it to get approved.
When the application finally gets approved, it may take up to 21 days until your money becomes available on your PayPal account. This may be for security reasons. Their policy keeps the amount on hold until they finish the security checks. For example: If you send your withdrawal application in May, the amount will be available on your PayPal account in June.
PayPal uses a payment system called ACH (Automated Clearing House) payment, which is why it takes some additional days for the money to get withdrawn from your PayPal to your bank account. You might opt to choose a faster withdrawal method, but it will cost you extra money.
Also Read: How To Send Likes On TikTok LIVE?
---
7 Ways To Make Money On TikTok
Social media platforms in recent years have been a great income-generating tool. But if you ask me how much you earn from TikTok, it depends solely upon you. If you want to know how to make money on TikTok, here's how to do it.
1. Join The TikTok Creator Fund
The purpose of the TikTok Creator Fund is to "support ambitious creators who are seeking opportunities to foster a livelihood through their innovative content," according to TikTok.
To state, you will get money from TikTok for creating engaging videos depending upon the number of views you get on them.
What Is The Eligibility To Join TikTok Creator Fund?
TikTok has a feature called Creators Next which includes the TikTok Creator Fund.
To join the TikTok creator fund, you need to:
Be based in the US, France, UK, Germany, Italy, or Spain.
Have a minimum of 10,000 genuine followers.
Have at least 100,000 genuine video views in the last 30 days
Be 18 years or older.
Have an account that fits TikTok's Community Guidelines and Terms of Services.
Thus, you should first ensure you are eligible to join the TikTok Creator Fund by going through the requirements mentioned above in detail.
2. Make Sponsored Contents On TikTok
As a social media influencer, you can reach out to different brands and help promote their products and services by creating sponsored posts.
You can collaborate with different brands and use your popularity to get the brands more customers, and in return, you will get paid by the brands.
3. Get Paid From TikTok Ads
TikTok ads are a good way for businesses to escalate their reach among customers.
You can earn good ad revenues by using branded hashtags, in-feed video ads, brand takeovers, and branded effects.
4. Receive Virtual Gifts On TikTok
TikTok's gifting feature allows users to send virtual gifts to their favorite TikTok influencers.
TikTok users can buy gifts and coins on TikTok from their profiles.
Your TikTok viewers will send you virtual gifts and coin payments during live TikTok videos where you can cash them in and get real money.
5. Sell Merchandise To TikTok Users
The greatest perk of being a social media influencer is using your popularity to promote or sell something.
Once you get popular on TikTok, you can use the platform to sell your merchandise. You can create customized merchandise, market it to your audience, and ask them to buy it.
This is a common practice among prominent social media influencers and a major way to bring money through TikTok.
6. Place Affiliate Links
You can choose to place affiliate links to your post descriptions or even on your bio to generate some money.
First, you have to join an Affiliate Program such as Amazon Affiliate Program, Clickbank, etc., and get affiliate links for their products.
This is also a major way many social media personalities make their money, as they can sell products to their audience on the company's behalf.
7. Promote Music Track
You can earn some revenue by helping to promote music tracks by including them in your videos. You can contact music producers and offer to promote their tracks for a certain amount.
You can learn the best time to upload your TikTok videos according to your location. So, read the article for a detailed understanding.
Also Read: How To Find Someone's Instagram From TikTok?
---
Frequently Asked Questions (FAQs)
Here we have collected some frequently asked questions related to the topic from the internet, and you might want to go through the answers if you also have queries as such.
---
What Are The Money Transfer Fees?
While TikTok does not charge transfer fees, PayPal does. For each money transfer, PayPal may charge fees of 2% or more, plus fixed fees. The exact fees depend on the country where your PayPal account is registered and how PayPal classifies the withdrawal (such as a donation, non-personal transfer, etc.). So be aware that PayPal will take a cut of any money you transfer from your TikTok earnings. The fees vary but can add up, especially for large transfers.
---
How Much Money Do TikTokers Make?
TikTokers earn widely varying amounts of money. The income depends on factors like number of followers, views, and location. But TikTokers with large followings often earn $200 to $5,000 monthly.
The type of content also matters. Videos made purely for entertainment tend to get the most views, leading to higher revenues. So if going viral and earning big money on TikTok appeals to you, focus on creating fun, engaging videos that will capture a broad audience. You could start pocketing some serious cash with the right content and a little luck.
---
How Many Views Do You Need To Get Paid On TikTok?
TikTok will pay for your content only if you have accumulated at least 100,000 video views in the last 30 days.
What Are The Requirements For Your TikTok To Get Monetized?
To start earning money on TikTok, your content needs to be racking up views. You must have at least 100,000 video views in the last 30 days before TikTok will pay you for your content.
So the first goal is to build an audience and create videos people want to watch. Once your view count hits 100K in a month, you can enroll in TikTok's creator fund and begin monetizing your content through their payment program.
With hard work and some viral hits, you could meet the threshold and take the first step toward making real money from your TikTok videos.
---
How To Disable Someone's Live Notifications On TikTok?
To disable someone's live notifications on TikTok, first, Open the app > Go to the following section > Search for the account > Tap on the account > Click on the bell icon > Click on "Turn Off Live Notifications."
---
Conclusion
There are a variety of ways to earn money on TikTok – joining the creator fund, making sponsored content, selling merchandise, and more. But to get paid, you need a PayPal account linked to TikTok. Here's how it works:
First, make sure you understand TikTok's withdrawal rules and terms. Once you meet the requirements, TikTok will transfer your earnings from your TikTok account to your connected PayPal account. Then you can withdraw the money from PayPal and into your bank account.
So if you want to collect payment for your viral TikTok success, set up a PayPal account to smooth the withdrawal process. Let me know if you found this helpful or have any other questions!