How to check who shared your TikTok videos? Fascinated with TikTok? A user? Viewer? Or just searching for the answers? You are here at the right place. Keep on scrolling and get the answers to your queries right here.
To check who shared your TikTok videos is not possible. You cannot view the profile or name of the respective person who has shared your videos. Just the number count below the share button can be seen which shows how many people have shared it.
TikTok is such a platform that can make you viral within a minute. If you have talent and some creativity then TikTok is best for you. Tiktok videos are made for likes, comments, views, and shares. You can even earn through TikTok if you get a maximum number of shares, views, and likes on the videos you have posted.
Can You Get Access To Who Shared Your TikTok?
So then how to Check Who Shared Your TikTok Videos?
Unfortunately, TikTok doesn't allow its users to get access to who has shared their TikTok videos. TikTok just allows you to check the number of people who have shared, not the name and profile of a shared person.
But, there is an option but not the exact one. It reveals just the basic information rather than what you are searching for. Here is one option you can use.
Checking The Information Of People Who Has Shared Your TikTok Videos
You can get access to see useful information about the person who has shared your videos. Like their nationality, demographic of the place they live, and their ages.
TikTok gives you just this information, not the whole biodata of the person who has shared. Other information except these is kept private by TikTok itself.
Also Read: How To Delete Stories On TikTok [2022]
Guide To Check The Number Of Shares On Your Videos
Here is a guide to checking the number of shares on your TikTok videos. Please consider every step carefully and you will find it easy to use such a feature regarding shares on TikTok.
Step 1: Open TikTok On Your Mobile

Unlock your phone and open the TikTok app.
Step 2: Tap On Your Profile

Go to the TikTok app and tap on your profile. The three horizontal lines will appear in the top-right corner. Click on it.
Step 3: Go To Creator Tools

Next, click on creators tools. It will give options of all tools available in tiktok for creators.
Step 4: Go To The Analytics

Here, select analytics and open it. This tool will give you more insights on your account and contents.
Step 5: Tap On Content And Select The Video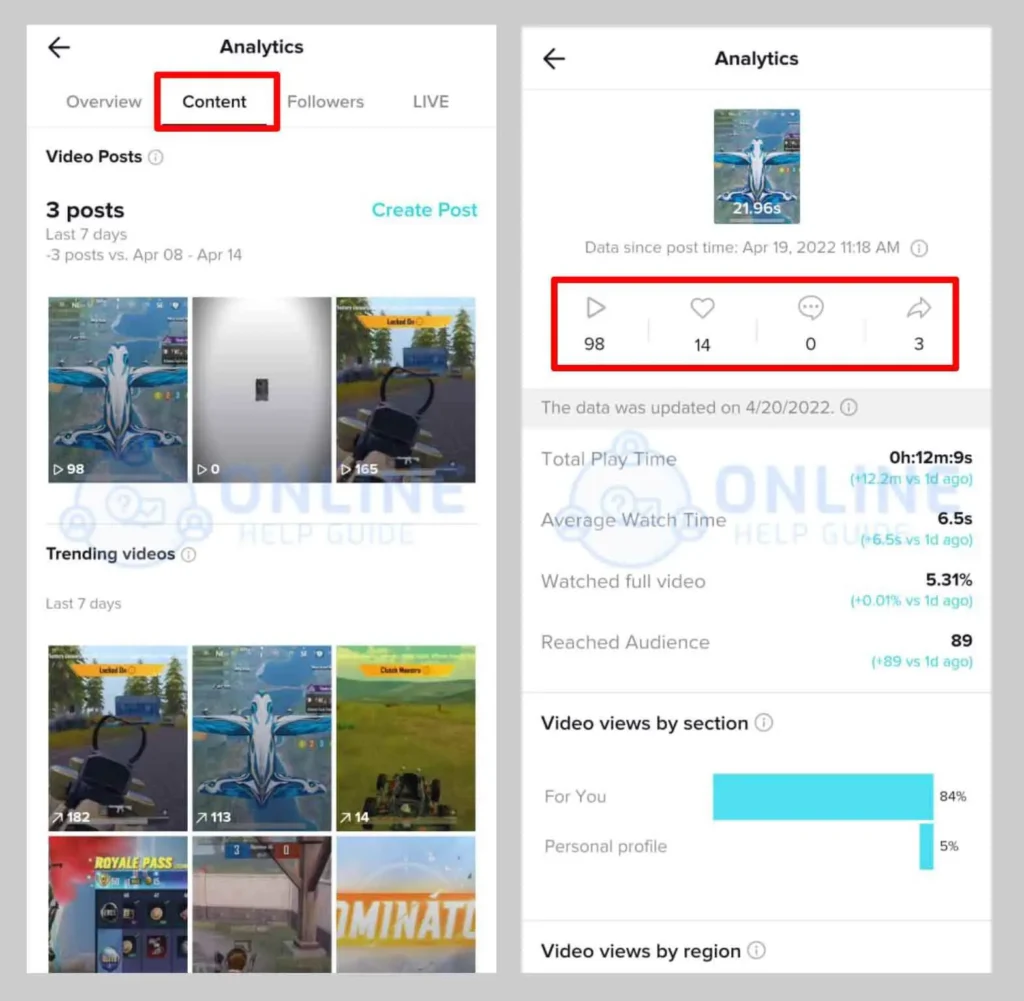 You can see the number of shares on your videos just below the thumbnail along with likes and comments. The number is how many people have shared your videos with others.
You can use these steps serially to know the number of shares on your TikTok videos. You should not skip any of the steps. Otherwise, you will end up with nothing you are looking for.
Why Don't TikTok Display The Person Who Shares Our TikTok?
TikTok has a lot of privacy for its users. It does not display or show the users when a certain person shares their TikTok videos. TikTok keeps it private to make people live their life privately as they choose.
TikTok doesn't display it so people are sharing the videos. But if TikTok is used to display the profile and name of the user who shared the videos, sharers will get offended thinking the person will get to know them. People won't share this with such a viewpoint. TikTok won't get as popular as it is at present.
Though people who have posted the videos want to know who has shared their videos, TikTok doesn't allow this feature. So TikTok has this reason behind it.
Also Read: How To See A TikTok Account's Most Shared Video?
How To See Where Your TikTok Has Been Shared?
TikTok doesn't even notify when the video has been shared and the issues to solve where or in which app has the user shared your video is a far matter issue. TikTok won't let you know about it. There is a high level of privacy in TikTok.
The questions you have can be solved if you use any third-party apps suggested by YouTubers. The third-party apps are not that sure you will work properly helping you find it.
When Do People Share Your TikTok Videos?
TikTok videos are watched, liked, and even shared if people find your videos meaningful or creative.
Mostly trending videos are shared by people. Many other people follow the same trend either in the music or every step included in that song.
Trending music and songs that are different from the main trending videos are most likely to be shared by people.
People search for uniqueness, if you include such then you will be on-trend with the highest likes, views, and shares.
People share your unique videos or any meaningful content that you have created on different social media apps such as Facebook, Instagram, Messenger, etc which makes you even more viral.
When people agree with your content or find it somehow comedy people share it to let others enjoy it.
On What Basis Should You Make TikTok To Get More Share?
TikTok videos can be made using any subject or matter either trending or other. But, the likes, views, and shares matter.
You must follow the trend going on the TikTok. People mostly watch trending things and you may get a huge number of likes and views.
Following the trend, you must also consider how to make that trend more unique or just different using the next ideas.
People might get bored watching the same copy of a trend, so you must try to modify it and make it much more attractive. TikTok users must be clever while making videos. You should make the videos according to the ongoing situation. Your videos may get a huge share.
Also Read: How To See The Share Count Of A Video?
What Kind Of Videos Are People Likely To Share?
Apart from trends, people search for uniqueness and creativity in the video.
If you make videos on trending songs or any other related trend then you must make sure there is uniqueness and it gives some meaning.
Just following the trend won't make you viral. The basic concept of what the music or song is related to must be included in the video.
Otherwise, people find it a subject of boring matter and just ignore it and you won't get likes and views as you expected to get.
What Happens When People Share Your TikTok Videos
When a large number of people share and view your TikTok videos, people get paid for it. You will also get a chance to appear on different social media apps wherever people have shared your videos.
TikTok videos get shared when people find them meaningful and full of content. The number of shares on your videos depends on how you have presented your video to the audience.
People tend to increase the number of shares on their videos creating attention-grabbing and unique content.
Also Read: How To Share An Entire TikTok Video On Instagram Story?
Frequently Asked Questions (FAQs)
Here are some of the questions asked by TikTok users related to this topic of 'Check Who Shared Your TikTok Videos'. You can get hints to your doubts through these questions and answers.
Why Can't I See How Many Shares My Video Has?
Open your TikTok and click on your profile. Then tap on any one of the videos you have posted. Then you can see the share button on the bottom right side. The numbers that are displayed below the share button are the number count of how many users have shared it.
Can People See The Videos I Shared On TikTok?
Yes, people can easily see the videos you have shared on TikTok only if you have kept your TikTok account in public. Keeping the account private and worrying about not getting videos shared is the next level of stupid issue.
Why Can't I See Who Shared My TikTok?
TikTok keeps it private. It doesn't notify you when your video is shared nor does it display who the person is sharing your video. Yes, you can't see the user that shared your TikTok.
Can I Increase The Number Of Shares On My Videos Going Live On TikTok?
Frankly speaking, sharing the videos doesn't depend upon getting live on TikTok. But, if your communication is good with the audience while getting live on TikTok you may get the goal of increasing share.
Summary
Every query you have related to TikTok cannot be solved if it isn't led by TikTok itself. As you research more you may get why there are restrictions on such things.
The questions related to your answers are easily available if you read every point. This matter related to not getting notified and not getting to know who the person is is all made by TikTok itself. Maybe for any protection or next reason which we do not know.
Conclusion
Therefore, to check who shared your TikTok videos is impossible but you can, however, see other data about the sharing and about people who shared.
Worldwide, people are crazy about TikTok. TikTok is all about enjoying and making others enjoy by sharing and creating content.
You must try trending songs while making videos but at the next level so that people will find them to be unique and you may get views, reactions, and shares as per your expectations.
TikTok puts you in addiction. You won't know how much time you have spent on this app. Once we use it makes our daily habit.
World's population has the highest engagement in this app. This app is the best source of earning by showing the talent you have.
TikTok has become a part of the entertainment in the life of many people worldwide.
TikTok is fun.