For those who are using the Windows operating system for a while, then they might already know that Windows is fully compatible with wireless technology. An operating system has many wireless options that have their own benefit. When we take one of the wireless technologies Bluetooth in Windows 10, it helps us to easily connect with other devices. Unfortunately, the use of Bluetooth in windows is decreasing day by day. But still, out there, some people use Bluetooth connectivity for file transfer, sharing, and tethering to numerous laptops, computers, and tablets. Despite the useful wireless features, it's not completely perfect, just like other wireless technology. Sometimes users complain that the Bluetooth is not working properly in Windows 10, and they want to fix Bluetooth Not Working on Windows 10 PC.
There can be multiple reasons regarding the failure connectivity of Bluetooth in Windows 10. But there are also multiple solutions to fix it. If you are scratching your head and get frustrated while trying to connect the Bluetooth of Windows 10 with other devices. then you came to the right article. Today, we are going to look over the simple way to fix the Bluetooth Not working Problem of Windows 10 in this article.
Before we head to our main topic, let's see what causes the Windows 10 Bluetooth connection error.
Causes of Windows 10 Bluetooth Problems
Basically, the Windows 10 Bluetooth problem is caused by both the combination of hardware and software errors. What this does is makes conflict with multiple Bluetooth devices when they are trying to connect with other computers or devices. Likewise, in other scenarios, your computer or Windows 10 might need an updated operating system, updated driver, or Software.
Besides, some of the other problems also occur regarding the failure of Bluetooth connectivity is because of wrong settings of the enable and disable in Windows 10. And also might be your device is broken, which lets the Bluetooth automatically turned off.
Whatever the reason for the Bluetooth connection error, today we are going to solve it using different methods.
So, let's get started on a mission to fix your Bluetooth, not working problem in Windows 10.
How to Fix Bluetooth Not Working in Windows 10 Issues
The different methods which we are going to show you down below are not only useful to fix your Windows 10 Bluetooth not working problem. But even it also helpful in any other wireless connectivity such as Wi-Fi.
So, let's move to the most simple and effective ways to fix your Bluetooth problem in Windows 10.
Turn On the Bluetooth Option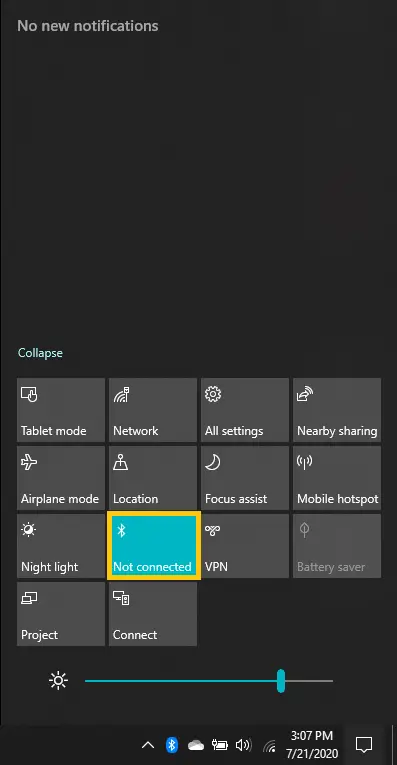 Sometimes, your Bluetooth can accidentally turn-off or disable on Windows 10, which you are unaware of. This might also block you from using the Bluetooth connection while paring to other devices. So, to turn-on, the Bluetooth connection, follow the steps down below.
Click on the Notification icon, which is at the lower right corner of the screen.
After that, it opens the action center of Windows 10 where you can see the different available options.
Among them, look at the Bluetooth icon. If your icon is dim, then that means your Bluetooth is turned off.
So, click on the Bluetooth icon to turn it on for the wireless connection.
Note: If you turn-on the Windows 10 flight mode during your travel, then it automatically disables your Bluetooth as well as your Wi-Fi connection. So make sure to turn it off while using your Bluetooth in your Windows 10.
Reset Your Bluetooth Setting
Reset your Bluetooth setting means that putting your Bluetooth setting into a default. What this does is that it forcefully takes your Bluetooth setting into the previous settings and might helps to pair with other devices and fix any connectivity error. So, look at the simple steps down below.
Click on the Notification icon and search for the Bluetooth title in the Windows 10 action center.
Once you find it, turn off the Bluetooth and leave it for a couple of minutes.
After that, again, turn it on and check whether the Bluetooth is working or not.
If this also doesn't work, then we still have many other methods down below. Just go through it one by one.
Remove And Re-Add the Bluetooth Device
Let's say you have already connected devices on your computer and but still, you cannot get the right connection. So for that, you can remove the already paired device from your PC and re-connect it to fix the Bluetooth connection issue. So how can you do that?
Click on the Search bar, which is located on the bottom left side of your taskbar.
After that, type Control Panel and open the app by clicking on it.
Now, choose the View device and printers option in the Hardware and Software section.

So, right-click on the device on which you are facing a connection problem and click on the Remove device option.

Once you remove the device from your computer, then again re-add the device. In other words, again, try to pair with the device.
That's how you can get a connection or fix your Bluetooth not working problem in Windows 10. However, again if this method doesn't work, then keep scrolling down below.
Also Read: How to Fix Windows Cannot Be Installed on this Disk Error
Check Whether the Bluetooth Service is Running or Not
If you find there is no Bluetooth connection in your Device Manager on Windows 10, your Bluetooth is paired but not connected, or your Bluetooth is not available on your device, then you can check whether your Bluetooth is running or not. So, in order to check, just follow the few steps down below.
First of press Win+R (Windows key + R), which opens the run command.
After that, type services.msc and press enter that opens the service section of your computer in Windows 10.

Now, search for Bluetooth Support Service to check whether it's running or not.

If not, then right-click on that and choose the start option. This way, you can start your Bluetooth connection, which helps you to pair with other devices.
Use Windows Hardware Troubleshooter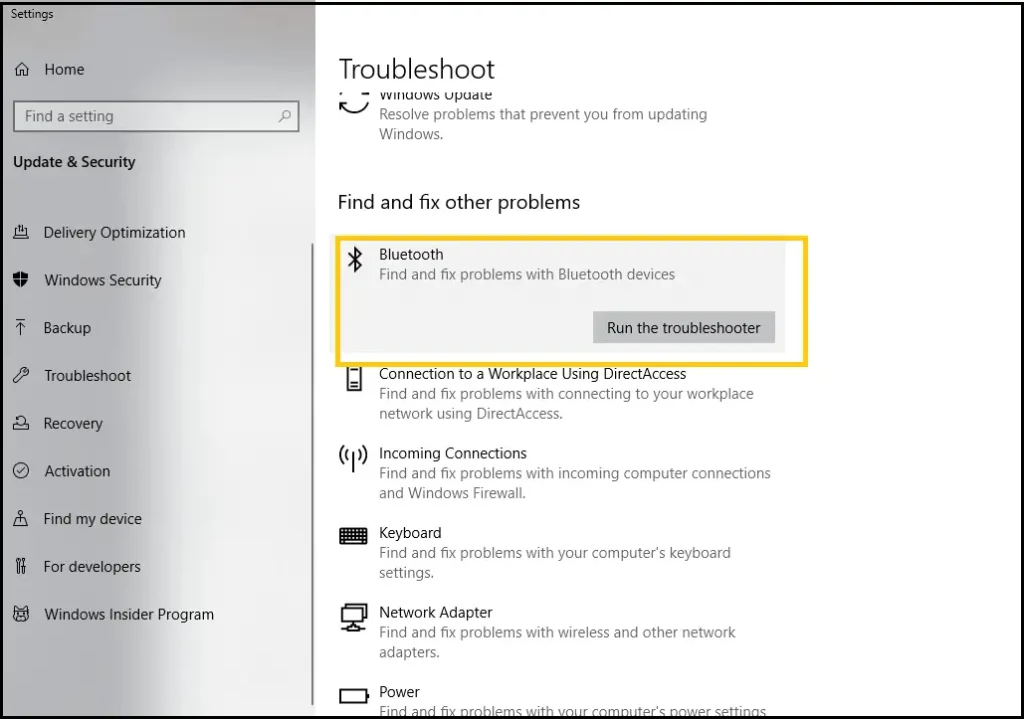 If the above method is still not working then try to troubleshoot your Bluetooth device. This method will find the error regarding the failure of the Bluetooth connection. Follow the easy steps to use the Windows Hardware Troubleshooter for Bluetooth connectivity on your laptop or PC.
Hover your mouse to the Windows search option at the lower left side of the taskbar.
Now, type Troubleshoot settings and click on that option to open the Windows Troubleshoot section.
After that, scroll down and choose the Bluetooth option.
Click on that option, and after that, click on Run the troubleshooter. 
This will detect your problem regarding the Bluetooth connection and gives the solution to solve that problem.
Allow the Bluetooth Device to Find Your PC
If you are trying to connect your PC Bluetooth to your mobile device and your Bluetooth name is not showing, then there you have to turn on your computer Bluetooth discovery. Sometimes your Bluetooth is automatically turned-off and can't find your PC. So follow the simple down procedure to enable the Bluetooth device to search your PC.
Open the Control Panel from the Windows search bar located in the taskbar.
After that, choose the option View device and printer from the Hardware and Sound section.

Now, right-click on the device that you want to connect with your PC, and after that choose the Bluetooth Settings.

Under the Options tab, check on Allow Bluetooth devices to find this PC.
Once you have done, finally click on the Ok button to save the changes.

Update or Re-install the Drivers
Basically, the outdated or corrupted drivers might be another cause for the failure of Bluetooth connection or your Bluetooth not working in Windows 10. So, for that, you need to update your old drivers and add a new one.
You can either do it from the computer device manager or visit the manufacture's website to find the latest correct driver for your Bluetooth.
I will show two different ways to update your drivers:
Via Device Manager
Go to the Windows search bar located at the lower left side of the taskbar.
Now type Device Manager and click that setting.
After that, double-click on the Bluetooth option, which shows its device.
Finally, right-click on that Bluetooth device and select the Update driver option. This will automatically update your Bluetooth Driver and also helps to fix your problem regarding Bluetooth not working in Windows 10.
Via Website
If you don't want to go through the above process or don't have time, then you can use the software called Driver Easy.
With the help of this software, you can easily update your old drivers on your computer. Not only you are updating your Bluetooth Driver but also updating your entire computer updated drivers.
The driver easy will automatically search your entire computer system and suggest the correct Driver for you. It's a simple way to update your old Driver because you don't have to download the individual Driver. Let's say if you download the wrong driver from the website, then it might harm your computer. So, with Driver Easy, you can avoid those kinds of risks.
Download link: http://cdn.drivereasy.com/DriverEasy_Setup.exe  
Re-install Driver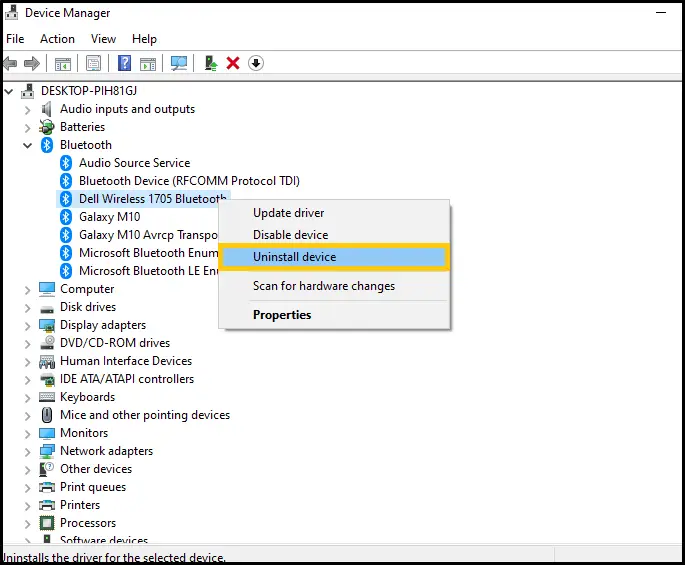 You can also re-install the Driver if updating your Driver didn't work. So have a look at the following steps down below.
Type Device Manager by pressing the Windows button.
After that, double-click on the Bluetooth option, which shows its device.
Now, right-click on the device and select the re-install option. This way, it automatically uninstalls and installs the Bluetooth driver on your computer.
How to Turn on Bluetooth on Windows 10 Manually?
Some Windows users, can't find the Bluetooth turn on/off option. It might be caused by corrupted or updated drivers. So, if you can't find the Bluetooth on the option in the settings then don't worry.  In this section, we provided the simple steps to find the Bluetooth On/Off option in Windows 10.
Right-click on the Start option from the lower-left corner.
Select the Settings option.
Now, click on the Device option that takes you to the Bluetooth setting.
There, toggle on the Bluetooth or simply say turn on the Bluetooth option.
Conclusion
So, these above-mentioned methods are the simple way to fix the Bluetooth not working problem of Windows 10. Try all these methods to easily fix your failure Bluetooth connection problem in your Windows 10 computer. Any of these methods can work – it depends on where your Bluetooth connection is stuck.
Who knows you even solve your problem without updating your computer device drivers. But I recommended you to do update your drivers if you haven't updated it since you are using a PC. What this does is to help your other computer system updated so that your PC will run smoothly.
So which method works for your computer? Throw your answer in the comment section down below. Also, learn other Windows 10 tips and troubleshoot guides.
Thanks for taking the time to read our article!