Cool and aesthetic names for your Instagram highlight? Wondering how to save great memories with aesthetic names? In search of cool and aesthetic names? We are here for you to help with this.
There are lots of names that you can select and place names of highlights on Instagram. This ultimate article consists of plenty of options for you. You may select as per your interest. We have detailly separated the cool and aesthetic names you can give per the relationship.
If you are considering attracting users to your profile by naming the highlights in a cool and aesthetic way, here are some of the names for you. Instagram highlights names that differ as per your relationship with the next person.
In the case of friends, you can use names such as Walkie-Talkies, Shawty, Bff, The Gang, Right hand, Twin, etc. Lastly, highlights for your family include Home, Laugh Factory, Birth Giver, Blood Best, Family Team, Amigos, etc.
Instagram highlights names are equally important as the photos in it. The more cool and aesthetic the names of your highlights, the greater the engagement of people on your account. But only in the case of cool and aesthetic names.
So, names matter a lot in the case of Instagram highlights. Names that blow people's minds are necessary. Following our article, you can grow your account to a wide range. Aesthetic names increase the curiosity among the viewers.
---
Why Is Instagram Highlight Names Necessary?
Instagram highlights are one of the ways to keep your memories saved and easy to access. So, Choosing a perfect name for highlights is equally necessary.
The names below the highlights are the first people remember initially. You have to set those kinds of names that increase viewers' curiosity and interest.
Just the aesthetic names are not enough, and you will need aesthetic photos and videos along with them.
Creating highlights on any topic is possible, and it is equally easy to edit and post.
Before all of the images and stuff you have posted on your Instagram, the visitors tend to view your highlights. It decreases their interest if your highlights appear with no names and long and boring names.
You can increase your profile engagement by saving your memories and videos with different people. You can keep the people on track with the names and all on your account. Your Instagram account can gain popularity in a wide range.
Also, if you want to download posts from Instagram highlights, refer to this article.
Also Read: How To Make Instagram Highlights Private?
---
Important Guide Tips To Choose Perfect Names For Highlights
The names that you provide to your Instagram highlights are the main necessity to choose from. You must apply the tips and tricks from different research. A random name to your highlight may not give you a good outcome.
You should choose those kinds of names that describe what you have kept in a highlight box. People may find it embarrassing when they click to view the highlights by seeing the names and finding another one.
So, here we have provided you with some tips and tricks that would make it easy to choose the names for highlights. The tips are as follows:
Create those kinds of highlighted names that show your creativity.
The names should be within the limit and be easy to understand.
Use a highlight to describe full words and make names.
Do not provide long names for highlights.
A name that sounds like a memory should be used.
Give short and cool names to each of your highlight boxes.
Always use hashtags while naming your Instagram highlights.
Do not copy the names of others.
You should use a name with a single word.
Using different symbols as a name for highlights.
Now, using the above tips, set creative names for your highlights. It is the right time to give a rocking look to your Instagram profile. Create names, set them on your Instagram, and have fun.
Also Read: How To Save Instagram Story With Music?
---
Different Highlights Along With Cool And Aesthetic Names
So, you will have to name your highlights, depending on the highlights you are saving on your Instagram profile page.
Here are some of the cool name ideas you can use when you think of creating highlights. Let us begin.
Food Highlights Name For Instagram

Highlights of varieties of foods in your profile area are one of the greatest ways to track your memories with foods. You can create the highlights of foods you ate on your date, party, gathering, restaurants, etc.
Names have to be short and memorable, which describes the whole thing. Hashtags are great when your food Instagram highlights are related to groups.
So the perfect names to give even more remembrance to food Instagram highlights are as follows:
Savor the Flavor
Food Finds
Tasty Travels
Recipe Roundup
Food Festivities
Appetising Adventures
Cooking Chronicles
Delectable Delights
Plate Perfection
Dine And Dish
Fork And Spoon
Craving Chronicles
Flavor Fusion
Bite By Bite
Farm to Table
Foodie Frenzy
Cookbook Chronicles
Gourmet Gatherings
Dessert Delights
Snack Attack
Cuisine Chronicles
Food Fiesta
Munchie Mania
Dinner Diary
Sips and Snacks
Feast Frenzy
Culinary Chronicles
Happy Hours
Pizza Night
Burger House
Pasta Fun
Salad Day
Junkies
My Favorites
Cheesy
Beverages
Drunk Days
Happy Stomach
Crazy Stuff
Happy Pills
My Savings
Winter Soup
Bread And Butter
Eat Healthily
Breakfast Time
Combinations
Mix Max
Cold Creams
Vegetable Diet
Bakery
Cravings
Chocolate Dips
Ramen Party
Cooky
Blushful Hours
Korean Foods
Chinese Sushi
Eats And Laughs
Meal Masters
Tasty Treats
Flavor Explorers
Grub Hunters
Yummers
Edible Adventures
Savory Sessions
Nice Bites
The Nom Chronicles
Chow Down Diaries
Discover Delights
Snacktivities
Feed My Foodie Soul
Foodie Photos
Lick The Plate
Treat Yo Self
Share The Love Of Food
Pic A Dish
Spice Of Life
Noms And Fun
What's Cookin'?
Forking Fun
Gastronomic Journeys
Feed Me Fridays
Thirsty Thursdays
Wanderlust Eats
Dinner Delights
Snap and Season
Fan Food Friday
Feed The Foodie
Picnic Perfect
Leftover Love
Food Finds Near & Far
Picnic & Potluck Party
Bites from Around Town
Cooking & Baking Fun
Breakfast, Lunch & Dinner
Snacks & Sweets Paradise
Restaurant Reviews
Weekend Eats & Treats
Meal Prep for Success
Date Night Dish Ideas
What's on the Menu?
Grocery Haul & Gourmet Ideas
Foodie & Friends Hangouts
Budget-Friendly Meals
Easy Weeknight Dinners
Family Favorites
Tailgate & Picnic Foods
Food Travels Near & Far
Food Festival Highlights
Cooking Class Creations
Theme Night Inspiration
Gardening & Growing Food
Food & Drink Abroad
Tasty Traditions
---
Names For Instagram Highlights With Friends
Friends are the best and most crazy part of life. Creating memories with them is very much necessary.
Here, we suggest some cool and aesthetic names for your Instagram highlight, which would make your memories even more joyful and mesmerizing.
So, here are the best cool and aesthetic Instagram highlight names for friends:
Thug Life
My Gang
Dealers
Happy Pills
Teddy Bears
Walkie Talkies
My Muffins
Better Half
Left Hand
Half Me
Babies
BFF
Smilies
Boo
Hotties
Crime Partners
Besties
Sugar
Sweet Pie
Cookie
Irritating
Silly
Mood Maker
Homies
Friendship Frenzy
Candid Captures
Memory Lane
Adventures Together
Laughing Out Loud
Heart-to-Hearts
Late Night Chats
Silly Shenanigans
Chill Hangout
BFFs Forever
Snapshots of Us
Festival Fun
Artsy Moments
Coffee Dates
Beach Days
Snowy Escapes
Karaoke Nights
Picnic Time
Road Trips
Cooking Adventures
Art Exhibitions
Live Shows
Fitness Journey
Hobby Hounds
Squad Goals
Virtual Hangouts
Unforgettable Moments
Shopping Time
Concert Times
Crazy Stuff
Fun Times Crew
Laughter Club
Crew Days
Squad Sessions
Pals Projects
Friendship Files
Buddies Brigade
Companions Corner
Mates Memories
Amigos Archives
Pals Paradises
Companions Club
Comrades Combine
Friends Forever
colleagues corner
Sidekicks stories
ComradeCorner
FriendZone
Crew lounge
HangOut hood
gang gang
Partners in crime
fam jams
ally allies
-Associates archives
sit tight knights
HangLooseZones
HomeGrownFriends
pal pal
cohort club
-CabalConnects
cohort corner
Confidant collection
-cohort captives
Bonds Beyond Border
Fellowship Follies
Mates Make Memories
Companions Unite
Allies Assemble
Friender Feed
Squad Sessions
Partners Parlay
Bonding Barracks
Comradery Conservatory
Camaraderie Chemistry
Fellowship Field Day
Allies Adventureland
Fam Jams junction
Homie Hang Central
Associate Avenue
Sidekick City
Friendship Forum
Crew Convention
Pals Paradise
Companion Coliseum
Allies Alleyway
Buddies Bazaar
M8 Boulevard
Friender Forest
Crew Clubhouse
Camaraderie Castle
Fellowship Fairground
Bonding Barracks
---
Instagram Highlight Names For Family Members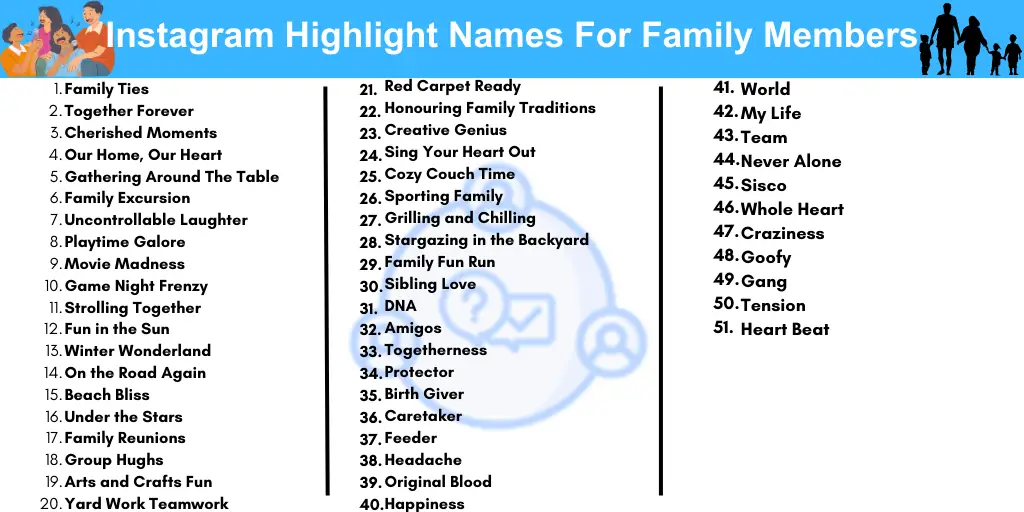 Family members are the most important part of our life. You may have created plenty of unforgettable memories with them. Highlights enable you to save those memories forever until you tend to delete them.
Giving cool names for those Instagram highlights can make those photos and clips extra fun.
Here, we suggest some of the cool and aesthetic names for your Instagram highlight for family members. They are as follows:
Family Ties
Together Forever
Cherished Moments
Our Home, Our Heart
Gathering Around The Table
Family Excursion
Uncontrollable Laughter
Playtime Galore
Movie Madness
Game Night Frenzy
Strolling Together
Fun in the Sun
Winter Wonderland
On the Road Again
Beach Bliss
Under the Stars
Family Reunions
Group Hughs
Arts and Crafts Fun
Yard Work Teamwork
Red Carpet Ready
Honouring Family Traditions
Creative Genius
Sing Your Heart Out
Cozy Couch Time
Sporting Family
Grilling and Chilling
Stargazing in the Backyard
Family Fun Run
Sibling Love
DNA
Amigos
Togetherness
Protector
Birth Giver
Caretaker
Feeder
Headache
Original Blood
Happiness
World
My Life
Team
Never Alone
Sisco
Whole Heart
Craziness
Goofy
Gang
Tension
Heart Beat

Our Little Tribe
Kinship Circle
Clan Closeups
Home Committee
Bloodline Bonding
Lineage Logbook
Kin Connection
Lineage Hangouts
Relative Roundups
Familia Friday
Family Features
Relative Reminiscing
Clan Culinary
Descendant Diaries
Origins Outings
Heritage Hangouts
Kinfolk Katchups
Family Forum
Relative Recaps
Ancestral Adventures
Descendant Days
Homecoming Highlights
Kinship Kwality Time
Familial Fun
Offspring Outings
Origins Outings
Progeny Pastimes
Forebears Frolics
Family Fortnight
Heirloom Hideaways
Ancestral Amusement
Household Hangouts
heir Happenings
Progeny Productions
Lineage Larking
Heritage Holidays
Home Histories
Family Fitness
Kinfolk Karaoke
Kinspirations
Clan Construction
Offspring Outdoors
Descendant Discovery
Family Finds
Lineage Living
Ancestry Adventures
Progeny Panoramas
Bloodline Bonding
Household Highjinks
Homestead Hangouts
---
Instagram Highlight Names For Yourself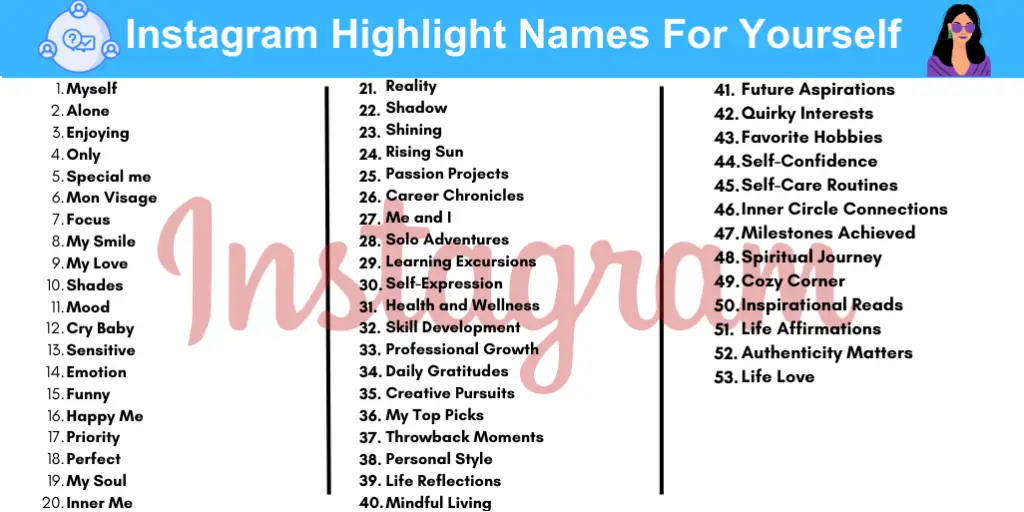 Sometimes you may travel alone or go somewhere. At that time, you may have created lots of memories and had lots of fun. It is not compulsory to include any second person in your pictures.
If you are thinking of making your pictures more aesthetic and cool, you should be in search of a perfect name. Here we have provided you with cool and aesthetic names for your Instagram highlight for your own.
You can choose any of them and set them on your Instagram highlights. They are as follows:
Myself
Alone
Enjoying
Only
Special me
Mon Visage
Focus
My Smile
My Love
Shades
Mood
Cry Baby
Sensitive
Emotion
Funny
Happy Me
Priority
Perfect
My Soul
Inner Me
Reality
Shadow
Shining
Rising Sun
Passion Projects
Career Chronicles
Me and I
Solo Adventures
Learning Excursions
Self-Expression
Health and Wellness
Skill Development
Professional Growth
Daily Gratitudes
Creative Pursuits
My Top Picks
Throwback Moments
Personal Style
Life Reflections
Mindful Living
Future Aspirations
Quirky Interests
Favorite Hobbies
Self-Confidence
Self-Care Routines
Inner Circle Connections
Milestones Achieved
Spiritual Journey
Cozy Corner
Inspirational Reads
Life Affirmations
Authenticity Matters
Life Love
Solo Sessions
Introspective Interludes
Personal Pursuits
Inside Outlooks
Me Moments
Inner Reflections
Solo Showcase
Lone Ranger Logs
Number One Priority
Just Me Musings
Solo Smiles
Inner Insights
Soulful Selves
Heartfelt Highlights
Quiet Quirks
Authentic Adventures
Living My Truth
Private Passions
Inner Interludes
Mindful Meandering
Solo Style Flair
Personal Peace
For Me Moments
Self & Soul
Moi Musings
Lone Wolf Logs
Individual Inspo
Self Expressions
Quiet Quandaries
Passion Projects
Nonstop Novelty
Precious Pastimes
Inner Ruminations
Dreaming Delights
Mental Meanderings
---
Instagram Highlight Names For Nature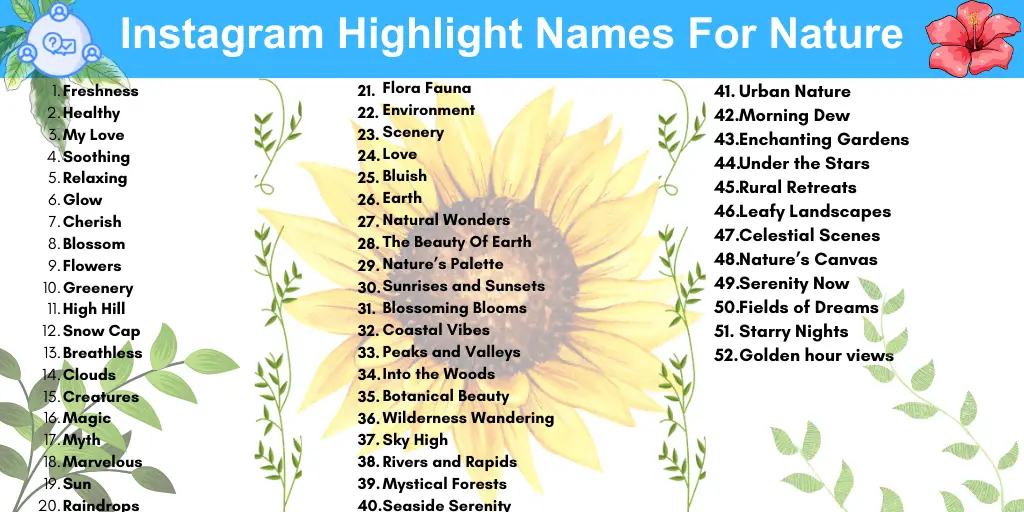 Nature is a happy place for most of us. Some of you may be fond of the environment and roaming all around. You may not leave that place without clicking pictures.
If you click pictures, you will surely post on any social media account. Here we have provided some cool and aesthetic names for your Instagram highlight moments with nature.
You can use any of them at a time. They are as follows:
Freshness
Healthy
My Love
Soothing
Relaxing
Glow
Cherish
Blossom
Flowers
Greenery
High Hill
Snow Cap
Breathless
Clouds
Creatures
Magic
Myth
Marvelous
Sun
Raindrops
Flora Fauna
Environment
Scenery
Love
Bluish
Earth
Natural Wonders
The Beauty Of Earth
Nature's Palette
Sunrises and Sunsets
Blossoming Blooms
Coastal Vibes
Peaks and Valleys
Into the Woods
Botanical Beauty
Wilderness Wandering
Sky High
Rivers and Rapids
Mystical Forests
Seaside Serenity
Urban Nature
Morning Dew
Enchanting Gardens
Under the Stars
Rural Retreats
Leafy Landscapes
Celestial Scenes
Nature's Canvas
Serenity Now
Fields of Dreams
Starry Nights
Golden hour views
Wild Wonders
Organic Odyssey
Mother Nature's Masterpieces
Untouched Territories
Elemental Excursions
Outdoors Adventures
Through the Trees
Natural Nightlights
Outdoor Oasis
Wilderness Wanderings
Mother Nature's Magnificence
Rural Retreat
Outside Inspo
Trail Tales
Environmental Excursions
Elements Exploration
Green Getaways
Forest Frames
Natural Negatives
Eco Endeavors
Simple Scrambles
Back to Basics
Off the Beaten Path
Trail Treasures
Open Air Observations
Waterside Wanderings
Landscape Loving
Backcountry Bliss
Mother Earth's Mysteries
Windswept Valleys
Tangled Trees
Grounded Glances
Mother Nature's Mini Masterpieces
Rural Reveries
Outside Odes
Organic Offerings
Woodland Whimsies
Waterscape Wonders
Hilltop Haven
Mountain Majesty
Lonely Landscapes
Solitary Spots
Solitude Specials
Wondrous Woods
Outdoor Origins
Natural Notations
Eclectic Ecosystems
Mother Earth's Magic
Countryside Catalogue
Rural Reflections
Solitary Sanctuaries
Pastoral Peace
Backroad Brilliance
Remote Reveries
Lush Landmarks
Untrodden Trails
Reconnection to the Wild
Untouched Territories
Pathside Perspectives
Countryside Critters
Pasture Panoramas
Wandering Wonderlands
Secluded Spots
Tranquil Trails
Pristine Places
Hillside Hideaways
Countryside Character
Unpaved Passages
Pastoral Perspectives
solitary sojourns
Re-Nature
Hidden Hamlets
Lakeside Languor
Native Nature
Hidden Havens
The Great Outdoors
---
Instagram Highlight Names For Love Birds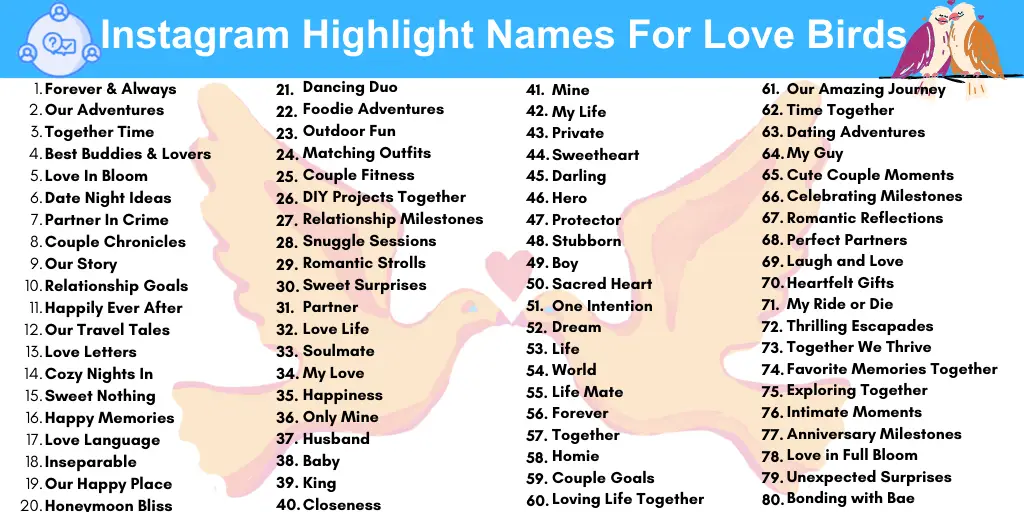 In today's world, there might be very few people who do not have loved ones. I know you guys have someone in your life, which is why you see this list.
You will require a perfect name for making a picture look aesthetic while posting an Instagram highlight.
Here are some of the names that you would like and choose. They are as follows:
Forever & Always
Our Adventures
Together Time
Best Buddies & Lovers
Love In Bloom
Date Night Ideas
Partner In Crime
Couple Chronicles
Our Story
Relationship Goals
Happily Ever After
Our Travel Tales
Love Letters
Cozy Nights In
Sweet Nothing
Happy Memories
Love Language
Inseparable
Our Happy Place
Honeymoon Bliss
Dancing Duo
Foodie Adventures
Outdoor Fun
Matching Outfits
Couple Fitness
DIY Projects Together
Relationship Milestones
Snuggle Sessions
Romantic Strolls
Sweet Surprises
Partner
Love Life
Soulmate
My Love
Happiness
Only Mine
Husband
Baby
King
Closeness
Mine
My Life
Private
Sweetheart
Darling
Hero
Protector
Stubborn
Boy
Sacred Heart
One Intention
Dream
Life
World
Life Mate
Forever
Together
Homie
Couple Goals
Loving Life Together
Our Amazing Journey
Time Together
Dating Adventures
My Guy
Cute Couple Moments
Celebrating Milestones
Romantic Reflections
Perfect Partners
Laugh and Love
Heartfelt Gifts
My Ride or Die
Thrilling Escapades
Together We Thrive
Favorite Memories Together
Exploring Together
Intimate Moments
Anniversary Milestones
Love in Full Bloom
Unexpected Surprises
Coffee Dates and Conversations
Simple Pleasures Together
Spontaneous Adventures
Weekend Escapes
Bonding with Bae
Shared Laughter
Just Us Two
Happy Hearts
Our Little Love Nest
Partners in Crime
Date Night Delights
Love and Adventure
Us Against the World
Soulmate Sessions
Couple Quandaries
Loving Life Moments
Honeymoon Heaven
Wedded Bliss
Loved Up Logbook
Sweetheart Stories
Glad We Found Each Other
Lovestruck Looks
Relationship Reflections
Romantic Revelations
Heart Eyes Highlights
Perfect Pairings
Dynamic Duo Moments
Our Precious Package
Bonnie & Clyde Adventures
Darling Dates
Love Story Snapshots
Heartfelt Highlights
Amore Adventures
Romantic Retreats
Princess & Prince Charming
My Better Half
Partner Perfection
Holiday Hideaways
Glad We're Hitched
Sweetheart Shenanigans
Ardent Adventures
Affectionate Moments
Devoted Duo
Boyfriend Bliss
My Number One
Spouse splendidness
Darling Days
Smooch Sessions
Love Chronicles
Relationshop Goals
Our Own Little World
Heartwarming Highlights
Loved Up Musings
Sweet Somethings
Romantic Refuges
Us Moments
Gorgeous Couple
Favorite Duo
---
Aesthetic Instagram Highlights Name (2023)
Aesthetic names for Instagram Highlights are those that are more unique and bold. These kinds of aesthetic names give a new look to your profile page. Testing means something that blows your mind.
No matter the social media platform, if you are thinking of adding names, you better choose aesthetic names. This will make you feel modernized. The viewers get to please their minds through these kinds of names.
But, whenever you set aesthetic names, you better use your ideas and create something new. Your name to your Instagram highlights must suit your pictures and clips.
Here are some of the aesthetic names we provided in this section. Set unique and creative names as you prefer from the below list. They are as follows:
Clicks
Purity
Winter Fun
Beach Vibes
Cold Breeze
Soothing
Heavenly
Memories
Rainy Days
Paradise
Glowing
Dreaming
Awesome
Lost boy
Drunk Stories
Under Sky
Sunbath
Freezing
Our Days
Top Secret
The Best
Don't Wanna Go
Yummy
Flying
Beauty
Turtles
Water Pool
Hot Days
Miserable
Mysterious
Entertainment
Never Ending
Race
Speed
Wonder Land
Sexy Summer
Daring
Fun Park
Dreamy moments
Soft Impressions
Cosmic Aura
Pastel Perfection
Golden Glow
Ethereal Enchantment
Bohemian Bliss
Tranquil Scenes
Vintage Vibes
Whimsical Wonders
Minimalist Marvels
Moody Melancholy
Earthy Elements
Artistic Endeavours
Luminous Leaks
Serene Serenity
Blooming Blooms
Metropolitan Mirage
Artistic Abstraction
Nordic Notions
Rustic Retreat
Monochromatic Moments
Tropical Tints
Oceanic Opal
Feminine Finesse
Desert Daydreams
Enchanted Nights
Industrial Innovations
Vibrant Views
Retro Rhapsodies
Stylish Snapshots
Visual Verses
Aesthetic Archives
Atmospheric Artifacts
Filmographic Feelings
Visual Voyages
Photographic Fantasies
Dreamscape Diaries
Ethereal Epics
Imaginative Instants
Ambient Annotations
Stylish Sketches
Picturesque Portraits
Atmospheric Artistry
Whimsical Works
Imagined Instants
Cinematic Captures
Visual Verses
Photographic Poetry
Dreamy Details
Visual Variations
Momentous Memorabilia
Wondrous Works
Aesthetic Interludes
Visual Valedictions
Creative Compositions
Pictorial Parables
Stylish Snapshots
Luminous Landscapes
Visual Virtuosity
Imaginative Impressions
Dreamlike Dimensions
Atmospheric Archives
Aesthetic Artefacts
Creative Captions
Cinematic Compositions
Visual Varieties
Photographic Fantasies
Imaginative Instances
Stylish Scenes
We suggest you use hashtags on each name you prefer to post. The hashtag will provide a new, bold look to your profile page.
---
Cool Instagram Highlight Names (2023)
Cool names, for me, seem so stylish and pretty to hear. Depending on your choice, you can use this kind of cool name for any purpose.
People may even consider you a cool and fresh person when they see your name on your profile page. You can show off what you have or your big achievements using cool names.
Here, we have provided you with some ideas for cool Instagram highlight names. It is possible either to copy the same or modernize it slightly. The cool names for Instagram highlights are as follows:
New Me
Best Life
Ups And Downs
Crazy
Foolishness
Blessed
Life Goal
Achieving Dreams
Next Step
I Can Do It
Worth It
New Heights
Best Of Best
Moments
Proud Of Me
Living In Dreams
Precious
In Love
Lost Myself
Wonderful
Only Fun
Journey
The Future
Best Path
Adventurous
Boldness
Originality
Land Of Dreams
Buddies
Epic Endeavors
Momentous Missions
Legendary Leaps
Daredevil Deeds
Adventurous Actions
Renegade Raids
Trailblazing Trips
Pioneering Pursuits
Boss Mode Behavior
Iconic Intrepidness
Radical Runs
Maverick Missives
Risky Rambles
Rogue Routes
Nonconformist Notions
Rebel Rendevous
Crusader Chronicles
Free Spirit Flight
Maverick Missives
Trailblazer Tales
Nomad Notations
Unconventional Undertakings
Outlaw Outings
Pioneer Productions
Nonconformity Notes
Maverick Moments
Daredevil Deeds
Rebel Rallies
Rogue Records
Punk Portfolios
Hipster Haven
Iconoclast Instants
Counterculture Captures
Eccentric Episodes
Individualist Instances
Independent Interludes
Radical Resolutions
Groundbreaker Goals
Original Operations
Unique Undertakings
Eccentric Endeavours
Distinguished Deeds
Novel Notions
Peculiar Passions
Offbeat Occurences
Distinctive Developments
Unordinary Updates
Remarkable Rambles
Wayward Wanderings
Peculiar Pursuits
Dare to Dream
Disruptor Diary
Step Outside the Lines
Unconventional Majesty
Ingenious Insouciance
Eccentric Excellence
Pursue Your Passion
Rebel with a Cause
Icons Icing
Disruption Dashboard
Maverick Maneuvers
Non-Conformity Notebook
Punk Profile
Paradigm Pioneer
Distinctive Debauchery
Iconoclastic Ideas
Authentic Anarchy
Edge of Eclectic
March to My Own Beat
Iconoclast Imaginations
Off Script & Off Limits
Rebel Rambles
Reckless Reflections
Rule Breakers Unite
Revolution Redux
Rambunctious Rumination
Maverick Mindset
Outlaw Outlooks
Disobedience Diaries
Nonconformity Notations
Precision Punk
Distinctively Debonair
Iconoclast Itineraries
Unconventional Inventions
Going Rogue
Fresh Perspectives
Think Different
Deviate and Dazzle
Defy Predictability
Eccentric Excellence
Irreverent Insight
Disruptive Determination
Outlaw Originals
Offbeat Observations
---
Wedding Instagram Highlights Names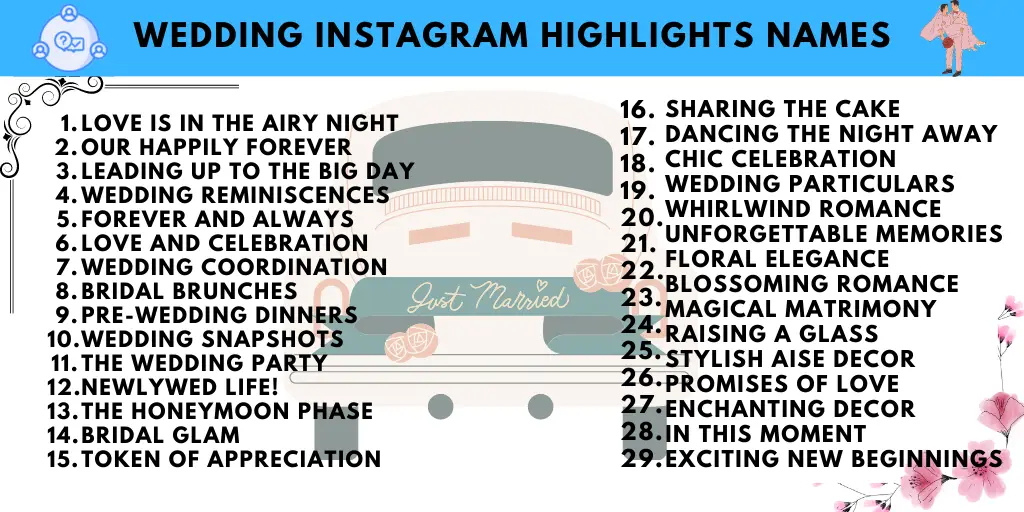 Weddings are momentous and deserve commemoration in the most memorable way possible.
Below are some Instagram highlight titles for weddings that you can utilize to showcase your affection and joy for this extraordinary day.
Love is in the Airy Night
Our Happily Forever
Leading Up to the Big Day
Wedding Reminiscences
Forever and Always
Love and Celebration
Wedding Coordination
Bridal Brunches
Pre-Wedding Dinners
Wedding Snapshots
The Wedding Party
Newlywed Life!
The Honeymoon Phase
Bridal Glam
Token of Appreciation
Sharing the Cake
Dancing the Night Away
Chic Celebration
Wedding Particulars
Whirlwind Romance
Unforgettable Memories
Floral Elegance
Blossoming Romance
Magical Matrimony
Raising a Glass
Stylish Aise Decor
Promises of Love
Enchanting Decor
In this Moment
Exciting New Beginnings
Marital Memories
Wedded Bliss Moments
Our Very Own Fairytale
Wedlock Wonderland
Matrimonial Madness
Nuptial Nostalgia
Hitched Happenings
Bonding Bliss
Marital Milestones
Couple Commencement
Wedded Adventures
Union Unification
Marital Magic
Commitment Chronicles
Husband & Wife Hijinx
Spousal Specials
Wedded Wisdom
Married Musings
Bonding Beauty
Hitched Hideaways
Couple Commencement
Wedlocked Wonders
Marital Marvels
Unionized Updates
Tying The Knot Throwbacks
Wedded Wonders
We Do! Delights
Spousal Synergy
Marital Moments
Wedlock Wonderings
Marital Masterpieces
Betrothed Bliss
United Upgrades
Connubial Classics
Wedded Extras
Matrimony Memories
Nuptial Nostalgia
Blissfully Bound
Matrimonial Milestones
Connubial Captures
Marriage Magic
Wedlocked Wanderings
Spousal Celebrations
Marital Majesty
Tying The Knot Treasures
Committed Compendium
Wedded Expertise
Spousal Secret Stashes
Betrothed Beauty
Marital Magnificence
---
Travel Instagram Highlight Names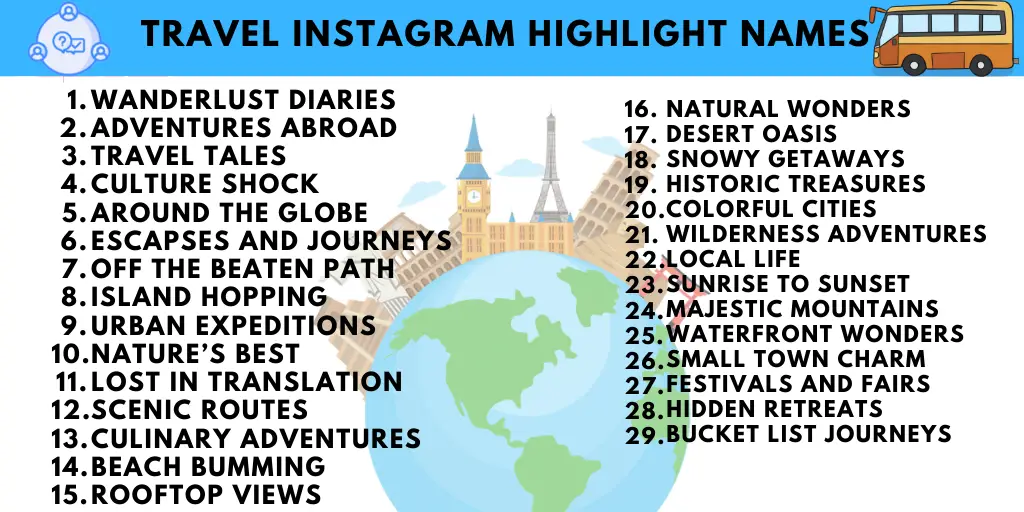 If you have traveled around and want some names for the highlights you have created, here are some of them:
Wanderlust Diaries
Adventures Abroad
Travel Tales
Culture Shock
Around The Globe
Escapses and Journeys
Off the Beaten Path
Island Hopping
Urban Expeditions
Nature's Best
Lost in Translation
Scenic Routes
Culinary Adventures
Beach Bumming
Rooftop Views
Natural Wonders
Desert Oasis
Snowy Getaways
Historic Treasures
Colorful Cities
Wilderness Adventures
Local Life
Sunrise to Sunset
Majestic Mountains
Waterfront Wonders
Small Town Charm
Festivals and Fairs
Hidden Retreats
Bucket List Journeys
Passport Perspectives
Globe-trotting Goals
Exploration Expedition
Wanderings Worldwide
Journey Journal
Destination Diary
Away Adventures
Trailblazing Travels
Expedition Excursions
Exploration Experience
Trail Treks
Voyage Vignettes
Getaway Glimpses
Travelogues
Wayfinding Wonders
Pioneer Paths
Destination Deep Dives
Trekking Tales
Trekker Timelines
Exploring Excursions
Journey Photo Journal
Trailbound Treasures
Travel Sketches
Destination Discoveries
Getaway Glimpses
Packing Passages
Sojourner Snapshots
Trailbound Thumbnails
Wayfaring Wanderlust
Expedition Experiences
Journey Journal Jots
Passport Perspectives
Trekker Talk
Travel Treasuries
Wander Words
Journey Photo Journal
Passport Prose
Backpacking Beat
Wayfaring Writings
Expedition Ephemera
Trail bound Transactions
Trekker Timelines
Travelogues
Passport Portraits
Wanderlust Whimsies
Travel Sketches
Journey Journals
Trailbound Treasures
Packing Passages
Journey Photo Journals
---
Instagram Highlight Names For Girls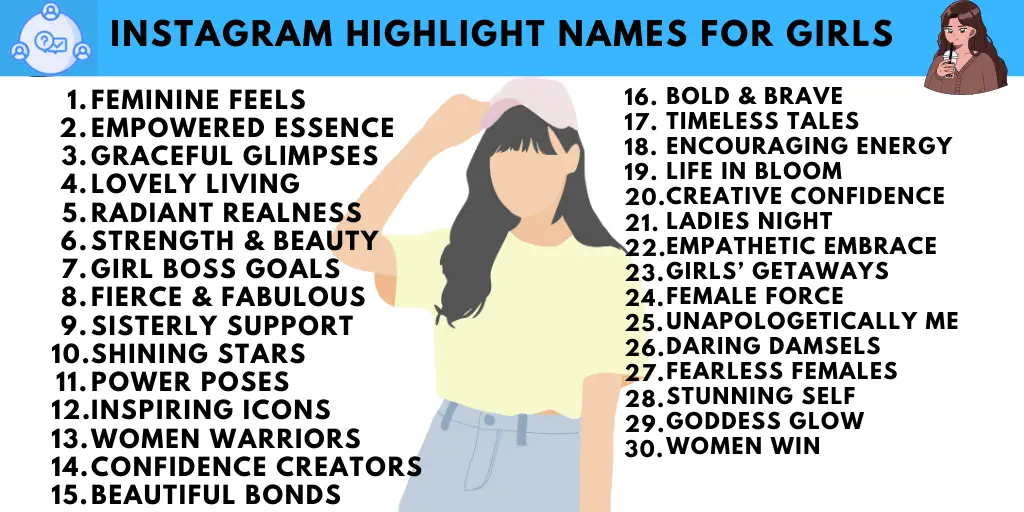 Unleash your inner girl power with Instagram highlight names crafted especially for the fierce and fabulous females of the digital realm.
Feminine Feels
Empowered Essence
Graceful Glimpses
Lovely Living
Radiant Realness
Strength & Beauty
Girl Boss Goals
Fierce & Fabulous
Sisterly Support
Shining Stars
Power Poses
Inspiring Icons
Women Warriors
Confidence Creators
Beautiful Bonds
Bold & Brave
Timeless Tales
Encouraging Energy
Life in Bloom
Creative Confidence
Ladies Night
Empathetic Embrace
Girls' Getaways
Female Force
Unapologetically Me
Daring Damsels
Fearless Females
Stunning Self
Goddess Glow
Women Win
She Shines
Fair Maiden Moments
Lady Loveliness
Feminine Flair
Goddess Gallery
Lassie's Lovelies
Dame Delights
Princess Portraits
Lady Luck's Loot
Queenly Qualities
Maiden Musings
Divine Distaffs
Goddess Garden
Dame Diaries
Lady Luminaries
Feminine Fortitude
Miss Moments
Princess Pursuits
Dames and Damsels
Gal Glimpses
Goddess Glow Ups
Damsel Divertissements
Lady Lands
Dames in Bloom
Gal Pals
Princess Projects
Royal Regalia
Divine Distaff Discoveries
Her Highness's Haven
Goddess Gratitudes
Damely Delights
Royal Revelations
Fair Maiden Musings
Princess Prerogatives
Lady Luck's Largesse
Missives from Muses
Damsel Delights
Gal Pal Gabfests
Damely Ditties
Godly Grace Notes
Fair Maiden Magnificence
Lassie Looks
Damely Dreams
Divine Distaffs Discovering
Gal Pal Getaways
Goddess Garden Glimpses
Feminine Fantasies
Maiden Modes
Damely Disclosures
Goddess Glory
---
Dogs Instagram Highlight Names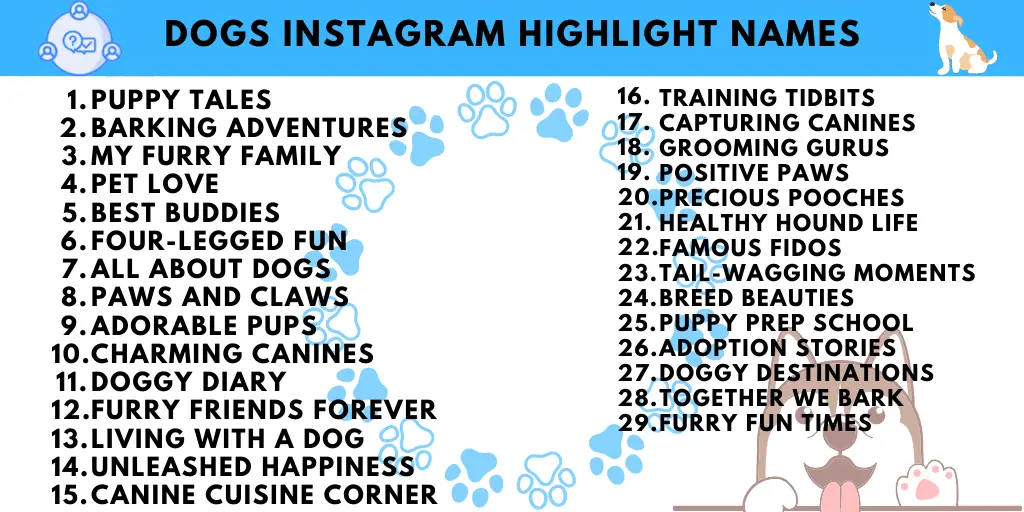 Here are some of the names of your adorable furry friends to show them even more love and affection.
Puppy Tales
Barking Adventures
My Furry Family
Pet Love
Best Buddies
Four-Legged Fun
All About Dogs
Paws and Claws
Adorable Pups
Charming Canines
Doggy Diary
Furry Friends Forever
Living With A Dog
Unleashed Happiness
Canine Cuisine Corner
Training Tidbits
Capturing Canines
Grooming Gurus
Positive Paws
Precious Pooches
Healthy Hound Life
Famous Fidos
Tail-Wagging Moments
Breed Beauties
Puppy Prep School
Adoption Stories
Doggy Destinations
Together We Bark
Furry Fun Times
Good Boy Gang
WoofPack Wanderings
Pawsome Pals
Pooch Portraits
Hound Happenings
Dog Days
Puppy Paradise
Dogscription Diary
Mutt Musings
Canine Chronicles
Fido Fotos
Pup profiles
Ruff Revelations
Doggo Funnies
Mutt Memories
Furkids Fantasticals
Puppy Pals
Ruff Reflections
Dogtastic Adventures
Mutts and Musings
Bark Park Breakdowns
Walkabouts
Hound Highlights
Pup Prerogatives
Woof Wanderings
Dog Days Delights
Daily Dogstuff
Tail Chases
Paws and Pals
Pooch Portrait Projects
Growly Good Deeds
Pack Peeps
Fun Furballs
Mutt Mentations
Tail Waggers
Dog Diaries
Good Boy/Girl Gallery
Woof Pack Wonders
Furry Frienemies
Pup-arazzi Shots
Canine Capers
Rover Reflections
Top Dog Days
Fido Fiascos
Barking Besties
Growly Wisdom
Walker Wanderings
Hound Happenings
Woof Notes
Puppy Pals
In the same way, always use hashtags when you think of setting cool names to your Instagram highlights. It will increase curiosity among the viewers.
---
Fashion Instagram Highlight Names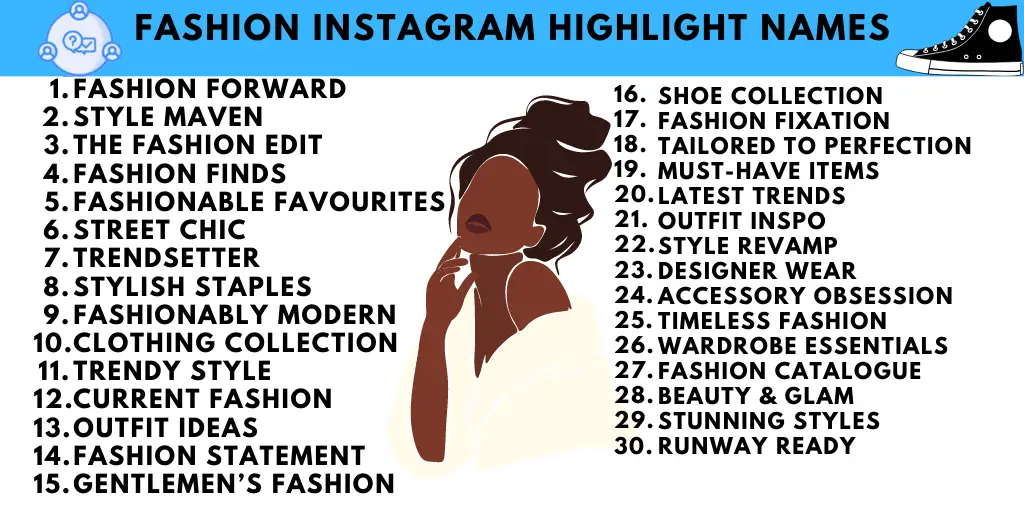 Here are some highlights names for Instagram fashion enthusiasts:
Fashion Forward
Style Maven
The Fashion Edit
Fashion Finds
Fashionable Favourites
Street Chic
Trendsetter
Stylish Staples
Fashionably Modern
Clothing Collection
Trendy Style
Current Fashion
Outfit Ideas
Fashion Statement
Gentlemen's Fashion
Shoe Collection
Fashion Fixation
Tailored to Perfection
Must-Have Items
Latest Trends
Outfit Inspo
Style Revamp
Designer Wear
Accessory Obsession
Timeless Fashion
Wardrobe Essentials
Fashion Catalogue
Beauty & Glam
Stunning Styles
Runway Ready
La Mode Moments
Style Scribes
Seasonal Statement Snaps
Ensemble Essentials
Ravishing Regalia
Artful Array
Attire Archives
Apparel Aficionado
Wardrobe Wonderings
Ensemble Ensembles
Stylish Selections
Ravishing Regalia
Runway Reflections
Fashion Flashbacks
Couture Collages
Style Spectacles
Attire Aficionado Album
Ensemble Essentials
Styling Synopsis
Seasonal Style Stories
Wardrobe Wanderings
Dapper Diaries
Fashion Philosophy
Ravishing Regalia
Runway Reflections
Signature Style Scenes
La Mode Moments
Fashion Flashbacks
Artful Apparel
Aesthetic Archives
Garment Glimpses
Finery Finds
Signature Style Scenes
Modest Musings
Razzle Dazzle Repertoire
Ensemble Ensembles
RavishingRegalia
Fanciful Frocks
Dapper Diaries
Artful Apparel
Stylist Synopses
FashionFlashforwards
Couture Chronicles
Attire Aficionado Albums
Ensemble Ensembles
Couture Collages
Style Stories
Elegant Embellishments
Fanciful Frocks
Ravishing Regalia
Modest Musings
Stylist Synopses
Formal Flourishes
Attire Aficionado Albums
Garment Glimpses
Couture Chronicles
Razzle Dazzle Repertoire
Seasonal Style Stories
Ensembling Essentials
Artful Apparel
Fashion Flashforwards
Garment Glimpses
La Mode Moments
Signature Style Scenes
Stylist Synopses
Elegant Embellishments
Fanciful Frocks
Aesthetic Archives
FashionFlashforwards
Modest Musings
---
Cute Instagram Highlights Names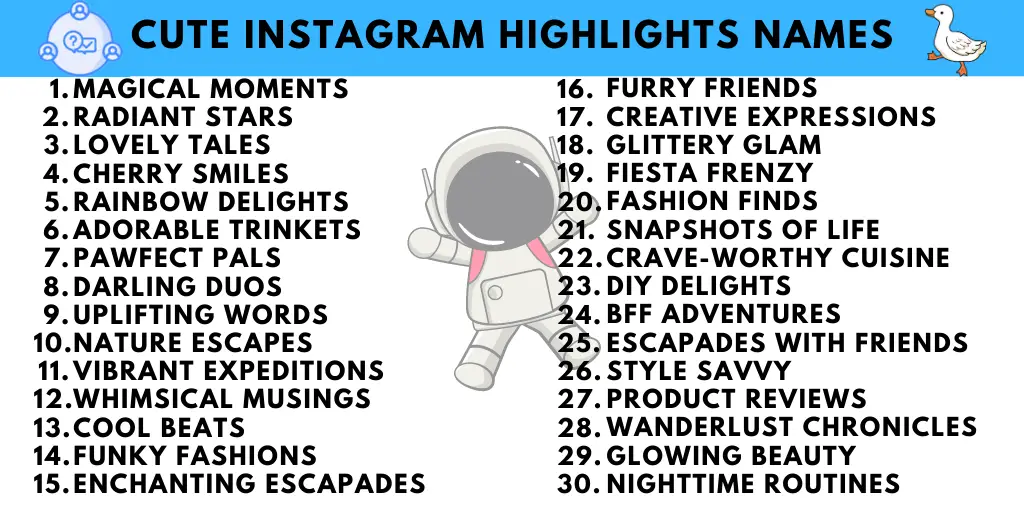 A cute name can be a sweet touch for your Instagram highlights.
So here are some of the cute names that you can choose and show.
Magical Moments
Radiant Stars
Lovely Tales
Cherry Smiles
Rainbow Delights
Adorable Trinkets
Pawfect Pals
Darling Duos
Uplifting Words
Nature Escapes
Vibrant Expeditions
Whimsical Musings
Cool Beats
Funky Fashions
Enchanting Escapades
Furry Friends
Creative Expressions
Glittery Glam
Fiesta Frenzy
Fashion Finds
Snapshots of Life
Crave-worthy Cuisine
DIY Delights
BFF Adventures
Escapades with Friends
Style Savvy
Product Reviews
Wanderlust Chronicles
Glowing Beauty
Nighttime Routines
Sweet Simplicities
Pretty Petals
Smiley Sunshines
Cutie Pies
Adorbs Antics
Cherub Charms
Twinkling Trinkets
Sparkly Splendors
Dainty Deeds
Rosewater Reveries
Beam Dreams
Cupcake Corners
Bunny Burrows
Bubbly Blisses
Sugar Sweetness
Rosewater Reveries
Giggly Goings-on
Sweet Simplicities
Sparkle Spaces
Twinkling Trinkets
Blinkie Bliss
Rosewater Reveries
Cutie Pies
Cherub Charms
Bubbly Blisses
Adorbs Antics
Giggly Goings-on
Sweet Simplicities
Beam Dreams
Rosewater Reveries
Twinkling Trinkets
Cupcake Corners
Blinkie Bliss
Bunny Burrows
Giggly Goings-on
Dainty Deeds
Smiley Sunshines
Pretty Petals
Sparkle Spaces
Cherub Charms
Bubbly Blisses
Cupcake Corners
Adorbs Antics
Rosewater Reveries
Sweet Simplicities
Beam Dreams
Sparkly Splendors
Cutie Pies
Bunny Burrows
Pretty Petals
Smiley Sunshines
Sugar Sweetness
Dainty Deeds
Twinkling Trinkets
Giggly Goings-on
Cherub Charms
Adorbs Antics
Rosewater Reveries
Sparkle Spaces
Blinkie Bliss
Bubbly Blisses
Cupcake Corners
Beam Dreams
Cutie Pies
Pretty Petals
Smiley Sunshines
Sparkly Splendors
Dainty Deeds
Sugar Sweetness
Bunny Burrows
---
Best Instagram Highlights Ideas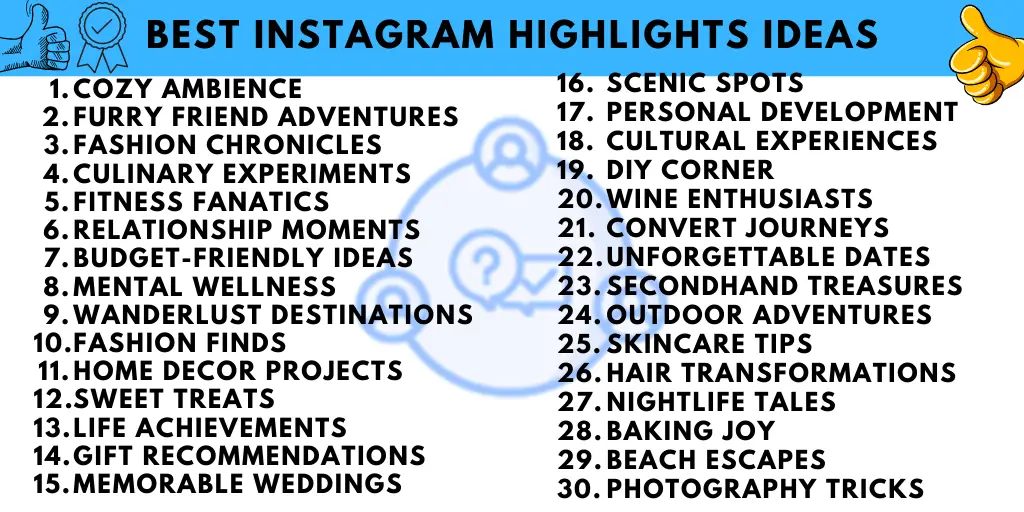 Are you on the hunt for captivating titles to use for your Instagram highlights?
Look no further than the ideas listed below for inspiration to make your profile stand out.
Cozy Ambience
Furry Friend Adventures
Fashion Chronicles
Culinary Experiments
Fitness Fanatics
Relationship Moments
Budget-friendly Ideas
Mental Wellness
Wanderlust Destinations
Fashion Finds
Home Decor Projects
Sweet Treats
Life Achievements
Gift Recommendations
Memorable Weddings
Scenic Spots
Personal Development
Cultural Experiences
DIY Corner
Wine Enthusiasts
Convert Journeys
Unforgettable Dates
Secondhand Treasures
Outdoor Adventures
Skincare Tips
Hair Transformations
Nightlife Tales
Baking Joy
Beach Escapes
Photography Tricks
Finest Finds
Top Ticklers
Premier Picks
Prime Prose
Peak Performers
Outstanding Operatives
Apex Admirations
Supreme Selections
Elite Entries
Champion Chronicles
A-List Avenues
Crown jewels
Hall of Fame Highlights
Pinnacle Passages
Peak Perspectives
Ace Accomplishments
Diamond Diaries
All-Star Album
Premier Productions
Elite Endeavors
Standout Stories
Superlative Snippets
Supreme Shots
A-List Adventures
Primo Ponderings
Top Tiers
Record Reels
Premier Pictures
Pinnacle Performances
Star Status Shoots
Apex Achievements
Outstanding Outings
Elite Encounters
Superlative Sessions
Best of the Batch
All-Star Actions
Supreme Selections
Titan Tomes
Champion Chronicles
Picture Perfect Picks
Top Tier Tidbits
Peak Potential Posts
Primo Profiles
Zenith Zingers
Highlight Hall of Famers
Best Bet Blurbs
Ace Accolades
Stellar Stories
Pinnacling Pursuits
Exceptional Excursions
Notable Number Ones
Prime Pictures
Epic Encounters
Flashback Favorites
Elite Enlightenment
Superlative Snapshots
Standout Sessions
Top Shelf Selections
Sky-High Showcases
Pinnacle Performers
Star Status Strikes
Classic Collections
Diamond Diaries
Highlight Hall of Fame
Premier Pictures
Apex Achievements
Notable Number Ones
Epic Encounters
Elite Enlightenment
Flashback Favorites
---
Work Instagram Highlight Names
Highlights of your workdays, projects, meetings, and more on Instagram are a great way to track your professional experiences and memories over time. You can create highlights for important presentations, launches, deadline achievements, and other work milestones.
Names should be short and describe the overall theme at a glance. Hashtags allow others in your industry or company to search highlights easily.
Some top highlight name ideas to remember your best work moments are:
Career Catalysts
Watercooler Wisdom
Task Triumphs
Collaboration Corner
Daily Duties Diary
Onboarding Observations
Business Banter Board
Work Warrior Wonders
Job Journeys
Task Time Travels
Meeting Memories
Vocation Vignettes
LinkedIn Logs
Brainstorm Boards
Duty Discoveries
Project Palooza
Conference Collages
Teamwork Timelines
Cubicle Confessions
Employment Encounters
Skill Shareboards
Office Olympics
Watercooler Whispers
Lunchroom Lowdowns
Presentation Portfolios
Strategy Sessions
Training Treats
Business Banter Blurbs
Work Warrior Wisdom
Task Trackers
Monthly Musings
Meeting Minutes
Brain Breaks
Cubicle Chronicles
Deadline Ditties
Professional Pursuits
Employment Excursions
Skill Showcases
Memoir Moments
Watercooler Wit
Occupational Operations
Career Conversations
Pitch Perfect
Training Talks
Around the Watercooler
Duty Day Details
Monthly Meet Ups
Project Potpourri
Conference Cornucopia
Teamwork Testimonials
Also Read: How To Get Instagram Highlights Without A Name?
---
Creative And Engaging Instagram Highlights Ideas
Are you looking to spice up your Instagram profile and showcase your top moments and stories? Instagram highlights are a great way to do just that! However, coming up with the best Instagram highlight ideas can be challenging, especially if you want to stand out.
Use Catchy Titles
The first Instagram highlights idea is to use catchy titles that grab your followers' attention. It is especially important if you're running a business account and want to showcase your products or services.
You can use short and snappy titles, such as "New Arrivals," "Sale Items," or "Behind the Scenes," to pique your followers' interest and keep them engaged. For personal accounts, you can use titles that reflect your personality or interests, such as "Travel Adventures," "Foodie Finds," or "Fitness Tips."
Organize By Categories
Another great Instagram highlights idea is to organize your highlights by categories. It is useful if you have a lot of content and want to make it easier for your followers to navigate your profile.
You can create categories such as "Fashion," "Beatury," "Lifestyle," or "DIY" and then add related content to each one. It will make your profile more visually appealing and showcase your experience in different areas.
Use Emojis
Emojis are a fun and playful way to add personality to your Instagram highlights. You can use emojis as bullet points, separators, or even in the title. For example, if you have a fitness highlight, use the flexed bicep emoji in the title or add a runner emoji to indicate the type of workout you're showcasing.
Similarly, for a food highlight, you can use the pizza or burger emoji to indicate the type of cuisine.
Feature User-Generated Content
If you want to engage with your followers and build a sense of community, featuring user-generated content (UGC) in your Instagram highlights is a great way to do it. For example, you can create a highlight called "Fan Favorites" or "Community Spotlight" and showcase content your followers have created using your product or services.
It shows appreciation for your followers and encourages them to continue engaging with your brand.
Showcase Testimonials
Testimonials are a powerful way to showcase social proof and build trust with potential customers. For example, you can create a "Testimonials" highlight and showcase customer reviews or feedback. It is especially useful for business accounts, as it can help potential customers make informed decisions about your products or services.
You can also add a call-to-action (CTA) at the end of the highlight, encouraging your followers to leave a review or share their experience.
Use Custom Graphics
Finally, custom graphics in your Instagram highlights can add a unique and personalized touch to your profile. You can use Canva or other graphic design tools to create custom icons or covers for your highlights.
It adds a professional look to your profile and showcases your brand's visual identity. You can use colors, fonts, and images that reflect your brand's personality and message.
Also Read: How To Make Instagram Highlights Private?
---
Frequently Asked Questions (FAQs)
Everybody wants to get cool and aesthetic names for their Instagram highlight. As a human being, it is usual to develop plenty of questions in mind, along with a great desire to find answers. This section of today's article will discuss some of the confusion and doubts related to the same topic.
Our website visitors filled up our comment section with questions. We have tried our best to provide answers to you through plenty of research and study. The most repeated questions with their answers are provided here. They are as follows:
---
How Should I Name My Instagram Highlights?
It is better to name the Instagram highlights using your ideas and creativity. The kind of name gives a kind of shocking feeling to the viewers, such as Shiny Summer, Travel Diaries, My Favourites, Scenery, etc.
You can also search on different social media platforms besides these names. The name you will add to Instagram highlights must match the pictures and clips you have added. Show your creativity through the Instagram highlight names.
---
How To Get Cute Icons For Highlights On Instagram?
To get cute icons for Instagram highlights, you must select the + icon, which is available at the bottom right corner of your screen.
There, you will see a variety of graphics as an option. If you do not find the exact one, you can search for them with their names. Have a long press on the graphic you want for your highlights on Instagram.
You can even choose the color of the icon which is matching to your photos.
---
How Do You Name A Story On Instagram Highlights?
You should hold your index finger on your Instagram highlights and have a long press. Now, then, you will get a three-dot icon. If you tap on the three-dot icon, you will get options on whether to change the names of highlights, change the cover photo, or something else.
You need to tap on change name, and then you will get a bar to change the name. There, you have to type the name as per your wish.
---
What Is My Aesthetic?
The aesthetic is something that describes your personality and character. The photos, names, colors, clothing, styles, etc that you use are all your aesthetic. The other person who is your profile viewer can easily detect which kind of person you are from. You should show your unique aesthetics, which might benefit both you and your social media account. This aesthetic term is popular worldwide when it comes to posting unique and daring pictures.
---
Which Aesthetic Name Is Popular For Instagram Highlights 2023?
Aesthetic names such as Homie, My Boo, Travel Dudes, Do Not Judge, Pretty Fat, Real Me, Move On, Swag, Rock, etc. They are much more famous in today's world.
You can also name your Instagram highlights as per the aesthetic jeans, bags, goggles, shirts, or shoes that you are wearing in those Instagram highlight pictures. There are aesthetic filters on Instagram as well. Naming highlights as per the aesthetic filters on Instagram is also a trend nowadays.
---
Can I Check If My Instagram Highlight Is Aesthetic Or Normal?
Yes, you can check if the name you have given to your Instagram highlight is aesthetic or not. The first thing you should do for it is to check if the name perfectly matches your pictures and clips or not. If not, then change it. Also, try to find if somebody has previously used the same name on their profile page.
So, it is better to use your skills and create aesthetic names. There are also some aesthetic name-creator apps available on your Play Store.
---
Conclusion
Instagram highlights represent your personality. Along with highlights, the name on Instagram highlights plays an important role.
A suitable name on highlights is necessary. It gives a soothing look to your Instagram profile page for other viewers. Names for Instagram highlights are the first thing that shows your personality. Once you guys give a try the names as we have suggested to you in this article.
You will see a noticeable change in your Instagram account, such as increased followers, likes on images, profile viewers, etc.
I hope you guys had fun reading our article. We also guess you now have cool and aesthetic names for your Instagram highlight. Stick to one name and do not have lots of changes to it.
We are at the end of today's article. If you guys still have any queries, you are free to ask us. Our comment section is open for you guys.
Thank you for being here. Keep on supporting and loving us. We will be back very soon with our new and latest article on this same website. Until then, stay tuned.
---
You Might Also Like To Read