TikTok is one of the most popular apps for creating, watching, and sharing videos. So, you still have a lot of time to join TikTok, a famous video-sharing app that has grown in popularity in recent years. Are you tired of only using TikTok to edit your videos? Do you have an interest in trying out more TikTok editing apps? Moreover, this article will walk you through the process of editing videos for TikTok on your PC using some of the best apps.
Answer: The best TikTok video editing apps for PC to edit and make fantastic TikTok videos include Adobe Premiere Pro, Cyberlink PowerDirector, Adobe Premiere Elements, and VSDC Video Editor. Likewise, Music Video Maker, Final Cut Pro, HitFlim Express, Lightworks, Openshot, Reanderforest, and Animotica are also TikTok video editing tools that can be used by both amateurs and professionals to edit their videos before uploading them to TikTok.
Moreover, from the things mentioned in the previous paragraph, we will examine some of the best TikTok editing apps that you can use to edit your TikTok videos on a PC. Above all, in this post below you'll learn how to improve your editing skills and enhance your video quality on your desktop. But if you are a beginner and just want to edit your videos from the TikTok app itself you can read; How To Edit TikTok Videos For Starters? Besides PC, if you are an android user and willing to edit your video from your smartphone, we also have an article for Android users with the title; Best TikTok Editing Apps For Android.
What Are TikTok Video Editing Apps?
To begin, Bill Warner firstly created the Avid Media Composer, a digital, nonlinear editor with a graphical interface that transformed the video editing and film industries as well. After that, video editing became quite popular, and also among TikTok users.TikTok video editors offer a variety of capabilities that can assist you in creating unique TikTok videos and even allow you to edit them.
On the other hand, using TikTok video editing software, you can produce a unique video that nicely demonstrates your abilities. It helps you customize your videos to your liking. You can keep current with TikTok trends like transitioning your video, producing dramatic videos, hilarious videos, animated videos, and more by using the TikTok editing app's features.
Besides editing apps, you can also use TikTok Filters Found On TikTok App to edit your TikTok videos.
What Is The Work Of TikTok Video Editing Apps
If you're a beginner still learning how to use TikTok video editing apps, adding edits to your video is a way to make your TikTok video and experience more ideas to make your video appealing.
Some of the main works that a video editing application performs to help TikTok users to make are enlisted below :
Editing, changing, producing, or manipulating a video or video clips are some of the works of video editing software.
You may use a video editing app to eliminate sections of a video, cut and organize them to make the flow of the video better, or apply effects to make it seem better to your viewers.
You may work on your videos in various areas as you please, and with the material the apps provide, you can make your video appealing to your target audience.
10+ Best TikTok Video Editing Apps For Your PC
Overall, people nowadays use editing apps to enhance their TikTok videos to the next level with editing skills. If you are wondering what will be the best video editing app or software to edit your TikTok videos on PC, then do read the following list of editing apps.
Adobe Premiere Pro
Cyberlink Powerdirector
Adobe Premiere Elements
VDSC Video Editor
Music Video Maker
Final Cut Pro
HitFilm Express
Lightworks
OpenShot
Renderforest
Animotica
Now, let's learn a little more about the editing applications in detail. You can do so by reading the information available in the article below.
Adobe Premiere Pro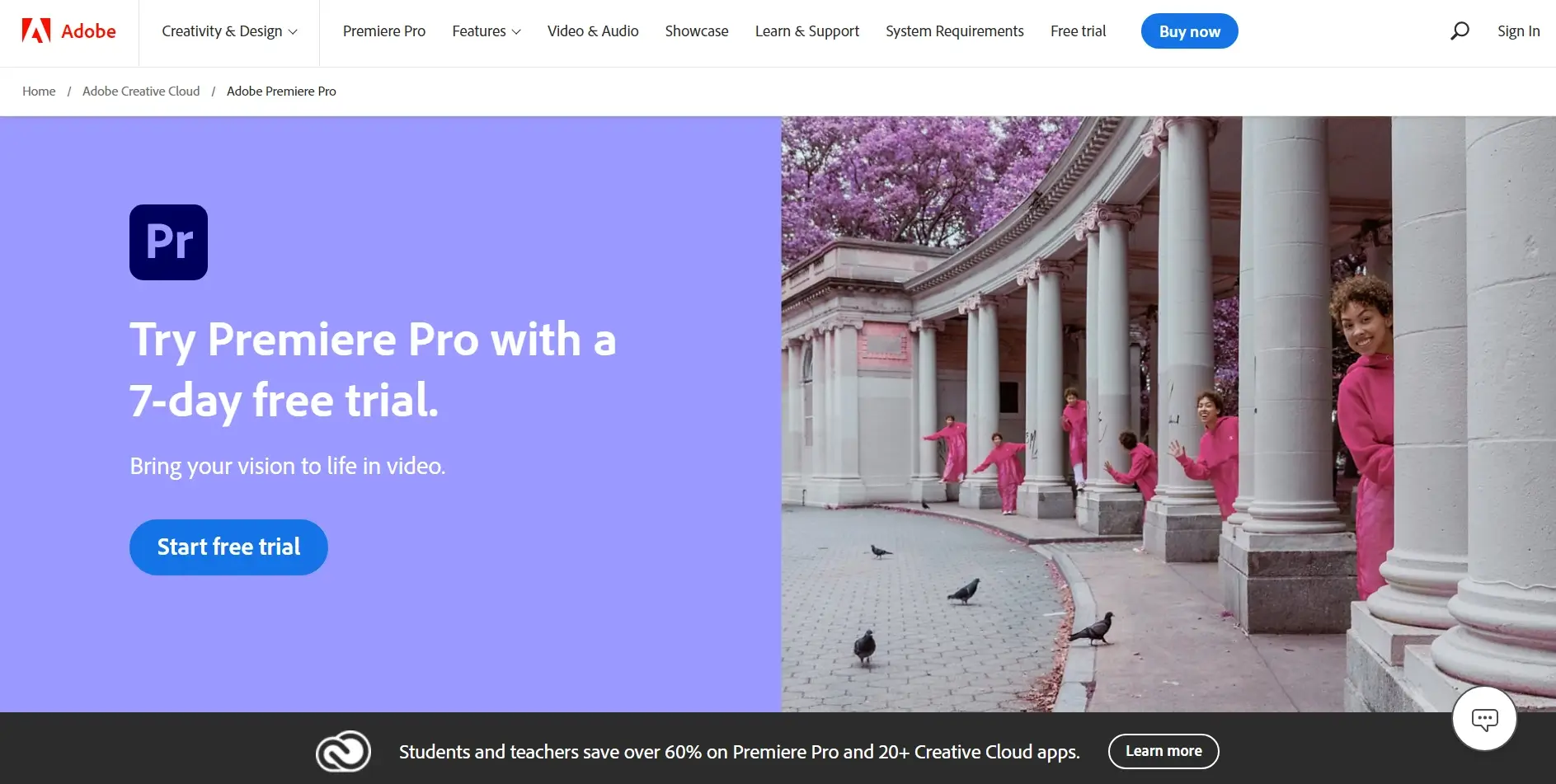 Adobe Premiere Pro is a professional video editor that many in the video editing industry recommend. It comes with several advanced capabilities that are popular with both amateur and professional video editors.
Therefore, premiere pro can help you build your story with tools that just make sense, whether you're editing a TikTok video for social media or a blockbuster film.
Platforms
Both platforms, Mac and Windows can use Premiere Pro.
Price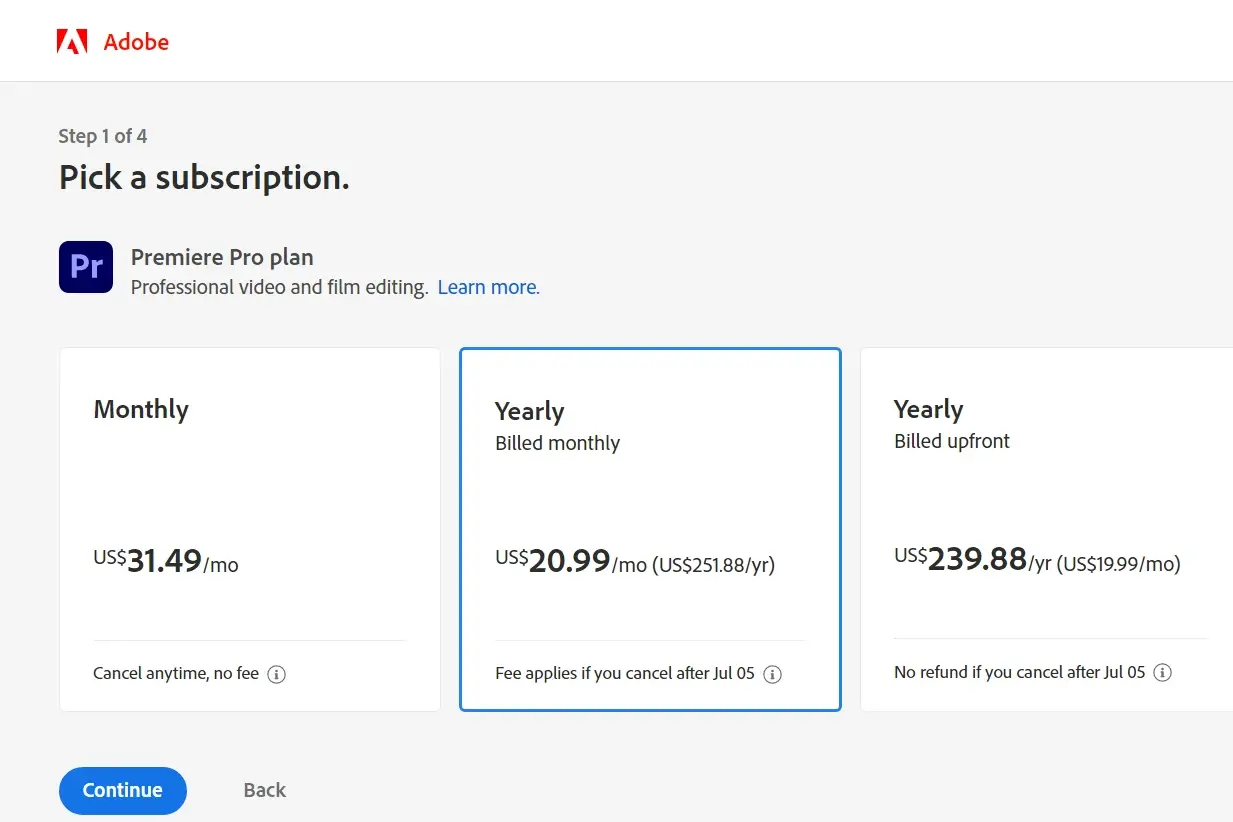 Main Features
Here are some of the key features of premiere pro which is the reason why professionals use it.
Premiere Pro integrates with other tools and services, including Adobe Photoshop, After Effects, and Frame.io, to provide users with a wide range of editing possibilities.
This app has also got a feature known as a smooth scroll that smooths the timeline.
It can play audio while Scrubbing.
Adobe premiere pro has a vast workspace.
Wondershare Filmora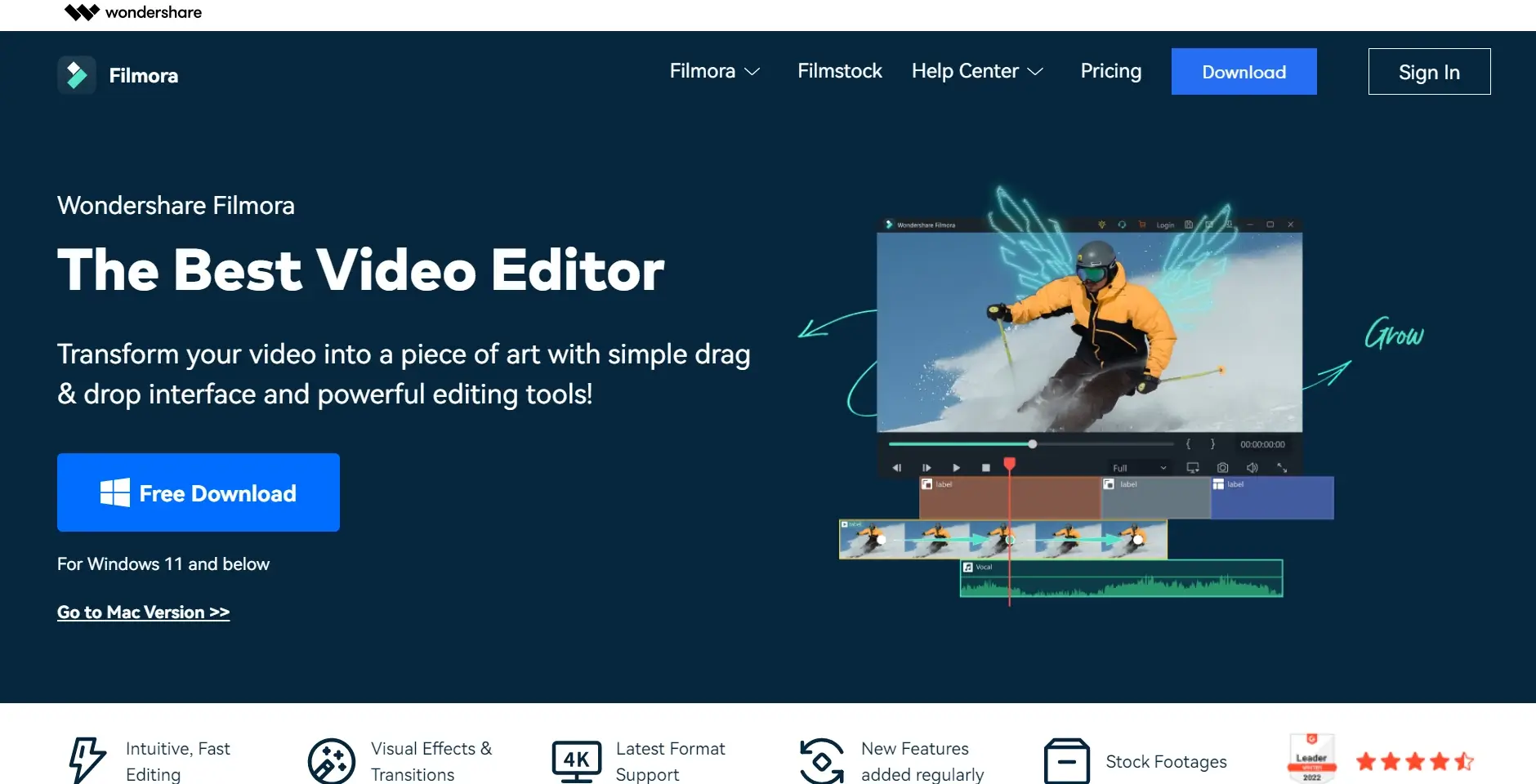 Wondershare created the Filmora software for making and editing videos. Products for beginners and intermediate users are available on Filmora. A timeline, preview window, and effects library are some of Filmora's common features. These may all be accessed and managed using a drag-and-drop interface.
Platforms
This application is supported by both Windows and Mac.
Price
Consists of unlimited free trials
If required, it offers different plans/packages for individuals, education, and business purpose.
Main Features
Some of the popular features of Wondershare Filmora are mentioned below.
An intuitive interface for simple video editing software
Motion Tracking- With automatic motion tracking, you may quickly attach a component to a moving item in your movie.
Keyframing- Add keyframes to animation to alter a clip's position, rotation, scale, and opacity.
New UI and switch dark/light mode- You can easily choose dark/light mode according to your preference while editing the video.
You can easily remove the video watermark.
There are a lot of new effects with 30 new elements and 9 callout titles in the application.
Cyberlink PowerDirector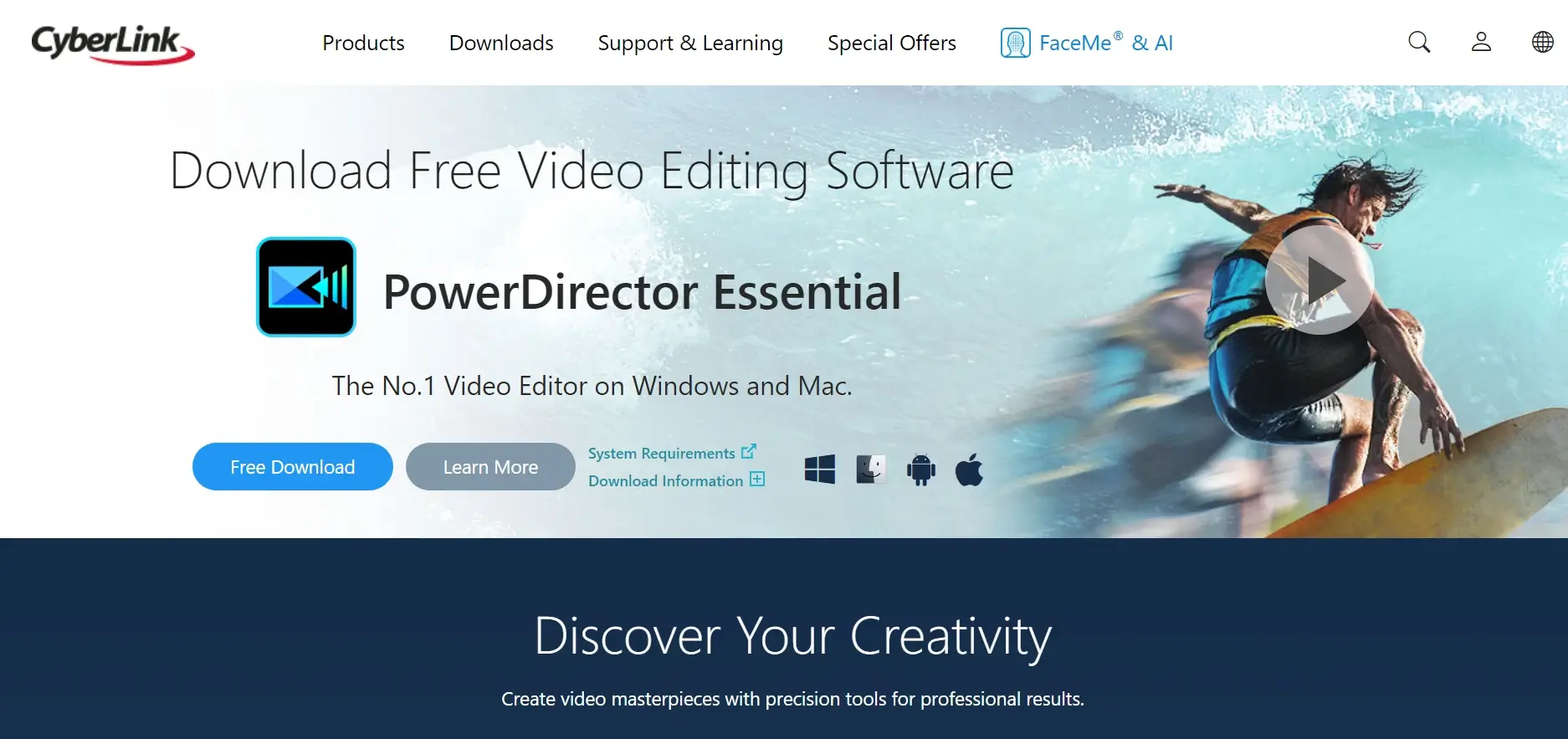 Application with powerful tools, a huge number of possibilities, and inspirations. It's one of the greatest programs for making TikTok videos because of its straightforward user interface and editing options.
Platforms
It supports both Windows and Mac.
Price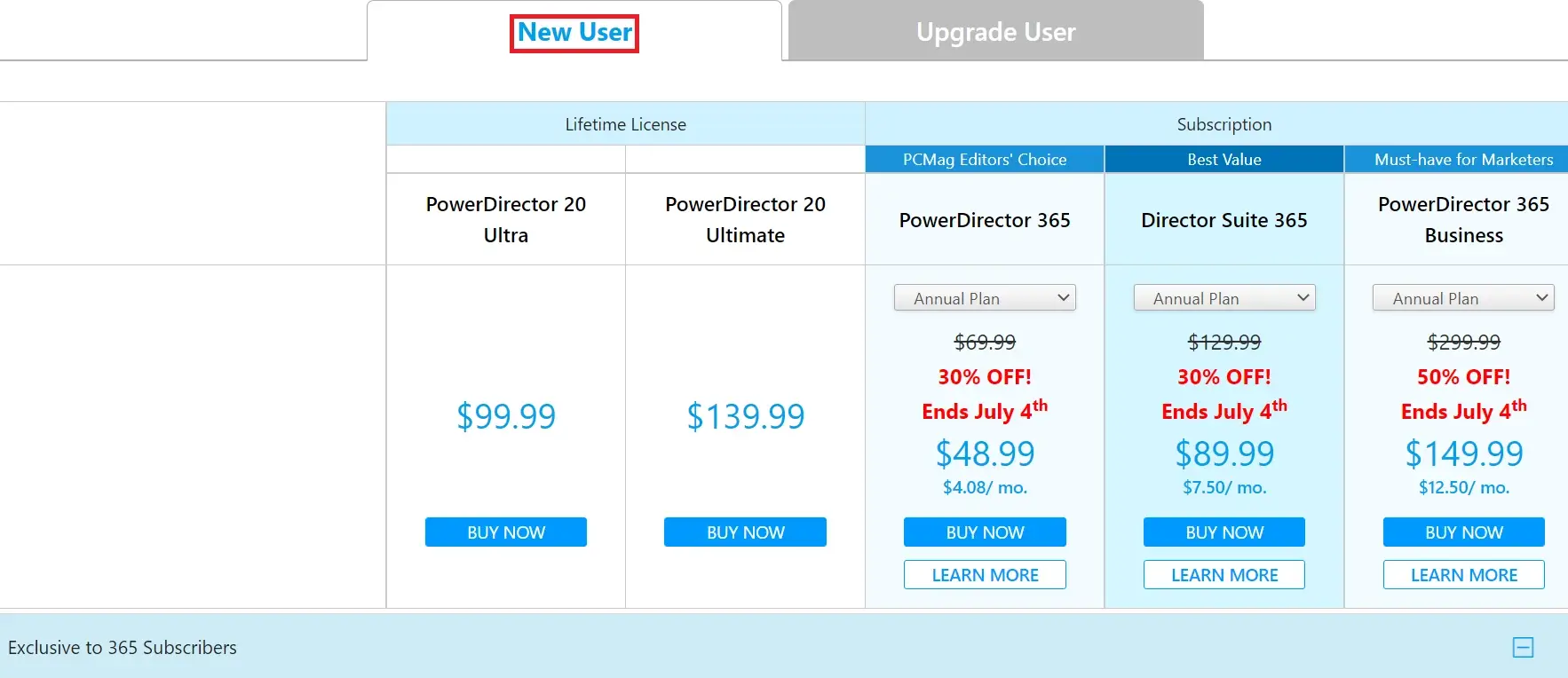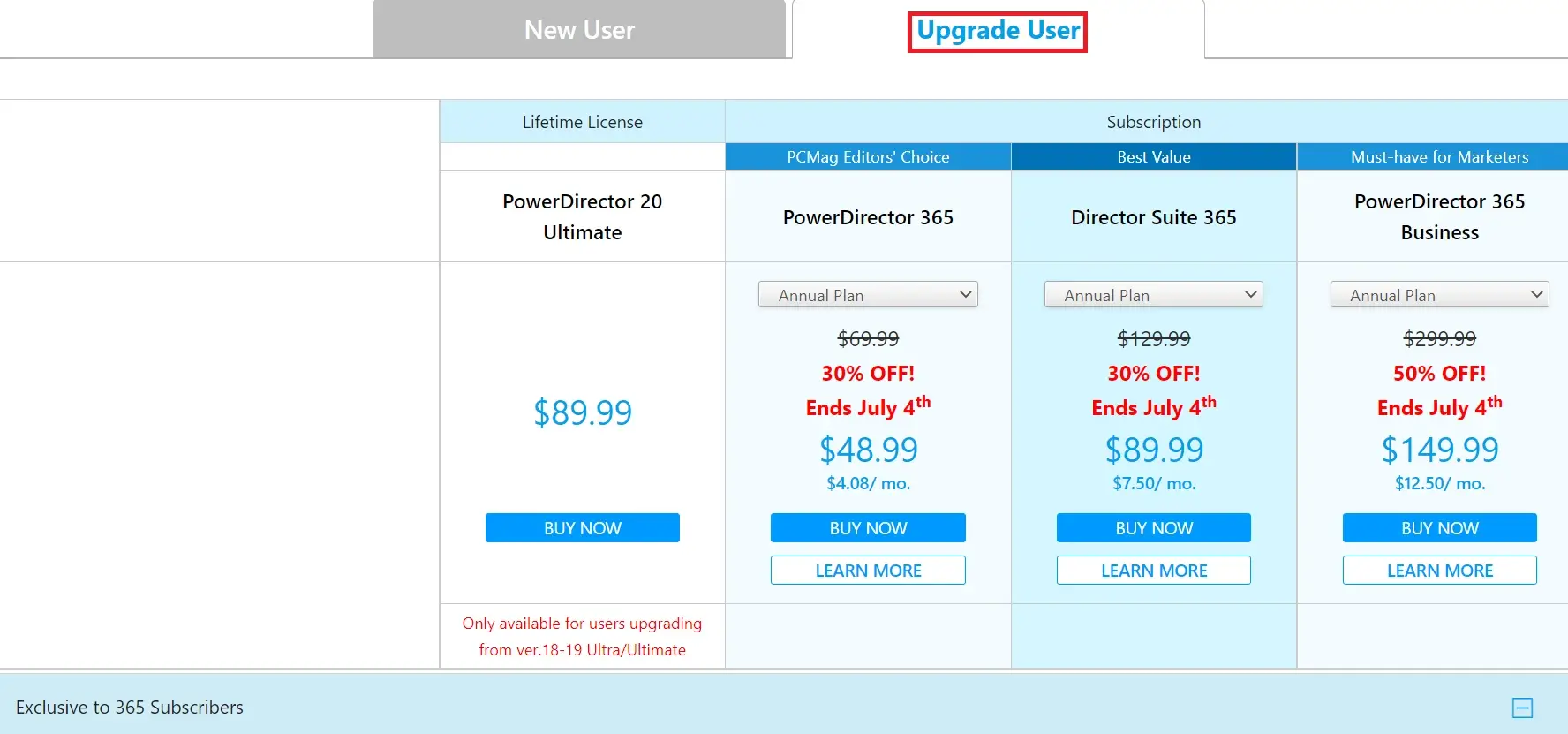 Free for basic editing
$99.99(lifetime offer) for PowerDirector 19 Ultra
$139.99(lifetime offer) for PowerDirector 19 Ultimate
$51.99per year for PowerDirector 365
Main Features
Some of the main features of Cyberlink PowerDirector are listed below.
It has animated sketch templates.
Smart video motion tracking.
Customizable motion graphic tiles.
Advanced mask tools for cutting and merging pictures from clips.
Adobe Premiere Elements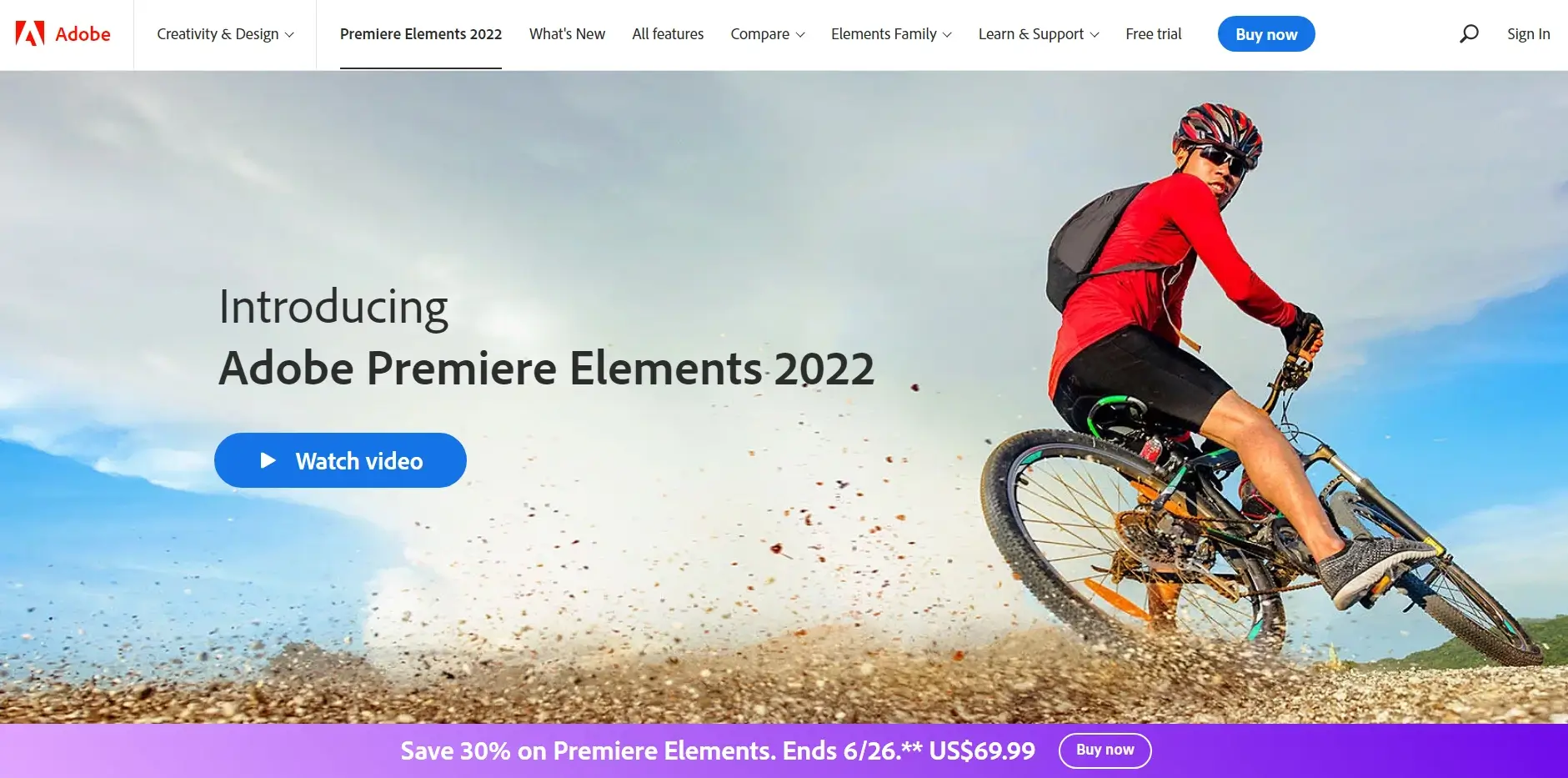 Adobe Premiere Elements is a wonderful choice if you appreciate the combination of the Elements Organizer and Photoshop Elements.
It includes a lot of useful features that will help you learn how to make interesting projects. Hence, this application can be used very easily so it is one of the best video editing apps for beginners.
Platforms
This application is available in both Windows and Mac.
Main Features
Beginners choose this application because of the following features.
You can freeze frames and put motion in titles.
This application also allows you to create cool double exposures.
The app organizes your photos and videos automatically according to the date of the file.
It includes Adobe Sensei AI technology as well as automated alternatives to let you focus on bringing your ideas to life.
VSDC Video Editor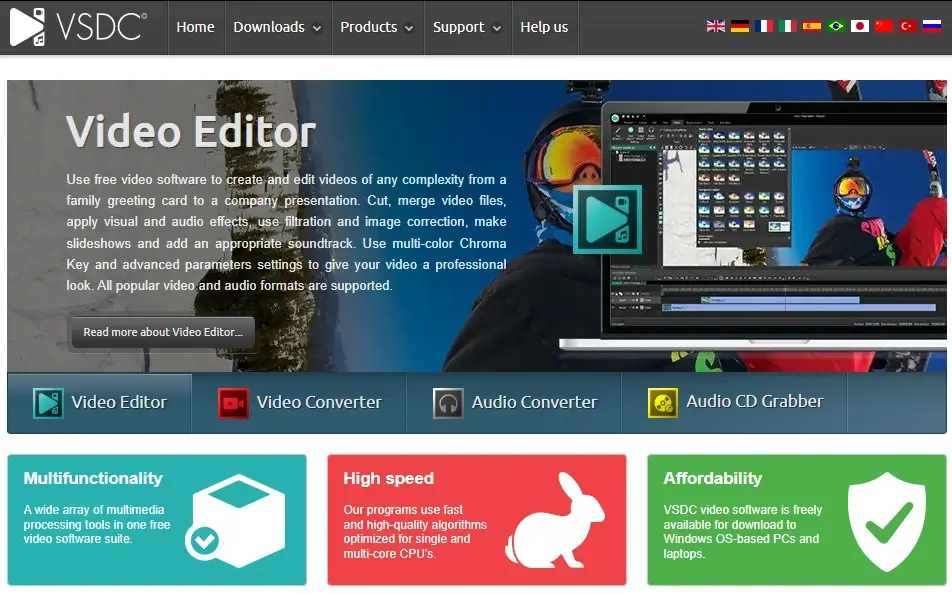 VSDC Video Editor is a free professional video editing application that combines several useful video and audio editing tools to help you make a fantastic TikTok video.
This app has around 5 million users worldwide and can edit TikTok videos at both a basic and advanced level.
Platforms
VDSC is supported by both Mac and Windows.
Price
Free for basic editing
$19.99 for the pro version
Main Features
Below are some of the key features of VSDC.
It supports most of the trending video formats and codecs.
Contains tools like zoom, 360 video editing, color correction, etc.
Provides a wide range of popular video transitions, effects, and filters.
Green background removal is a function of the Powerful Chroma Key that VSDC has got.
Music Video Maker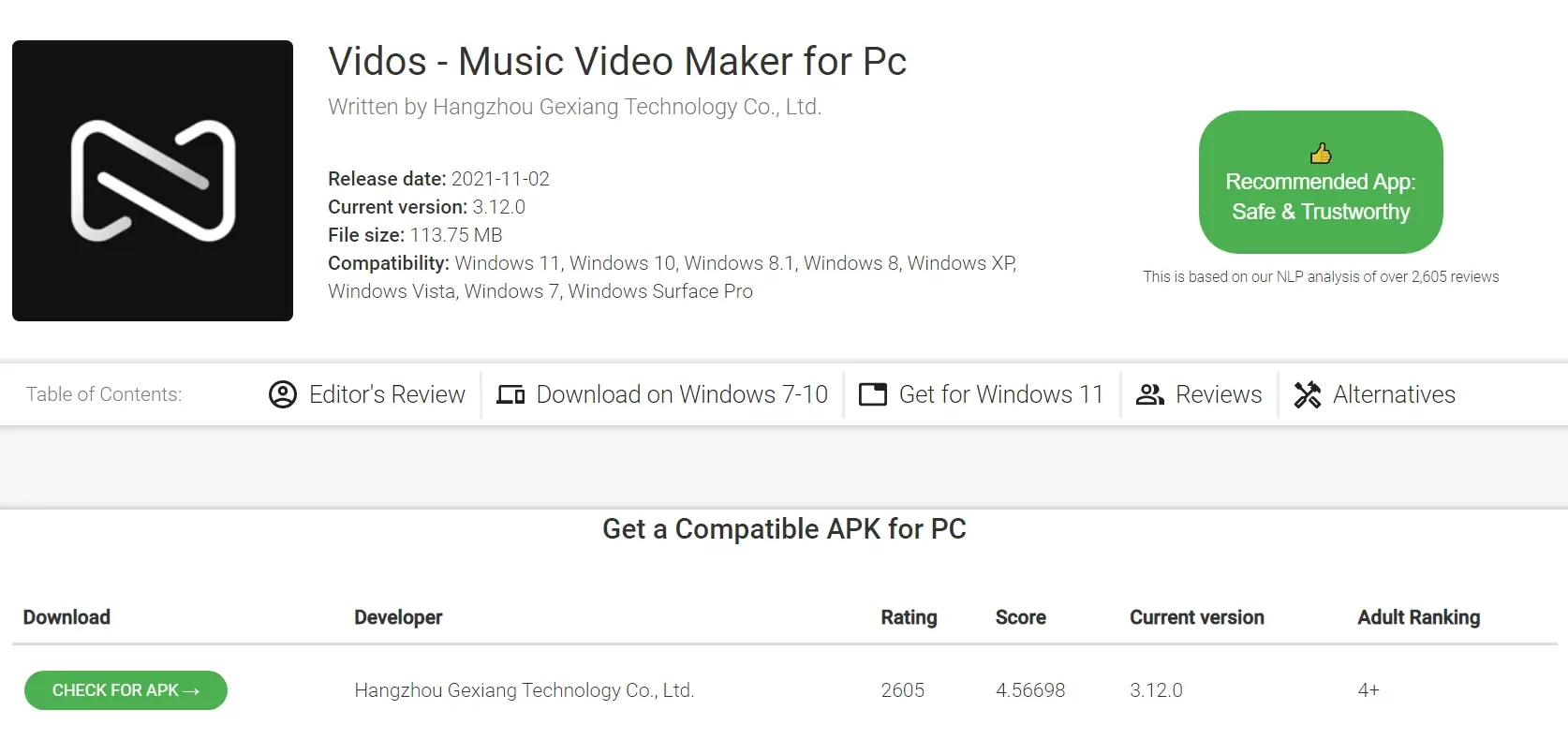 The music component is the strength of "Music Video Maker." The software allows you to search for music to utilize in your TikTok videos. It instructs you to make a quick presentation using chosen videos and music.
Unlike other video editors, it has basic capabilities that allow you to quickly create a short music video with photographs also and pre-installed audio clips.
Therefore, it is very easy to use and you can complete editing your videos within a few minutes.
Platform
It is supported by all of the platforms available platforms which are Windows, Mac, iOS, and Android.
Price
Completely Free
Main Features
Some of the features of this application are enlisted below.
You can add up text and the subtitles to your video
It has a lot of sound effects and video effects
It also contains a large song library so you have a lot of choices for your video.
Final Cut Pro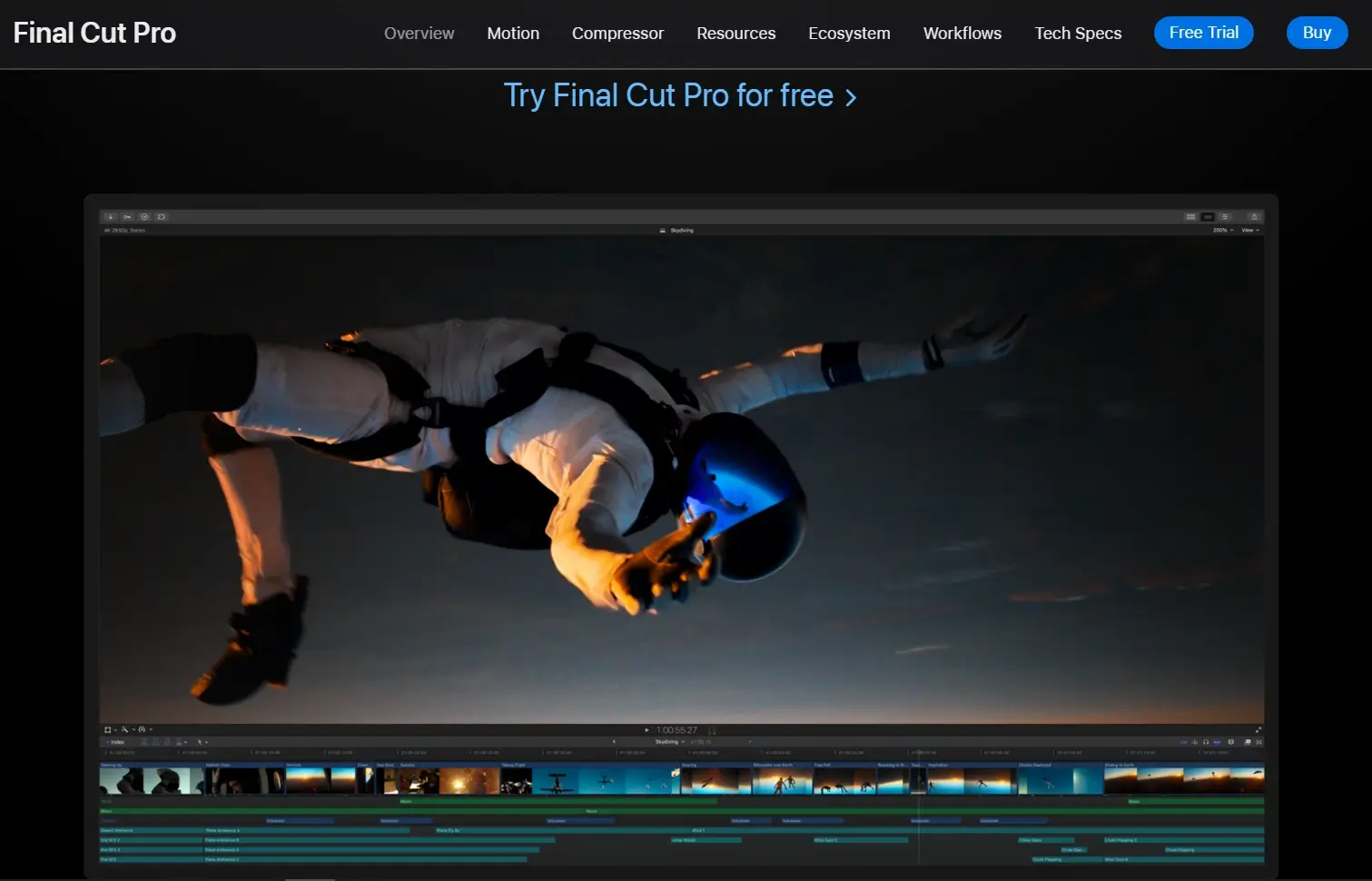 It is a very user-friendly video editing tool with a variety of basic and advanced video editing features. Final cut pro is a non-destructive, non-linear video editing software.
It is a native 64-bit program that can take advantage of all CPU cores as well as GPU-accelerated processing for better playing, rendering, and transcoding.
Platforms
It is available only for Mac.
Price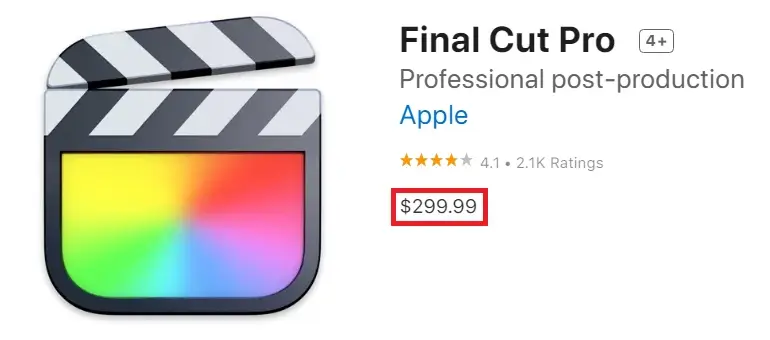 Has Free Trial
$299.99 – a one-time purchase
Main Features
Final cut pro provides the following features to its users.
It contains VR headset playback and 360° video editing.
Final cut pro has an accelerated post product that ensures fast delivery of the final video.
It includes motion graphics, audio editing, and good delivery.
It has got support for advanced HDR, color grading, and ProRes RAW
HitFlim Express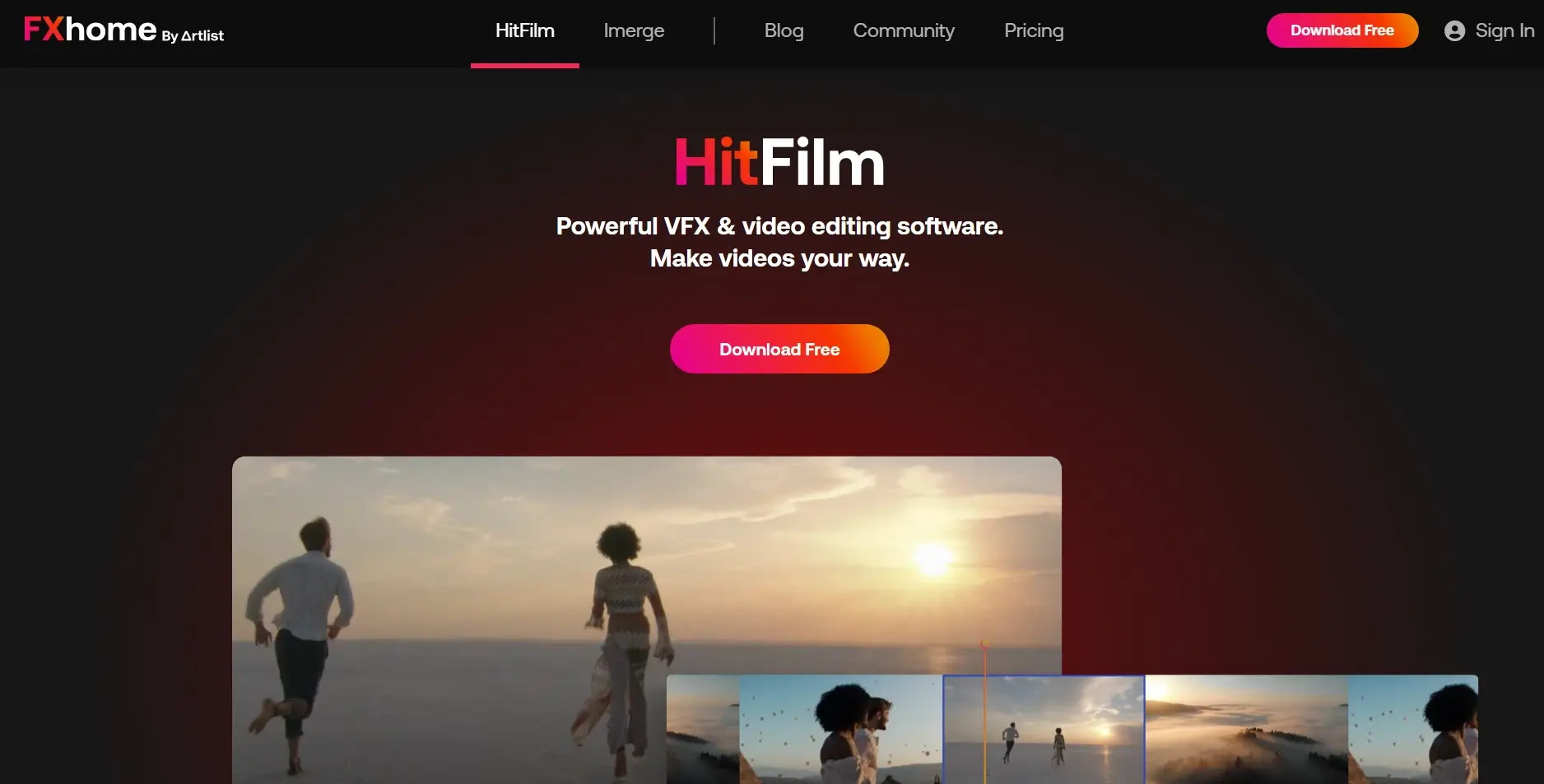 HitFilm Express is a forever-free application for editing your videos. HitFilm gives you these professional tools completely free!
To alter the production of your TikTok content, HitFilm Express will get along admirably; all things considered, standard TikTok recordings are very essential.
This video editing program allows you to work with audio, photos, text, and video to make advertisements, movies, and TikTok videos.
Platforms
This application supports both Windows and Mac.
Price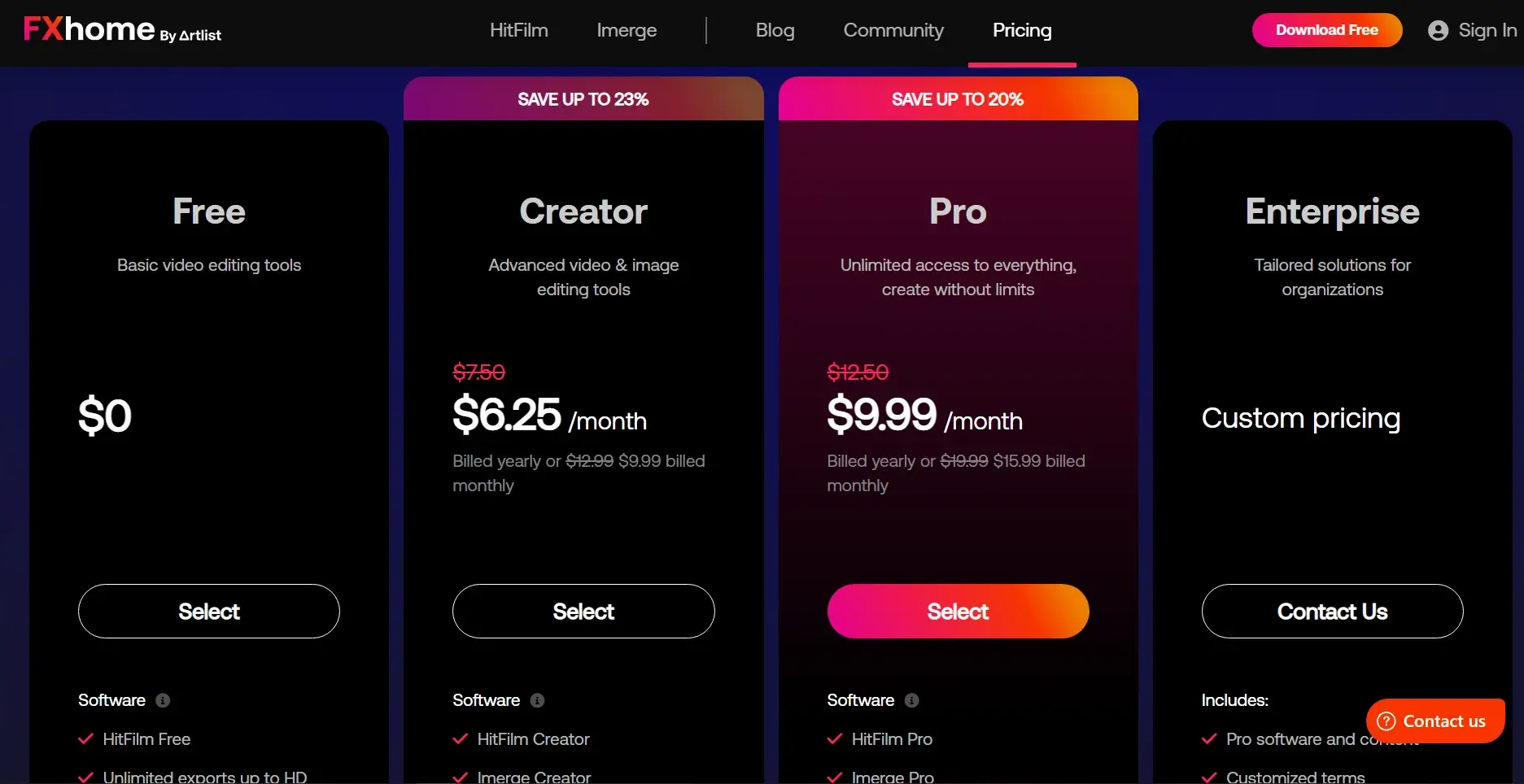 Main Features
HitFilm Express has a lot of features like:
Free tutorials and projects.
Over 400 effects and pre-sets.
Unlimited changes.
Lightworks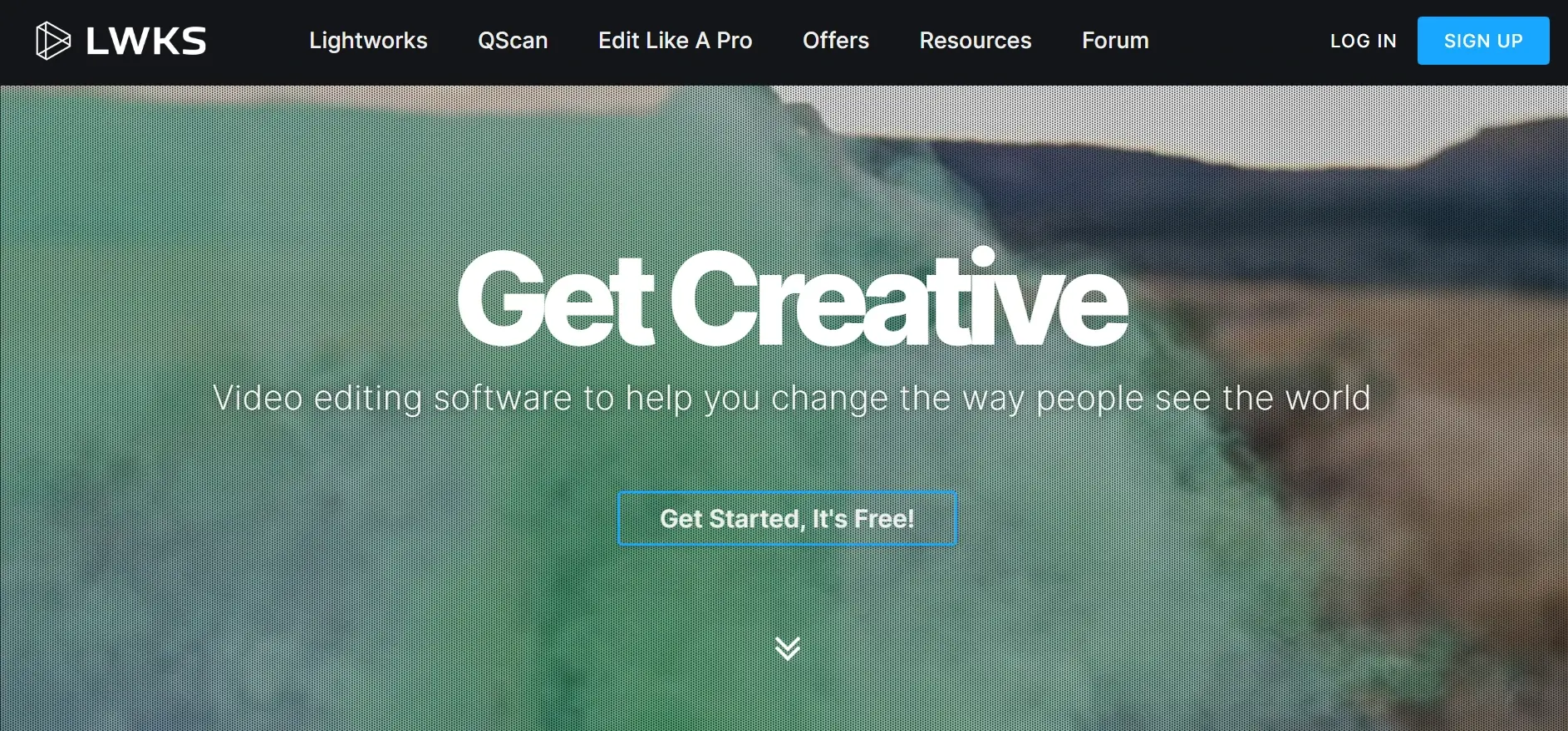 Lightworks has long been used to create professional-level videos, and it can also be used to create and edit videos for your TikTok account. It offers a user-friendly interface that you will like using to apply effects and edit your videos.
The program comes with several royalty-free files that you may use in your TikTok videos without fear of copyright issues. It comes with a simple timeline where you may load and arrange your films for editing.
Platforms
It is available only on Windows.
Price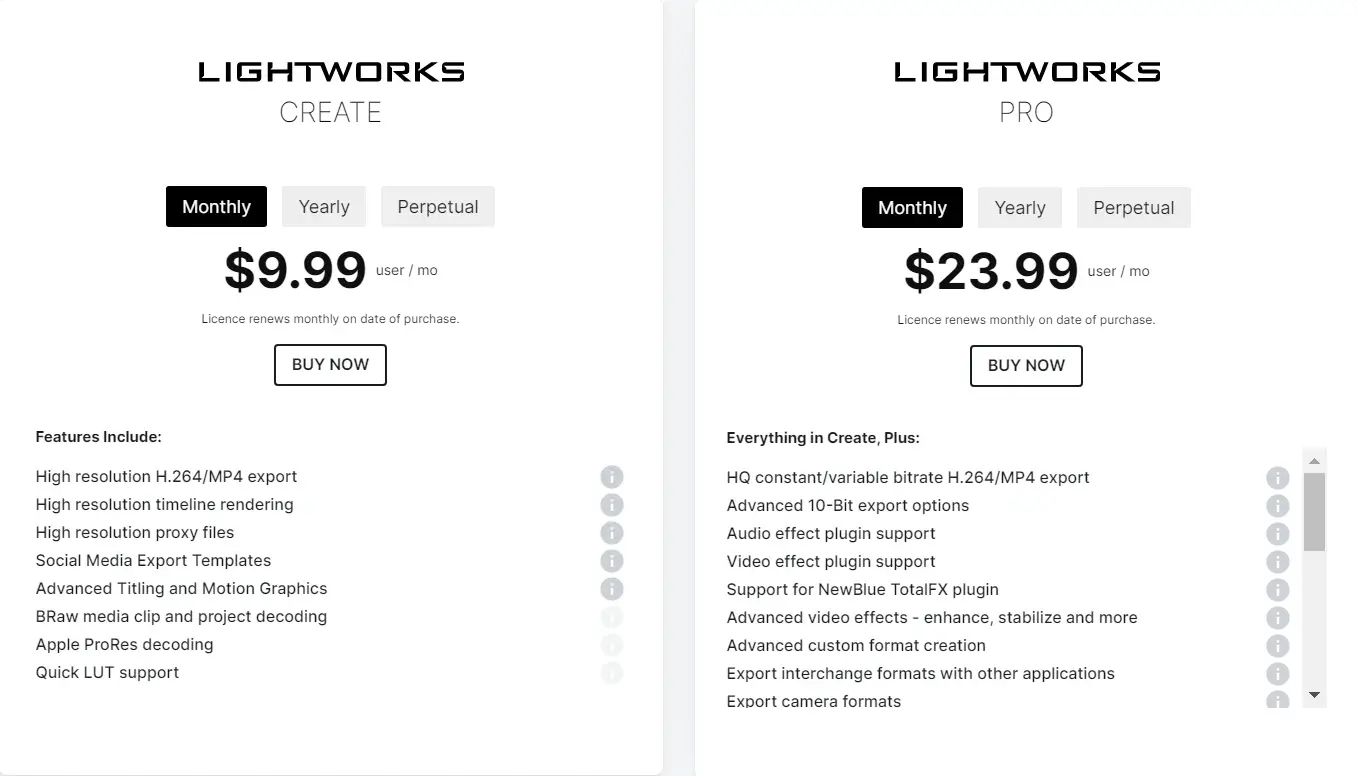 Main Features
Lightworks offers the following features to its users to edit their videos.
Helps to save videos in various resolutions.
Consists of a great interface.
Has a lot of built-in audio and video content.
Video editor with expert experience.
OpenShot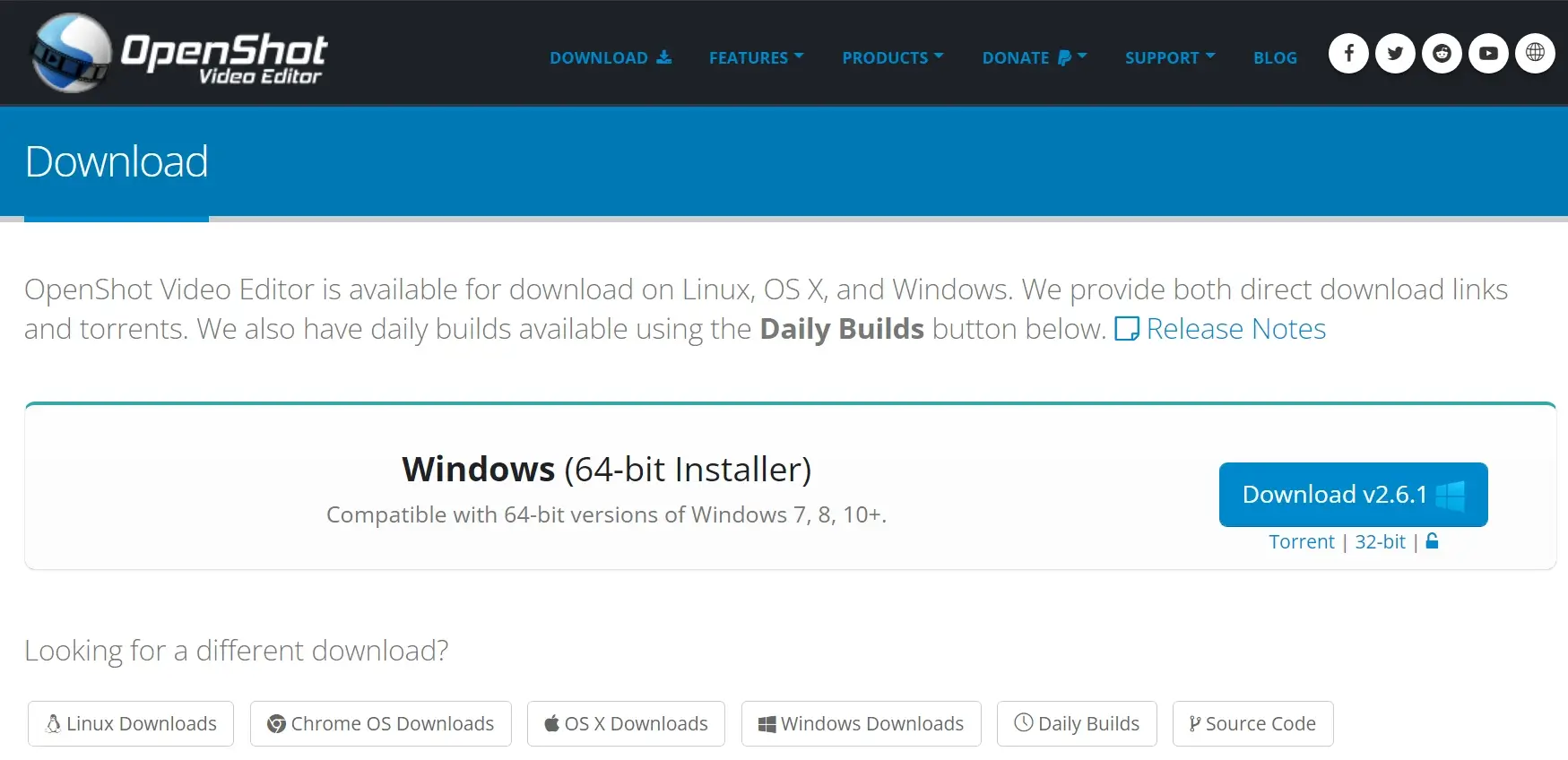 OpenShot is a TikTok video editing program that is both free and open-source, allowing you to create some truly beautiful films for your TikTok account.
Although it has a lot of strong choices to assist you to edit your films, it's quite easy to use and doesn't take any understanding. You can work with an infinite amount of tracks. There are also various built-in video effects, and audio visualization choices, and it's accessible in more than 70 languages. You can also use a title editor to add various beautiful titles to your TikTok videos.
Platforms
OpenShot is compatible with both Windows and Mac.
Price
Free.
Main Features
OpenShot contains some of the main features which are written below.
Got Slow-motion effects.
Powerful TikTok video editor but simple to use.
It also supports 3D animations.
It has got a limitless number of tracks.
Renderforest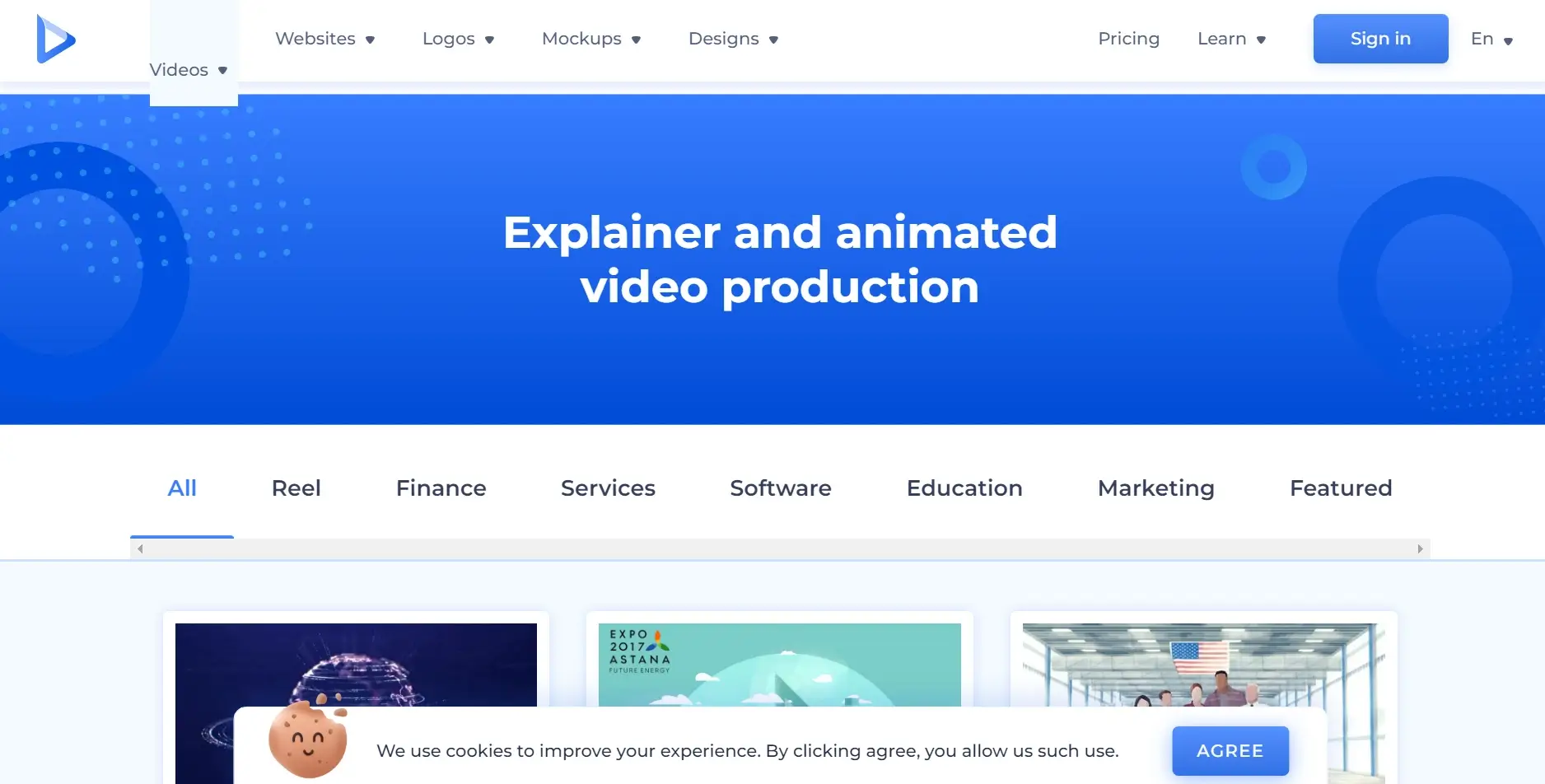 Renderforest is a video editing application that may help you create some incredible TikTok videos. It is a video editing tool that is utilized by some of the world's most well-known organizations as well.
Renderforest is an all-in-one branding tool that allows users to create movies, logos, mockups, and websites all in one location. Make slideshows, advertising animations, music visualizations, logo animations, and other video kinds quickly and easily.
Platforms
This application is available online on the web.
Price (Monthly)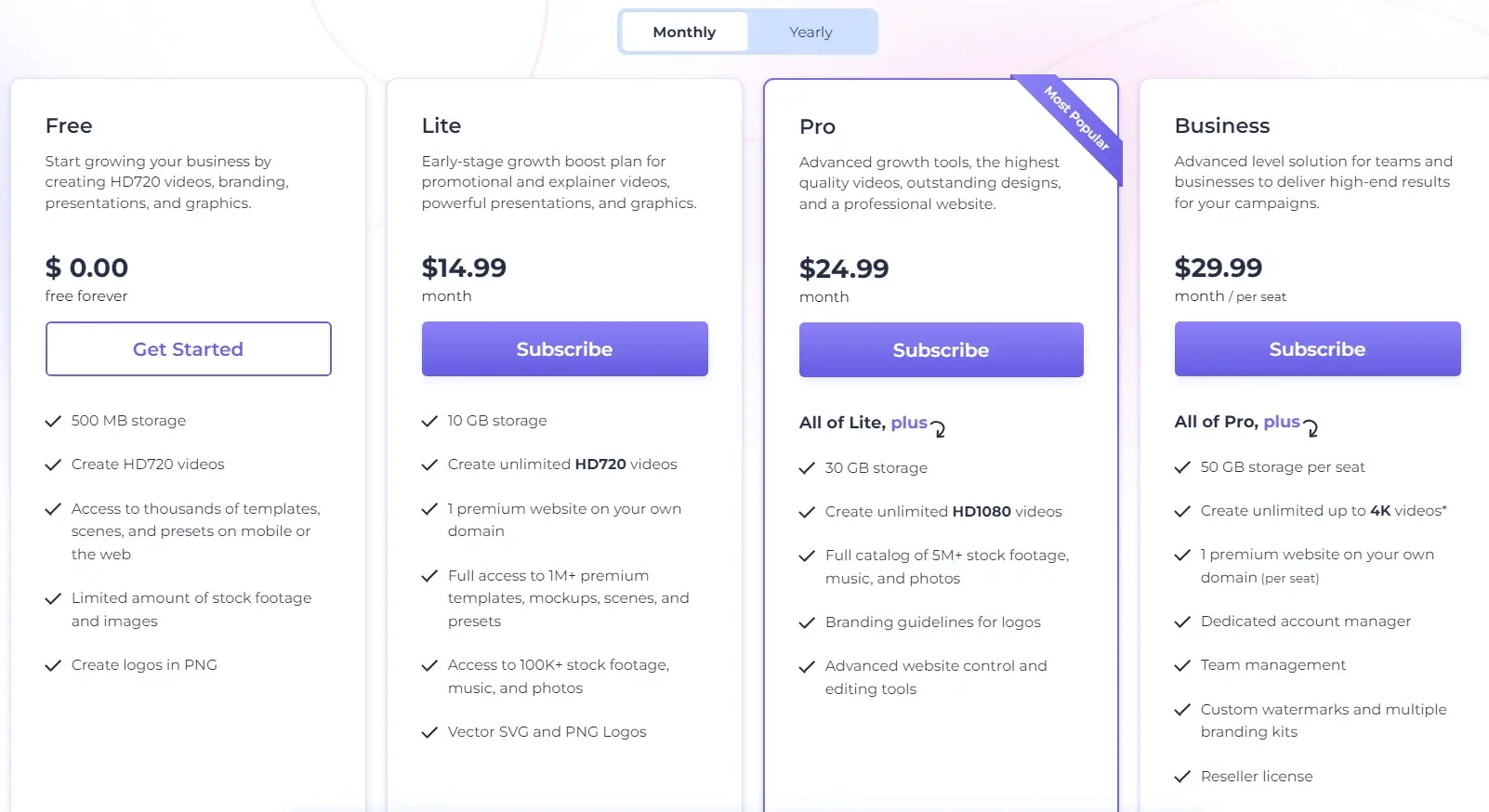 Price (Yearly)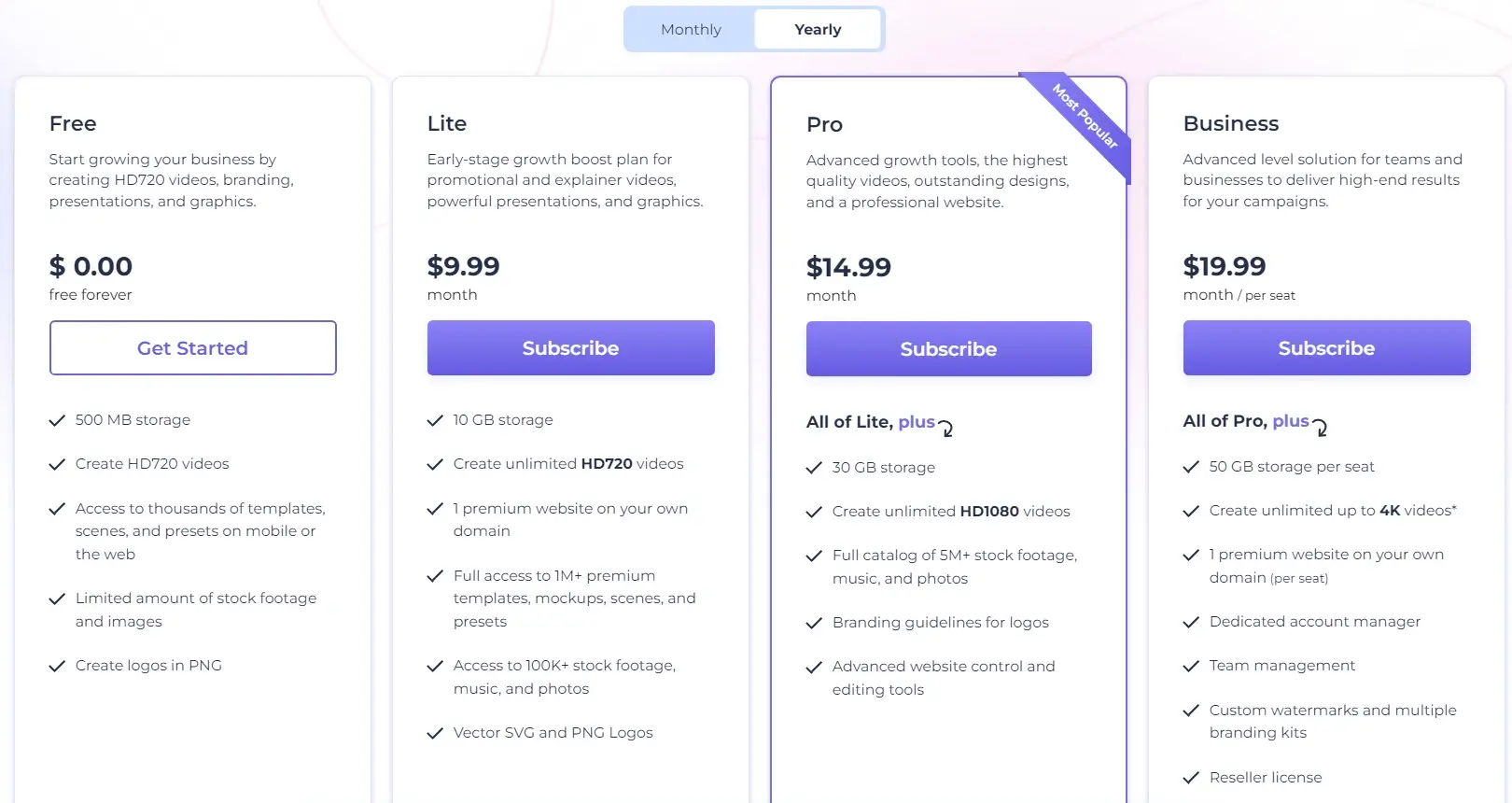 Free to use for basic editing
$59 per month for the amateur version
$119per month for the pro version
$299per month for the enterprise version
Main Features
It provides the following features to its users.
A simple typographic package that helps your TikTok video stand out.
Unique animation effects and modern feel transitions.
The user interface is simple.
Depending upon the category of the video you are creating, you can opt for many visual templates.
Animotica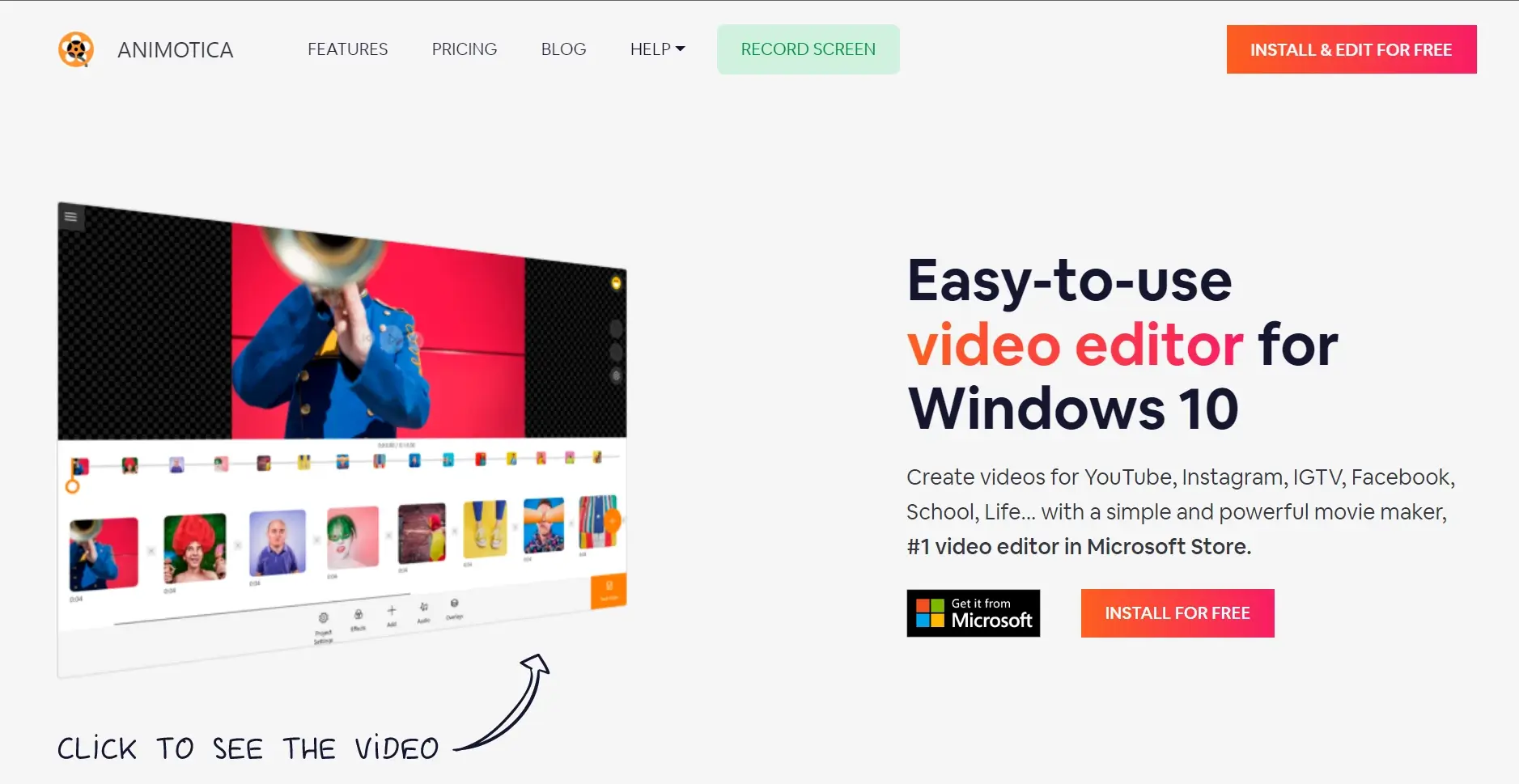 Animotica is a feature-rich, user-friendly video editor that allows you to make entertaining films for any occasion. It's fantastic to be able to edit and chop films and photographs together, as well as create your slides inside your video with the help of this application.
Platforms
It is supported by both Windows and Mac.
Price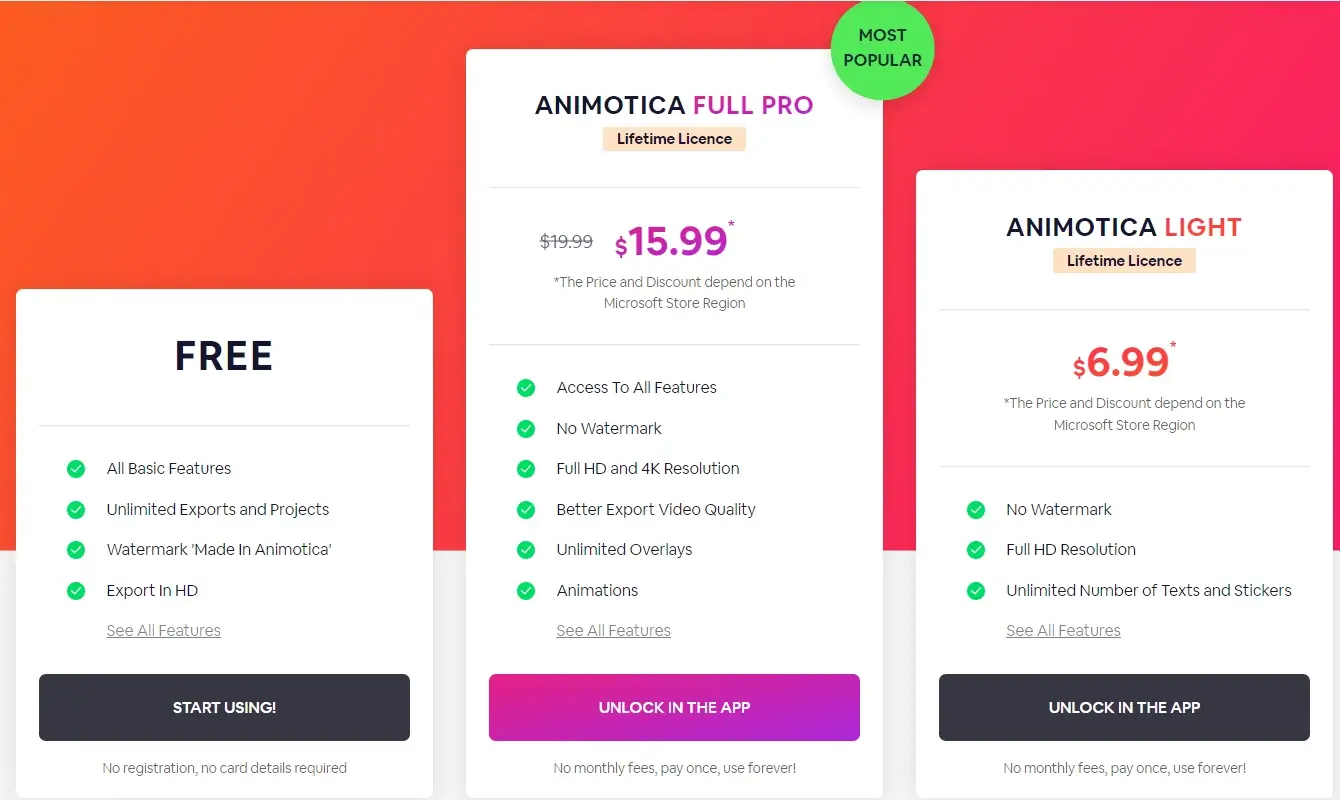 Main Features
In addition, some of the main features of Animotica are enlisted below.
You may quickly cut the video, combine multiple videos, add various overlays such as text and music, and apply a few effects.
It can edit and slice videos and photographs together, as well as help you to create your slides inside your video.
You can voiceover your video as well
Has a lot of video editing options and effects as well.
What Are The Benefits OF TikTok Video Editing Apps On PC
Some of the advantages of using third-party apps to edit your TikTok videos are listed below.
With the help of a video editing app, you can create great videos that help you to gain a lot of followers on TikTok and increase your popularity.
This application can help you save a lot of time as video editing is easy and more efficient than using TikTok's in-built features.
It can increase your productivity.
High chances of gaining a career in the film industry as you can edit for their movies if you are professional at it.
You can gain a whole new experience with video editing and can increase your interest in it after gaining the outputs that you want.
Frequently Asked Questions (FAQs)
Some of the frequently asked questions related to editing applications available on your PC are enlisted below.
Is It Better To Edit TikToks On The Computer?
Yes, it can be better to edit TikTok from your computer as it can open a wide range of options to make your video look amazing as well as you will have control over your videos.
What Are The Best Editing App For TikTok?
Filmora, PowerDirector, VEED, PowerDirector, CapCut, and Inshot are the best editing apps for TikTok.
How To Make A TikTok Transition?
You can quickly make a transition on TikTok with your phone camera by recording yourself in the first phase, then pausing by releasing the red record icon, and then recording the last segment in another location. T
Can You Upload TikTok From PC?
Of course, you can simply download the TikTok app on your PC or just open it on the web and login into your account and post your TikTok video.
How Do I Download TikTok App On PC?
You can just go to the chrome store and download the extension to the chrome or you can also directly download the TikTok App itself.
Can You Make TikToks On A Laptop?
You can't use your laptop to make the video as the TikTok application is only available on smartphones. Although, you can use the web TikTok and can log into your account and surf through it easily.
How Do You Make An AMV On PC?
Simply, you can use Windows Movie Maker, iMovie, or other editing software to make an animated music video with great details to make it eyecatching on your PC.
How To Make Your TikTok Quality Better?
To improve TikTok video quality, select the highest video quality manually before recording. You can select 1080p video quality and 30 frames per second or higher for maximum TikTok video quality.
To know more about enhancing your video quality, read; How To Make Your TikTok Quality Better
Conclusion
To conclude, TikTok is very popular among people and they are engaging in editing applications more and more. Hence, the video editing tools are like a paintbrush, videos are like paints, and you are the artist.
Thus, the quality of the painted canvas (that is edited videos) is decided by the artist's skills(that is your ability to edit the video).
In general, the TikTok editing apps for PC mentioned above have all the features to make your video look extraordinary so it can stand out in the crowd and attract a lot of viewers. You can use any of the video editing apps enlisted above to create your TikTok video the way you want.
Henceforth, if you are a PC user and want to take your videos to the next level, we hope that our advice will encourage and assist you in producing amazing TikTok videos in the future.
Also read: How To Edit TikTok Video Thumbnail [Step-By-Step Process]
Thank You.