TikTok is a popular app where millions of users create videos, share them, and try to communicate with others on a new platform. Consider using one of these best TikTok editing apps for Android to add filters, stickers, and other features to your videos. If you're looking for some of the best TikTok editing applications for Android, check out the following article.
Answer: To make your TikTok videos more appealing to the public, people are increasingly using TikTok editing apps like CapCut, InShot, Video Leap, VN Video Editor, Magisto, Lomotif, Zoomerang, Funimate, Vizmato, and Quik, which are considered the best editing apps by the android users. TikTok editing tools let you improve and define your videos from hundreds of others by adding effects, stickers, custom edits, and other elements.
So, below in this article, we have listed some of the best TikTok editing apps for Android users where you can instantly edit your TikTok video to make it look more enhancing and eye-catching to your followers. If you want to know more about the apps, have a good read below!
How To Use TikTok In-Built Video Editing Tools?
Although the built-in video editing features on TikTok are quite simple, that doesn't mean they couldn't be used to edit the 15–60 second videos you can create on the app. Most people prefer to edit their videos from the TikTok app itself.
To create and edit a video by using TikTok's built-in editing tools, follow the below step-to-step guide.
Step 1: Open The TikTok App
Firstly, open the TikTok app in your device.
Step 2: Tap On Create
As soon as you open the app, you can see an "+" icon at the bottom of your home screen. Tap on it.
Step 3: Choose The Preferred Sound 
Then choose the sound that you're going to make a video in. The sound option will be available at the top center of your screen.
Step 4: Click On Record
Hold the record button to record yourself or the things that you want to put in your video. 
Step 5: Use TikTok In-Built TikTok Tools
After recording your video, it's time to edit your video. Use the tools available on the right side of your screen. You can use those tools according to your preference.
For the majority of TikTok users, being able to trim a video's duration and alter the volume of the original video sound or soundtrack is sufficient for their video. 
Also, you can edit your already recorded video or clicked images with the help of built-in TikTok video editing tools. You just have to click the upload button situated at the bottom right corner of the video recording section and start editing your video or photos.
If you want to edit the TikTok videos on PC, we have written an article about 'Best TikTok Editing Apps For PC". Also for starters on TikTok, we have prepared a guide on How To Edit TikTok videos.
Top 11 Best TikTok Editing Apps For Android
Of course, the TikTok application itself has a built-in editor that lets you add final touches to your content. For example, you can add some animation effects, but the built-in editor can only be considered secondary processing.
Below are the names of the top trending and best TikTok editing apps for Android users, which are very convenient to use and can take your video editing skills to the next level.
InShot
PowerDirector
CapCut
VN Video Editor
Lomotif
Quik
Magisto
Zoomerang
Funimate
Video Leap
Vizmato
Below in this article, you can get to know about editing apps in detail that android users can use on their smartphones.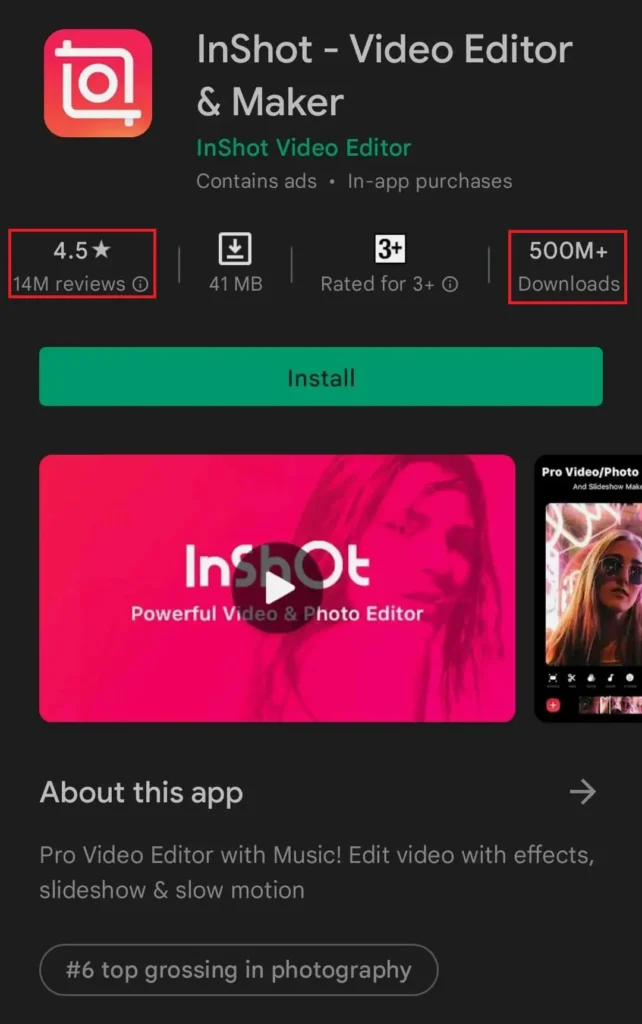 Price
Free to do basic editing
In-app purchase ranges from $0.99-$29.99 per item
System Requirement
Android 6.0 and Higher
InShot is also a widely used and loved free video editing application available in the Google PlayStore with a 4.5-stars rating. It also has a monthly subscription of $ 2.99 for those who want to acquire premium facilities.
It is more powerful than TikTok's built-in editing software for handling simple cut and trim functions and is very easy to use. Hence, you can effortlessly sync your expressions, quotations, and animation effects stickers with your TikTok video, making it more vibrant and humorous.
Pros
Can create basic as well as super transitions in your video
You can change your video speed from 0.2x up to 100x.
You can make your video size of 4:3 or 6:19 suitable for TikTok
It has a lot of animation text and stickers.
You can add sound effects, music, and voice overlays.
Cons
For quick and easy video editing, InShot is fantastic. This is not for you if you're looking for anything special.
Only one track timeline is available. Adding multiple videos and soundtracks at the same time is not possible.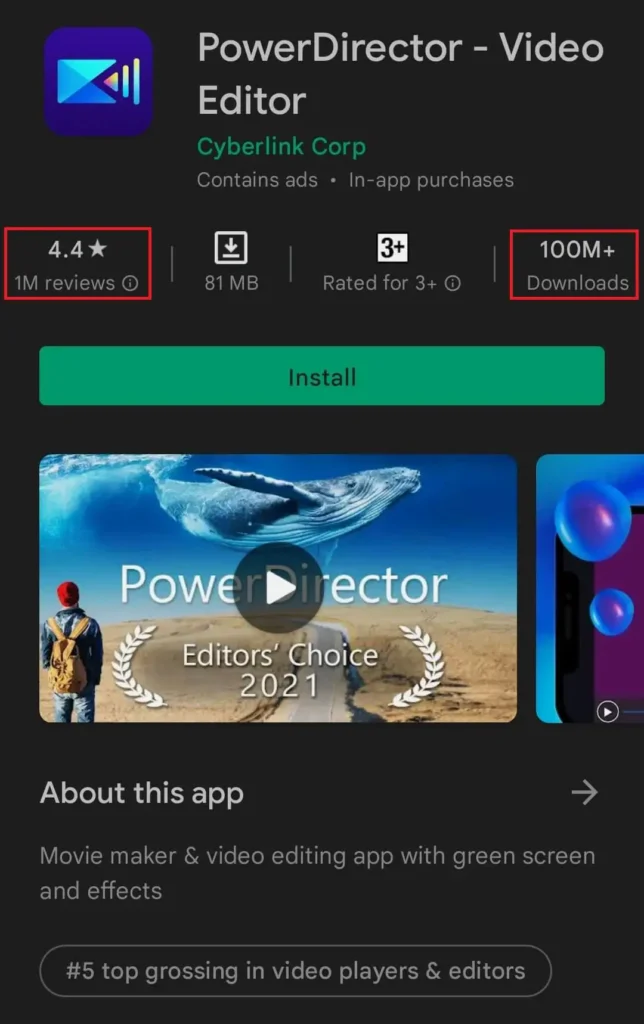 Price
Free for basic editing
In-app purchases require $0.99 – $249.99 per item
System Requirements
Android 5.0 and Higher
A free movie maker and video editing app with a green screen and effects, available to android users at Google PlayStore and has a rating of 4.4stars.
Likewise, speed adjustment, keyframe controls for transparency and placement, animated text and titles, and video stabilization are just a few of the easy-to-use editing capabilities included in PowerDirector.
Pros
Supports editing and exporting videos up to 4K resolution.
Lots of audio effects, including a voice changer
Makes stunning double exposure effects with video overlays and bending modes.
Can fix video motion footage with a video stabilizer.
Using chroma-key, you can replace the background with a green screen editor.
Cons
It's quite annoying when there are too many ads urging consumers to upgrade.
The app provides poor color matching
Watermark appears in the first five seconds of the video.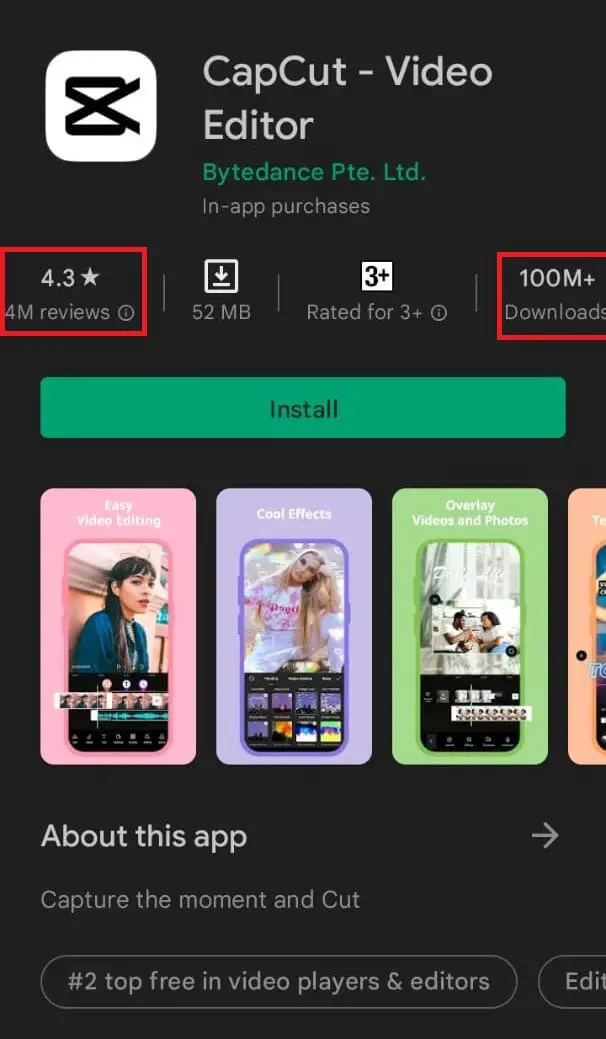 Price
Free to perform basic editing.
In-app purchase charges are $0.99-$59.99 per item.
Requirement
Android 5.0 and Higher
It is a 100% free video editing app available on Google PlayStore with 4.5 stars. This app pairs perfectly with TikTok, packed with lots of advanced features. The developer of TikTok ByteDance released it.
While cutting and trimming are the app's main functions, they include masking, chroma-key, animation, and speed curve. You may also access a large range of enticing stickers, filters, and text effects.
On the other hand, if your target is keyframing a video/text/effect, altering the color of your video, adding elements in irregular shapes, or anything else, the CapCut is just the application for you.
Pros
It has got hundreds of filters and stickers and 30 animations options
Easy to use tools like adjusting speed, splitting, trimming, cropping, rotating videos, and many more
You can extract sounds online, available on your device, or even from the videos saved on your device.
You can also utilize the customized curve to create the ramping effect.
Have a lot of fun while editing with the mask and chroma key feature.
Cons
Important editing features are not available.
Not a comprehensive tool for editing videos.
The app is limited by your device.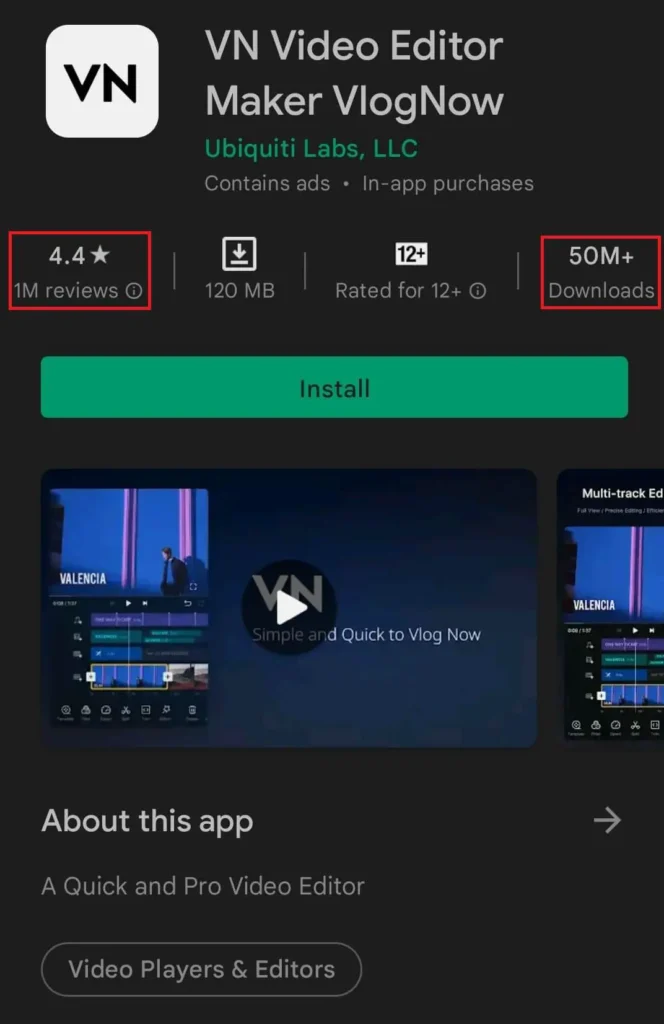 Price
Free for basic editing
In-app purchase requires $9.99-$69.99 per item
System Requirement
Android 5.0 and higher
It is a completely free TikTok video editing app available in the Google PlayStore and has a rating of 4.4stars. In addition, this app won't add any watermark to your video and won't pop any ads.
You may utilize the curve to generate variable speed effects in addition to adjusting the video playing speed by changing the speed value. So, if you want to make unboxings, sports, or game videos, VN Video Editor is the tool for you.
Pros
It has more than 20 transitions and 60 filters.
Provides multiple timelines layers for music, stickers, subtitle, and video.
Green screen, Keyframe animation, and masks are the advanced toolkits this app provides.
Also supports online theme templates.
Can export 4K 60FPS videos.
Cons
Standard pictures and visuals for things like social icons are not available in VN Video Editor.
Keyframes are useful, but they don't add them as smoothly as they do in Premiere or After Effects.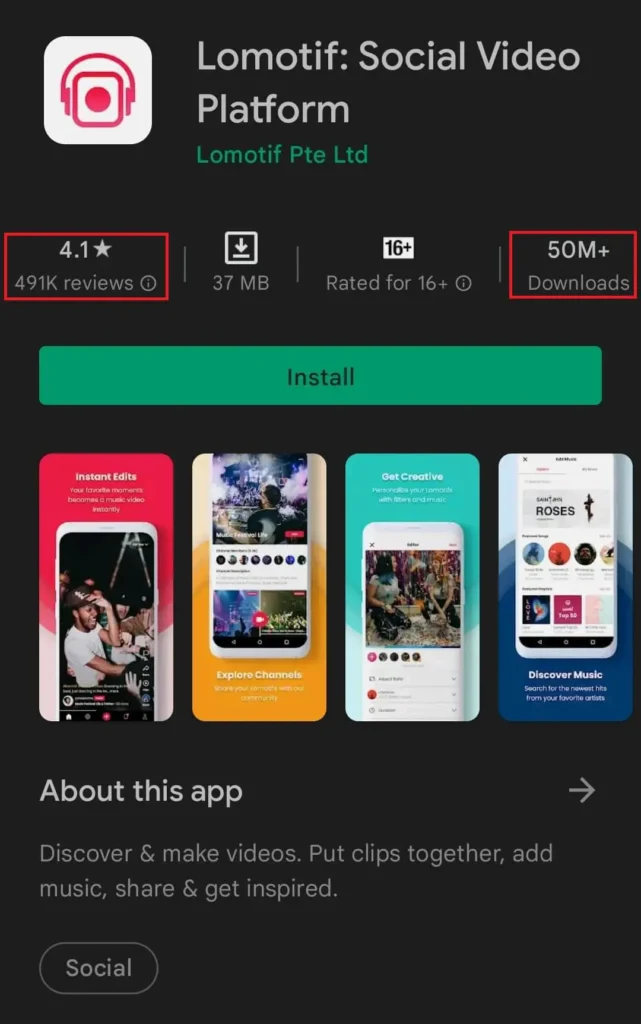 Price
Free
System Requirement
Android  5.0 and higher
One of the quick video editing apps available in Google PlayStore with a 4.1stars rating. It inspires the user to edit because it never lets you get bored with many features and can complete your tasks within minutes.
You may search for videos that address your interests by utilizing hashtags or typing into the search box available in the application.
Pros
It contains millions of different music tracks for you to add to your video as background music.
You can easily crop your videos for special social platforms.
Lomotif also makes a slideshow of your pictures from your gallery by adding music to it.
This app adds cinematic effects to your video.
Cons
Although it's an open forum for expression, some of the content can be inappropriate for children or younger teenagers.
Furthermore, there are no obvious means to report offensive or worrying content.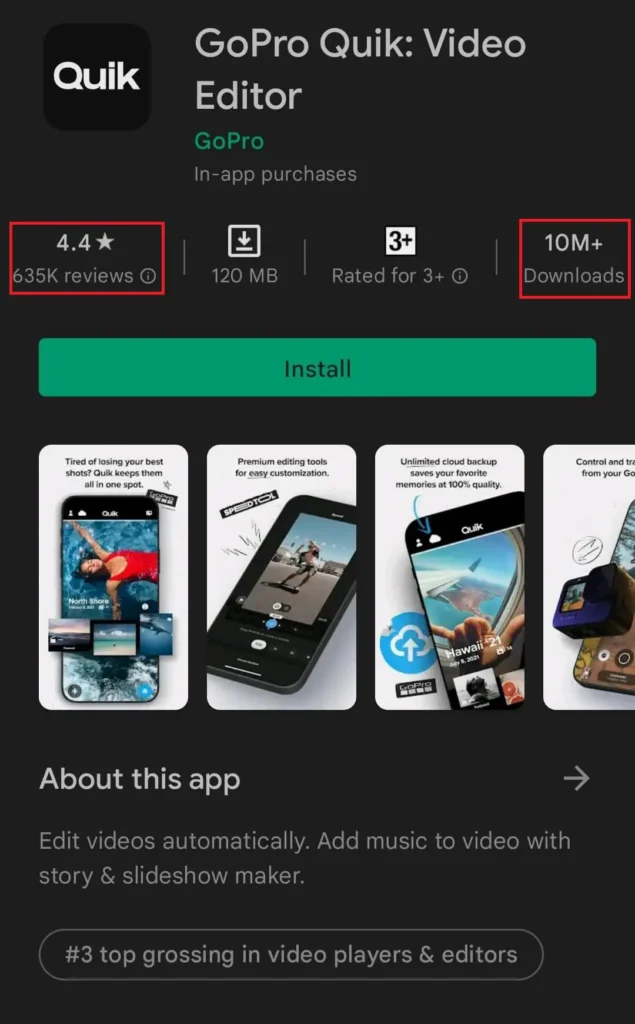 Price
Free
In-app purchase requires $1.99-$49.99 per item
System Requirement
Android 4.4 or higher / Varies with device
Quik is a free application available in Google Playstore with a 4.3stars rating that can edit your videos automatically. In addition, because the software is compatible with GoPro cameras and other digital cameras, you may generate unique content while shooting with them. For example, it can sum up all the latest events you have filmed in the past few days.
Pros
There are about 23 different styles in the collection, designed and personalized for you to edit your videos.
Transitions, effects, and even sound synchronization to the footage are all simple to implement.
It can smart crop and use geo marks.
You only need to adjust the frame location, replace certain regions, or complement your video by hand.
Cons
This app does not support long-form videos since all videos must be under 60 seconds.
You cannot adjust font styles
You cannot record from the app.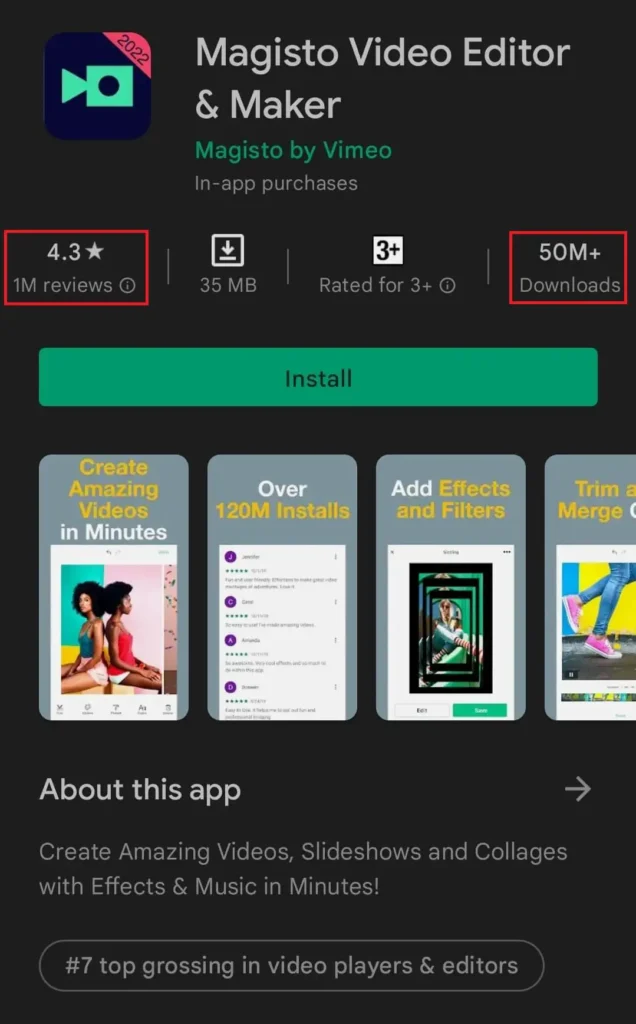 Price
Free with ads
In-app purchase ranges from $0.99-$200 per item
System Requirement
Android 6.0 or higher
Magisto is one of the smart editing apps available in the Google PlayStore with about 4.3 stars rating. It is one of the apps where all the tools are available to edit your video.
This application is based on AI(Artificial Intelligence), making your editing semi-automatic. In addition, Magisto lets users choose the style they want to work in.
Pros
It helps create amazing videos, slideshows, and collages with effects and music in minutes.
Magisto includes licensed track songs for you to use for your background music.
This app can even collect photos and videos from your device and create a montage.
Magisto combines videos, photographs, effects, and text overlays to allow you to create a complete story-based video in less than 60 seconds.
Cons
It doesn't allow significantly longer videos (about 20-30) minutes. It only focuses on shorter videos
Many templates are only available in the Pro version. And those templates are $59.99 which is very expensive.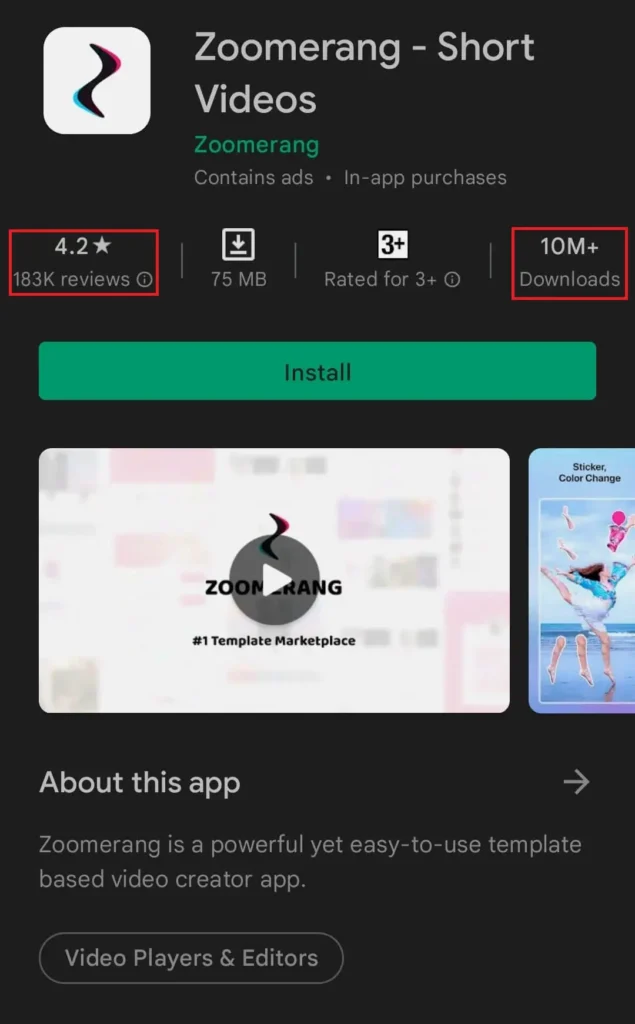 Price
Free for basic editing
In-app purchase ranges from $1.99-$99.99 per item
System Requirement
Android 5.0 and Higher
It is one of the most powerful yet easy-to-use template-based video-creating apps available on Google PlayStore with a rating of 4.2stars. To start with, it also provides a step-by-step tutorial on how to use the app for beginners.
Hence, you can produce and distribute innovative and trendy videos on all short-form video platforms with only a few clicks with the app's all-in-one video creation studio.
Pros
There are built-in functions like background music and special effects.
It can predict possible effects based on the music you have selected.
It has filters like Aesthetic, Retro, Style, B&M, and more to make your video look fantastic.
Zoomerang helps children learn basic editing as per their age as it is very easy to use.
Cons
Too many ads.
It is simple to edit and remove brief moments from context by taking screenshots of certain sections of a video. This method is frequently used in cyberbullying.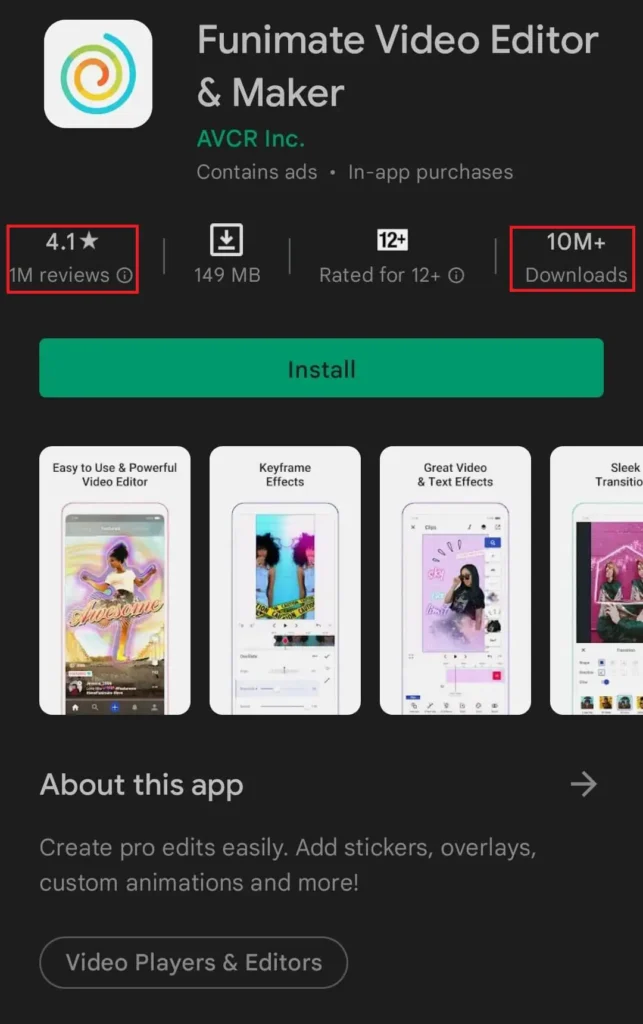 Price
Free but contains ads.
In-app purchase ranges from $1.49-$69.99 per item
System Requirement
Android 5.0 or Higher
It helps you create instant pro edits for your video and is very easy to use. It is available for Android users in the Google PlayStore with a 4.0stars rating. In addition, Funimate is listed as one of the specialized applications for TikTok clips. So, you can make amazing videos with never-before-seen real-time effects and transitions thanks to its patent-pending technology.
Pros
It offers a wide spectrum of visual effects.
To attract viewers, you can sum up text to your main video, emojis, and various effects.
Users can get up and start editing with the assistance of a tutorial collection. In addition, the developer hosts themed contests in which users may submit videos for a chance to win prizes such as cameras and lighting equipment.
You do not need to have special skills to edit your video with a high-quality result.
Cons
Only available in the English version.
The user must be older than 13 in order to create an account for the app.
For efficient downloading, 36 MB of free space in your device is needed.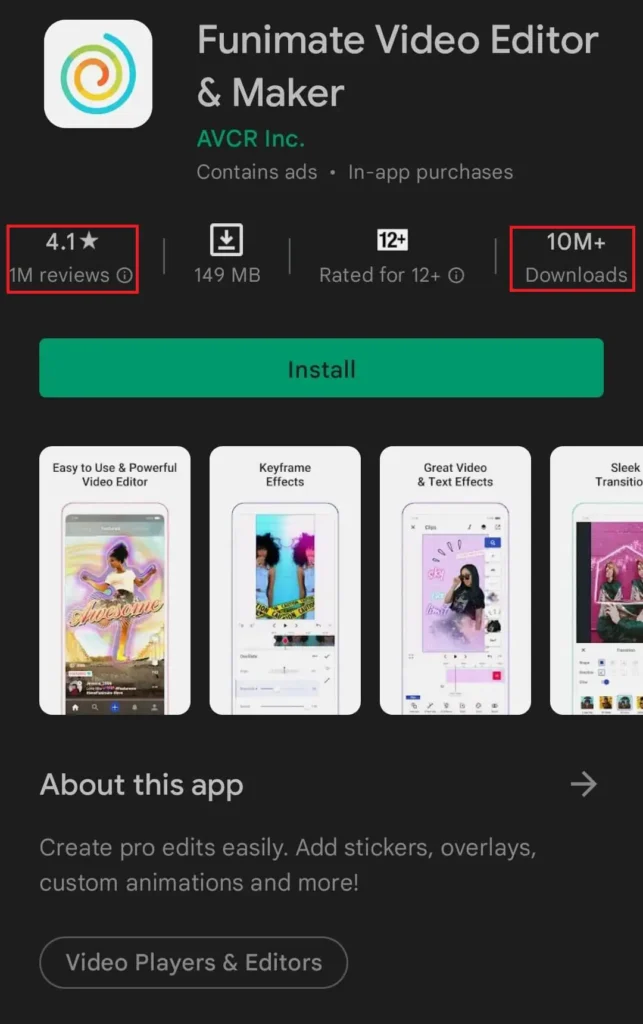 Price
Free for basic video editing
In-app purchase requires $7.99-$84.00 per item
System Requirement
Android 8.0 and higher
This application is also free and available easily on the Google PlayStore with a rating of 4.4 stars, and it also has an annual premium facility which costs $35.99. Video Leap is a beginner-based TikTok editing app for creating awesome 4K 60FPS videos, which means it can take your video to another extent.
VideoLeap provides everything you need to generate an eye-catching Hollywood-level TikTok video, from creating a theatrical transition to keyframing a filter to applying many special effects and modifying the video background.
Pros
You can create a double exposure effect by using blending and masking modes.
There are 100+ sound, video effects, and presets for equalizing presets inside the app.
You can add flawless and natural transitions to your video.
With chroma key composition, you may replace or delete the background of your video.
Contains basic tools to trim, cut, merge, rotate, and crop videos.
Cons
Do not upgrade VideoLeap if you are not a subscriber since the most recent version has a 1:30 minute time limit for free users.
Price
Free for basic editing
In-app purchase require $0.99 – $49.99 per item
System Requirement
Android 4.4 and Higher
This app is available in the Google PlayStore with a 4.6stars rating. In addition, Vizmato has a community of video content creators from whom you can grasp different ideas for editing your video and get along with them.
Pros
You can use the voice modulation feature, which is fun to do
There are a lot of customizable video themes
According to your music preference, you can record yourself and lip-sync
You can record yourself with the effects available to create a video.
Cons
Lags sometimes.
Difficulty in saving your video as it shows errors a few times.
Needs an internet connection to edit videos.
Along with TikTok videos, the thumbnails are also an important part of the content. If you want to know how to edit the TikTok video Thumbnail, refer to this article.
Frequently Asked Questions (FAQs)
So here are some of the frequently asked questions related to the best editing application for Android.
Are VN And CapCut The Same?
CapCut, like VN Video Editor, lets you modify the video speed smoothly by moving the curve and adding speed overhaul effects quickly by using the speed curve preset. But CapCut can easily be downloaded over windows, unlike VN.
How Do You Make A TikTok Video Template?
Canva can help you improve your TikTok video. In addition, Canva provides you the extra benefit of more customized TikTok templates to help you appear beautiful instead of producing directly from the app. Therefore, Canva can be a better option for creating templates.
How Do I Make My TikTok Look Professional?
Different factors can make your TikTok look professional. Camera quality, your surroundings, the scenarios you present in your video, your clothing style, etc. The types of edits you put in your videos are also the major factors that can help your TikTok video look perfect and professional.
How Do I Combine Videos On My iPhone?
Apple's free iMovie program may assemble films into a single video clip on your iPhone. Hence, you may use iMovie on your iPhone to mix numerous recordings, add transitions, and export your final video.
Is There An App To Improve Video Quality?
There may be situations when you want a video quality booster when traveling. PowerDirector is one of the greatest apps available for Android devices. It has over 100 million downloads and a Google Play Store Editor's Choice award. But, of course, you can also use other editing software to improve your video quality.
Above are some of the frequently asked questions related to video editing apps for TikTok for Android users, which can also be useful for you.
Also Read: How To Delete Stories On TikTok [2022]
Conclusion
In conclusion, the TikTok app is trending day by day in today's world of technologies, and competition has been increasing enormously. So, the video creators need to make their content interesting and flawless to their viewers.
Moreover, different video editing software is being developed rapidly with many features, whether you are editing your videos from your PC, Android, or iOS devices.
Thus, the article above has focused on editing TikTok videos for android users. Above all, we hope that this article helps you choose an app according to your requirements for editing.
Thank You For Reading The Article.