Do you know how to add a signature in Outlook? On the first day of my office, my boss told me to send a message with my signature, which made me ashamed because I did not know how to add a signature in Outlook. The very next day, I did researches in Outlook, which was about how can I add one in my email. It was easy to operate, and I was successful to send a message with my signature to my boss. So, I have presented it in my own words to make you understand. I hope you will like my article. 
 A signature is a handwritten depiction of someone's name or nickname that a person writes on documents as a proof of identity and intent. Likewise, adding a signature in a mail means adding information about the person or a company at the end of the message. There are some steps you need to follow to create/add a signature in your Outlook. Open Email Message> Signature> New Signature> Choose Default Signature> OK. 
Talking about outlook.com, Outlook is a web-based webmail service own by Microsoft Company. The Outlook is one of the world's first webmail services, which was founded by Sabeer Bhatia and Jack Smith in 1996 as Hotmail. Signature in Outlook is necessary because it identifies and is proof of the message you send. In Outlook, you can create one or more personalized signatures for your email messages.
So, let us get in the steps thoroughly how to add a signature in Outlook Account.
Steps to Add Signature in Outlook Through Outlook Application?
Steps are easier to understand compared to paragraphs. So, I have mentioned it in steps for window application users.
 Step1: Go to Start, search outlook.
In your window, go to Start and type Outlook and click it to open.
Step2: Under the Home tab, click New Email.
After you open Outlook you will see a home tab selected as default. Now, select New Email under Home Tab.
Step3: Select Signature> Signatures
After you open a new message, go to the signature drop-down menu from the navigation bar, and select Signatures. Depending on the size and whether you are composing a new email message or a reply or forward signature option varies. Click signatures; you will see a new box.
Step4: E-mail Signature
Under Edit signature, you can compose your signature changing fonts, font colors, size, and text alignment. You can also copy/paste or download templates in word and customize them and paste them into the Edit Signature box. You can also add links, images, and social media icons to your e-mail signature.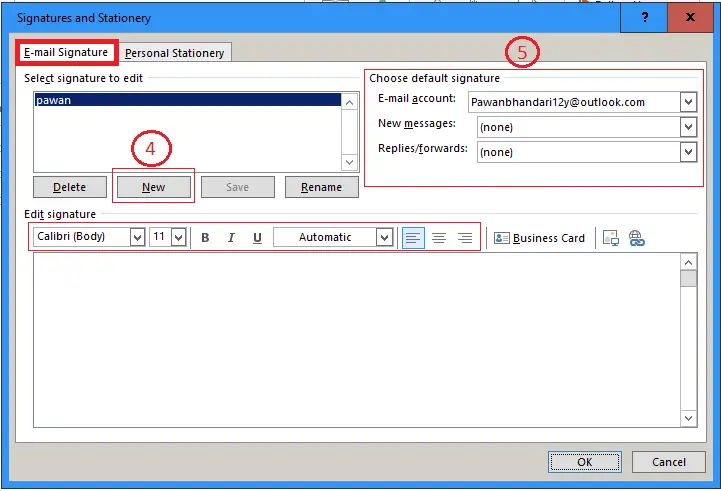 Click on New to add a new signature and give a name or a nickname.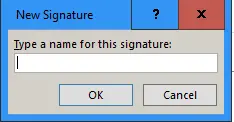 Step5: Choose Default Signature under E-mail Signature
In the Choose default signature section, specify which email account should get the signature (applies if you use more than one email account), whether, add it to new messages or replies/forwards.

Step6: To check if the signature works or not
Follow till Step3; the signature should already be there if your previous signature is successfully added.
Congratulations! You have successfully added a signature in Outlook.
Related article:
Add a Signature in Gmail Account
Add a Signature in Yahoo Mail Account
Add a Signature in AOL account
Conclusion
Many people face the problem while adding a signature in outlook. And now simply, you can add a signature or reuse signature in your Outlook by following steps I have mention above. I hope you can follow the following steps easily.
Thank you for reading my article; if this article was helpful, you could share it with your friend. For more guides and tips, you can visit our site onlinehelpguide.com.