144hz monitors are growing in number these days, especially for gamers. Having a 144hz monitor isn't enough to display your content at 1080p or 1440p at its full potential. The cable used for displaying plays a major role in delivering the monitor's full potential. 144hz monitors have few inputs to choose from like DisplayPort, HDMI, Dual-link DVI, and also the recent Type-C cables are capable of supporting 144hz.
144hz is a very demanding refresh rate and not many cables can handle such hertz. Yes, it depends on the monitor for most of the part but when it comes to cables it's no less. Choosing the right cable which actually supports 144hz is necessary. DisplayPort, HDMI, and Dual-Link DVI are some cables that can run 144hz at 1080p or even at 1440p.
What Is Refresh Rate?
Refresh rate measures how often or how fast your display updates its screen contents. Refresh rates are measured in Hertz (Hz), which indicates the number of times the display refreshes every second. This is quite relevant to Frame rates as 60hz display means the max frames you can obtain is 60 so 60hz is equal to 60 times per second likewise 144hz is equal to 144 times per second.
The higher the refresh rate the faster and smoother your monitor will be and the user experience is increased with the increasing hertz. Faster refresh time also means low latency as the pixel on the monitor is being updated more frequently. For instance, for a 60hz monitor, it takes 16.6ms to fully refresh whereas 11.1ms for a 90hz display. This means quicker transactions, low latency, and an overall smooth experience.
1080p vs 1440p Resolution
The 1440p resolution will bring a clear picture but requires a different cable than 1080p as it is a slightly better resolution. For 1080p, you'll need either a DisplayPort, Dual-link DVI, or HDMI1.4 or higher to be able to support 144hz at its full potential, whereas for 1440p you'll require, DisplayPort 1.2, or HDMI 2.0 or higher to be able to support 144hz at its finest. Both these resolutions have their own pros and cons.
While one requires a standard cable the other requires a slightly better cable but better performance.
What Cables Support 144hz?
Having a 144hz monitor doesn't necessarily mean you'll enjoy the full 144hz without proper cable. The cables that are used to output the result play a vital role in providing clear images with a full 144hz. Displaying the same content in 1080p with 144hz can be different from displaying 1440p content as it requires different cables. This is because displaying 1440p content in 144hz is a very demanding task and only certain cables support this feature.
Does VGA Support 144hz?
The cables that we see on old monitors are the VGA cables. These cables cannot provide 144hz as the newer graphics card that we see today doesn't come with these ports. Instead, they'll have HDMI or some other ports. VGA cables are only capable of supporting 60hz with a resolution of 640*480 and these won't be able to provide 144hz. These cables by not any means are worse, you can still use them for multi-monitor setup or simply just to display on a different platform.
Does DVI connector Support 144hz?
DVI (Digital Virtual Interface), is the most common cable that you'll see most people using. There are many DVI cables but the one that supports 144hz is the Dual-link DVI cable. This is the cable that can give you 144hz at 1080p resolution. Yes, it can run 144hz but only if you wish to use 1080p resolution, if you wish to bump up the resolution to 1440p you'll be stuck at 75hz as this cable doesn't support 1440p resolution.
Does DisplayPort Support 144hz?
DisplayPort is one of the famous and mostly used and is featured in most of the gaming monitors. You can easily run 144hz with this cable and in 1440p as well. One important thing to note about DisplayPort is the type of connectors at the end of each cable. The standard DisplayPort and the Mini DisplayPort.
The standard DisplayPort is commonly used in PC and is almost as the size of a USB connector whereas the Mini DisplayPort is used in Apple products such as mac or any other notebooks.
Does HDMI Support 144hz?
HDMI (High-Definition Media Interface) is a port that you'll find in most of the products. This is also famous and is being used on all platforms such as TV, monitors, laptops, and graphics cards. There are different types of cable and not all of them are capable of handling 144hz. The HDMI 1.4 or higher can candle 144hz at 1080p anything lower cannot handle 144hz.
One thing to consider while buying these cables is the monitor bandwidth as there are certain monitors that have limited bandwidth. Even if a monitor supports 144hz due to the limited bandwidth on HDMI 1.4 it'll just limit to 120hz.
Type Of Cables And Differences
VGA
VGA (Video Graphics Array) is a standard cable for video output used in old computers. It is a 15 pin connector which is used to display the output on a computer or other platforms. VGA is used most commonly on old computers and is only capable of 60hz.
HDMI
HDMI unlike VGA is a digital interface used to transmit audio as well as video through a single cable. It is supported by modern equipment like the latest monitors and tv. This being a digital connection, there is less chance of signal noise, therefore, providing excellent quality pictures and audio than other connections.
Dual-link DVI
The Dual-link DVI is used to transmit uncompressed digital video. It can handle resolutions up to 2048*1536 at 60hz. Each of the links has three data channels for the RGB data and can support up to 165mhz which is equivalent to 165 million pixels per second.
DisplayPort
DisplayPort like HDMI is a cable that sends video and audio data through a single cable. It consists of 20 pins which are fitted into an L shape connector. While the HDMI cables are commonly seen in computers, laptops, and graphics cards today. The DisplayPort is seen on high-end devices or graphics cards such as Nvidia's RTX 2000 series or AMD's RX 5700 Cards.
Does the Type Of Cable Matter?
For a normal user, who doesn't want a higher refresh rate a normal cable will do its job. But if you want your titles to run smoothly and that extra frame matters to you, definitely a good display cable is recommended. It is not just the cables that you should be looking at, the monitor or any other platform that you're trying to use the cables with should be supported.
Displaying 1080p content at a refresh rate of 144hz is a very demanding thing so in order to achieve that you'll either need a Dual-link DVI cable or a DisplayPort as these standards support high resolution and at a higher refresh rate. While we talk about the output it needs to handle more than 20gbps of data for a good quality video, you need to make sure you have a good cable to do it with ease.
Best Cables For 144hz Monitor And Why?
Reduced bit rate, high bit rate, and high bit rate 2 is supported by DisplayPort which is capable of running 4k at 60hz and 144hz on a lower resolution smoothly so it is best suited for 144hz monitor. If you are willing to spend much and want the best cable for a high refresh rate, DisplayPort is the one which you should go for. The below mentioned are the list of the top best cables for 144hz.
Capshi
Capshi is a display port cable that supports 144hz at 1440p with 5.1 and 7.1 digital audio channels. It also comes with a nylon braided design which adds to the durability and sustainability of the cable.
LEIRUI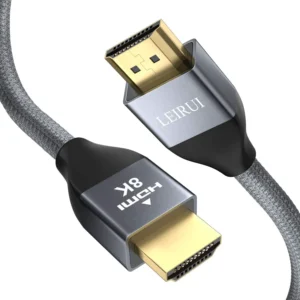 LEIRUI is also a display port cable that supports 144hz at 1440p with the stable and speedy transmission of data that can connect computer devices to various displays and can be used on different platforms.
IVANKY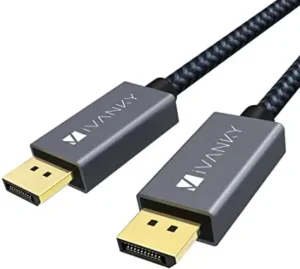 IVANKY is a well-known brand that delivers excellent quality and meets the standard of the 1.4 version of DisplayPorts. You can get support up to 2k resolution at 144hz and seamless audio channels of 5.1 and 7.1 as well.
Cable matters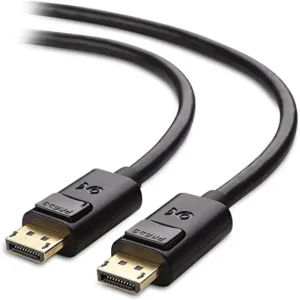 Cable matters are one of the convenient DisplayPort to DisplayPort cable that directly connects a DisplayPort (DP, DP++, DisplayPort++) equipped computer to a monitor. It also supports up to 4k resolution at 60hz and lower resolutions at 144hz. Cable matters can also process audio for 5.1, 7.1 channels. It can transmit HD video and audio with a DP port to a monitor with a DP port which is ideal for streaming.
Moread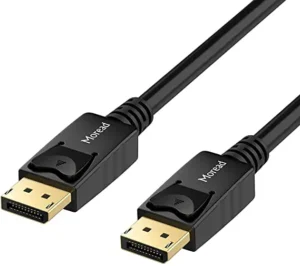 The Moread Display Port to HDMI adapter connects a desktop or laptop with Display Port (DP, DisplayPort++, DP++) port to a monitor, display, projector, or HDTV with a resolution that supports up to 4k at 60hz and 1440p at 144hz with 5.1 and 7.1 audio channels.
Club3D CAC-2068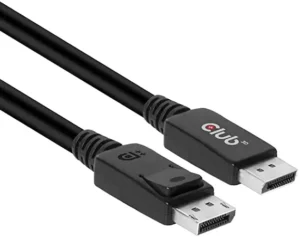 Club 3D DisplayPort 1. 4 cable feature support for high-bandwidth HBR3, 32. 4 Gaps bandwidth, DSC 1. 2 display stream compressions support, high Dynamic Range(HDR) videos with a resolution of 8k at 60hz and 4k at 144hz which other cables couldn't support. The high-end graphics card and monitors tend to utilize the CLub3D DisplayPort 1.4.
AKKKGOO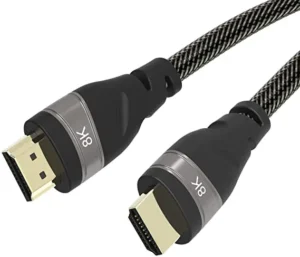 AKKKGOO DisplayPort 1.4 Cable is another cable that can support 8k resolution at 60hz and 4k at 144hz. The transmission speed is up to 32.4Gbps, This cable meets VESA Standard and supports 3D video, Dynamic HDR, and HDCP 2.2. Compatible with DisplayPort 1.2/1.3.
Also Read: How to Monitor Your CPU And GPU Temperature
Types Of Connectors
The connectors used in these cables are the size of a USB connector. It is a 20 pin single oriented connector that comes with a friction lock. Other is the mini display port which we see in Apple products this connector is also a 20 pin single oriented connector that comes with a friction lock like the standard variant.
Problems With Cheap Quality Cables
It is always better to spend a little more if you want the best out of something. By purchasing cheap cables people face numerous problems and the cables don't live up to the customer's satisfaction. Here are some problems with low-quality cables.
Limiting the refresh rate
Unable to work at full potential
Failure to display
Power up problems in the system
Screen flicker issues
Adaptors For 144hz
There are cases when your monitor won't support 144hz and for that, you might need an adaptor. The adaptors aren't bi-directional so one must pay attention, for instance, to connect your pc with an HDMI port to a monitor with a DisplayPort, you'll need a High definition multimedia interface to the DisplayPort adaptor.
Frequently Asked Questions
Do All Display Port Support 144hz?
No, to run your monitor at 144hz you'll need DisplayPort, Dual-link DVI, or HDMI 1.3 or higher cable.
Does USB Type C Support 144hz?
Yes, type C supports 144hz. You can connect your USB C end to a device that has a USB C interface and you can connect your device to a monitor to enjoy a seamless 144hz refresh rate.
How Do You Know If Your Monitor Supports 144hz?
On your pc go to settings than the system then displays after that go to advanced display settings, click on display adapter properties. Click the monitor tab, choose your monitor's advertised refresh rate from the screen refresh rate list, and click ok.
Is DisplayPort Faster Than HDMI?
The newer DisplayPort 2.0 can deliver speeds up to 77.37gbps whereas, from HDMI, the 2.1 can deliver speed up to 42.6gbps. so, DisplayPort is faster than HDMI.
Conclusion
Having known the types of ports and the cables, you can know the best type of cables for 144hz display. Though there are different types of cables that support 144hz, DisplayPort, and Dual-link DVI cables support the best 144hz. They're two of the most famous and mostly used cables and ports that can be found in the market right now.
Remember to choose the one which has better quality because after all, it's the quality and not the brand. The cheaper one's come with many cons so better to spend more and get the real deal.