We cannot hide in the past. Living in the present, facing real and virtual world threats is a necessity in 2022. That's why concerned parents need to keep a watchful eye on their young ones. While businesses need a similar solution when it comes to monitoring their employees.
So, today, for all the worried parents and employers out there, I have decided to write this article after comparing two leading spy apps in the industry: XNSPY and mSpy.
First, I will start with the XNSPY monitoring app for parents and employers. Explain everything there is to know about the app, like its compatibility, subscription fee, installation, and features.
After I'm done with that, you can read about mSpy and how it is different from its competitor, the XNSPY tracking app.
In the end, we'll be deciding on a winner; after all, you aren't planning to buy both, are you?
Let's get started then, shall we?
XNSPY Review
XNSPY is known to have laid the foundation for all other phone monitoring apps in the industry. That's why I have chosen to start with this app first. The app claims to be the best solution for monitoring anyone, may it be your kids or employees, using their smartphones.
So, what is the app all about? Let's discuss!
Once installed on a phone, the XNPSY phone tracking app allows you to silently monitor the smartphone and all activities performed on it using its expansive set of features. The gathered data can be accessed through their web-based portal after it's fetched from the monitored phone.
The XNSPY phone tracking service can be used for:
Child Monitoring
Tracking Employees
Locating Phones
Monitoring Students
What's its Compatibility?
As we have already tested both apps, before I started writing this piece, I can tell you it's highly compatible with all current iOS and Android-based phones.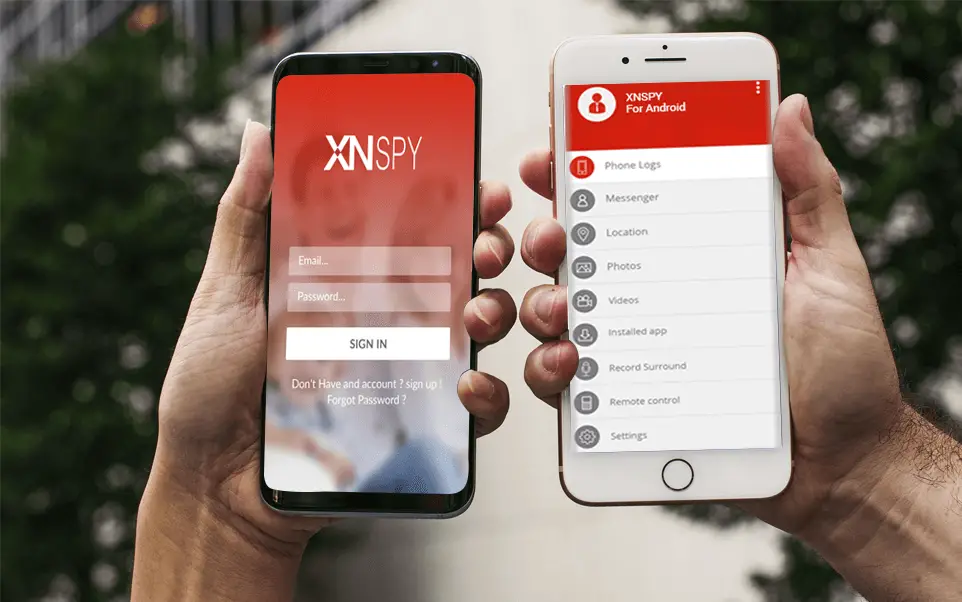 If the person you're going to monitor is an iPhone user, then you can expect it to work with all iPhones that run on iOS 6.0 and above. In case their phone's running on Android OS, then it will be supported as long as it's a version between Android 4.0 and 11 (the latest version available currently).
Checking compatibility beforehand is difficult for most people. If an app doesn't work as it claims, it can result in wasted money, time, and effort. But don't worry, we have taken care of it for you. As we have tested the XNSPY monitoring app and its competitor in your stead.
How Can You Get It?
The app is a subscription-based service. You can either get it on a monthly, quarterly, or yearly basis from their official website. I will advise you to opt for the yearly plan if and when you decide to subscribe to its services. Why is that you ask?
Because this way, you'll be charged only USD 4.99 per month for XNSPY Basic version. While its premium version, equipping you with all its spying features, will only cost USD 7.49 a month.
Once you have subscribed to their service, you receive an email. Just as I did after subscribing to their Android spy app. Their email contained a URL for the APK (installation file) of the app, along with a complete installation guide and my login credentials for their portal.
Note: The email can contain different content(s) depending on what version of the app you subscribe to as per your needs.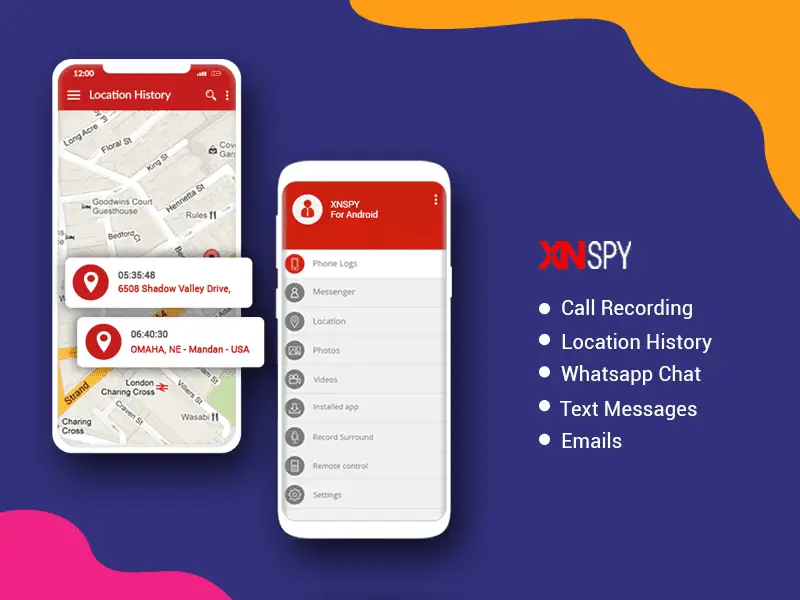 Installing the XNSPY Monitoring App
I found out that subscribing to their service and installing the app didn't take any longer than 5 minutes.
You can also follow these easy steps to install the tracking app on an Android phone as I did:
Step 1: Use the URL you received in your email to download the app's APK file.
Step 2: Install the app and allow any access it requires at any stage of its installation process.
Step 3: After its installation is complete, open the app to allow further access permissions.
Step 4: Then enter the activation code, that you will receive in your email, and tap on the Activate button after reading and accepting their Terms of Use and Privacy Policy.
Step 5: Now, tap on Start to move along the remaining installation process.
Step 6: Allow more access permission as per their installation guide and tap on "Proceed".
Step 7: Finally, tap on the Start Monitoring button to begin the phone tracking process.
If the installation process went without a hitch, you can now open the XNSPY dashboard using the login credentials enclosed in their email and look at all the fetched data from the monitored smartphone.
But, what data am I talking about? It's the data received from the app that's gathered using its various monitoring features.
The Features
So, I think it's time we went over some of the defining XNSPY spying features. Don't you agree? Let's dive right in!
Call Monitoring
Most parents, or employers, want to know who the person, being monitored, is talking to for their own specific reasons. Using this XNSPY monitoring app feature, you can listen in or record all phone calls. Detailed log information of each call made, received, or missed is included under this function.
Tracking Text and IM Messages
Reading all incoming and outgoing text messages is possible as the app tracks them. While being able to view IM chats is another working feature of XNSPY. Facebook Messenger, WhatsApp, Skype, Instagram, and Tinder, etc. All such Instant Messengers can be monitored using the app.
Note: If your device isn't rooted/jailbroken, then you will not be able to read any IM chats other than WhatsApp's.
GPS Location Tracking
The live location of the phone can be seen through its dashboard. While a location history is also stored in-app when it's not connected to the internet. The stored data is then uploaded to the app's server once it's reconnected.
Ambient Sound and Phone Screen Recorder
XNSPY can allow you to remotely listen in or record ambient sounds and noises around the monitored cellphone. Even a screen recorder can be activated that can spy on IM apps by taking screenshots of the phone's screen after a set interval.
A Unique Feature – Instant Alerts
Unlike its competitor, the XNSPY tracking app offers instant watch list alerts. Three different watch lists to monitor if a specified word, location, or contact number (added in the respective list) comes up on the monitored phone.
What's so Different or Similar About mSpy?
The mSpy phone tracking app is an equally well-known and 100% legal spyware just like its competitor that I discussed earlier in detail. So, now, it's only fair to do the same for mSpy and introduce you to its service.
Like the other contender, mSpy claims to be the perfect tool for child monitoring. However, it doesn't even mention employee monitoring a tiny bit anywhere on its website.
So, that's the very first difference between the two; the mSpy services are not suited for employee monitoring. While the other contender offers both capabilities and more.
Now, moving on to…
Its Compatibility
This second cell phone tracking app is also offered for both Android- and iOS-based devices.
Similar to the first app, it's compatible with all Android versions including and above 4.0. However, the compatibility range for iPhones and iPads is restricted between iOS 7 and 9.1.
Meaning a lower compatibility rate when compared to its competitor.
What Does It Cost?
The mSpy tracking app and its services, too, can be subscribed on a monthly, quarterly, or yearly basis.
If you want to try its monthly plan, it can cost you USD 48.99 per month. Though when you get its yearly plan, you can cut the price down to USD 11.66 a month.
Considering that there's only a premium package and even that is costlier than the first contender. At this moment, one can only hope that there are some great spying features in its arsenal.
Otherwise, the best monitoring app between the two would be clear as day.
Monitoring Features of mSpy

Other than the unique XNSPY instant alerts function, the mSpy tracking app mostly offers the same features as its competitor. Let's discuss some of them that I didn't mention before.
Internet Activity Monitoring
Both apps offer functions like viewing browsing history and bookmarked websites. But what's unique to mSpy is perhaps its ability to let you block inappropriate websites for your kids. Such parental control is not available in the first contender's list of features.
Checking Emails
Using mSpy you can read all emails sent or received on the monitored cellphone. But, this is not a unique function to this app. It's a must-have spying feature for such apps and its competitor is no exception.
There are some other common features, such as:
Viewing Multimedia Files stored on the monitored phone.
Accessing Calendar Entries and Contacts made or saved in the smartphone respectively.
Viewing App Usage and Blocking Apps Remotely is another possibility using both the contending spyware
Our Final Verdict 
At last, it's time to reveal the winner of today's XNSPY vs mSpy review.
After much testing and research, I find the XNSPY monitoring app to come on top due to the following reasons:
Even though mSpy also delivers on its claims, it still doesn't offer employee monitoring yet.
There's not much difference between the two apps, but XNSPY remains more affordable as it offers not one but two packages; both cheaper than its competitor's premium package.
XNSPY has higher compatibility in comparison.
Only the XNSPY app offers the watch list instant alerts.
The mSpy app's live customer support is available round the clock only for the USA and the Czech Republic, while XNSPY offers its live tech support 24/7 for its customers no matter where they are in the world.
What do you think, which app is the winner in your opinion?
Let us know in the comments section below!