What Is The Best SoundCloud Auto-Follow App?
SoundCloud is a platform strictly for musicians and music lovers. This platform is responsible for starting the careers of many prominent artists and creators. However, newcomers make face difficulty in this platform to take off or manage their promotions. Various tools and bots for auto-follow, auto-likes, etc are available that guarantee followers, plays, likes, and comments. But some are fake and do not work as said. So, what is the best SoundCloud auto-follow app?
This can be a hard question to answer but with extensive research, we have identified one of the best SoundCloud auto-follow apps. It is not just an auto-follow app but a complete social media promotion manager called 'Somiibo'. Also, it works with various social media apps such as TikTok, Instagram, Spotify, and many more. It has an elegant UI and also has good ratings in app stores.
While newcomers on the platform face a lot of challenges to get started and pick up their audiences. These auto-follow apps do help them to find similar people and help them take off on the platform. But since the follows and likes are not genuine, it is always better to do all things organically. Follow this article to learn about the best SoundCloud auto-follow app and how you can do all these things organically which will last for more time than with these apps.
6+ Best SoundCloud Auto-Follow App
We went on to do extensive research about apps that can give you auto-follow, likes, plays, and engagement. During the research, we came across several tools and apps that said they can increase the followers and likes on SoundCloud but failed to do so.
With some more effort, we came across this tool called 'Somiibo' which is a social media marketing management tool that connects various people across several social media platforms that want to increase their followers, likes, and other engagement and makes it easier for them to help each other increase their followers, likes, plays, comments and more.
This tool is free to use for anyone and also has a premium version with additional functionalities. One can just sign up and start using it.
Somiibo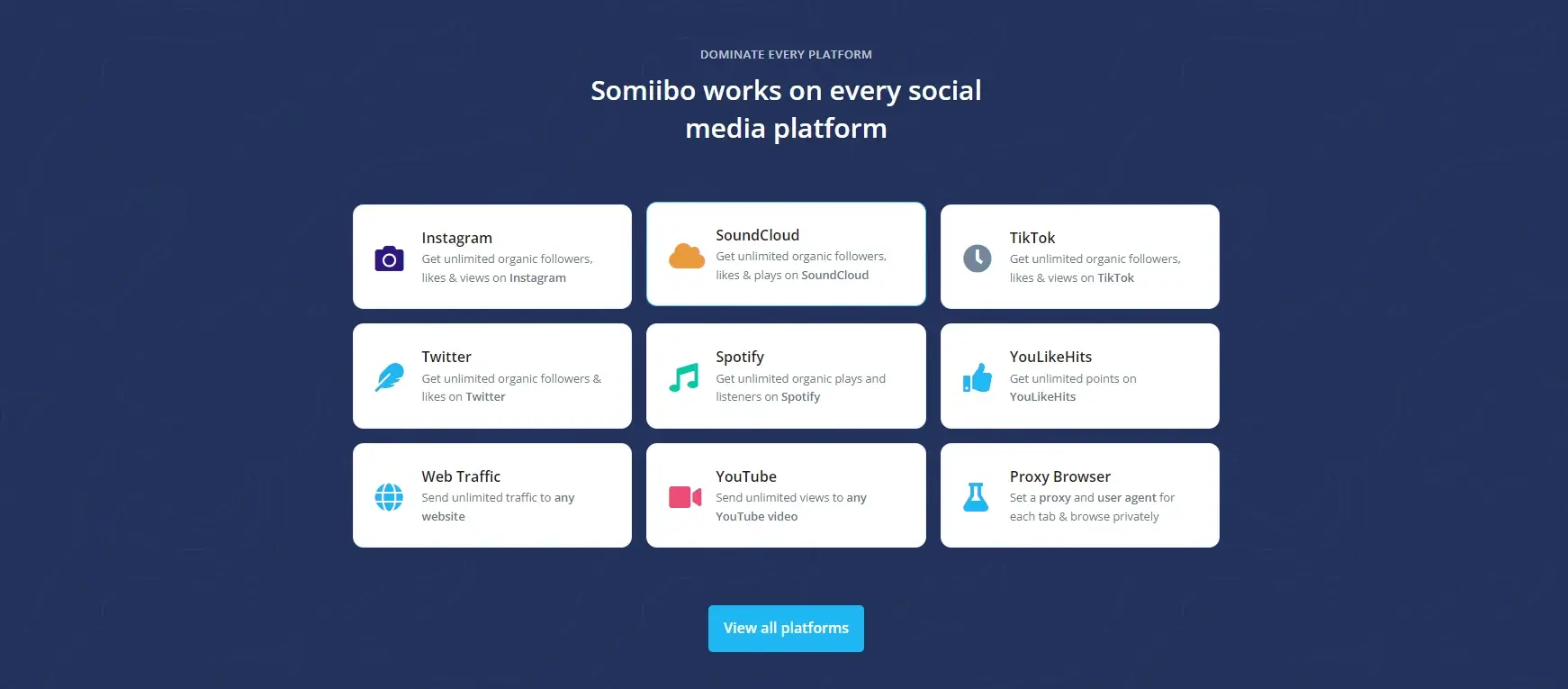 This tool is available for Windows, Mac, and Linux. It can be downloaded from their website. You can also create your account from the same website. After the download, you can use it by selecting your platform. In this case, it is SoundCloud. It can also be used for other social media platforms such as TikTok, Instagram, Spotify, and more.
This tool automates SoundCloud and gives the ability to reciprocate engagement among users. For example, you can like, follow, and get engaged with other people's content and they will also reciprocate the same to your account.
This way you can be sure that you are not getting fake likes and inactive followers but some genuine interactions from real people. This too may not be your genuine listeners but at least they are genuine people on the platform.
This tool can help you at least pick up a pace and get noticed on the platform. And combine this with good music and you will probably take off your career from the platform. The good thing about this tool is that they do not demand you to pay them a certain amount for followers and likes but let the users do the work and reciprocate it from other users to them.
SCHelper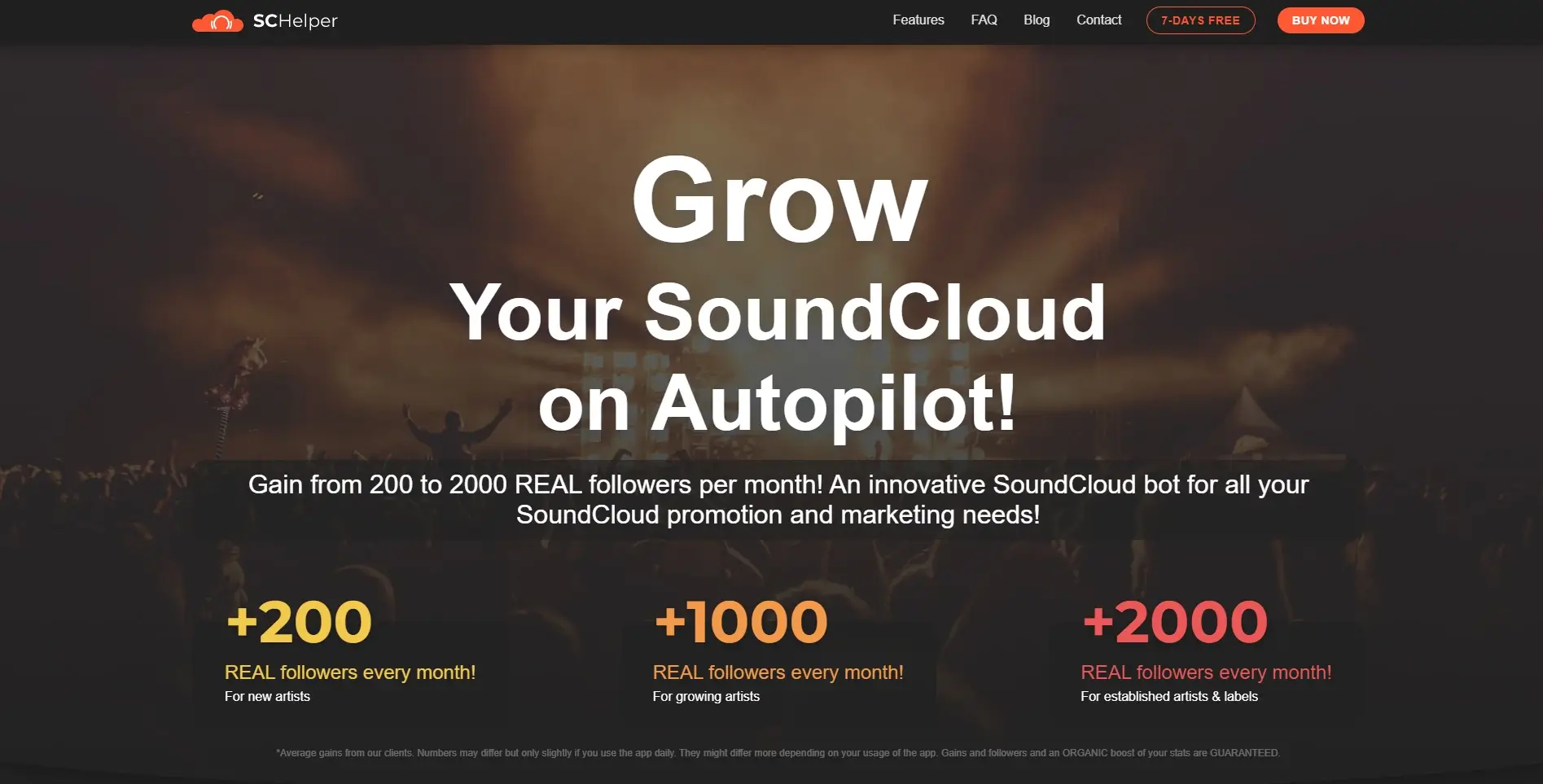 SCHelper is another best SoundCloud auto-follow app. This tool also helps SoundCloud creators to increase their followers, likes, and plays. Most creators when they want to first increase the plays and follows to start getting monetized use these types of bots or tools.
If you are a growing artist on SoundCloud or even an artist who is just starting, SCHelper can help you elevate your status on SoundCloud. Once you start to get noticed on the platform, you will then be able to monetize your content and get more and more plays.
You can gain 200, 1000, or 2000+ followers every month with the help of SCHelper. This bot's plays and follows will be completely organic and not the fake ones you would expect. So, no one, even SoundCloud will also never know that you have used the SoundCloud bot to gain followers and Plays.
SCHelper bot is one of the best SoundCloud bots not only because of its ability to increase followers and plays but also due to its availability on several platforms. You can download the SCHelper bot on Android, iOS, windows, mac, and Linux. But you do need a monthly subscription to use this Auto-follow bot/app.
SidesMedia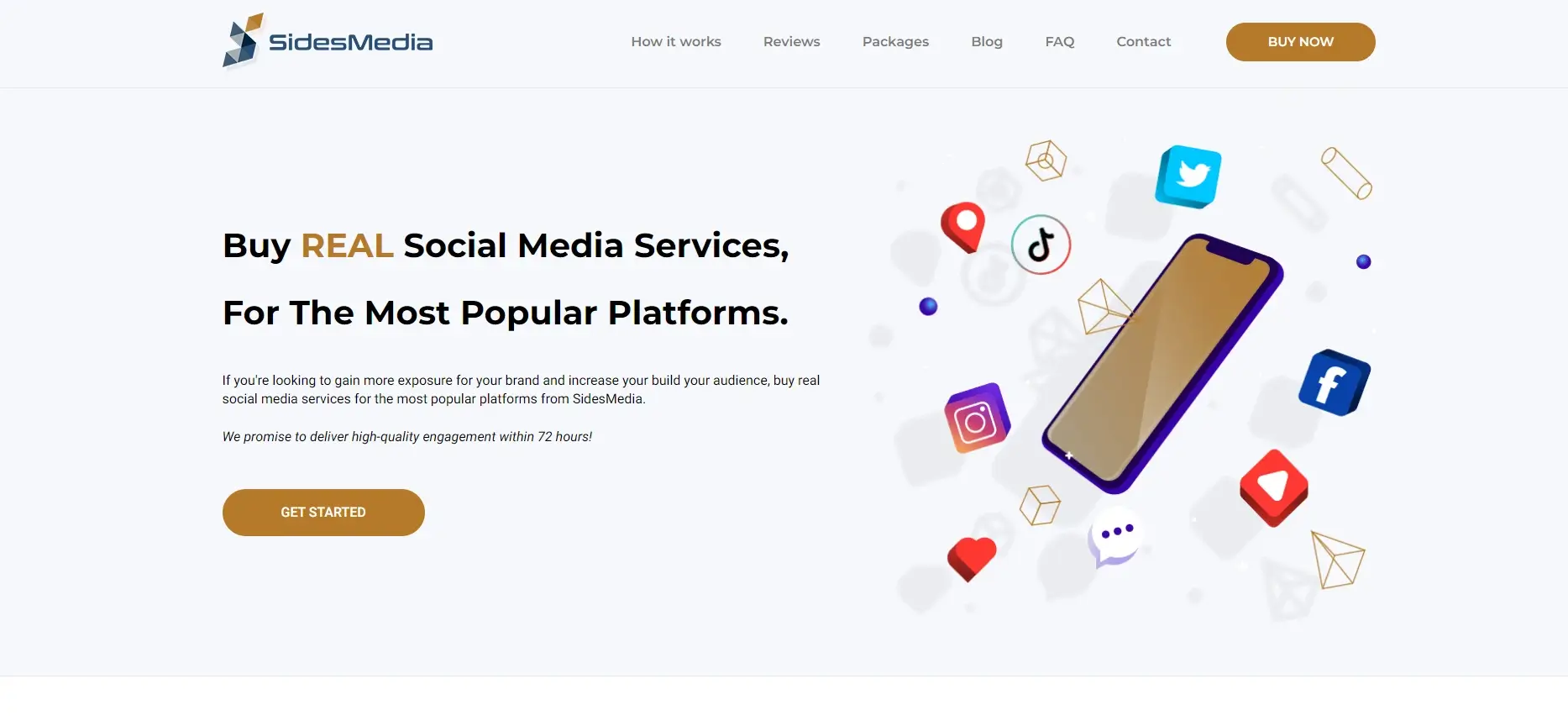 SidesMedia is also another auto-follow app that can help you grow on the platform. SoundCloud needs a certain number of plays and original content to monetize it using the SoundCloud Premier Program. For this, if you are just starting, you may need help from these kinds of apps and bots.
Once you start using SidesMedia you will experience growth in the days and weeks to come. You can go up to 10x your existing followers and plays. Once you get such high growth, you can expect SoundCloud to also promote your music on their platform by increasing your reach.
For this same reason of exponential growth, using apps such as SidesMedia can be helpful and fruitful to your growth on the platform.
But SidesMedia is not free and you have to subscribe to them on a periodic basis. You can download the app on your PC or Mobile and use it after subscribing.
Media Mister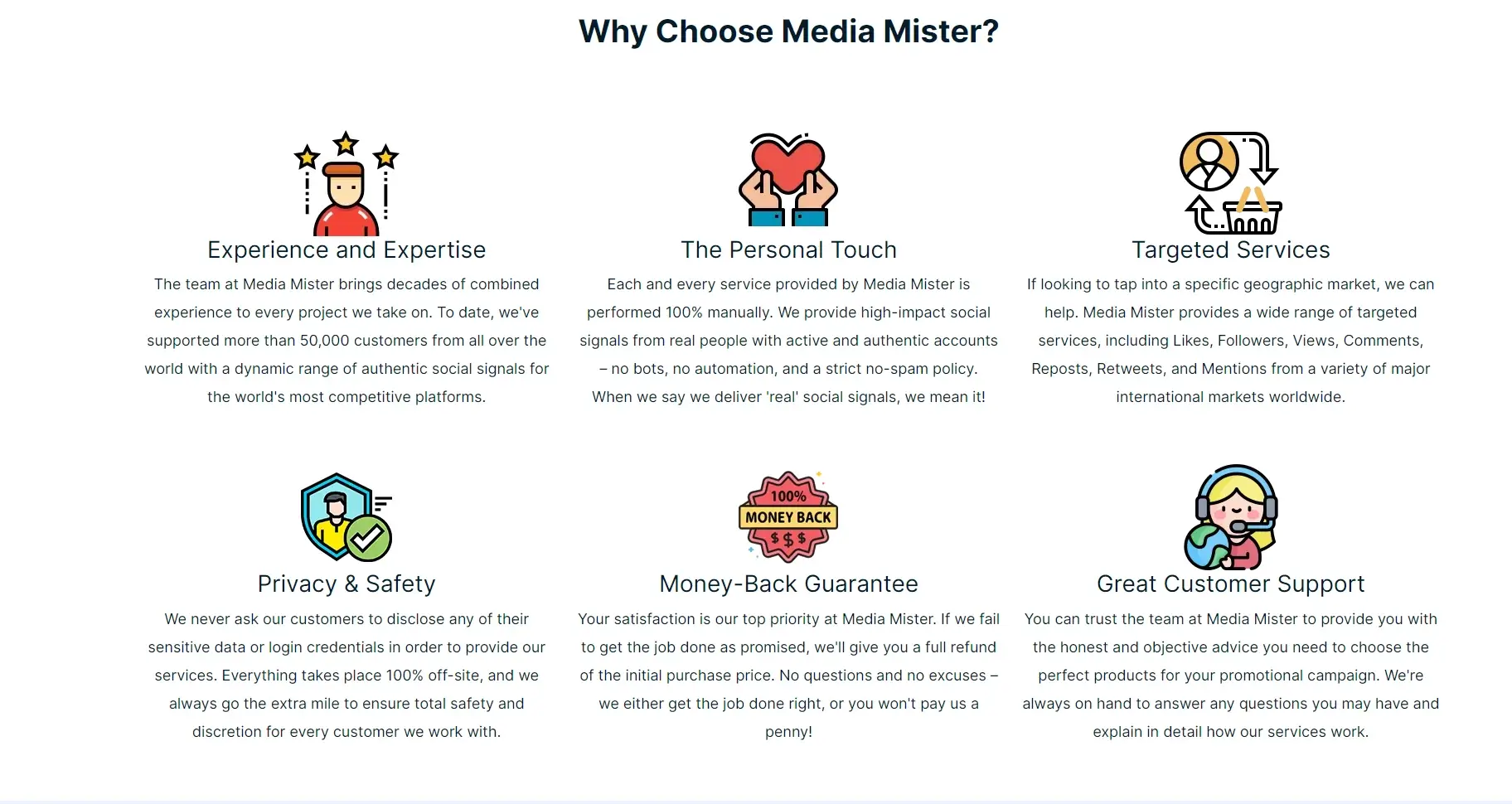 Media Mister is another tool that can help you grow on SoundCloud. This tool is particularly famous for increasing SoundCloud Plays rather than increasing Followers and Likes. Many people have reported getting significantly better results in plays using this app.
Many artists and musicians who are just starting with the platform want to get noticed to grow on the platform. For those people, this Media Mister tool can be very helpful because SoundCloud needs 500+ plays in the last month to get monetized.
But similar to other bots and tools, Media Mister also requires subscriptions to work. You can spend above $2 and start getting results. You will get organic plays with this bot which no one except you will know about.
Soundbolt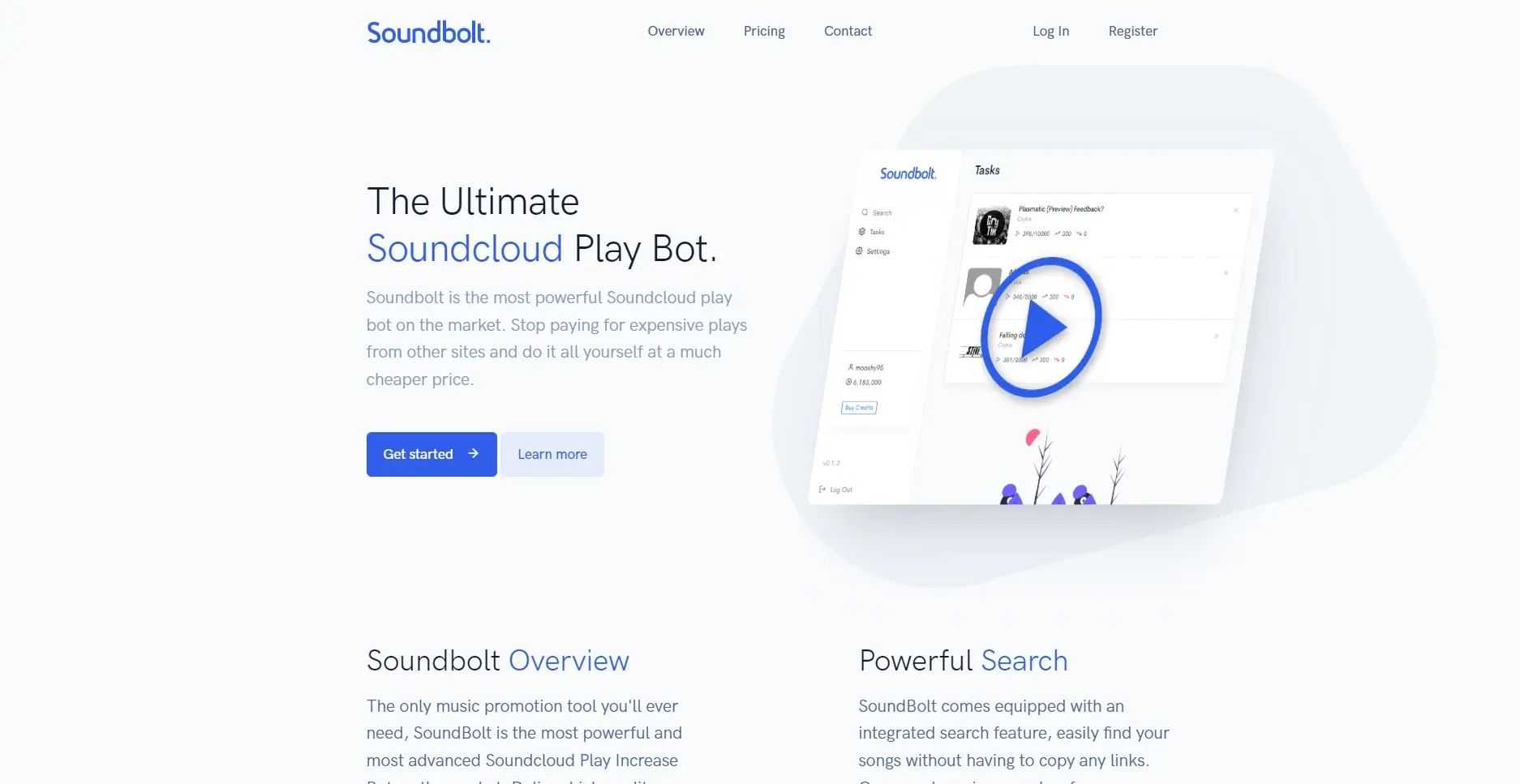 This tool is one of the expensive and also a quality bot to get more plays. If you are struggling to get noticed on the platform then it is a wise decision to use this tool. While this tool/bot only offers SoundCloud plays, it does however gets you quality and organic plays.
This tool is an expensive tool compared to others. It starts at 15$ but you will get unlimited plays with 24/7 support. Soundbolt has made its name in the SoundCloud circle due to its ability to generate organic plays for its users.
UseViral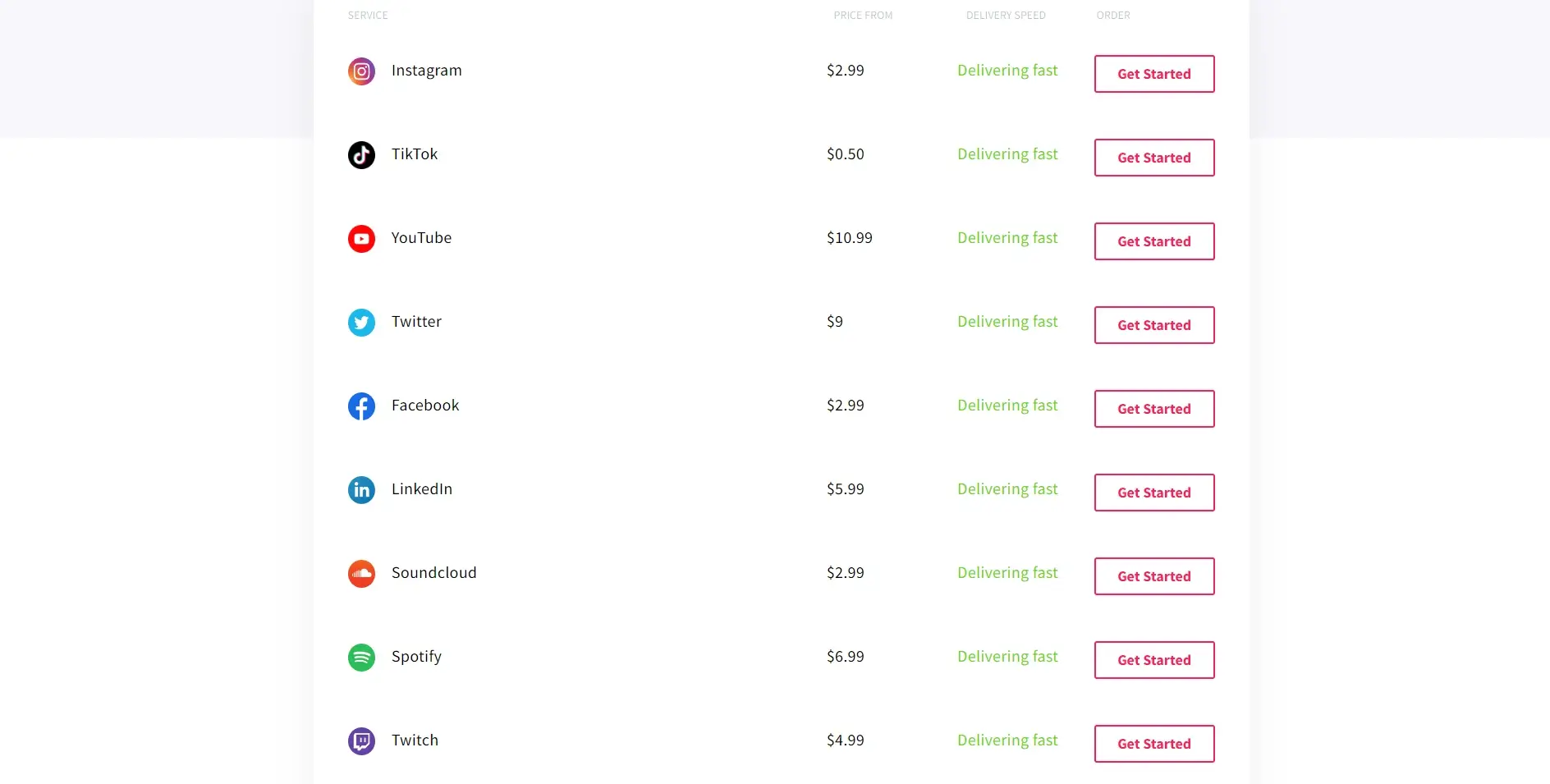 This bot is one of the widely used bots for SoundCloud. It can generate followers, plays, and likes that are high quality and organic. The service and support it provides to its customers are on par with any other bot service.
To use this tool, you can simply visit their website, select your platform, content and audiences and you are set to go. You do have to create a profile and make your payment beforehand. This tool also serves various other social media platforms such as TikTok, Twitter, Instagram, LinkedIn, and more.
The starting price for the service of UseViral for SoundCloud is $2.99 and you will start getting results as soon as you start using the service.
SoundCloud Manager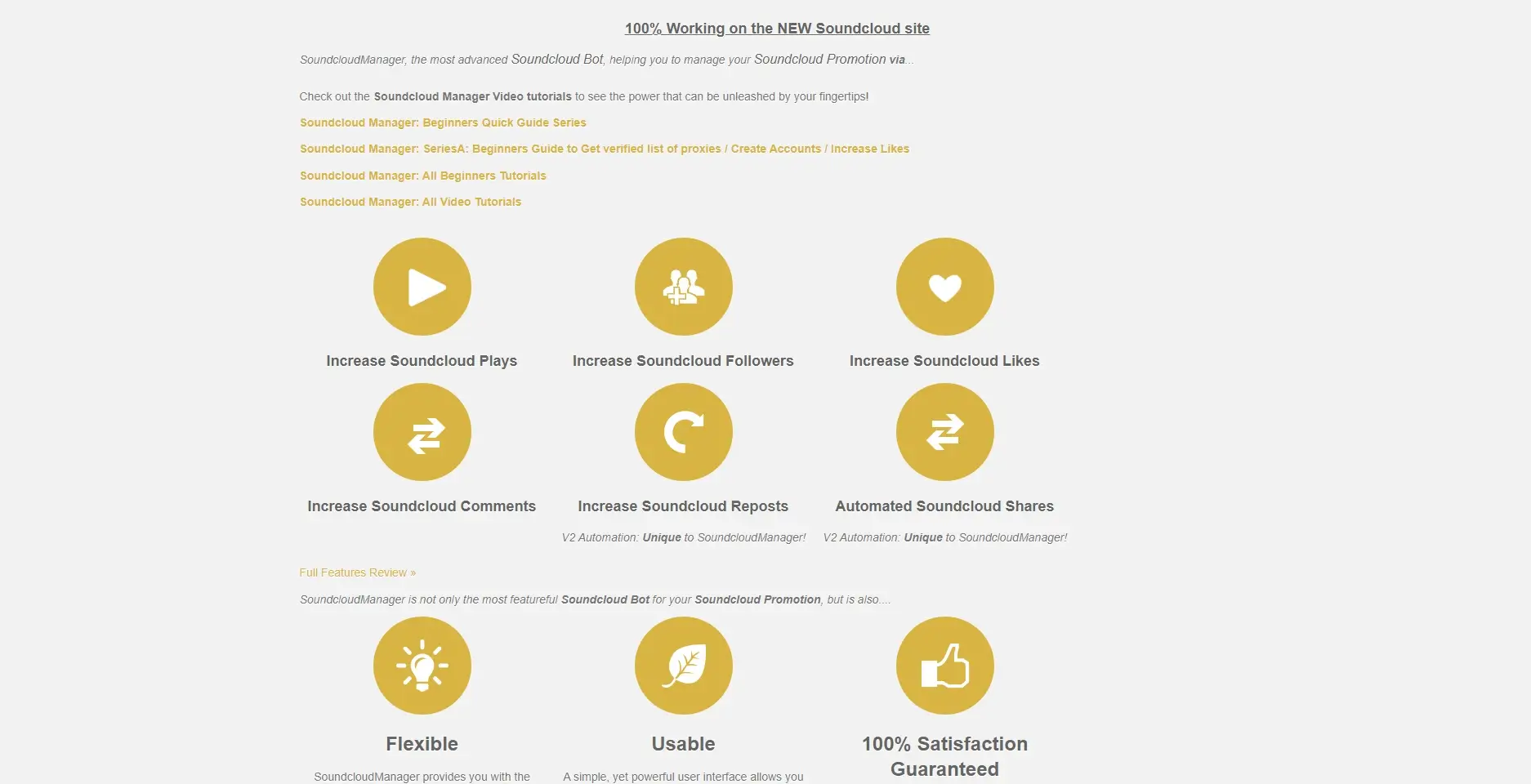 SoundCloud Manager is the last tool on our list. This tool is the easiest tool to use which can also give you quality followers, plays, and likes. This tool will help you promote your content on the platform which will ultimately increase your chance of getting noticed on the platform.
If you are also looking for a tool to help you upgrade your profile on the platform, this tool can be of a lot of help. SoundCloud Manager bot is popular among SoundCloud users due to its easy interface and experience.
What Is The Best SoundCloud Auto-Follow App?
The best SoundCloud Auto-Follow app can be hard to determine. All of the tools have their own specialty and perform in different ways. The need of the users can also determine which bot is the best for them.
So, if you are trying to get more plays and follows to help you get monetized, the Somiibo bot can be the best one you can choose from the list. This tool is particularly famous for its organic plays and follows and also its ability to connect you with more SoundCloud users who are looking to increase their presence on the platform.
But if you already have a significant presence on the platform and just want to increase your follows and plays in order to be more visible among your competitors, SidesMedia can be a great tool to help you with that.
Both of these tools are equally trustable and usable for you. But before you choose any of the tools, you need to understand why you are purchasing them for.
Should I Use Auto-Follow Apps On SoundCloud?
The big question in all of this is 'Is it a good idea to use auto-follow apps on SoundCloud?'. The answer may vary depending on what you want to achieve.
But if you are seriously considering starting your career in music and using SoundCloud as a stepping stone then it may not be a good idea to start using the auto-follow app from starting.
The key thing when you start creating any type of content is that you need an effective feedback loop which then can be used for the improvement of your content. And if you start using these types of tools from the start, it may hinder your possibility of getting good at your creation.
It may also demotivate you from a certain point as you will run out of any real engagement and genuine feedback. For any person starting in any type of creation, an effective feedback loop is a necessity and cannot be replaced by any other thing.
So, better start taking some alternative and genuine efforts in gaining your followers instead of searching for the best SoundCloud auto-follow app.
You may ask, what are the authentic steps that you can take to gain genuine followers. Follow the next section of this article to understand the strategies you can apply.
Best Ways To Increase Followers And Plays On SoundCloud
Increasing followers and plays is important for any creator to grow on SoundCloud. There is already enough competition that most people feel defeated even before starting. But as with the competition, the size of the audience has also grown and that makes it even with the high competition.
All that remains to be done is to attract enough audience for you to keep making music for a long time and get paid in return.
Below are some of the strategies that are identified for you to start gaining more followers without the use of the best SoundCloud auto-follow app.
Create Better Content
Having great content goes a long way than any other marketing strategy such as finding the best SoundCloud auto-follow app. If you have good music then it may not be too long before you start getting noticed on the platform and getting more and more followers and plays.
So, start focusing on your content and implement the feedback you get from your existing followers. This will get you more engagement and ultimately more reach on the platform.
Create Attractive Profile
Whenever anyone visits your SoundCloud profile, the first thing they will notice is how have you maintained your profile and the information they can get about you and your profile. This impacts so much so that it determines if they will listen to your music or not.
So you need to keep your profile attractive and informative. It includes making your profile picture attractive and definitive. The bio of your profile should also be made as informative as possible which can convey who are you and also what type of music you produce.
And also if you want to verify your SoundCloud account, click here to learn more about the requirements and process.
Include Attractive Album Arts
Album arts are an important part of your music. That is the first thing the audience notice before they even listen to your music. Your album art needs to be attractive and say what the music is about.
You can pick a designer who has experience in designing album arts or simply consult with them and design by yourself. The final product should incorporate both music and attraction in it.
A greatly designed album art goes a long way to tell your audience about your music and place an image of the art in their brain. And whenever they encounter the cover again, they will know the music.
Increase Social Sharing
Social sharing refers to sharing of your content on social media. You can share the link to your SoundCloud music on your social media accounts, and ask your friends and family to share it with you.
Social sharing is a powerful method of amassing new audiences and increasing the play of existing content. This can also help in retaining audiences as they will know you as a creator and are connected to their social circle.
Various social media such as Instagram, Facebook, Reddit, Whatsapp, etc can be used to share your content link which will drive all the audiences to SoundCloud and many of whom are on SoundCloud will start following you.
To share your SoundCloud music on Instagram, click here to learn how.
And to share your SoundCloud music to Snapchat, click here to learn how.
SoundCloud Community Engagement
The Soundcloud community is another powerful method you can promote your music and introduce yourself as a creator. These communities are built to support SoundCloud creators. These communities can be found on various social sites and can also help you in getting feedback for your content.
You can search for these communities across the internet and actively participate in them. This will validate you as a creator and you will end up expanding your audience and increasing your plays.
Use Correct Tags On Content
Tags are keywords that you can include in your music when uploading. These tags help you to get into search results when anyone searches for music using the keyword. Most people tend to search for music on SoundCloud with keywords representing the genre.
For example, if you are an EDM musician then you can use tags such as electronic music, EDM, etc in your upload. And when someone searches for music using 'EDM' there is a high chance that you will appear on the search result.
Do Regular Uploads
Consistency is key. Consistently uploading music can help you get noticed by your audience oftentimes and hence increase your following and plays.
So, you can make a schedule of uploads and upload accordingly. This will help you gain more and more followers and also perfect your craft.
With these strategies, you can increase your following without using the best SoundCloud auto-follow app. You can make a proper plan on how will you apply all these strategies and use the same plan for all your uploads.
This may not result in instant gaining of followers but is surely a tried and tested method of success in any creative field.
Benefits of SoundCloud Followers and Plays Bot?
There are various benefits of using these SoundCloud bots if you are just starting on the platform. Some of the benefits are identified and listed below:
It helps you lift yourself up in the competitive world of SoundCloud.
It will increase your visibility on SoundCloud.
It will save you time in gaining more followers.
It helps you get monetized on the platform.
Overall, it speeds up your work and helps you reach your goal faster.
Is It Safe to Use Fake Follower and Plays Bots on SoundCloud?
As good as these SoundCloud bots are, however, they do not replace the original users on the platform. Unlike Twitter, SoundCloud itself does not like bots and prefers organic users. So, it is not really a good idea to use bots to increase your followers and plays.
Since you are just starting on the platform and do not have any organic listeners, these type of tools does help you to get lifted on the platform from the base.
The final suggestion would be to use the organic method as much as you can but if you couldn't get yourself lifted up, you can use these types of SoundCloud bots.
Can SoundCloud Detect Fake Plays and Followers?
Yes, SoundCloud does detect bot accounts and deletes them on a regular basis. But if a bot is using the account as a human, playing and following the accounts of their customers in an organic way, there is no way SoundCloud can find out the account is a bot.
This prevents the platform from deleting the sophisticated bot accounts which performs like a human to delete it. But if you are not careful and use cheap bots or tools to increase your plays and follows, it may negatively impact your account in the future.
So, find the bot which can give you more organic followers and plays and use it. This way, SoundCloud may not detect it and you will get what you want.
Frequently Asked Questions (FAQs)
Some frequently asked questions related to 'What is the best SoundCloud auto-follow app' are taken from the internet. Please go through these questions and their answers to understand more about the platform.
How Do You Get SoundCloud Followers Fast?
To gain SoundCloud followers fast, you need to consistently upload good music and share it on different platforms. Also, proper optimization of the uploaded content helps you get noticed.
How Much Are 100k Plays On SoundCloud?
100k plays will pay you $250 to $400 if you are monetized using the Soundcloud Premier Monetization Program.
What Happens When You Get A Million Plays On SoundCloud?
If you get a million plays on SoundCloud, it may result in you getting more followers, likes, and comments. And if you have monetized the track then it will pay you from $2500 to $4000.
Can I Get Famous On SoundCloud?
Yes, you can always get famous on SoundCloud. If you amass a huge number of followers, get lots of plays, and got monetized using the SoundCloud Premier Program, you are on your way to success.
In addition, If you are wondering how can you download podcasts from SoundCloud, click here to learn the steps.
Conclusion
Therefore, the best SoundCloud auto-follow app is 'Somiibo'. It has a feature that lets users like, follow and comment on each other's content so that they can increase their presence on the platform. Still, it is not a genuine way of gaining followers. It should be avoided.
This article provides a list of strategies that can be used to gain more and more followers genuinely. Please provide any more information if you are aware of it in the comments below.