To most people, Kik messenger is an easy and accessible app to talk to multiple people. However, a lot of users may have a business use for the Kik app. Like most social media, we have a tendency of wanting to keep our business and personal lives separate. So, creating two Kik accounts for each one of the tasks sounds like an ideal situation right? So, here are ways to create multiple Kik accounts and use them in an easy way.
You can easily create a new, different Kik account using a different email address since one Kik account can only be associated with one email address. Moreover, you can either use an Apk version of the Kik app to use two accounts on one device. Or, go for another method which is to log out of one account and log in to another.
Can You Have Two Kik Accounts
Yes, it is possible for you to have two Kik accounts. However, there are various things you need to keep in mind before oyu go ahead and make use of two Kik accounts to log in to your features on the app. Some of the basic things to remember have been listed below for your convenience.
You can only have one Kik account per email address. So, just create a new account to create a new Kik account for your ease.
Another thing to remember is that you cannot use the same Kik account on multiple devices at the same time. This is a safety feature for the Kik app that ensures that your Kik account gets logged out from one device if you log in to your account from another device.
You do not have a direct feature that lets you create multiple Kik accounts and log in to those accounts from the same device. However, you can create multiple Kik accounts and then try other methods to log in to these accounts from the same device.
If you do not want to go through the hassle to create multiple Kik accounts and use them, then you can always use these Kik accounts from different devices for easier use.
Now that we have these basic things covered, we move on to create multiple Kik accounts and ways in which you can get this done easily.
Why Have Multiple Accounts In Kik Messenger
There are various benefits that can come when you create multiple Kik accounts. Some of the benefits to this process are listed below. If you are simply here to look for the answers then skip this part and shift to the next section where we teach you the process to create the Kik accounts in a quick and easy way.
When you create multiple Kik accounts, it means that you have the benefit to use each Kik account for a specific purpose. If you have a business that you want to have a Kik for, then you can do so.
Another benefit is that you can have the personal benefits from using only one Kik account for a specific task or purpose.
How To Make Multiple Kik Accounts
You cannot create multiple Kik accounts with the same email address. You need to have email addresses to create different accounts on Kik. So, once that is cleared out, you can easily set up multiple Kik accounts by following the process to create a Kik account. We have listed the process below for your easy access.
Step 1: Download And Install Kik App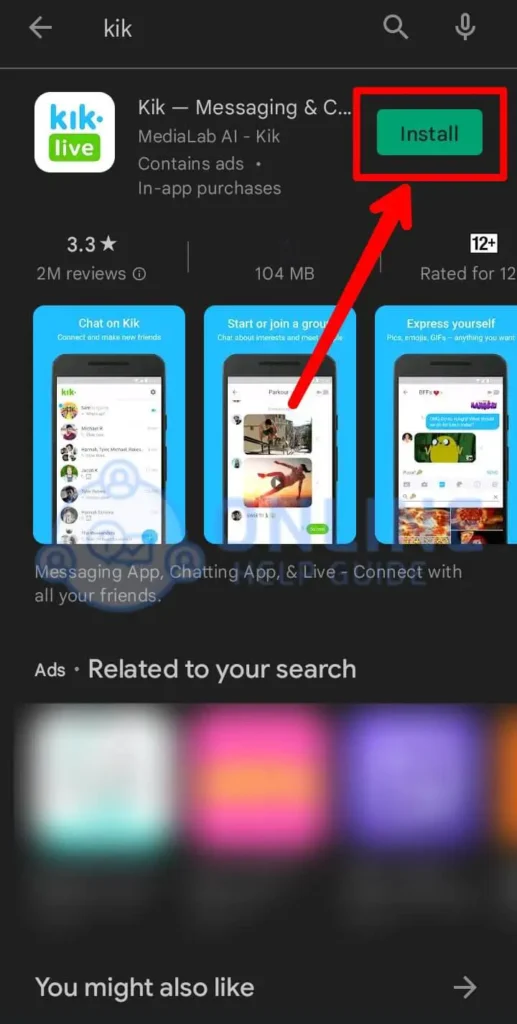 First, go to the Google Play Store or iOS App Store to download the Kik app and then install it to your device. Just, type in Kik messenger in the space search bar and then tap on the Install option from the right side of the app store screen.
Step 2: Open App And Sign Up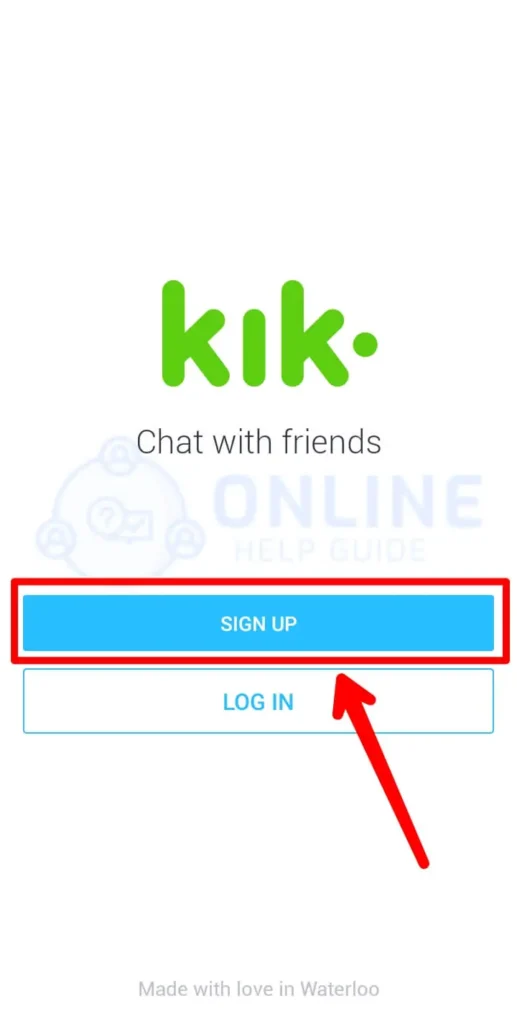 Once you have downloaded the Kik messenger app, then you can tap on it to open the app in your device. Once the app is open, then choose the Signup option.
Step 3: Set Up Display Name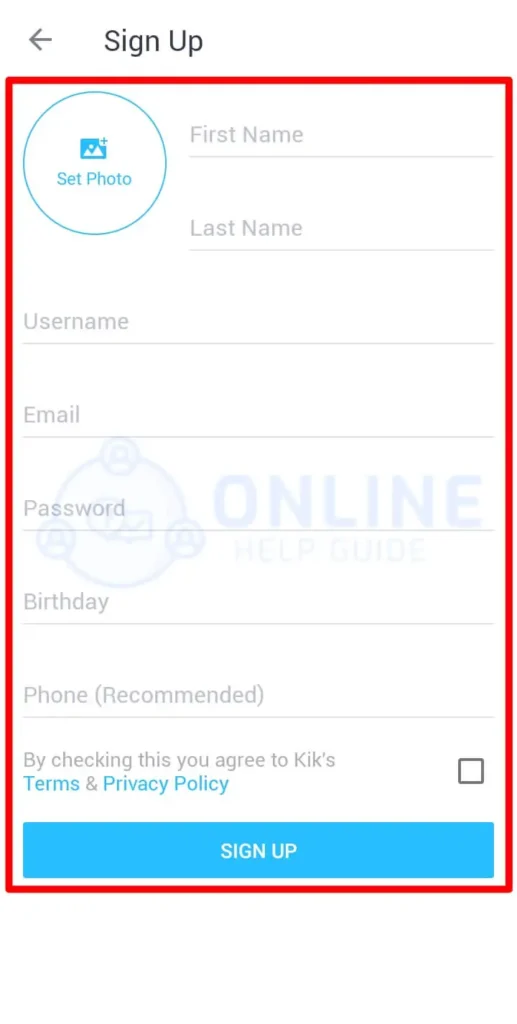 Then, type in your First and Last name on the app. These names will be your display name for the Kik app so set it up accordingly.
Step 4: Set Up Username
Once your display name is set up, you can then set up your username. Unless someone else is using your registered trademark or copyright, there is no way you can use someone else's username. So, if oyu do not see green checkmark when you are setting up your account, then that means the username is already taken. Use another variation of it.
Step 5: Enter Email Address
Once all this is done, you can then add in your email address. This email address needs to be a valid email address that is in use. You cannot use the same email address to make multiple Kik accounts.
Step 6: Create A Password
Once the email is set in, then create a strong new password for your account safety.
Step 7: Sign Up
Finally, sign up to create multiple Kik accounts.
Step 8: Repeat Process With New Email
Finally, create a new email address and then use that to create another Kik account. And there you are, you have more than one Kik account. This is the easiest way in which you can get this done.
Note: If you cannot create a Kik account from the same app, then log out of your Kik account. On the signup page, tap on the option to sign in with another account. Then, you can tap on the option to create a new account. And, follow the above-mentioned steps.
How To Use Two Kik Accounts In One Device
There are various ways to use two or more Kik accounts in one device. For this, there is a process that requires some hassle since Kik messenger does not have an inbuilt feature that lets you do this. However, some basic ways in which you can do this are below.
You can use two Kik accounts on one device by logging out of one account and logging back into another account. The bad part about this is that the chats from your app get wiped out when you log out. So, you will need to back up your Kik data before you try this option.
Next, you can use the process to download an Apk version of Kik messenger on your device. There, use the other Kik account that you created from that app.
The other option you can apply is to use the laptop version of the Kik app to run one account and use the Kik app on your mobile device for another account. However, you need to use an Android emulator to run the Kik app on your laptop.
What Are Requirements To Have A Kik Account
The requirements to use the Kik app are quite simple. You can easily create a Kik account if you have a few simple things in check.
You cannot use one Kik app using multiple email address accounts. In case of a mistake and if you are not registered with an email address but Kik says so, then that has the option to remove the email address from the Kik account help center from the link given.
Moreover, you cannot set up your Kik account with your phone number instead. You need a registered email address to sign up for creating your Kik account.
However, you can later add your phone number to your Kik account. This is so that you can contact other Kik users with the phone number database and known contact recommendations.
Frequently Asked Questions
Some frequently asked questions on how to create multiple Kik accounts are below.
How To Deactivate A Kik Account
There is a web portal for the Kik account deletion or deactivation. You can go there, choose the reason why you are deactivating or deleting your Kik account and then click on the Go option to complete the process to deactivate Kik account.
Is Kik Traceable
By the most basic knowledge, no, Kik is not traceable. However, in case of any illicit activities that require the parties such as police-involved in case of a crime, then Kik does keep a database of the required content.
Conclusion
In conclusion, you can create multiple Kik accounts. The main problem with this is the requirements of multiple email addresses. Moreover, the main issue is how oyu can use these multiple Kik accounts on the same device. Another issue can also be of how to use Kik accounts in multiple devices. Either way, we hope this guide has given answers to your queries.