What can be more soothing than listening to your favorite playlist? Listening to your playlist while taking a relaxing dip in the water. The cold and comfortable pool deck, the cold water splashing your body and your ears ringing with your favorite music. Now that you have imagined how relaxing it will be, imagine all the trouble you have to go through finding the perfect waterproof headphones.
With few reviews from my swimming circle and my own experience, I have come to know that when you pick the right pair of waterproof earbuds, always make sure you spend sufficient time finding the right fit before slipping yourself in the water. There's a limited choice of swim-friendly wireless earbuds for swimmers, the reason being; when submerged in water, the Bluetooth connection is affected negatively. Finding a perfect headphone for the dry land isn't difficult but finding the one that works underwater is a task itself. Whatever your need, waterproof headphones makes sense; it won't hurt to be able to wash something you have in your ear all day, Right?
There are a lot of factors to keep in mind while looking for a headphone and a few more factors when you want it to work underwater. Out of many features to consider while buying, internal storage is a key feature you will need for listening to audio underwater. Bluetooth might not transmit clearly in water as well as Bluetooth transmission through air connection.
Which of the countless waterproof headphones out there are the best? To help you save your search time, here are our Top 10 picks for Waterproof earphones for swimmers
Best Waterproof Headphones
H2O Audio Surge 2G Waterproof Sports Headphones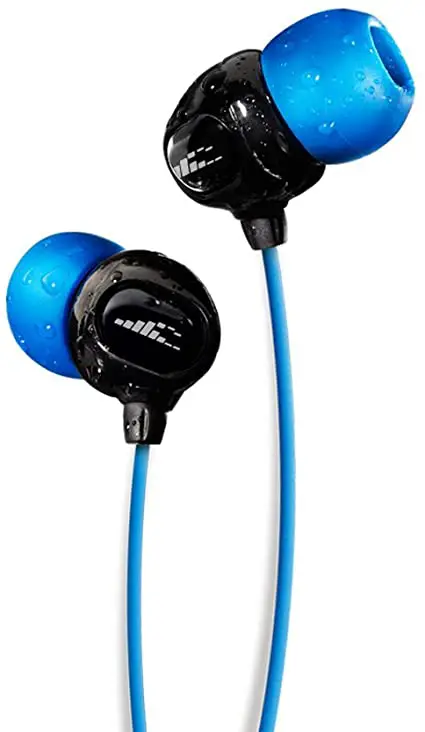 With its sweatproof and waterproof design, it makes Surge 2G from H2O Audio a great pair of headphones to wear for your swim routine, take it along to the beach or anywhere you think may get a little wet.
Pros:
100% waterproof up to 12 ft. (Sounds pretty good underwater)
Low fluidic drag
Solid feel and sturdy design
Fits well and stays put when running
Cons:
May not fit everyone's ears
No case
No wireless connectivity
Comes in a single color option only
Swimbuds Sport Waterproof Headphones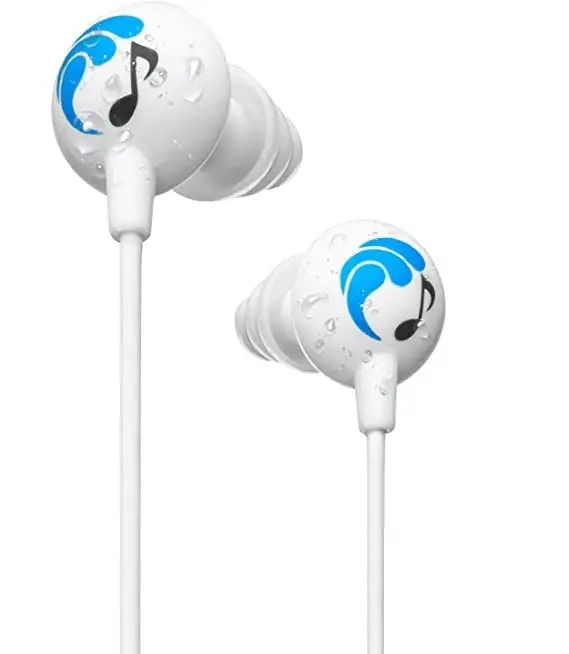 From Swimbuds, this is another 100 percent waterproof buds that are reliable when it comes to durability, good sound quality, and functionality. This is a perfect choice if you wish for a bud that is effective for underwater but it falls somewhat short to provide a multi-sport solution.
Pros
Comfortable in and out of the water
Impressive sound while swimming (with some limitations)
A year's warranty
Several attachment options that fit your ear
Maintains a watertight seal throughout your swim
Provides more versatility and security
Cons
Some users complained about its long term durability
Not so good sound above water
FINIS Duo Underwater Bone Conduction MP3 Player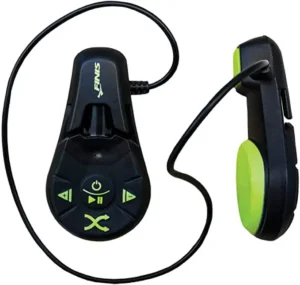 With sleek, two-piece designs comes this waterproof MP3 player from FINIS, it uses integrated Easy to use buttons to make swimming more comfortable with music, audiobooks, and podcasts. Moreover, it also has 4GB of storage capacity and also compatible with iTunes.
Pros
Waterproof MP3 player
Perfect fit as it attaches onto goggles and sits over cheekbones
Improved USB magnetic dock
Waterproof IPX8 to 3 meters for 30 minutes
Sound is clear when submerged in water
Stores approximately up to 1000 songs or 60 hours of playback
Lightweight
Cons: 
Best only when swimming (Not for everyday use)
It only supports MP3 and WMA songs
It sounds better with earplugs in
The charging system has been known to be finicky
Aftershokz Aeropex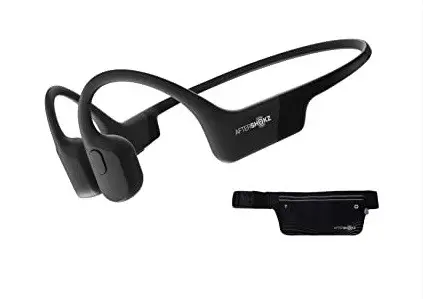 If you are looking for headphones that don't sweat when you do, the Aftershokz Aeropex is your best option. They deliver a striking sound quality than the previous models, which is why they are a bit expensive.
Pros
Slimmer, lighter, and comfortable design
Better battery life
Improved waterproof rating
Cons
Minor sound improvements
Buttons are very close to each other
Underwater Audio: HydroActive Waterproof Earbuds and Headphones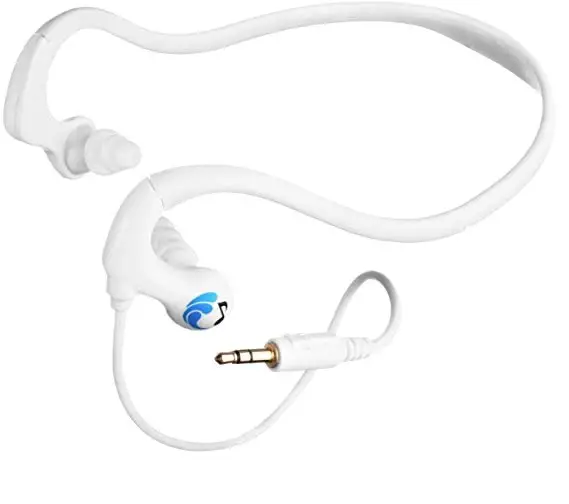 One of the best waterproof earbuds from Underwater Audio for swimmers offers great durability, function, and quality.
Pros
Secure, easy to use, and stable
Innovative design with improved function and quality
Cords allows freedom of movement while swimming
Different sized earbud options for different ears and activities
Cons
No mp3 player and lacks Bluetooth capability
Pyle: Universal Wired Waterproof Swim Headphone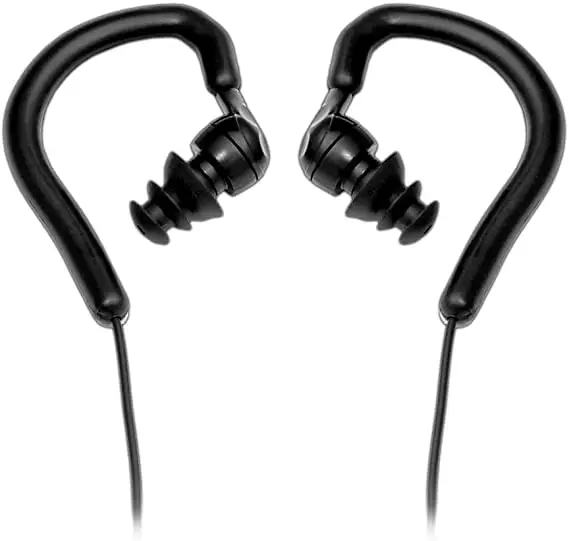 If you are one of many swimmers looking for waterproof earbuds that don't hurt your pocket and is comfortable to wear, Pyle: Universal Wired Waterproof Swim Headphone is a good option.
Pros
Quick connect data transfer and combination charging cable
Simple easy to wear design and lightweight
Adjustable and bendable for all head shapes
Wireless connectivity
Affordable
Cons
Some users complained that sound could be better with the price
Available only in a single color
Avantree TR509 Secure Fit Earbuds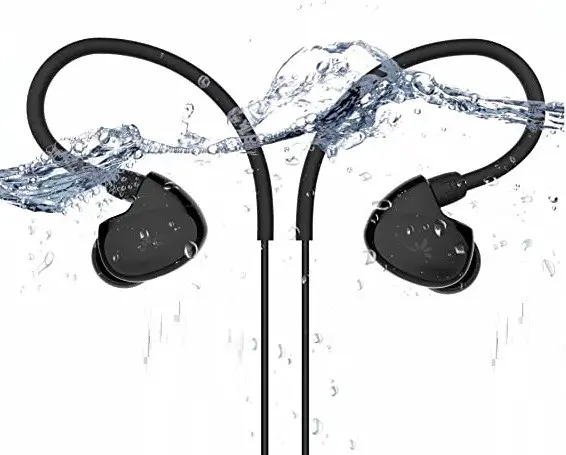 Avantree TR509 Secure Fit earbuds might be the perfect option if you are on a budget and looking for the best waterproof earbuds for swimmers. It is affordable without compromising in its functionality and quality.
Pros
Versatile and compatible with many devices
Secure and comfortable fit
Well balanced sounds
An extension cord is included for normal daily use
Cons
It is not a wireless headset, as it requires mp3 players to function
Tayogo Waterproof MP3 Player and Headphones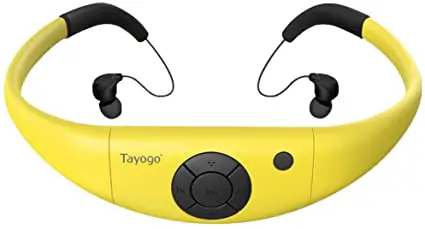 Tayogo headphone is also one of the best waterproof earbuds for swimmers that comes with a waterproof mp3 player built with it.
Pros
Lightweight and stable
Heat resistant of up to 60℃
Can store up to 2000 songs in memory
Offers a long playback time at 3 meters underwater
Cons
Some users complained about its long term durability
Some users are not satisfied with the sound quality
Sony Walkman: NW-WS623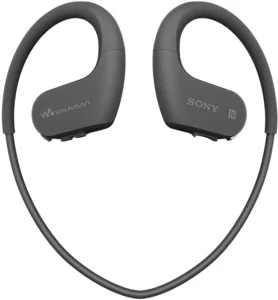 When it comes to sound, Sony has broken records with its Walkman brand. Its latest Walkman headphone collection is the NW-WS623. It is a Bluetooth wireless earphone with an integrated mp3 music player. Moreover, it is designed for sports, is salt-waterproof, and has an ambient sound mode that gives listeners situational attention to their surroundings.
Pros: 
Ambient Mode is useful and accessible
Loud and clear sound with deep bass
Decent stereo separation
Comfortable and secure fit
4-hour battery life as stated on Sony's website
Reliable Bluetooth connection up to a 10-meter range
Cons: 
Audio over Bluetooth is not as clear as listening to stored music
when watching videos audio is out of sync
Not idle for hours of continuous listening
The charging dock does not store extra charges
Pyle: Flextreme Headphones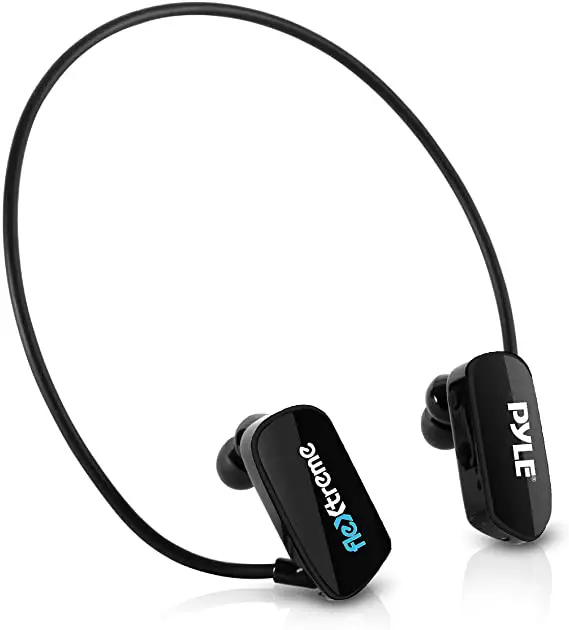 They are really meant for swimmers and have the highest waterproof rating. They have built-in storage that holds up to 4GB of music (or podcasts, or audiobooks). So, think of these as an iPod shuffle you can strap to your head.
Pros
10 hours of battery life
IP rating: IPX8
The package also includes earbuds more appropriate for above-water workouts
Cons
Last Word
Finding a good pair of earbuds is always stressful but the entire listed earbuds will get you through a wet swim in the pool or maybe just a sweaty summer. So, what is your best fit for swimming with earbuds?
Besides, you can also check the best headphones for binaural beats if you just start doing meditation practice.
Do share this article with your friends who are looking for a better option or do mention below if we missed out on any available product.