It has been a long time since Huawei has entered into fitness trackers. Not only have the company been providing a decent smart band with tons of features, but they are also providing budget-friendly fitness bands anyone can afford. So, today I have come up with an article giving you a short description of the list of Huawei smart bands that are on the market till date.
We will also be updating this article as soon as the company launches a new smart fitness band, so stay tuned.
The Chinese telecommunication company Huawei has been manufacturing smartphones since 1997 and is one of the largest companies in the world. The company also designs and develops various products other than smartphones like tablets, earphones, and smart wearables. It hasn't been long that the company stepped into the smart wearable market which is an Android Wear-based device.
So, this article will represent a short history or let's say the time-line of Huawei smart bands.
While buying a fitness band most people generally look for price, design, features, battery life, proper health monitoring features along with some additional features.
Also read: Best-Budgeted Fitness Tracker Under $200 in 2022
List of All Huawei Smart Bands
Honor Band 4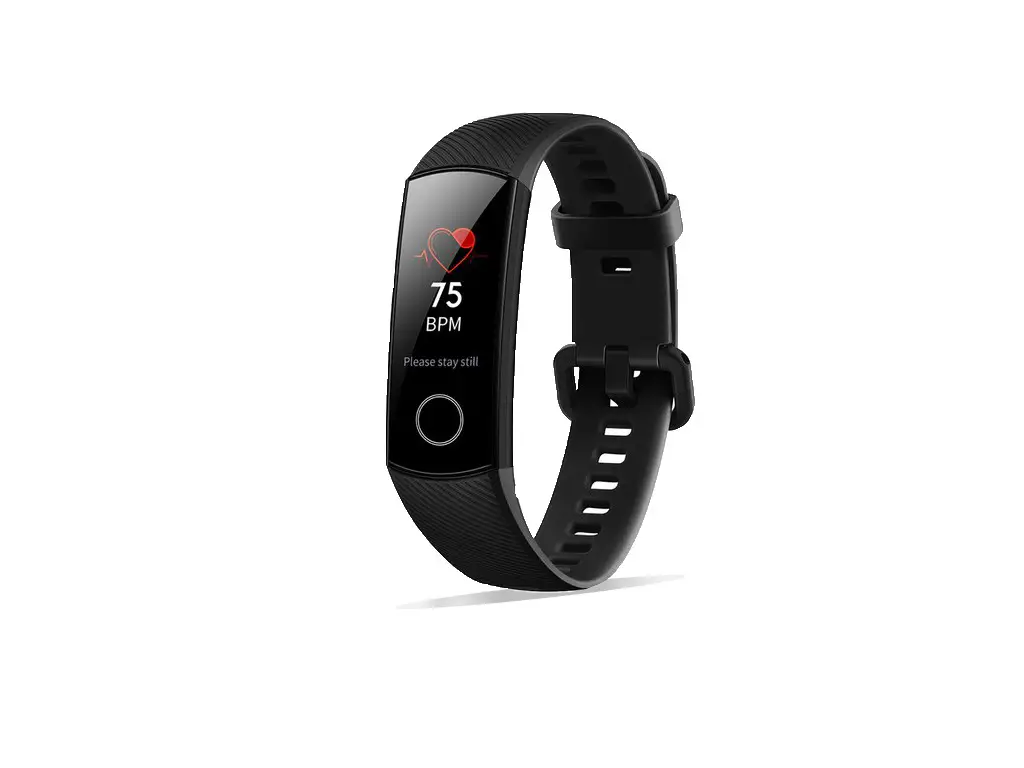 Now, let's talk about the Huawei Honor Band 4 fitness tracker. Huawei Launched Honor Band 4 on 25th February 2019 to compete with already established smart bands like the Xiaomi Band 4. So, with the price of $39.90, the band has a lot to offer.
Huawei Honor Band 4 feels great on hand and looks really stylish as well. The band features a 0.95 inch 80×160 pixels AMOLED touch screen color display with 2.5D curved glass protection. In addition, a device has a home button at the front right below the display.
The fitness band is available in three different colors – midnight navy, meteorite black, and dahlia pink.
The band is equipped with a 91mAh battery that claims to offer up to 17 days under normal use on a single charge. However, on our test, we got 15 days of battery life on a single charge. Likewise, when you use the heart rate features 24*7, the company claims the band would offer 7 days of battery life.
Talking about the band's fitness features, the band is capable of monitoring your heart rate continuously 24*7. Huawei uses a TruSeen 2.0 heart rate technology and has a calorie tracking feature and many more. Likewise, exercise tracking features include – indoor and outdoor walk tracking, running, treadmill, cycling, elliptical, rower training, and dynamic/free training. In addition, a band also has other 9 different exercising trackings.
Besides, Huawei Band 4 provides detailed data results like heart rate, heart rate zone, steps, distance, speed, calories, and more.
The sleep tracking features on the Huawei honor band 4 stands out in the health monitoring sector of the band. With Huawei TruSleep 2.0, the band is able to record the sleep time during the night and is also able to track and keep a record of your day time sleep break. The sleep tracking feature on the band uses cardiopulmonary coupled dynamics spectrum (CPC) to record complete sleep structure including deep sleep analysis. Furthermore, the band also recognizes and provides you with insightful suggestions to overcome your six different sleep problems.
Additional Features
The band is water-resistant up to 50 meters deep, meaning, you can go swimming with the band on.
You will get your notifications right on your bands like call and message notifications.
The feature on the Find My Phone feature will help to track your phone.
Connectivity option on the Huawei Honor band 4 includes Bluetooth 4.2, and NFC support.
Sensors onboard include a 6-axis gyroscope, PPG heart rate sensor, and an infrared sensor
The band also has an easy charging feature where the USB plug is built into the band hidden inside the strap of the band.
Pros
Build-in USB, easy charging
Low price
20 days of battery life
96-inch display
Cons
Do not support the first beat
Inconvenient charging method
Do not support voice assistant
Features
Waterproof
Sensor: 3-axis acceleration, Infrared wear sensor, and optical heart rate sensor
Sport Mode
GPS
Heart Rate Monitor
Sp02
Sleep Monitor
Weather Forecast
Phone Locater
Remote Camera
NFC
Huawei Band 4 Pro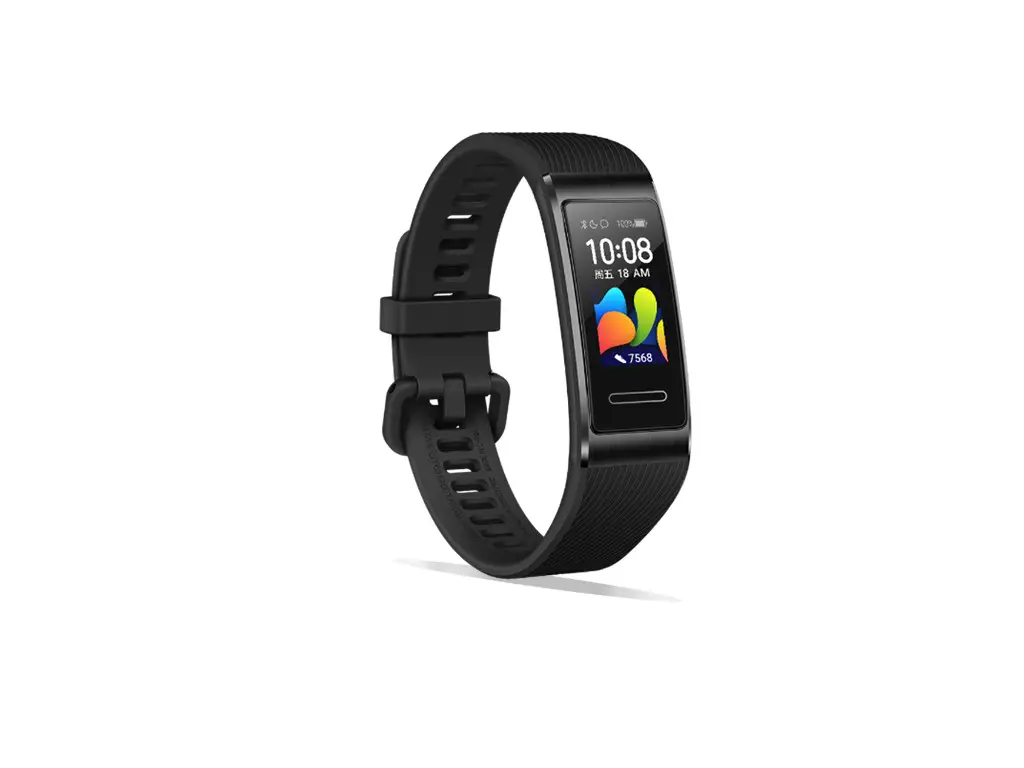 The next fitness band that the company offers is the Huawei Honor Band 4 Pro.  Honor band 4 Pro is the upgraded version of the band 4 with a bit more features.
Out of the box, the first difference you will notice is the display and the strap and the display. So, you have a bit bigger bezel on the Honor Band 4 Pro.
Talking about the battery life on the Band 4 Pro, the band offers 12 days of battery life in one charge. However, the actual battery life may vary according to the use of the device.
The band is available in three different colors – Amber Sunrise, Sakura Pink, and Graphite Black.
There are 11 different sports modes on the Band 4 Pro including, outdoor and indoor running, outdoor and indoor walking, cycling, elliptical machine. Likewise rowing machine swimming in the pool and open water, free training is also included in sports mode.
The core feature that you will get on the Honor Band 4 Pro is Motion detection. Other than that, the band also provides the data of real-time heart rate that is able to track your heart rate 24/7 and GPS tracking. The band has a built-in GPS chip to smart track your outdoor sports trajectory without you having to connect your phone. Plus, you also even don't have to carry your phone while performing outdoor activities.
With Honor Band 4 pro you get a new feature called Blood Oxygen Saturation Measurement (Sp02) which enables you to track it anytime you want to. If your blood oxygen saturation is lower than the normal standard or if the hypoxia is severe, cardiac arrest may occur in the worst case.
So, band 4 Pro is quite a good and better wrist band from the list of Huawei Smart bands.
Additional Features
Support of NFC feature (Limited to the Chinese Version only) to access cards, transit cards, and Alipay.
You can use the device to control your camera and take selfies more conveniently.
The band has a good sleep tracking features that also provides relevant suggestion and solution regarding your sleep problems to improve your sleep quality.
Connectivity option on the Huawei Honor band 4 includes Bluetooth 4.2, and NFC support.
Sensors onboard include a 6-axis gyroscope, PPG heart rate sensor, and an infrared sensor
Pros
11 sports mode
Support first beat: VOmax
Watch free replace
20 days of battery life
Cons
Inconvenient charging method
Features
3-axis acceleration sensor
Sports mode
Heart Rate Monitor
Sleep Monitor
Weather Forecast
Remote camera
Phone locator
Spo2
Honor Band 4e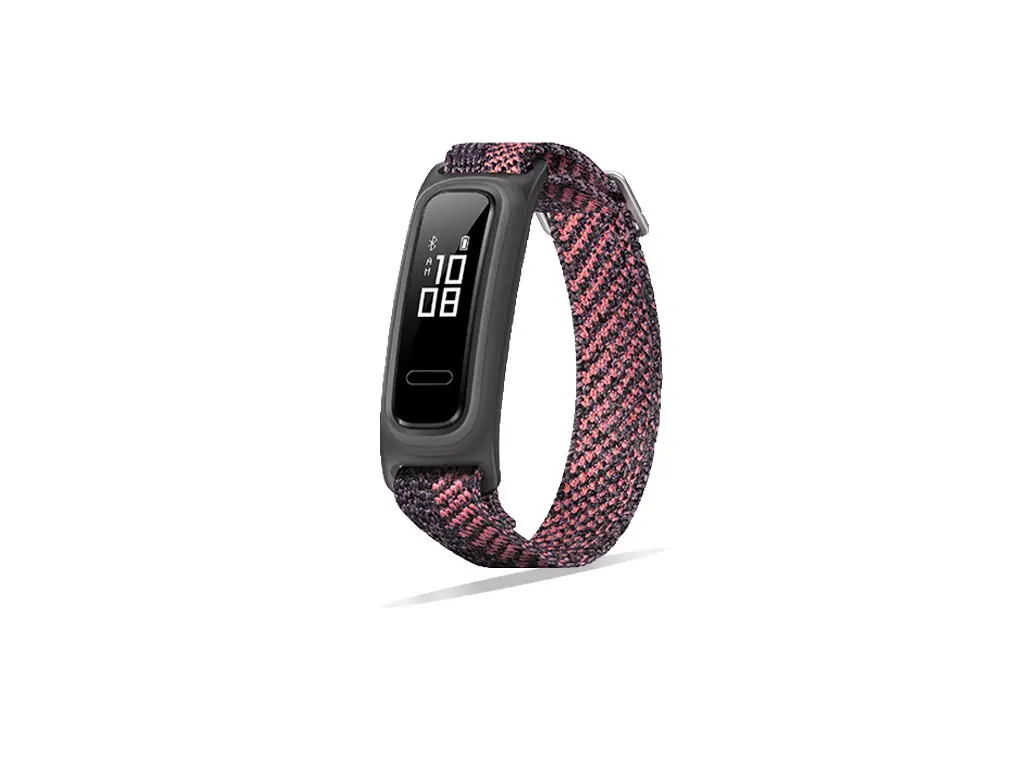 The next Fitness band by Huawei is the Honor Band 4e. The Huawei Band 4e is a versatile fitness tracker that provides precise basketball and running performance statistics just for $20. This is the reason the band is branded as "Basketball Performance Tracker."
You can either wear it on your wrist or attach it to your shoes and run. This is possible due to the two straps that you can use with the band. One is the normal strap itself and the other one is the buckle type strap that you can attach to your shoe.
With the Honor Band 4e, you get the monochrome display with a button on the bottom edge.
When you first look at the device, everything is rather poor for an ordinary customer because it's obvious about you to get what you paid for right? The band cost surprisingly low comes for $20 with basic functions like – date and time, steps, distance, calories. Sleep tracking, alarm clock, and find my phone. However, the feature that stands out the device from any other device is the basketball mode and the 6-Axis motion sensor. A sensor can track and collects extended and accurate data about activities such as running, food positioning, intensity, rhythm, and so on. The basketball mode tracks your movement during the game, evaluates the result, and gives your information regarding it. Among the main indicators of analysis are sprints, jumping, load on the lower body, etc.
The band 4e is equipped with a 77mAh battery that is cable of tracking your information of 14 days under normal mode. And in standby mode, it can work for up to 21 days.
Likewise, the Honor Band 4e comes with water-resistant up to 50 meters, you can take it during sweating workouts, surfing or swimming.
Pros
Low price
Accurate sensor
Cons
Features
6-axis motion sensor
Waterproof
Basketball mode
Better battery life
Heart rate sensor
Honor Band 5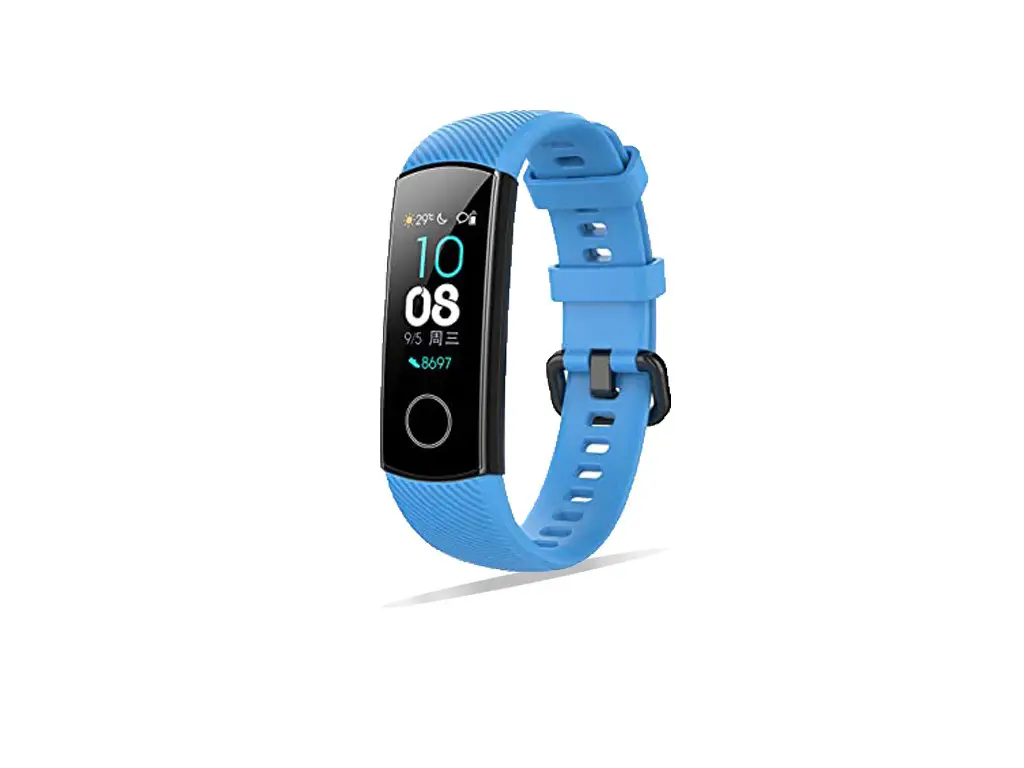 Huawei Honor band 5 is the upgraded version of Honor Band 4 which was released on Q3 of 2019. Like most of the smart band in our list, Huawei Honor Band 5 is compact, light, and possesses a ton of fitness features. Apart from that, the fitness band is one of the most affordable fitness trackers on the market right now with a beating price of $39.70.
With the Huawei Honor Band 5, you have got a 09.5 inches AMOLED screen that is easy to read and navigate. Moreover, it has got a color display.
What we like about this fitness band is its advanced sleep tracking feature that gives you the advice to maximize your sleep time.
Talking about the fitness feature, the band has tons of workout modes to choose from. And when you finish working out, the device will give you a brief description of your workout.
Pros
Satisfactory sleep tracking.
Affordable price.
Cons
Volatile Notifications
Screen is unresponsive sometimes.
Features
Bright & vibrant Display
Continuous heart rate monitoring
6-axis accelerometer
Water-Resistant
Compatibility: Android/IOS
Honor Band 5i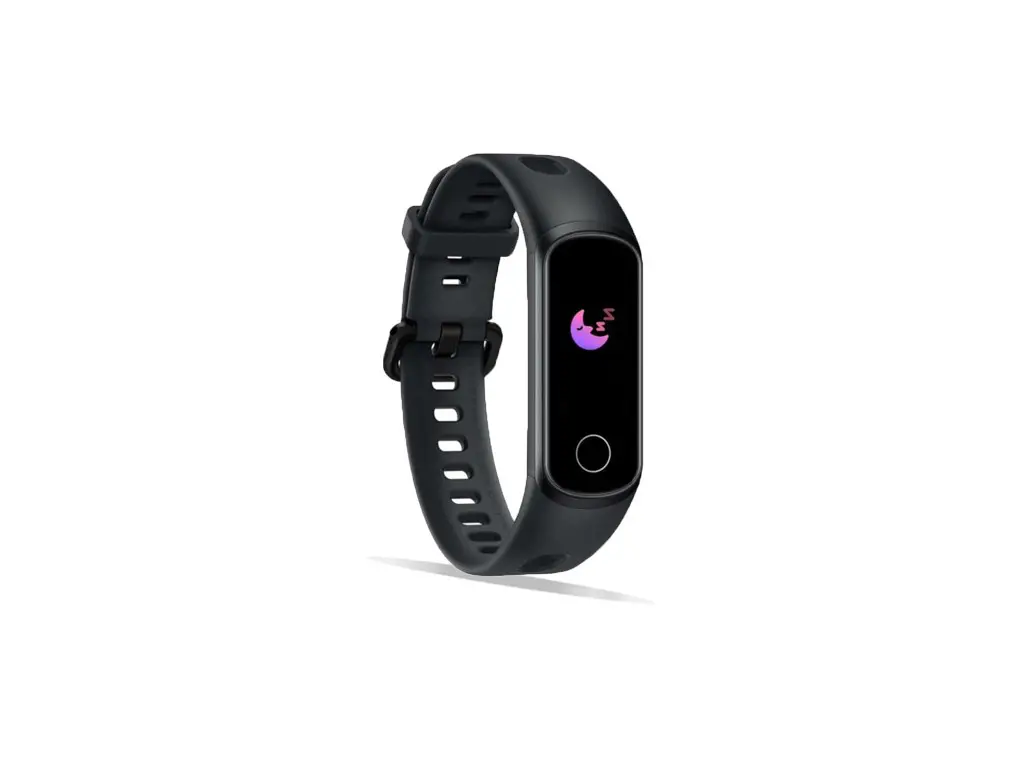 Huawei Honor Band 5i is the cheaper version of the current honor band 5 that comes with a USB plug-in built into the device. A smart band has a color display and a capacitive button below the screen for navigation.
So, talking about the display, the band has a 0.96 LCD display with 160×80 HD resolution.
The built-in USB plug eliminated the need for an additional charger and cable to charge the device which takes roughly around 1.5 hours to charge a 91mAh battery on the band. Therefore, on a full charge, the band gives a battery life of 9 days, depending on the usage of the device.
The band 5i is equipped with 3-axis inertial sensors, optical heart rate sensors, and infrared light wearing detection sensors. Similarly, the Heart rate sensor on the device is capable of tracking your heart rate 27/7 with the help of TruSeen 3.0 infrared technology.
The band can also track your sleep, analyze your sleep quality in real-time tracking your sleep habits, and providing you with over 200 personalized assessment suggestions for a better night's sleep.
The next feature or tracker that the band is equipped with is the Spo2 monitor. A SpO2 monitor tracks your oxygen saturation levels in the bloodstream so you can analyze how your body is adapting to the exercises during workouts or at a high altitude.
Likewise, you can take the honor band 5i with you while swimming too as the device is rated for water resistance to 50 Meters.
Other fitness features on the device are outdoor running, indoor running (treadmill running), indoor walking, outdoor walking, indoor and outdoor cycling, rowing machine, elliptical training, and other Free Training.
Additional features on the band are: phone finder, message reminders, take a picture as a remote, controlling music on the phone via the band, and so on.
Pros
Do not need USB charge cable
Better design
Cons
Inconvenient battery life
Features
Waterproof (50 meters)
96 inch TFT screen
Sport mode
3-axis inertial sensor
Heart rate sensor
Sleep monitoring
Huawei Band 2 Pro
Next on our list is the Huawei Band 2 pro. The device may not have the features that you might get on some of its rivals. However, its affordable price point makes the device an option to start for fitness novices.
The Huawei Band 2 Pro looks more like to its competitors, the Fitbit Alta HR and Fitbit Charge 2.
With the price tag under $50 you get a built-in GPS tracker, a heart rate sensor, and deep sleep tracking capabilities, swimming tracking, and excellent battery life. Besides, the devices give you a battery life of 21 days on a full charge with a 100 mAh battery.
Talking about the device design and display, the fitness tracker uses soft silicon bands that latch together using two plastic pegs.
Besides, there is one downside of the strap that you dong get an option to swap with the bands you want to. And the display isn't that bright and comfortable to view.
Pros
Low price
Long battery life
Cons
Inaccurate steps and distance
Not fashionable
Cannot swap the strap
Features
OLED display
Step count sensor
Heart rate monitor
Great battery life
Sleep monitor
GPS tracking for runs, bicycle, and swim
Water-resistant
Run coaching feature
Breathing coach feature
Huawei Band 3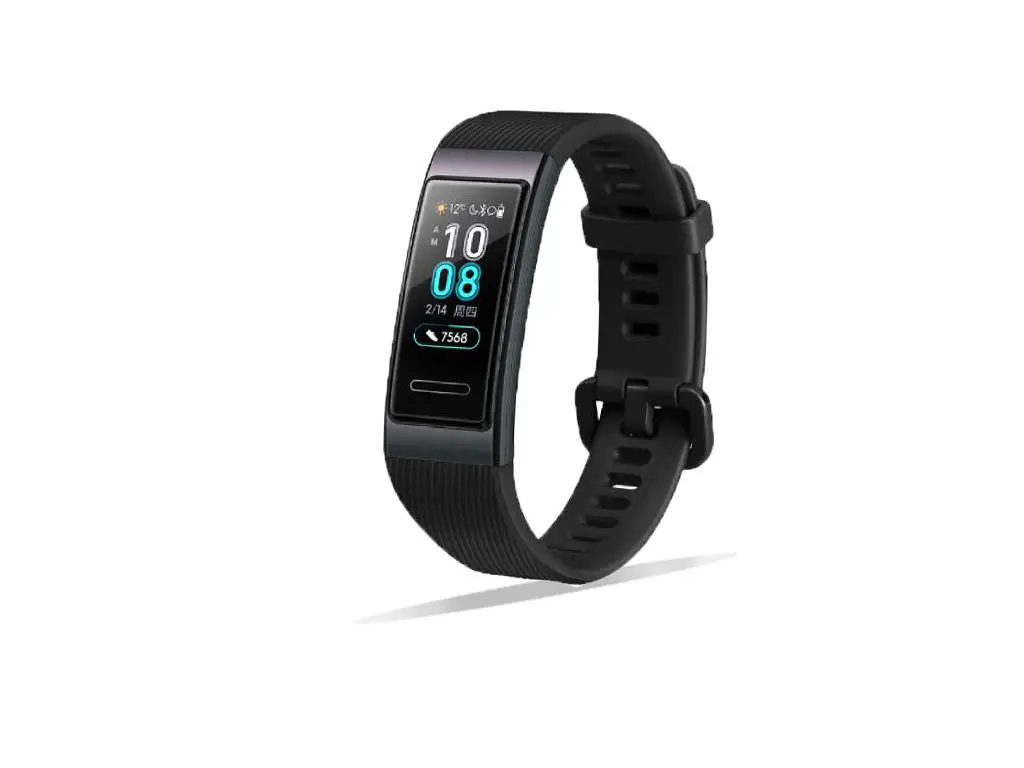 The next fitness tracker from the list of Huawei Smart Bands is Huawei Band 3 which was launched on March 14, 2019. The band is equipped with a 0.95 inch AMOLED Touch screen with 240*120 HD resolution.
The display of the band is quite bright and clear with a 2.5D touchscreen for full access control over the band. Since the screen is made with a non-reflective screen, it makes it more comfortable to operate the device.
The band comes in four different colors: Pearl Black, Coral Orange, Aura Blue, and Mica Pink.
Likewise, the battery on the Huawei Band 3 is 100 mAh that gives 12 days of battery life in a single charge if you are not using any sensors like the heart rate or the TruSleep. However, the actual working time may be different according to the user's habits and band configurations.
The heart rate monitor on the device is capable of tracking your pulse 27*7 accurately due to the Huawei TruSeen 3.0 technology used on the device.
Likewise, the Huawei TrueSleep 2.0 on the device helps to identify six of the most common sleep-related issues with suggestions to help you sleep better at night. As the device has an IR sensor, you won't be disturbed with the lights while you are sleeping.
The Huawei Band 3 is water-resistant up to 50m and is capable of recording calories, numbers of turns, and average SWOLF on competition of your swim.
Other fitness features on the device are indoor/outdoor running, indoor/outdoor walking, bike riding, indoor cycling, and free training.
Likewise, the band can be used as a Remote Shutter when taking your selfies. A phone Finder app on the device helps locate your phone when you misplaced it and will give your smartphone notifications on your wrist.
Pros
Stylish tracker
Colorful design
Smooth control of wristband
Cons
Features
Built-in GPS
Bright AMOLED display
Heart rate sensor
Sleep monitor
Water-resistant
Find my phone feature
IR sensor
Huawei Band 3E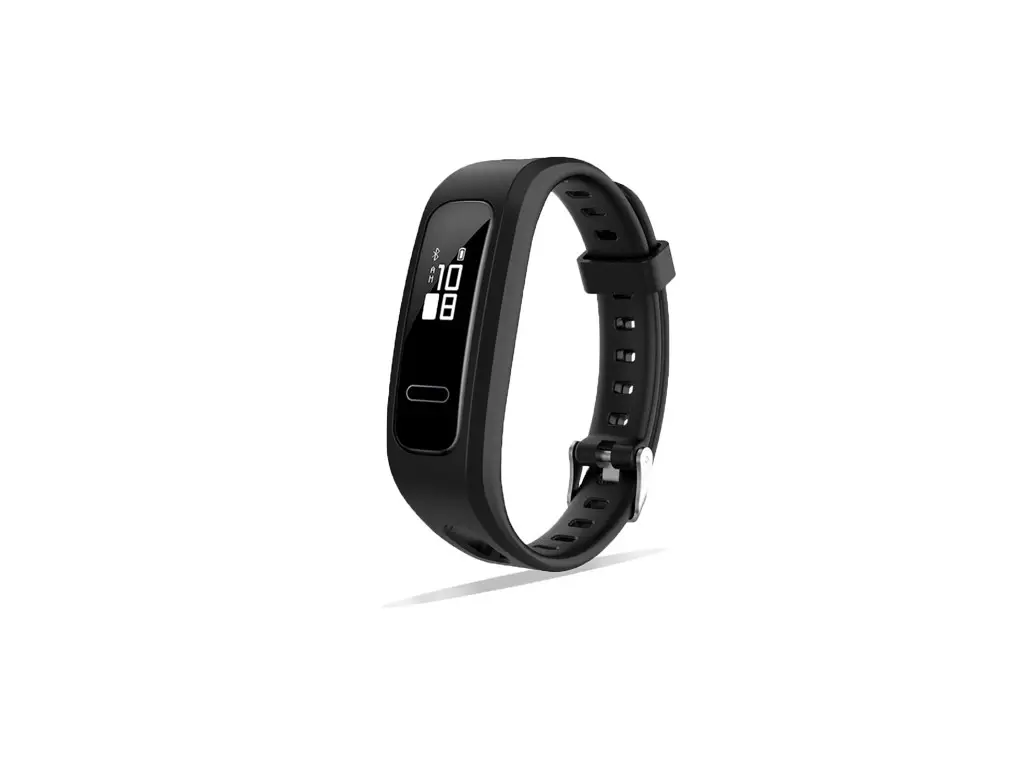 The Huawei Band 3e is a slimmed-down version of Band 3 Pro that measures only 13.6 grams. You can not only wear it on your wrist like a watch but you can also wear it on your shoe while running or playing outdoor games. The use of new footwear mode provides precise running data with the press of a button.
Likewise, with the 7-data monitoring and analyzing running form, the band provides intelligent suggestions with precise data to maintain your posture while running.
The band is 50-meter water resistance, meaning, you can take the band while swimming without any hesitation. The bad also provides performance data when you swim.
The battery life on the Huawei Band 3e is also pretty good. The battery gives you about 14days of battery life on a single charge.
With band 3e, you don't get the heart rate measurement. So, the question arises, for whom is the device made for?
The simple answer is for those who monitor their training load or interval of work by listening to their body and breathing.
Pros
Very low price
Slim and lightweight
Safe for swimming
Can wear on wrist or shoe
Cons
Poor accuracy
Low-resolution display
Now weight or period tracking
Features
OLED display
Better battery life
Water-resistant
Sleep tracking
Find phone function
Honor Band A1
Honor Band A1 is one of the first fitness trackers that the company produced. Though the device does not have a screen it has a lot to offer. So, the device is capable of recording and tracking your exercise time, the distance you have walked or ran, the number of steps you have taken, calories burnt, and the amount of time you have slept.
The embedded UV sensor on the band stands the device out from the crowd as it measures the radiation levels around you. Besides, it also even recommends a suitable sunscreen you can use.
As there is no display on the device, you have a LED light through which you will get notification of the incoming calls or messages with vibration. Besides, Honor Band A1 is equipped with a 70 mAh battery that has 28 days battery backup on a single charge via the micro USB connector.
Likewise, the device is not made for swimming as it comes with an IP57 rating, which is dust protection and water-resistant up to 1m for up to 30 minutes.
Pros
Cheap
Comfortable wearing
Longer battery life
Cons
Do not have a display
Need to use an app to see tracking results
Features
Water-resistant
Sleep quality tracker
Steps tracker
Hours sleep tracker
Calories intake burned
Huawei TalkBand B5
Unlike other smart bands, the Huawei TalkBand B5 is a hybrid smart band. Hybrid in the sense that the band can be used as a hand-free headset when you remove the device from the strap. Though the device has an earpiece, the device comes with a built-in heart rate sensor.
The TalkBand B5 has a 1.13" AMOLED screen with 2.5D curved glass. Likewise, the band is IP57 dustproof and waterproof. This means that you cannot take the device when you go swimming. However, you can take a device with you to 1.5 meters for 30 minutes.
On the device, you get the features like TruSleep to monitor sleep patterns and offers personal recommendation analyzing your sleep. Likewise, the TruRelax analyzes your heart rate and TruSeen analyzes your heart rate/pulse pattern for 24 hours.
With a variety of color options, you can personalize your device according to your taste. In addition, you have a sophisticated metal body that matches that comfortable silicone, metal, and full-grain leather strap choices for the band.
Likewise, there are six exercise modes on the device running, walking, indoor cycling, outdoor cycling, and free/dynamic training.
The band also has basic features like recording steps, calories, the distance you have traveled, using a phone as a shutter while taking selfies. In addition, B5 also has a find my phone feature if you misplaced your smartphone.
As being a hybrid, Talkband B5 gives comfortable and good features provided on the Huawei Smart Bands.
Pros
Lightweight
Color display
Bluetooth headset
Accurate activity tracking
Cons
Workout monitoring is not accurate
Small battery
No built-in GPS
Expensive
Features
13 inch AMOLED display
Heart rate sensor
Bluetooth headset
Sleep tracking mode
Breathing quality sensor
Anti-fingerprint coating
Huawei TalkBand B3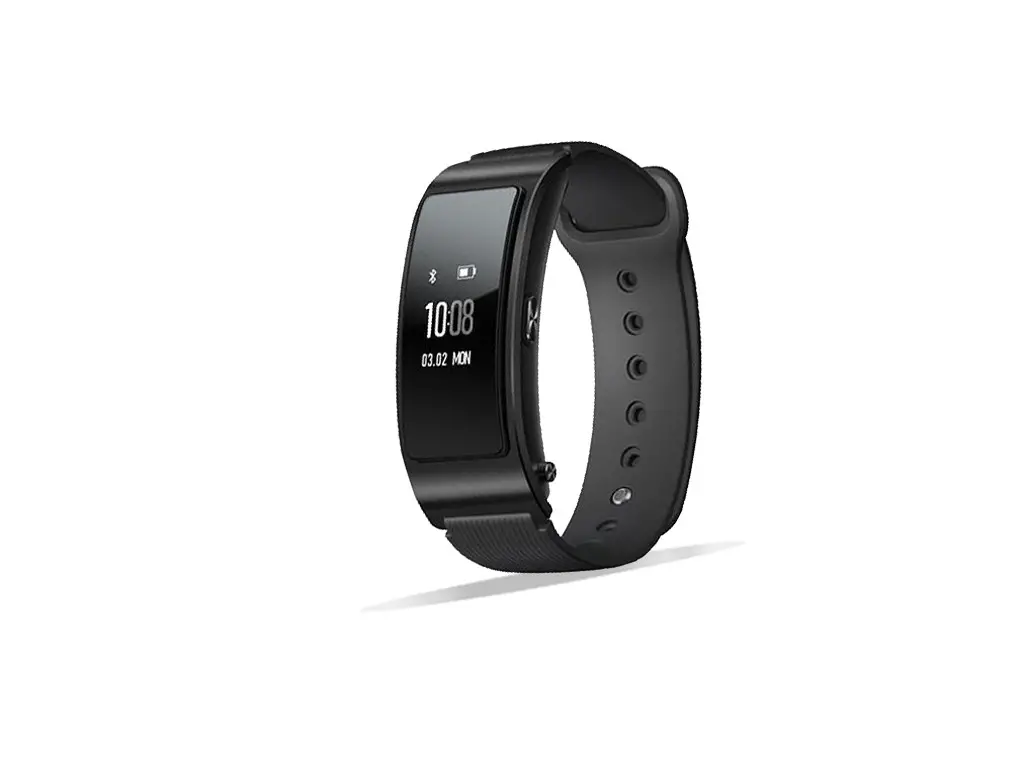 Like the TalkBand B5 on our list, the Huawei TalkBand B3 is also the next generation of wearable devices among the best Smart bands. B3 is the hybrid smart band within build a hands-free headset.
The device comes in three different types, one is the regular silicone strap, and the other two are the leather strap and metal strap. Therefore, you have three different color variants in the silicon strap: Black white, and golden.
The device is capable of automatically detecting and adjusting to various types of physical activities such as walking, running, and climbing.
Besides, HUAWEI B3's innovative Capesensor intelligently recognizes whether the device is attached to your wrist or not, so that it can keep a better track to your health. A Capesensor also ensures to capture the right amount of sleeping pattern.
Likewise, HUAWEI TalkBand B3 also connects your around the world by providing accurate weather information. Plus, you can check the weather condition when you are traveling in a particular place. So as the day changes, you also change along with it. Therefore, better prepared for what comes next in the journey.
Pros
Accurate fitness tracking
Clear call quality
Attractive design
Comfortable
Cons
Pricey
Faint display
Display always does not respond to gestures
Syncing issues
Notification and alerts do not work properly
Features
7-inch PMOLED display
Sleep monitor
Calories monitor
Water and dust resistant
Build-in dual-mic noise cancellation
Honor Band A2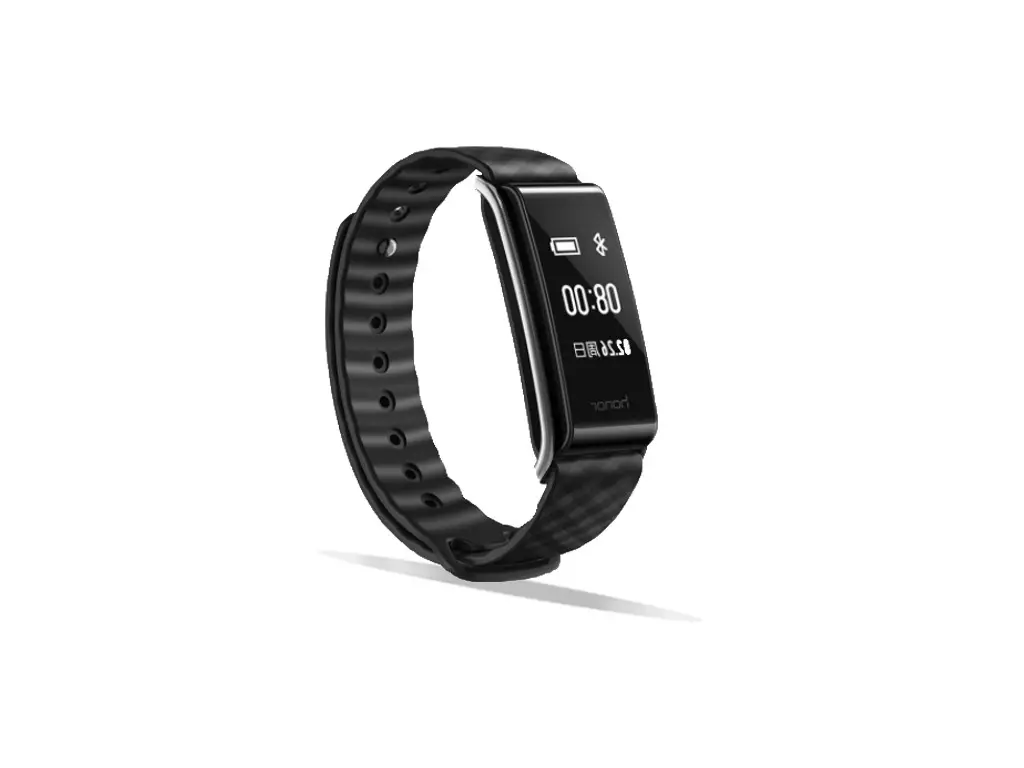 Next on our list on Huawei Smart bands is Honor Band A2, another comfort level band. Build quality, and the appearance of the band is on another level. Likewise, Band, A2 is slightly bigger in size with an easily changeable strap. Besides, a device comes in a variety of colors like Magic Black, red, green, and white. And the best part, you don't have to remove the band from your wrist for charging.
Band A2 comes in a 0.96 inch OLED screen, which is the latest update screen found in the market. A screen is touch-responsive, which is also waterproof, dustproof, and hypoallergenic. Another best is its battery backup, which gives almost 9 days to battery life.
As we look for the performance, a band is drenched with the best feature, which provides you a real-time data in fitness tracking. So, the moment you tap on the screen, A2 displays the information about the calorie burnt, sleep quality, speedometer data, and more. Besides, when you start moving using the band then, the device automatically starts to track your heartbeat and calories.
Just like Huawei's other bands, A2 also has a photoelectric heart rate sensor on the back, which measures your heart rate accurately. So, a device has everything to provide from looks to great features.
Pros
Good battery life
Automatic screen setup
Cons
Display quality
Time format cannot change
Features
Water resistance
Dustproof
Heart rate tracker
Sleep monitor
Find my phone
Huawei Band 3 Pro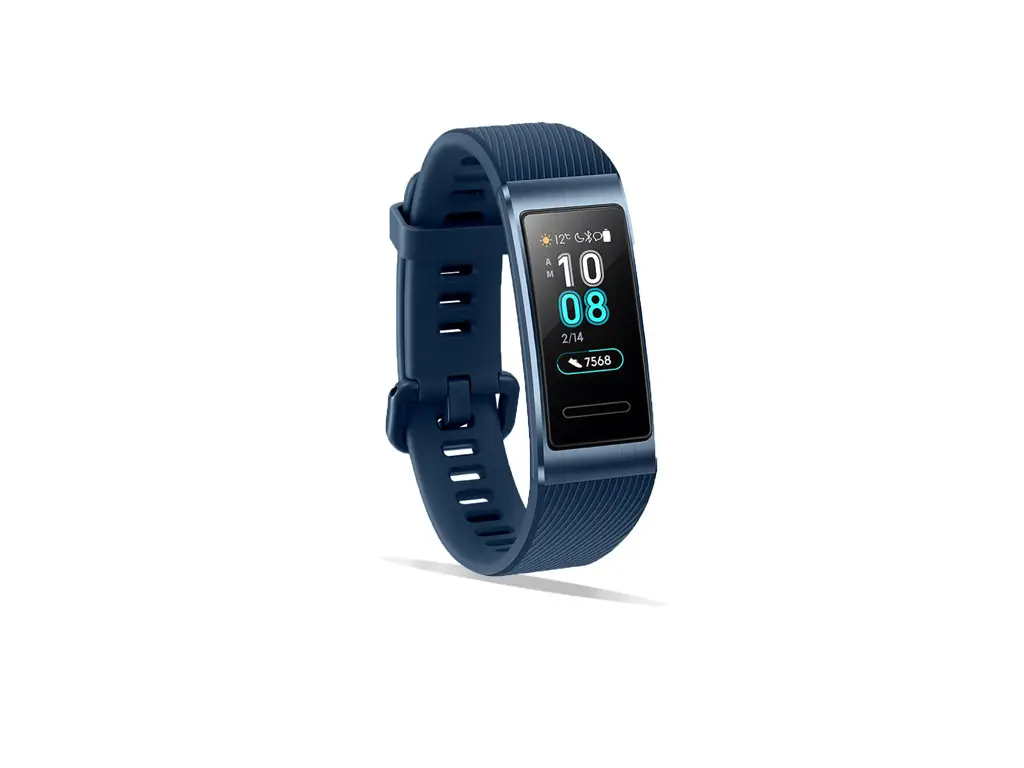 Huawei Band 3 Pro is the best value fitness tracker in the list of Huawei Smart Bands. In the world of fitness trackers, band 3 pro offers a simple interface along with a bold screen. So, you get a glass top layer with an OLED screen, which is an organic light-emitting diode. However, a tougher face glass doesn't stand out in 3mm scratch.
Even though band 3 pro lacks some customization but you will get full fitness tracking support. A device has full GPS which tracks your runs and cycle without a phone. Besides, a gadget also tracks sleep with the help of "TruSleep" features for relaxing and deep sleep. A device also monitors the heart rate with the best tracker. Besides, band 3 pro also rates your good and bad breathing quality.
If you are a swimming lover, then Huawei provides a swimming mode that tells different stroke types and completion of the lap. However, you have to push the button to stop the tracking when you left the pool.
Even though a device gives the best features to its users, but there's the biggest weakness that most of the users felt uncomfortable. The problem is with its notification as it can receive message alerts and notifications from any app you choose, but displaying notification is kinda clunky.
So if you are looking for hardcore fitness tracking, then Huawei band 3 Pro is a great deal.
Pros
Always on HR tracking
Great battery life
Built-in GPS
Bright OLED Screen
Cons
Awkward notification style
Capacitive control not a good fit for swimmers
Features
Built-in GPS
Heart rate monitor
5ATM waterproof
Swim tracking
7 hours of GPS battery life
Conclusion
Planning on buying smart bands from Huawei? Then you can choose one of these bands from the above list which suits you the best. All the bands have their own features, spec, and design along with the different price. But the most important thing is to fill your requirements which you are looking for in Huawei Smart Bands. So have a clear look on the list, match your requirements, and brag your band from Huawei in no time.
Find the answer to your queries in our article? Let us know in the comment section down below. Also, visit our official website Online Help guide for more tips about gadgets.