Right in the heart of 'Everybody's Favorite City'- San Francisco, Instagram was born. And behind this innovation were two young Stanford University graduates, Kevin Systrom, a 27-year-old and his ally Mike Krieger, a 25-year-old, both graduates of Stanford University.
The motive behind Instagram was to create a photo-sharing platform that would be minimalistic and require as few actions as possible from its users.
Launched on 6th October 2010 on iOS, Instagram was a success right from its inception – it racked up 25,000 users on its birthday and over 1 million users by mid-December 2010. By March 2012, Instagram users had grown to approximately 27 million people. In April 2012, Instagram was released for Android OS and later acquired by Facebook in the same month.
Today, Instagram enjoys a user base of about 1.7 billion people globally. To cater to this massive number of users, Instagram decided to come up with three different types of Instagram accounts to meet their diverse needs. These accounts are:
Personal accounts.

These accounts are ideal for those who intend to share content with only friends and family and are not interested in monetising their accounts.

Professional accounts

Business accounts.

These are ideal for retailers, local businesses, brands, organisations, and service providers.

Creator accounts.

Creator accounts are perfect for influencers, public figures, content creators, and artists looking to get paid from Instagram.
The commercialisation of Instagram was witnessed from as early as 2011. Influencers at that time, referred to as bloggers, were already mining a fortune off their blogs. To boost their incomes, they simply transferred to Instagram. Influencer product selfies replaced the long written reviews. Ten years on, all of the other competing apps got subsumed under Instagram.
Today,  more people are earning a living off this app through photos and video. Let's delve deeper into the article to find out how.
Can You Make Money on Instagram?
Certainly! People have been earning a living off Instagram from as early as 2011. For example, Liz Eswein @newyorkcity registered Instagram in 2010 and began sharing photos of her city. Today she has over 1.2 million followers. As of 2020, Liz was earning up to $15,000 per shot and charging brands $1 per like for sponsored posts on her Instagram account.
According to Mark Zuckerberg, Instagram's top boss, their goal is to be the best platform for creators to make a living. This can be seen in their recent efforts towards direct monetisation of the platform.
2020 also saw the introduction of Live Badges; which are intended to allow online followers to support creators during their broadcasts by buying hearts. IGTV ads are also a new innovation helping to increase the user interaction rate on Instagram and earn creators more revenue.
Remember, there are over a billion people on Instagram. Making money on Instagram is not as difficult as you may imagine; all it takes is the ability to identify your niche and create an Instagram post template that will appeal to your audience.
Ways to Make Money on Instagram
Become a Social Media Influencer on Instagram and Make Money from Sponsored Posts
A social media influencer refers to someone who has built a reputation and garnered a huge number of loyal followers. Often they can convince their audience to buy certain products because the influencer has established trust and even formed some type of relationship with followers.
Should you choose this route, you can make money by partnering with brands to do sponsored posts. You will help spread the word out there on their behalf; and in return, you will get paid for it. Coveted influencers reap thousands of dollars off Instagram.
Remember Liz Eswein @newyorkcity mentioned above? She's a perfect example of an Instagram influencer.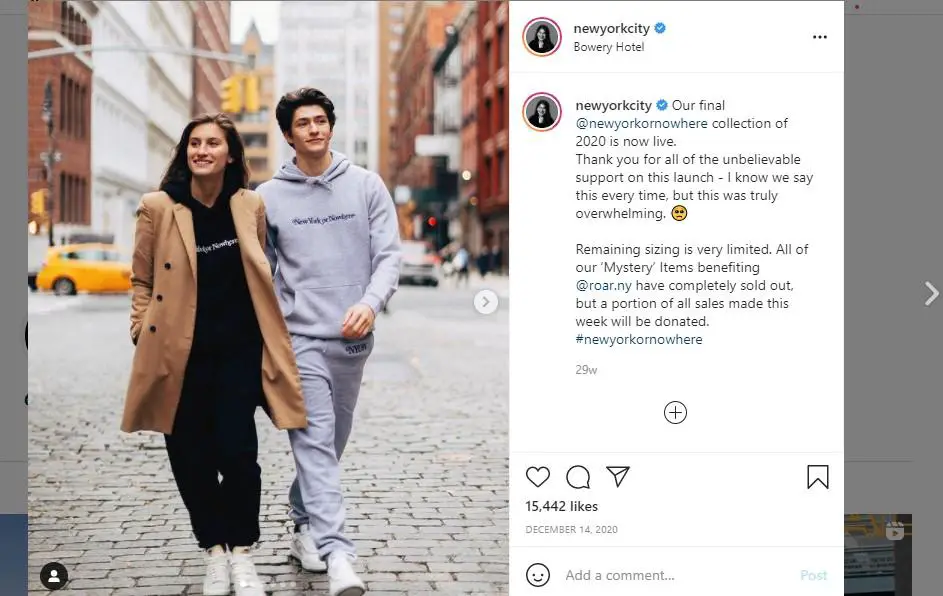 https://www.instagram.com/p/CIya0CAHV-R/
Do Affiliate Marketing on Instagram
The main difference between an influencer and an affiliate marketer is that an influencer's main goal is awareness creation, whereas an influencer's end game is to make sales. Interested? Nice, you can reach out to brands that you would love to market for. As your brand grows, companies will also reach out to you themselves for partnerships.
Usually, there is a promotion code attached to your caption, or you can add a link on your bio that your followers will click on to buy. This way, the company can tell exactly how much sales you have generated; and for that, you will earn your commission as agreed. Make sure you get very creative with your captions so that you do not sound too sales-y.
Aimee Song @songofstyle is a successful affiliate marketer on Instagram who you can borrow a page or two on affiliate marketing. She mostly works with the fashion industry.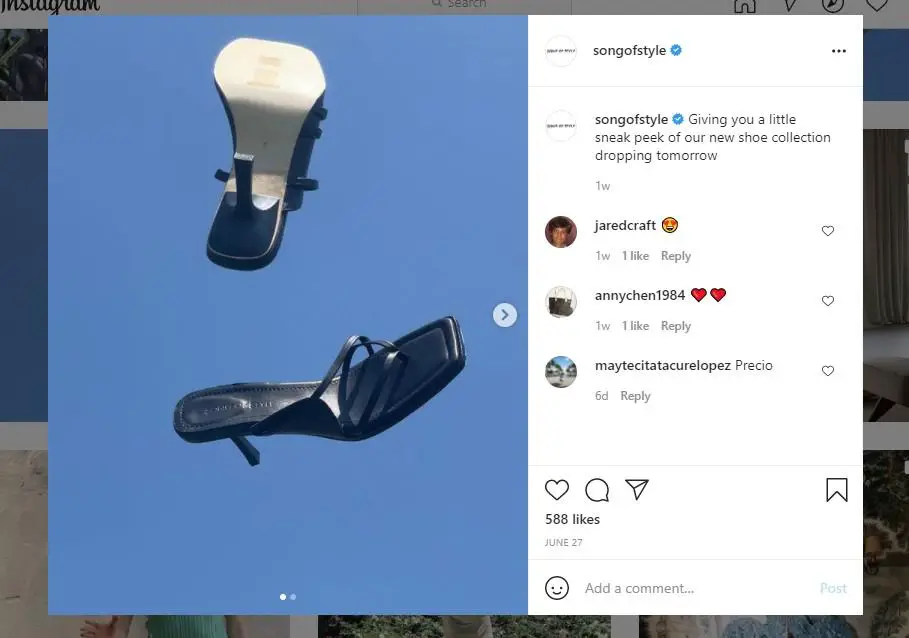 https://www.instagram.com/p/CQoHMtaHxPh/
Open an Online Store and Sell Your Own Products
If you are naturally entrepreneurial, you can stock up an inventory of choice and run an online shop on Instagram. Maybe you already have a brick-and-mortar shop; you can put up an online branch on Insta; where people can buy online and then have the products delivered to them. This way, you will be able to reach a broader audience and possibly earn more.
To increase your chances of success, make sure you share innovative videos and photos of your products.
Jason Stein @jasonwstein has been on Instagram since its inception. To tap into the monetary potential of Instagram, he started an online agency that matches brands with influencers. In 2014, Jason appeared in the Forbes top 30 under 30.
Sell Instagram Accounts
You can also focus on building Instagram accounts to acquire a large and loyal following, then sell them. People interested in becoming influencers as well as brands should be your key target market.
Dropship to Instagram Users
Dropshipping is where you put up a store online without actually owning a physical store. You will only need to work with a supplier who will deliver products directly to your customers, thus eliminating the need to keep an inventory.
Thus, you will be able to receive a cut for every sale you make without much financial input on your end.
Tips for Making Money on Instagram
Here are a few tips to see you through:
Find your niche. Focus on things that you enjoy doing; that way, you will have more patience on your journey.

Be as transparent as possible. This helps you build loyalty and trust with your audience.

Engage with your audience as much as you can. If they have concerns, make sure you answer them to the best of your ability; this way, they will know you have their interests at heart.
Conclusion
How many Instagram followers do you need to make money on Instagram? There is no specific number of following required for you to start earning off your account. However, if you are going to make good money, you will need many followers.
Here's a bonus tip to help you get there:
Always keep tabs on what's trending and ensure that your posts are trendy. Also, check out what your competitors are doing and up your game!