How to adjust a clip in TikTok? Making videos on TikTok? Looking after the ways to adjust the length of videos on TikTok? I will make sure you get to clear out these questions by the end of this article. But first, you should consider one thing. Don't skip any headings mentioned below. Every sentence may provide you with some extra information about TikTok.
Adjusting the clip in TikTok requires a few steps. You have to click on the + icon available at the bottom > You can start recording the videos > Then click on the red check button available at the bottom of your screen >You can see the option showing the adjusted clip at the top. You can just click on it and adjust videos as per your choice.
TikTok allows you to create and upload videos. Adjusting the length of TikTok videos is quite easier than you think. People may want to remove some parts of their videos. Adjusting is necessary in such cases. TikTok videos are made and their duration is adjusted. People can choose the length as per their wish.
Is There A Video Trimmer Available On TikTok?
Yes, TikTok has made available an option to trim the TikTok videos. Maybe you are unaware of it till now. The TikTok app has its video trimmer, which allows you to adjust the length before posting it. Besides trimmer, TikTok users can even adjust the speed, duration, etc as per their choice.
You may have recorded some unnecessary parts in your TikTok videos. You may want to remove it and get a perfect output video. The video trimmer option available in TikTok is for cases like these. TikTok provides you with an option to trim both recorded as well as your uploaded clips.
TikTok users can even adjust their videos from third-party apps. But, having trimmer in the same app you record the videos becomes quite easy for the users. This is the thing that users want rather than other options. Everybody wants their video to be amazing and attractive. It is the main tip for the user to go viral.
Also Read: How To See Videos Of A TikTok Account Without Following?
How To Trim And Adjust A Clip In TikTok You Just Shot?
TikTok enables you to trim the recorded video only if you use built-in to record your video. Built-in is available on the TikTok app easily. TikTok provides you with a feature to adjust the size of a video. It also enables you to rearrange the video as you desire to.
Here are the guide steps you can follow them serially and get what you are looking for.
Step 1: Open The TikTok App

Click on TikTok and you will get a page displayed on your screen. In the right corner below you can see many options. Tap on your profile.
Step 2: Tap On The '+' Icon

You can easily find this icon at the bottom of the screen. This will let you record TikTok videos as you usually do.
Step 3: Click On the Red Check Button

Click on this button only if you are done recording the TikTok video. This button is easily available at the bottom of your screen.
Step 4: Select The Edit

You will get an option to edit the clip. Just tap on it and you can see options to minimize the length of your clip. It also enables you to rearrange your recorded videos.
In this way, you can trim and minimize the length of your videos. The red button allows you to adjust your clips. You slide the button, and you will get your desirable clip size. You must do this carefully. Otherwise, you may remove the necessary part as well from the clip.
Also Read: Know How To Sort TikTok Videos By Views/View Count
How To Adjust A Clip In TikTok Draft?
Yes, it is quite possible to adjust clips in your draft videos. You may not want to post every video you made. So, to use this feature you must have saved some videos on your draft. Then only you can go and edit it, making the clip eligible to post on TikTok.
Follow the steps mentioned below. Don't skip any of the steps. Otherwise, you may not get misled about what you are looking for.
Step 1: Open The TikTok App

A for you page will appear as you enter into the app. You can see many options at the bottom of the screen.
Step 2: Go to profile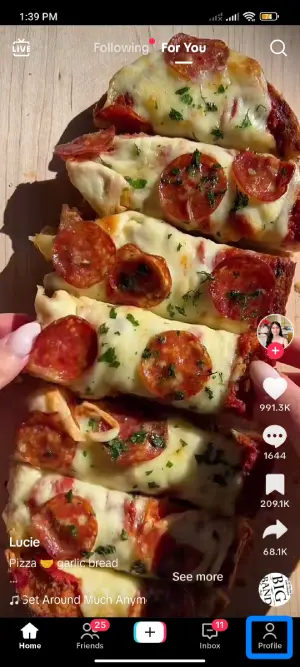 Secondly, click on the profile at the bottom right of the screen.
Step 3: Tap On Draft Folder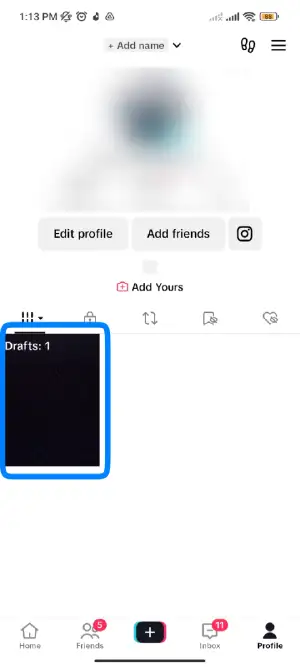 You will see videos you have saved as a draft in TikTok.
Step 4: Tap on any of the drafts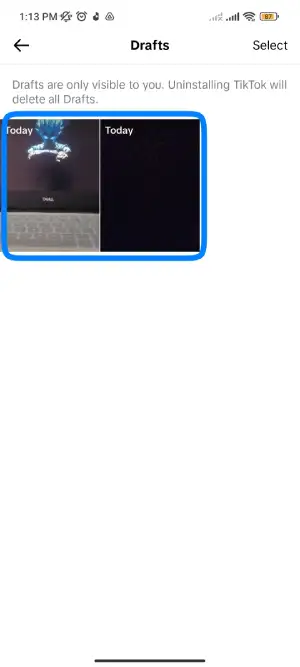 Click on any draft videos you want to edit and adjust.
Step 5: Click on Edit

Tap on edit to adjust your clip. You can easily adjust your clip by minimizing it.
This option is easily available in the top left corner. You will see your draft video with many options. You can edit, trim, adjust, and even more from this option.
Along with reading the steps, you can even try it on your device. It is easy to utilize the draft videos with the help of this clip-adjusting feature. Utilizing the draft in this way is better than deleting it and wasting the effort. Just follow this guide, and you will be happy to find what you want.
Want To Trim A Sound From The Clip?
Yes, it is possible to trim the sound available in your video. You can just tap on the scissors icon at the bottom of your screen. Then you will get an option displaying volume. You can adjust how loud you want your video to sound.
But, TikTok won't let you trim the sound created by others or the original sound. To use this you have to use another app apart from TikTok. Otherwise, you have to create a sound by yourself. Then only TikTok allows you the feature of trimming the video and sound.
Tim Tok even allows you to arrange the speed of a video along with its sound. It is possible to make a slow and reverb version of the original video. At last, recheck if everything is done as you want. Then you can easily post them on TikTok.
Frequently Asked Questions (FAQs)
People have many questions regarding how to Adjust A Clip In TikTok. Related to the same topic many people have asked questions. People have left their doubts in the comment section. So, here are a few questions with their answers.
Why Can't I Adjust The Clip-On TikTok?
TikTok allows you to trim, cut, and adjust the videos. If you are not able to adjust the videos then you must check updates. If you haven't updated the app then this problem may occur. Another reason behind this problem is having 0 videos on TikTok.
Can I Edit Clips On TikTok?
Yes of course you can edit the clips on TikTok. You can just slide on the screen white your finger. You can see changes in the exposure and brightness of your videos. Next, you can even use other apps such as Cap Cut, You Cut, and many other apps to edit the videos.
Can I Control The Clip Length On TikTok?
You can see the red sliding bar after you click on the adjust clip option. You have to use the slider available on either side of the screen. Slide it from right to left and you can easily make the clip length as you wish.
Can I Adjust Clips On Stitch?
It is quite possible to adjust clips on stitch. You can trim the video as you like but only till a maximum of 5 seconds of the clip. You may not be able to adjust the clips if the original creator has not allowed access to the stitch.
How Do You Add More Clips On TikTok?
It is possible to make videos using the camera or any other apps you like filming videos. You can find editing features available on Tiki Tok which allow you to customize the sound, and filters and add even more photos.
How Can I Combine Videos?
TikTok allows you to create and combine more videos. You can find a video editor available on TikTok. It enables you to layer different types of videos and adjust them in a single short video. This feature brings something new to TikTok.
Conclusion
TikTok is all about making content videos, entertaining others, and getting popular. It is a social media platform. It has covered a wide range of popularity. This app enables its users to make videos and it is an app for entertainment.
Trimming to Adjust A Clip In TikTok is all within the user's choice. The features such as trimming recorded as well as uploaded videos are available on the TikTok. You can control this and do as you wish.
So, the above tips and tutorial steps are all about how you can trim and minimize the size of TikTok videos. Hope you tried those steps along with reading the article. I think the above method gave you a perfect way.
You can comment on how you like this article. As well as further questions you have on your mind.