One thing that a successful person does differently than other people is working from a list/notes. Maintaining the habit of working from a list makes a person highly productive. A list helps a person to adjust oneself according to time as we cannot alter time for our needs. This helps a person to focus on an important task and tasks that need to be done first. Almost all the businessmen who achieve high goals maintain a diary or a list/notes so that they don't get stuck in their busy schedule. So, in today's article, I am going to talk about how to create and use Yahoo Notepad so that you can also work on a schedule, making things easier for you.
Yahoo Notes has been there for years and works precisely like preinstalled notes on your computer. The only thing that it does better is that Yahoo notepad stores all your notes on the cloud. So that you can access your to-do lists or notes with any device at any time unless you have access to the internet.
There are two main reasons why keeping notes is important. These reasons are: when you are reading or listening and keeping permanent records. With Yahoo Notepad, you can create your notes, to-do lists, important business schedules, generate folders to similar group notes so that your notes look more organized.
Create Your First Yahoo Note
Creating yahoo Note is very easy, if you have a  Yahoo Mail then you can follow these steps mentioned below:
Login to your Yahoo Mail Account.

After your username and password are verified, you will be redirected to Yahoo's homepage. Now, click on the Mail icon to open up your Yahoo Mail page.

Click on the Notepad icon on the title bar of your right sidebar. After that, the paper icon on the right sidebar is your notepad icon, which will redirect you to the Yahoo Notepad dashboard.
You can also directly go to yahoo calendar with this link. https://calendar.yahoo.com/

Once your Yahoo Notepad Dashboard opens up, click on New Note on your left sidebar, which will open a panel to write in your notes.

Give your note a name: Replace the predefined name "New Note" with the title of your notes.

Now, you can start writing the notes in the text area in the editing panel.
Once you finish writing notes, you need to click the Save button.

If you don't want to save the note, click on the Cancel button.
Your notes will not get saved to Yahoo's cloud unless you save them, so always make sure that you save your notes before closing the program.
Note: If you mistakenly closed your browser while writing a note, your note notes will not get saved either.
Now you can add as much note as you want by clicking on New Notes on your left sidebar.
Editing Yahoo Notepad
When you open up Yahoo Notepad, its dashboard divided into three parts. First, the Folder Section, Second the Note list where you will see noted that are shaved to particular folder; and the third, Content editor dashboard. So, to edit your notepad, follow these simple steps.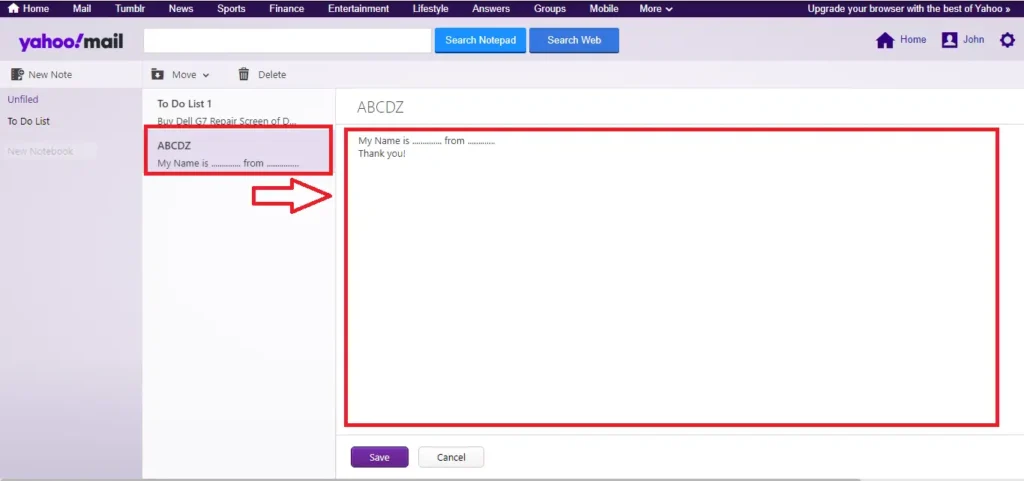 Select the notepad you want to edit from the note list. As you select the notepad, the notes on that notepad will be displayed on the content editor.
You can edit your notes change the heading via the content editor. After you complete modifying, click on the Save button.
Here you go, your content is edited.
Delete your Yahoo Notes

To delete your notes, simply select the note you want to remove from the note list.
Press Bin icon "delete icon" from the taskbar o the note list
A dialogue box will appear, "are you sure you would like to delete this note?". After that click, the Delete button and your note will be deleted.
Organize your Notes with Yahoo Notepad Directory
When you create a note, by default, your notes will be saved to a directory that is labeled "unfiled." This is a predefined directory of Yahoo. So, as you keep on creating notes, it will pile up on an unfiled directory. So, in this case, it is better to organize your notes. Separate your notes according to their type and purpose.
Create a New Yahoo Notepad Directory

First Open your Yahoo Notepad Dashboard.
On the left sidebar, you will see an option "New Notebook" right below the Unfiled tab. After that click the New Notebook and give your Directory or Notebook a name and hit the enter key on your keyboard.
Your notebook is created.
Move your Notes to your Yahoo Notebook

On the Unfiled folder, select the note from the Note list.
Next, click on the dropdown menu from the menu bar.
Here, on the dropdown menu, it will display a list of directories or Notebook names that you have created. Select the notebook where you want to move the note.
Done your note has been moved to the new directory.
Rename or Delete Yahoo Notebook

What if you created a Notebook that's no use to you? In that case, you can delete the Notebook as well. Likewise, let's suppose you created a notebook, however you missed some characters. What's next? For that, you can also rename your Notebook name.
To remove the notebook, just right-click the Notebook you want to delete and select Delete Notebook Option from the list. This will open a dashboard containing the Delete button, click the delete button, and your notebook will be deleted.
Likewise, to change the name of the notebook, right-click the Notebook and select the Rename Notebook from the same list, you can change the name of the notebook. And to save the notebook, just hit the enter button.
Recover Deleted Yahoo Notes or Notepad?
You somehow deleted an essential document, or you lost a Notebook containing all the necessary information. Now, you are trying to recover the lost files and noted, but you don't see any option to do that. I am afraid to say that the recovery option isn't there on Yahoo Notepad to date. You may see it in the future but, recovering deleted yahoo noted or notepad isn't possible. So, while using notepad, be careful while deleting your notes or notebooks.
Also, check out our other article – how to recover deleted yahoo email messages in case you have deleted your important emails.
Take Care!