Getting a tattoo on your body is not a difficult part, but choosing the right design that has some meaning is. You need to consider many things while selecting a perfect tattoo design for you because once you get inked, then you can't remove it easily. Nowadays, getting a tattoo is like a trend. So if you are getting your first tattoo of your life, then you can look at the best tattoo design apps to determine which one suits you the best.
If you are Android user, then you can find tons of tattoo design apps that have a wide range of premade tattoo designs. You can also customize your own tattoo art for your specific body parts. This way, you will know a better understanding of whether you choose a small tattoo or a bigger one for you. In addition, you can also preview a tattoo design in any part of your body.
Are you excited to know which tattoo design is good for your body? Do you want to get praised by your friends for choosing a spectacular tattoo? Then take a look at our 10 best tattoo design apps for Android.
Best Tattoo Design Apps for Android
If you are ready to modify your body by inserting ink, pigments, and dyes into the upper layer of your skin, then here are a list of top best tattoo design apps which you can choose for your Android device.
Japanese Tattoo Design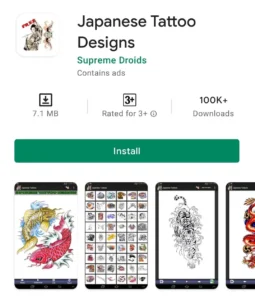 If you like Japanese culture and its historical patterns, traditional arts, styles, or language and want to ink something like that in your body, then you can always remember the Japanese Tattoo design app. You can get a real-life Japanese Yakuza tattoo design and art on your body.
An app allows you to choose various Asian culture tattoo designs such as dragon, cherry blossom, tiger, and other more traditional Japanese arts with a variety of colors. So, choose your favorite Japanese art and print it for permanently on your body.
Download Japanese Tattoo Design
Our Rating: 8/10
Available: Free
Inkhunter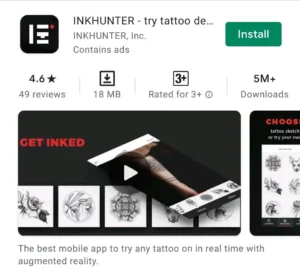 Inkhunter is probably the best tattoo design apps for Android users. It has the most positive review because of its excellent and awesome variety of tattoo designs. In fact, some of the popular tattoo artists also use Inkhunter to show their clients the best possible tattoo arts.
You can choose different types of tattoo sketches from the gallery and preview in any part of your body. It also allows you to upload your own tattoo design so that you can determine whether it's looking good on you or not. You can also customize the size and the angle of design on your body part to get an exact perfect location to get inked.
The best part of Inkhunter is that it even allows you to take a picture with the tattoo design and share it with your friends. This way, you can fool your friends by showing them a fake tattoo of yours.
Our Rating: 9/10
Available: Free
Tattoo My Photo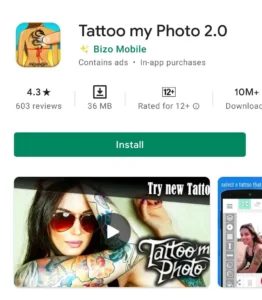 If you like customizing your Tattoo design, then you can choose Tattoo my photo app, for the best tattoo designs for Android. It's more like designing your own virtual Tattoo with the help of awesome editing tools for free. You can preview stunning tattoo art on your body part in few minutes.
The settings of the Tattoo my photo are more like Photoshop but with fewer features. You can get 500+ tattoo designs which you can customize its size, color, opacity, contrast, and more. Simply, select your photo from your phone gallery, choose a perfect tattoo design and customize it according to your desire.
You can also share a fake tattoo design of your body with your friends to prank them.
Our Rating: 8/10
Available: Free
Tattoodo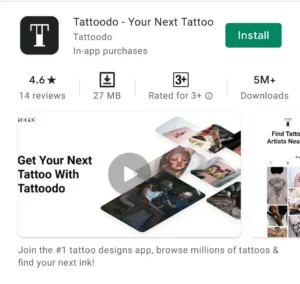 Tattoodo is a most impressive app to get an idea for your next Tattoo. It's like an Instagram or Pinterest where you can view the most stunning and beautiful tattoo art of other peoples. You can browse millions of tattoos for you and save your favorite one.
The best part of Tattoodo is that you can also search nearby tattoo shops or parlor from where you can get your selected Tattoo. Moreover, you can contact most top-rated tattoo artist and their studio from their profiles around the world. If you like any design, then you can even submit it to your nearby tattoo artist.
The app also allows you to book your next tattoo appointment with a simple user interface. This way, you can get inked by your favorite tattoo artist.
Our Rating: 9/10
Available: Free
Also Read: Top 7 Best Tattoo Design Apps For iOS
Tattoo
Tattoo is also the best tattoo design apps for Android users. You can choose 200+ tattoo sketches with different styles. It has a simple user interface where you can edit your tattoo design as you want. In addition, you can also use any type of image on Tattoo to make your own custom design for you.
The customization option of the app is simple. You select a premade tattoo design and place it in your body parts. In case you don't like any part or section of the design, then you can also change and remove it easily. You can also add fonts and different styles to make your tattoo art even beautiful and spectacular.
Our Rating: 8/10
Available: Free
Tattoo Designs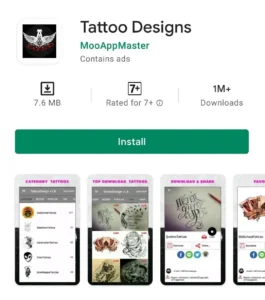 If you are interested in Mandala, ethnic, spiritual, geometric types of art, then the Tattoo design app is the best one for you. It is basically an image gallery where you can view different categories of art. If you are going to get a new tattoo, then you can have a design on your phone and get exactly the same.
The user interface of the app is so simple that you don't have to put extra effort into searching for tattoo designs. However, you can't use your photo to check the tattoo design on your body. So, it's a drawback of this app.
Our Rating: 7/10
Available: Free
Tattoo Maker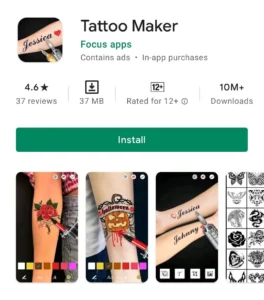 You can choose the Tattoo maker app in the list of best tattoo design apps for Android. The reason why it is good is because of the simple user interface. First, you choose a photo from your gallery and then place a tattoo design on it. You ca n also choose your own sketch from your mobile device and edit it as you want.
User can also choose a color of their tattoo design, text, and size to fit your art exactly to your body locations. So, try out the tattoo maker app and select your next tattoo design.
Our Rating: 8/10
Available: Free
Skin Motion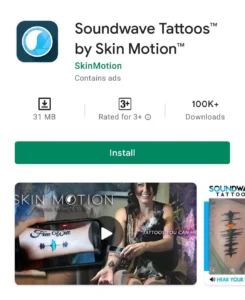 If you want to get a soundwave tattoo design on your body with a sound clip, then Skin motion is the best app for you. You can convert any voice or sound into a realistic and amazing soundwave tattoo. If you have any favorite short tune or a voice of closed one, then upload it to the Skin motion app and transform it into a meaningful tattoo.
But remember, you can only use 30 seconds long sound clip. Once you select your tune, then choose a shape, design as well as color which you want to get on your body. After that, search for a nearby tattoo location and submit your design to start tattoo work.
Our Rating: 8/10
Available: Free
Tattoo Fonts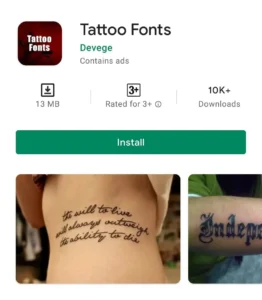 If you don't like a fancy tattoo design or art, which is something like abstract art, then you can simply use stylish fonts to make a beautiful tattoo design. This means you can write your name or your desired sentences or word on any part of your body with a different style.
You may have some personal or emotional close quote that you want to convert into a beautiful piece of art, then get help from the tattoo fonts app and customize your quote font style. It also allows you to choose various fonts for each individual word. Plus, the font quality are so perfect that even if you zoom in, then it won't fade out.
Our Rating: 9/10
Available: Free
Tattoo Planet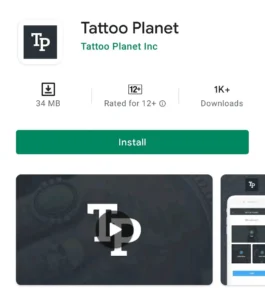 Tattoo planet is the best app to bring tattoo artists and tattoo enthusiasts closer to one single place. This means you can browse top tattoo artists over the world or nearby you and connect with them to ink a perfect and stunning tattoo of your life.
If you like any tattoo artist, then you can also access promotion of them as well as their shops. Who knows, you might get your next tattoo for free.
The best part of the tattoo planet app is that it allows you to track any upcoming appointments so that you won't miss out on your next inked time. In addition, you can also chat with your favorite tattoo artist or other artists from all over the world regarding your queries about tattoos.
Our Rating: 9/10
Available: Free
Conclusion
There you go, you have the best tattoo design apps for android devices. So, choose a visit or choose any one of them which you like the most according to your need and get your next tattoo done in no time.
But remember, don't get too excited to get inked; take time and think about it carefully. It can be your wrong decision as well as good. Plus, if it's your first time getting a tattoo, then it's always a good idea to get it from a professionals tattoo artist.
Good luck with your next tattoo.